---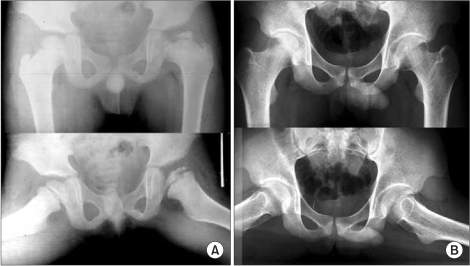 ---
Definition of Perthes Disease
Perthes disease, named after Georg Clemens Perthes (1869–1927), refers to aseptic skeletal necrosis of the pediatric femoral head. Synonymous terms are Legg-Calvé-Perthes disease and juvenile femoral head necrosis. Perthes disease was described almost simultaneously in 1910, by G.C. Perthes in Germany, J. Calvé in France, and A.T. Legg in the US.
Epidemiology of Perthes Disease
Perthes disease tied with osteochondritis dissecans is the 2nd most common aseptic skeletal necrosis disorder.
The incidence of Perthes disease is 1 in 10,000. Men are much more frequently afflicted than women, with the incidence ratio between genders being 4:1. There is a clear peak incidence between ages 5–7.
Perthes disease may occur later in life. However, this is exceptional. Most cases are unilateral. In 10% of cases, both hip joints are affected.
Note: The typical Perthes disease patient is a boy between ages 5–7 with unilateral manifestation.
Etiology and Pathogenesis of Perthes Disease
Despite extensive research, the cause of the disease is not fully understood. Circulatory impairment may arise in association with retarded skeletal growth, or mechanical microtraumas, or both. In bilateral cases, there is usually a delay before the second hip is affected.
Primarily, a circulatory impairment of the epiphysis of the femoral head is present. The proximal part of the femoral head is especially affected. The circulatory impairment leads to necrotic reorganization and reconstruction of ossification centers.
Research has shown that, in many Perthes disease patients, the medial circumflex femoral artery is either absent or obliterated.
Besides vascular changes, coagulation disorders or viscosity disorders can lead to epiphyseal skeletal necrosis. Constant cycling between construction and breakdown results from bone regeneration mechanisms.
This reconstruction phase lasts for 3–4 years. At this time, the femoral head epiphysis is less capable of handling strain. In the reconstruction phase, a high risk of deformation of the femoral head is present.
Clinical Symptoms of Perthes Disease
There is usually no pain in the early stages, but family members often notice a one-sided limp. Signs and symptoms are variable and nonspecific. The classical hip pain (seen in textbooks and exams) is a rather rare symptom. More frequently, however, affected children complain of knee pain, which only presents in association with physical activities.
Note: In children with knee pain, one must also examine the hips to avoid incorrect or late diagnosis.
Diagnosis
Clinical examination of Perthes disease
Limping gait
Limited mobility of the hip joint in internal rotation and abduction
Distinctive FABER ('flexion, abduction, and external rotation') test signs
Leg length difference due to adduction contracture or collapse of the epiphysis
Positive Trendelenburg's sign
Transient skeletal dysplasia
No history of trauma
Radiology in Perthes disease
Four stages of Perthes disease can be discerned from pelvic radiography images as described by Lauenstein.
| | | |
| --- | --- | --- |
| 1 | Initial stage | Joint effusion, joint cavity enlargement, lateralization and shrinking of the femoral head (vascular impairment) |
| 2 | Condensation stage | Thickening of the femoral head, subchondral fracture, enlargement of the joint cavity, lateralization of the femoral head, fused epiphyseal centers |
| 3 | Fragmentation stage | Fragmentation and flattening of the epiphysis, metaphyseal cyst, pseudocysts |
| 4 | Repair stage | Reossification of the epiphysis, enlargement, and deformation of the femoral head (mushroom-shaped), shortening, widening of the femoral neck, the elevation of the trochanter |
Magnetic resonance imaging (MRI)
Conventional radiography cannot be used to detect early changes. In the absence of notable X-ray features, an MRI should be used if Perthes disease is suspected.
Ultrasound
Joint effusion
Flattening of the epiphysis
The appearance of epiphysis contour with irregular edges
Fragmentation may be seen
Note: The sooner the diagnosis is made, the better the chances of recovery.
Classification of Perthes Disease
For Perthes disease, 3 classification systems have been devised, based on radiological criteria: Catterall, Salter–Thompson, and Herring classification. A 4th classification system, Stulberg, and Mose is used after skeletal maturity
Catterall's classification
In Catterall's classification (1971), the extent of femoral head involvement is in the foreground and divides axial X-ray into 4 quadrants. Unfavorable signs include:
lateralization of hips
lateral calcification of epiphysis
metaphyseal involvement
horizontal adjustment of the epiphyseal plate
triangular rarefaction of the lateral metaphysis (Gage sign)
| | | |
| --- | --- | --- |
| Grade | Features | Affected in % |
| I | Anterolateral quadrant is affected | 0–25% |
| II | Up to half of the femoral head is affected | 25–50% |
| III | Only a dorsal part remains intact | 50–75% |
| IV | Complete involvement of the femoral head | 75–100% |
Salter-Thompson's classification
Salter-Thompson's classification (1984) concentrates, above all, on the visible subchondral fracture in axial radiographs. The extension is considered a later indication of the extent of expansion. In type A, less than 50% of the femoral head dome is affected by subchondral fracture, and in type B, more than 50% is affected.
Herring's classification
In Herring's classification, the emphasis is placed on the identification of the lateral 3rd of the femoral head epiphysis. Three groups are distinguishable through the integrity of the lateral pillars.
| | |
| --- | --- |
| Herring Type A | Lateral pillar is unaffected |
| Herring Type B | > 50% of the lateral pillar is intact |
| Herring Type C | < 50% of the lateral pillar is intact |
Stulberg and Mose classification
This classification is used after skeletal maturity for predicting prognosis by observing the deformity of the femoral head and its congruity in relation to the acetabulum.
| | |
| --- | --- |
| Stulberg 1 | Normal spherical head (spherical congruency → No osteoarthritis (OA)) |
| Stulberg 2 | Spherical head with coxa magna or steep acetabulum (spherical congruency) |
| Stulberg 3 | Non-spherical head (aspherical congruency → OA late adulthood) |
| Stulberg 4 | Flathead and flat acetabulum (aspherical congruency → OA late adulthood) |
| Stulberg 5 | Aspherical incongruence (aspherical incongruency → OA before 50 years) |
Therapy
Note: The goal of the treatment of Perthes disease is to maintain a range of movement. The insurance of a range of motion is fundamental to a congruent hip situation.
Treatment is primarily aimed at limiting progressive deformation during the repair phase to prevent a reduction in epiphyseal capacity and the femoral head slipping out from the acetabulum (loss of containment). The initiation of treatment is dependent on the age of the affected child. Physiotherapy is necessary to achieve a maximal range of movement. If there is an additional contracture of adductor muscles, abduction ability can be improved through treatment with botulinum toxin in conjunction with intensive physiotherapy.
Note: For refractory disease, biologics are being experimented as an adjunct to surgery. When disease progression does occur despite interventions, joint reconstructive surgeries are indicated to relieve pain.
Treatment of Perthes disease in children < 6 years
As it is not uncommon for Perthes disease to be self-limiting, a wait-and-see approach is taken for children up to the age of 6. However, regular checks are mandatory.
Treatment of Perthes disease in children > 6 years
Regular checks (every 3 months)
Abduction braces
Surgery in stages Catterall III/Salter-Thompson type B/Herring types B and C, when there is a risk that the femoral head will slip from the acetabulum or other radiological risk signs. Possible surgical techniques are:

Intertrochanteric varus osteotomy
Salter pelvic osteotomy: conversion of the acetabular roof
Tönnis triple osteotomy ( > 8 years): osteotomy of the ilium, ischium, and pubis
Postoperatively: pelvic and leg plaster, periodic radiological checks
Differential Diagnosis
The following table provides an overview of the most important differential diagnosis of Perthes disease.
| | |
| --- | --- |
| Coxitis fugax | Acute, self-limiting (3–10 days), often in boys > 4 years, synovitis and joint effusion, no bony changes |
| Bacterial coxitis | Pronounced pain, joint drain/paracentesis is indicated |
| Juvenile osteonecrosis | Vascular necrosis with a known underlying disease (e.g., sickle cell anemia, thalassemia, coagulopathy) |
| Septic arthritis | Acute malaise, flexed hips, abducted and externally rotated, signs of inflammation, greater joint effusion, synovitis, bone marrow edema |
| Juvenile rheumatoid arthritis | Fever, positive antinuclear antibodies (ANA), rash, atrophy of the thigh muscles, synovitis, ischemic signs in the femoral head (in long-term cases) |
| Slipped capital femoral epiphysis | Dislocation of the femoral head in the caudal and posteromedial direction, metadiaphyseal bone marrow edema, enlargement and distortion of the growth plate |
| Hypothyrosis | Determine thyroid values! |
| Pituitary dysfunction | Proportioned growth retardation, retardation of growth zones |
Prognosis and Course of Perthes Disease
The child's age at the point of diagnosis is the main determinant for the course of the disease (the younger, the better). Long term studies of conservative therapy showed that serious coxarthrosis occurred in 15–20% of cases. Clinical risk factors for a prognostically unfavorable course are:
being overweight
severe disabilities
female gender Retrospective studies of later results showed that over 80% of hips showed good results up until the 4th decade of life.