Chemistry and Pharmacodynamics
Definition
Class 2 antiarrhythmics include beta-blockers, which competitively inhibit epinephrine and norepinephrine from binding to the beta-adrenergic receptors on vascular and cardiac cells.
Chemical structure
Contain an aromatic or heteroaromatic ring with an amine group
Propranolol is the prototype drug.
Most clinically used beta-blockers are delivered as racemates, except timolol.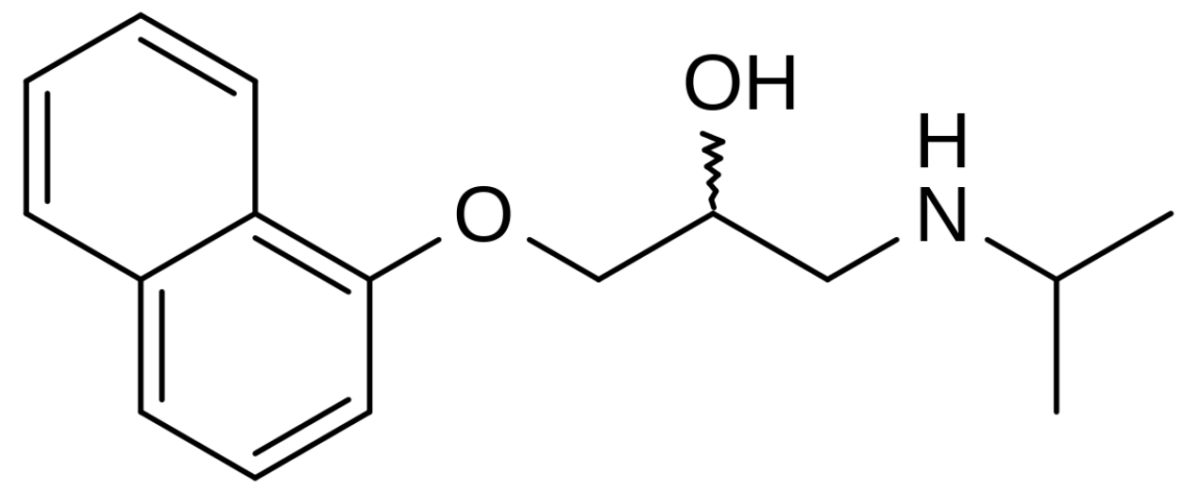 Mechanism of action
Beta-blockers competitively inhibit the beta-adrenergic receptors:

Nonselective agents that bind to and induce antagonistic effects at both beta-1 (B1) and beta-2 (B2) receptors
Cardioselective agents only bind to B1 receptors.

Receptor locations:

B1:

Sinoatrial (SA) node
Atrioventricular (AV) node
Atrial and ventricular muscle
Kidneys

B2:

Blood vessels
Bronchi
GI tract
Uterus
Liver
Urinary tract

Action on cardiac cells:

Block the binding of catecholamines (epinephrine) to G-protein-coupled receptors (B1 receptor) → inhibit activation of adenylyl cyclase
↓ Conversion of ATP to cAMP → ↓ protein kinase A activation
Calcium (Ca) channels are not phosphorylated → do not open → ↓ Ca influx into the myocardial cells
Nodal effect:

↓ SA node activity
↑ AV node conduction time and refractory period
↓ Slope and prolonged phase 4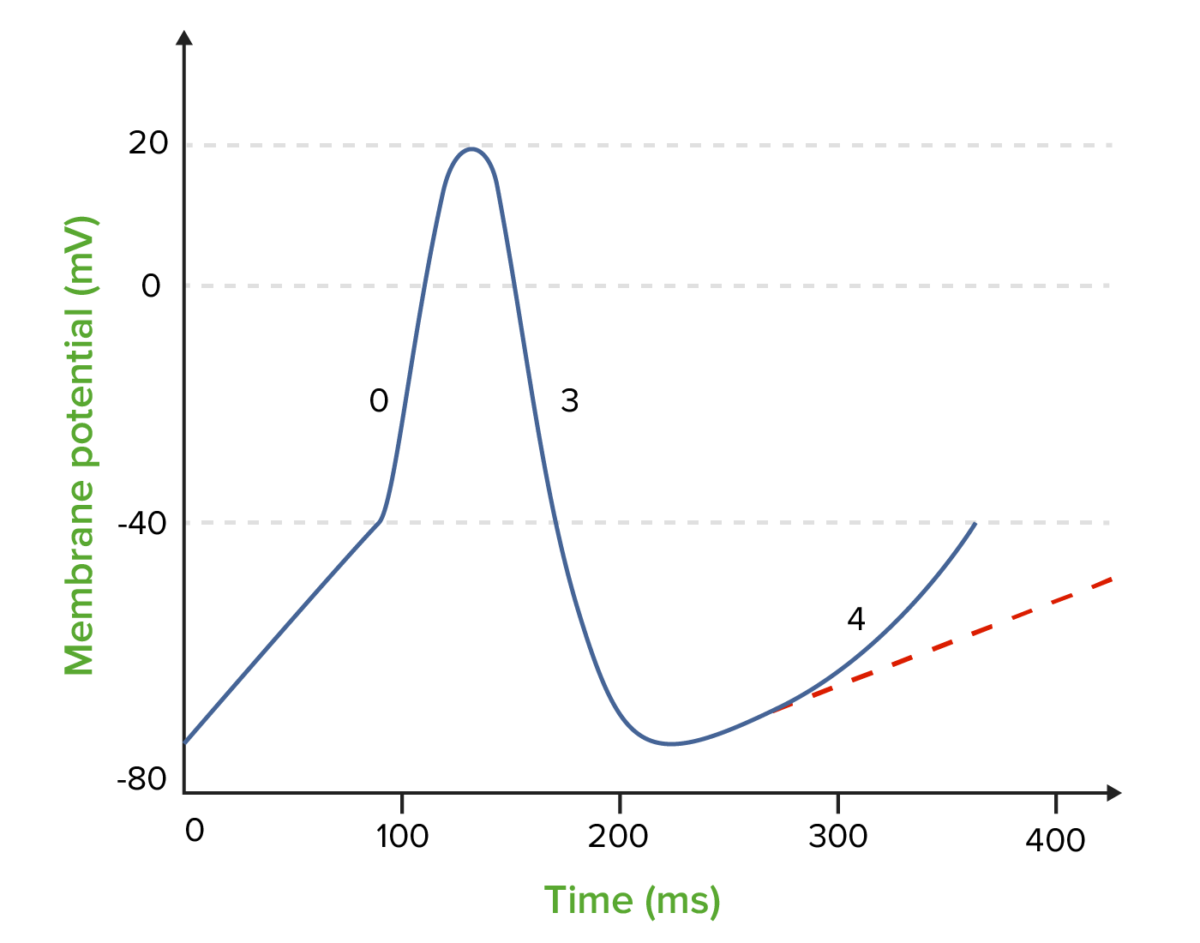 Physiologic effects
Antiarrhythmic effects:

Negative chronotropic effects (HR)
Negative dromotropic effects:

Delays speed and ability to instigate an action potential
↓ Conduction velocity

Prolonged refractory period
Membrane-stabilizing activity (MSA) and intrinsic sympathomimetic activity (ISA) do not have a major impact on antiarrhythmic potency.

B1 blockade:

↓ Oxygen demand:

↓ HR
↓ Contractility
↓ Afterload
↓ Blood pressure

↑ Oxygen supply (indirectly):

Prolongs diastole
Improves perfusion

B2 blockade:

Vasoconstriction
Bronchoconstriction

Alpha-1 (A1) blockade:

Seen with carvedilol
Further ↓ afterload due to ↓ systemic vascular resistance (SVR)

ECG effects: PR prolongation
Adrenergic receptor types and their properties
Table: Adrenergic receptor types and their properties
Receptor location
Response to stimulus
Response to blockade
B1 receptors
Heart
SA node
↑ HR
↓ HR
Atria
↑ Contractility and conduction speed
↓ Contractility and conduction speed
AV node and His-Purkinje fibers
↑ Automaticity and conduction speed
↓ Automaticity and conduction speed
Ventricles
↑ Contractility, automaticity, conduction speed
↓ Contractility, automaticity, conduction speed
Kidney
JG cells
↑ Renin release
↓ Renin release
B2 receptors
Arteries

Carotid
Coronary
Peripheral

Vasodilation
Vasoconstriction
Lungs
Bronchiolar smooth muscle
Bronchodilation
Bronchoconstriction
Bladder
Wall
Relaxation
Contraction
Liver
Hepatic tissue
Stimulates glycogenolysis

↓ Insulin secretion
↓ Glycogenolysis

A1 receptors
Arteries
Peripheral
Vasoconstriction
Vasodilation
Bladder
Sphincter
Contraction
Relaxation
AV: atrioventricular
SA: sinoatrial
JG: juxtaglomerular

Additional properties of beta-blockers
Some beta-blockers can exhibit the following properties and effects:
Table: Properties of beta-blockers

| Beta-blocker property | Effect |
| --- | --- |
| ISA | Partial stimulation of B receptors → suboptimal lowering of HR (avoid post-MI) |
| MSA | Drug can ↓ cardiac conduction velocity by blocking myocyte Na+ channels |
| NO | Drug stimulates NO production → peripheral vasodilation |
ISA: intrinsic sympathomimetic activity
MSA: membrane-stabilizing activity

Classification
Class 2 antiarrhythmics can be classified based on their beta-receptor selectivity:
Cardioselective beta-blockers (B1 receptors):

Acebutolol
Atenolol
Betaxolol
Bisoprolol
Esmolol
Metoprolol

Noncardioselective beta-blockers (B1 and B2 receptors):

Nadolol
Propranolol
Timolol
Carvedilol (also has A1 receptor-blocking activity)
Pharmacokinetics
Absorption
Most drugs are rapidly and completely absorbed from the GI tract.
↓ Rate of absorption:

Elderly
Individuals with renal failure
Distribution
Rapid distribution within the body
Protein binding is variable.
Lipophilic agents can cross the blood-brain barrier.
Metabolism
Most lipophilic agents undergo significant 1st-pass hepatic metabolism:

Carvedilol
Metoprolol
Propranolol

Some drugs are converted to their active metabolites.
Hydrophobic compounds tend to undergo limited hepatic metabolism.
Excretion
Hepatic metabolism (lipophilic agents) → bile
Hydrophilic agents → renal excretion
Impaired liver and kidney function can ↓ rate of elimination
Indications
Arrhythmia
Class 2 antiarrhythmics are used in the management of:
Atrial fibrillation
Atrial flutter
Supraventricular tachycardias
Ventricular arrhythmias
Additional uses
Beta-blockers, as a class, encompass FDA approvals for treating:
Coronary heart disease:
Essential tremors
Glaucoma (timolol)
Heart failure with reduced ejection fraction
Hypertension
Hypertrophic subaortic stenosis
Migraine prophylaxis
Pheochromocytoma; adjunct
Variceal hemorrhage prophylaxis
Indications for class 2 antiarrhythmic medications
Table: Properties of beta-blockers

| Medication | Arrhythmia | Angina | MI | CHF | Hypertension | MSA |
| --- | --- | --- | --- | --- | --- | --- |
| Atenolol* | | X | X | | X | |
| Betaxolol* | Afib | | | | X | X |
| Bisoprolol* | | X | | X | X | |
| Metoprolol* | | X | X | X | X | X |
| Esmolol* | | | | | X | |
| Acebutolol* | V | X | X | | X | X |
| Nadolol | | X | X | | X | |
| Propranolol | | X | X | | X | X |
| Timolol | Afib | X | X | | X | |
| Carvedilol | Afib/flutter | X | X | X | X | X |
* denotes cardioselective beta-blockers
MSA: membrane-stabilizing activity
Afib: atrial fibrillation
SVT: supraventricular tachycardia
V: ventricular arrhythmias
CHF: congestive heart failure
Adverse Effects and Contraindications
Adverse effects
Cardiovascular:

Bradycardia
Hypotension
Heart failure exacerbation (with initial therapy)
Withdrawal with discontinuation that can precipitate (from ↑ sympathetic activity):

MI (in individuals with coronary artery disease)
Ventricular tachyarrhythmias
Sudden cardiac death

CNS:

Fatigue
Depression
Vivid dreams
Sexual dysfunction

Respiratory: bronchoconstriction
Endocrine:

Hypoglycemia
Hyperglycemia (usually in individuals with noninsulin-dependent diabetes mellitus)
Dyslipidemia
Weight gain
Fluid retention

Dermatologic: potential exacerbation of psoriasis
Contraindications
Decompensated heart failure
Cardiogenic shock
Hypotension
Severe bradycardia
2nd- or 3rd-degree AV block
Sick-sinus syndrome (unless a pacemaker is present)
Severe reactive airway disease
Pulmonary hypertension (esmolol)
Drug interactions
Enhance bradycardia:

Ca-channel blockers
Amiodarone
A2 agonists
Digoxin

Enhanced hypoglycemia:
Excessive vasoconstriction: ergot alkaloids
Comparison of Antiarrhythmic Drug Classes
The following table compares antiarrhythmic classes 1‒4. Class 5 is not included due to the varied mechanisms of action and effects.
Table: Comparison of antiarrhythmic drug classes 1‒4
Class
Mechanism of action
Effects
Arrhythmia indications
1
1A

Block fast Na channels
↓ Na entry into myocardial cells
Affects depolarization

↓ Phase 0 slope
↓ Conduction velocity in nonnodal tissue

Atrial and ventricular
WPW

1B
Ventricular
1C
Mostly atrial
2

Block beta receptors
↓ Ca influx into myocardial cells
Affects refractory period

↓ Phase 4 slope
↑ Phase 4 duration
↓ Conduction velocity in nodal and nonnodal tissue

Atrial and ventricular
3

Block K channels
↓ K efflux from myocardial cells
Affects repolarization

↑ Phase 3 duration
Most drugs ↓ impulse transmission in nonnodal tissue
Amiodarone and sotalol also ↓ nodal conduction

Atrial and ventricular
4

Block Ca channels
↓ Ca influx into myocardial cells

Affects phase 2 in nonnodal tissue
↓ Phase 0 slope in nodal tissue
↓ Conduction velocity in nodal tissue

Atrial
AV: atrioventricular
Ca: calcium
SA: sinoatrial
WPW: Wolff-Parkinson-White syndrome
References
Hall, J.E., Guyton, A.C. (2016). The Autonomic Nervous System and the Adrenal Medulla. Guyton and Hall Textbook of Medical Physiology, 13e. Philadelphia, PA: Elsevier.
Opie, L.H. (2013). β-blocking agents. Drugs for the Heart, 8e. Philadelphia, PA: Elsevier Saunders.
Pencina, M.J., Navar, A.M., Wojdyla, D., et al. (2019). Quantifying Importance of Major Risk Factors for Coronary Heart Disease. Circulation; 139, 1603–1611. https://doi.org/10.1161/CIRCULATIONAHA.117.031855.
Benjamin, E.J., Muntner, P., Alonso, A., Bittencourt, M.S., et al. (2019). Heart disease and stroke statistics—2019 update: A report from the American Heart Association. Circulation; 139:e56–e528. https://doi.org/10.1161/CIR.0000000000000659.
Lipton, R.B., Stewart, W.F., Diamond, S., et al. (2001). Prevalence and burden of migraine in the United States: Data from the American Migraine Study II. Headache; 41, 646–657. https://doi.org/10.1046/j.1526-4610.2001.041007646.x.
Jackson, J.L., Kuriyama, A., Kuwatsuka, Y., et al. (2019). Beta-blockers for the prevention of headache in adults, a systematic review and meta-analysis. PLoS One; 14, e0212785. https://doi.org/10.1371/journal.pone.0212785.
De Leo, S., Lee, S.Y., Braverman, L.E. (2016). Hyperthyroidism. The Lancet; 388, 906–918. http://dx.doi.org/10.1016/S0140-6736(16)00278-6.
Podrid, P. (2020). Major side effects of beta blockers. In Levy, S. (Ed.) UpToDate. Retrieved June 13, 2021, from https://www.uptodate.com/contents/major-side-effects-of-beta-blockers.
Kannam, J., Gersh, B. (2021). Beta blockers in the management of chronic coronary syndrome. Verheugt, F. UpToDate. Retrieved June 13, 2021, from https://www.uptodate.com/contents/beta-blockers-in-the-management-of-chronic-coronary-syndrome.