Chemistry and Pharmacodynamics
Chemical structure
Contains a hexose-ring nucleus
Glycosidic linkages to various amino sugars
Gentamicin is the prototypical drug.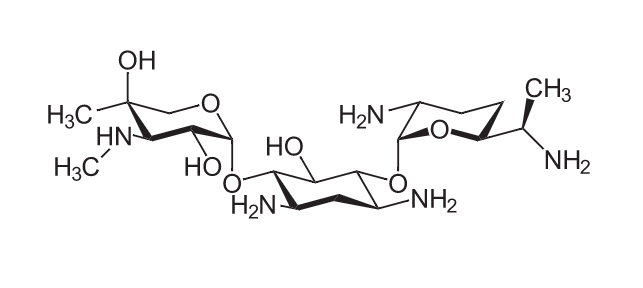 Mechanism of action
Aminoglycosides bind to the bacterial 30S ribosomal subunit.
Disruption of bacterial protein synthesis by:

Prevention of initiation complex formation
Misreading of mRNA → production of faulty protein → damage to the cell
Inhibition of translocation

The process is lethal for the bacterial cell → bactericidal (concentration-dependent killing)
The postantibiotic effect allows for continued suppression of bacterial growth.
Note: Aminoglycosides are transported across the cell membrane via an oxygen-dependent process (not effective against anaerobic bacteria).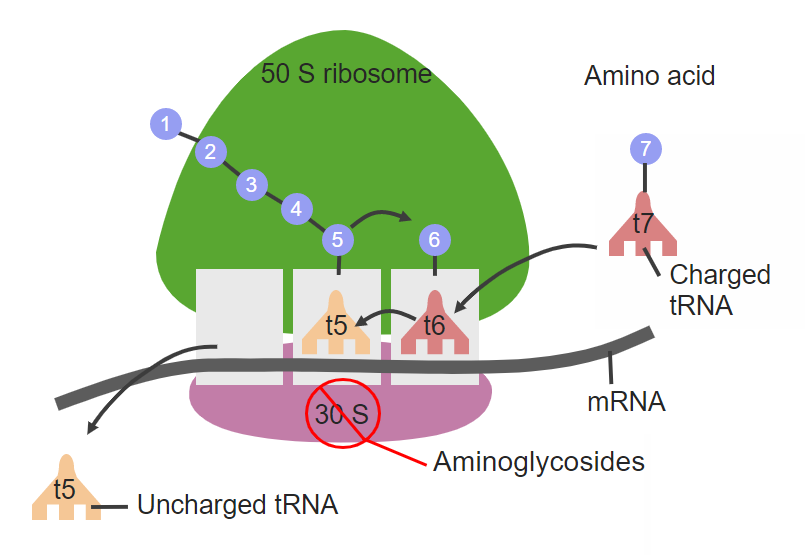 Pharmacokinetics
Absorption
Poor enteral absorption
Usually given IV or IM
Distribution
Hydrophilic → volume of distribution ↑ with fluid overload (e.g., edema, ascites)
Crosses the placenta
Does not cross the blood-brain barrier
Poor penetration into:

Biliary tree
Respiratory secretions
Excretion
Clearance is correlated with renal function (↓ glomerular filtration → ↑ half-life).
Approximately 99% is unchanged in the urine.
Can be removed with hemodialysis
Indications
Antimicrobial coverage
Aerobic gram-negative bacteria, including:

Pseudomonas aeruginosa
Escherichia coli
Klebsiella pneumoniae
Haemophilus influenzae
Serratia marcescens
Francisella tularensis
Brucella
Yersinia
Campylobacter

Mycobacteria
Synergistic effect with β-lactam antibiotics against:

Staphylococcus
Streptococcus
Enterococcus
Types of infections
Usually used in combination therapy for:

Endocarditis
Nosocomial pneumonia
Osteomyelitis
Urinary tract infections (including pyelonephritis)

Used as monotherapy for:

Multidrug-resistant (MDR) urinary tract infections
Plague
Tularemia

Off-label:

Tobramycin: inhaled (for cystic fibrosis)
Amikacin and streptomycin: MDR Mycobacterium tuberculosis
Adverse Effects and Contraindications
Adverse effects
Nephrotoxicity → accumulation of aminoglycosides in the renal cortex
Ototoxicity (can be irreversible):

Amikacin: cochlear damage
Gentamicin, streptomycin, and tobramycin: vestibular damage

Neuromuscular blockade (rare)
Contraindications
Allergy to aminoglycosides
Pregnancy
Neuromuscular disorders (e.g., myasthenia gravis)
Drug interactions
Caution with nephrotoxic drugs:

Amphotericin B
Vancomycin
NSAIDs
Radiocontrast dye

Loop diuretics: ↑ risk of ototoxicity
↑ Risk of neuromuscular blockade:

Vecuronium
Botulinum toxin
Mecamylamine
Monitoring
Serum drug levels (peak and trough levels)
Renal function
Hearing function
Visual acuity
Mechanism of Resistance
Several mechanisms of aminoglycoside resistance:
Production of inactivating enzymes:

Acetyltransferases
Phosphotransferases
Nucleotidyltransferases

Alterations at ribosomal binding sites (methylation)
Efflux systems and ↓ cell permeability
Comparison of Antibiotics
The following table compares antibiotics, which inhibit bacterial protein synthesis:
Table: Comparison of several classes of bacterial protein synthesis inhibitor antibiotics
Drug class
Mechanism of action
Coverage
Adverse effects
Amphenicols

Bind to the 50S subunit
Prevent transpeptidation

Gram positives
Gram negatives
Atypicals

GI upset
Optic neuritis
Aplastic anemia
Gray baby syndrome

Lincosamides

Bind to the 50S subunit
Prevent transpeptidation

Gram-positive cocci:
Anaerobes

GI upset
Allergic reactions
Pseudomembranous colitis

Macrolides

Bind to the 50S subunit
Prevent transpeptidation

Gram positives
Gram negatives
Atypicals
Mycobacterium avium complex

GI upset
QT prolongation
Hepatotoxicity
Myasthenia gravis exacerbation

Oxazolidinones

Bind to the 23S rRNA of the 50S subunit
Prevent initiation complex formation

Gram-positive cocci:

MSSA
MRSA
VRE
Streptococcus

Myelosuppression
Neuropathy
Lactic acidosis
Serotonin syndrome
rRNA: ribosomal RNA
VRE: vancomycin-resistant Enterococcus