Chemistry and Pharmacodynamics
Definition
Glycopeptide antibiotics (GPAs) are actinomycete-derived, glycosylated, nonribosomal peptides, which target gram-positive bacteria by inhibition of cell wall synthesis:
Vancomycin
Teicoplanin (not available in the United States)
Chemical structure
Both vancomycin and teicoplanin are heptapeptides, but the carbohydrate groups of each drug differ.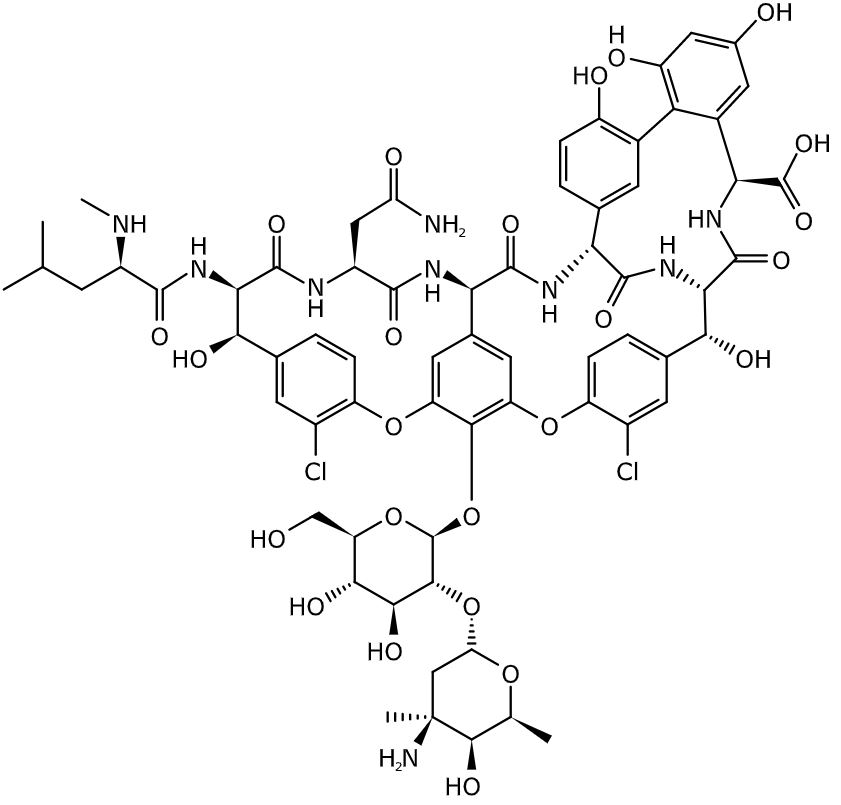 Mechanism of action
Glycopeptides are bactericidal through inhibition of cell wall synthesis in sensitive bacteria:

The cell wall of the bacteria is strengthened by cross-linked peptidoglycan (PG) structures.
GPAs bind to the D-alanyl-D-alanine terminus of cell wall PG precursors, causing inhibition of cell wall synthesis.
GPAs are effective in gram-positive bacteria because PG precursors are exposed on the external surface.
Gram-negative bacteria are not sensitive to GPAs: The lipopolysaccharide membrane is not permeable to large biomolecules.

Teicoplanin is more potent than vancomycin.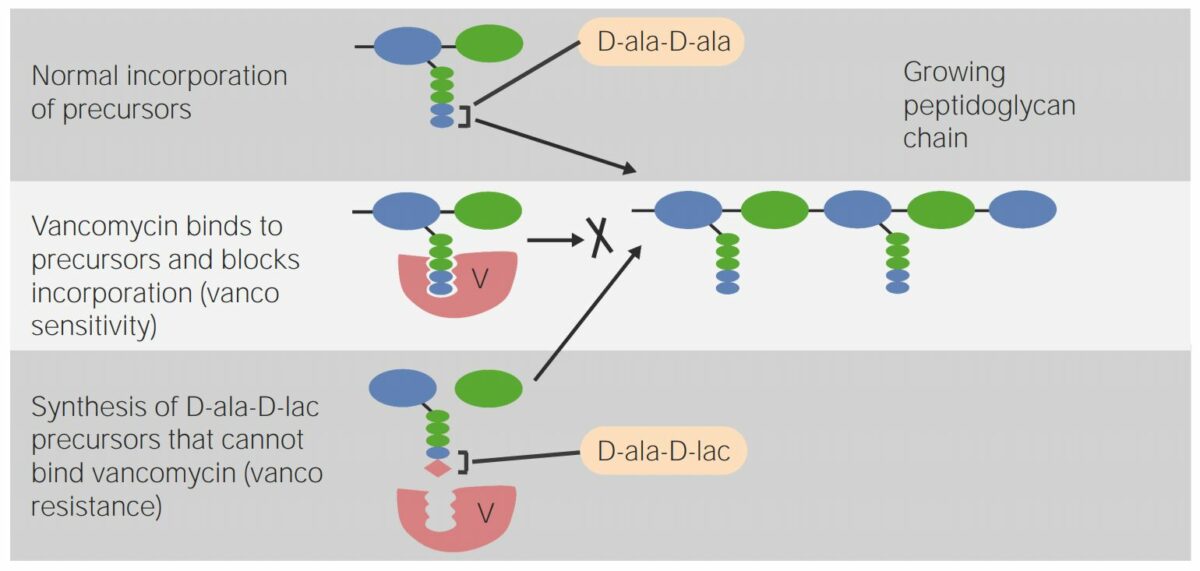 Pharmacokinetics
Absorption and distribution
Absorption:

Oral vancomycin and teicoplanin:

Poor oral absorption
Effective for intestinal infections (e.g., Clostridiodes difficile colitis), but not systemic infections

Vancomycin is mainly administered intravenously.
Teicoplanin is administered intravenously and intramuscularly.

Distribution:

Vancomycin:

30% of vancomycin is protein bound.
Penetrates most bodily spaces (seen in bile and pleural, pericardial, synovial, and ascitic fluids)
Reaches the cerebrospinal fluid (CSF) when the meninges are inflamed.
Half-life is 4–6 hours.

Teicoplanin:

90% protein bound
Longer half-life than vancomycin (can be given as a single, daily dose)
Metabolism and excretion
Vancomycin:

Poorly metabolized
Excreted unchanged in the urine by the kidneys

Teicoplanin: similar to vancomycin with primarily renal excretion
Indications
Glycopeptide antibiotics have broad activity against gram-positive bacterial infections and are often used as the last resort treatment for serious conditions.
Table: Indications for glycopeptide antibiotics
Drug
Indications
Clinical Pearls
Vancomycin

Clostridiodes difficile infection (oral)
Staphylococcal infections:

Bacteremia
Bone infections
Lower respiratory tract infections (pneumonia)
Skin and soft tissue infections (SSTIs)
Meningitis/central nervous system infections

Endocarditis:

Enterococcus
Corynebacteria
Staphylococci (including MRSA)
Streptococcus viridans
Streptococcus bovis

Does not cover gram-negative organisms
Intravenous infusion is administered over 60 minutes (rapid infusion → red man syndrome)
Vancomycin monitoring:

Serum trough levels (within 30 minutes prior to a dose, typically before the 4th dose of a regimen)
Renal function (dose adjustment may be needed if function is impaired)
CBC (depending on underlying condition or adverse effect)

Teicoplanin
Similar spectrum of activity as vancomycin

Better tolerated than vancomycin
Not available in the United States
Adverse Effects
Vancomycin
Anaphylaxis
Delayed hypersensitivity reaction:

Immunologic mechanism
Maculopapular rash and other cutaneous manifestations

Red man syndrome:

Flushing, erythema, itching of the face and chest, and sometimes hypotension resulting from histamine release caused by rapid vancomycin infusion
Prevented by slowing infusion time and pretreating with antihistamines
Not a true allergy

Vancomycin-induced neutropenia:

Rare but serious adverse reaction
Absolute neutrophil count (ANC) < 1,000/µL (associated with prolonged use of vancomycin)
Unknown mechanism

Drug-induced immune thrombocytopenia:

Not dose related
Typically seen within 1–2 weeks of initiation

Nephrotoxicity:

Not dose related
Seen in individuals with risk factors:

Trough levels ≥ 15 mg/L or high daily doses
Longer exposure (> 7 days)
Preexisting renal impairment
Concurrent administration of another nephrotoxic drug

Ototoxicity:

Manifests as tinnitus, sensorineural hearing loss, dizziness, or vertigo
Increased risk if administered with another ototoxic agent (e.g., aminoglycosides)

Phlebitis: inflammation, pain, swelling, and erythema of a vein from the injection of drugs or hypertonic solutions
Teicoplanin
Generally better tolerated
Rarely associated with incidences of red man syndrome, ototoxicity, or nephrotoxicity
Contraindications
In general, hypersensitivity to vancomycin or teicoplanin
Precautions for individuals with underlying conditions such as renal impairment, hearing disorders, neutropenia, or thrombocytopenia
Mechanism of Resistance
Glycopeptide-resistant strains of enterococci (especially Enterococcus faecium):

The mechanism typically involves binding with the D-alanyl-D-alanine terminus of PG precursors of the bacterial cell wall.
Resistance results from the alteration of the D-alanyl-D-alanine target to D-alanyl-D-lactate or D-alanyl-D-serine (poor glycopeptide binding)

Vancomycin-resistant enterococcal infections are a major source of nosocomial infection.
Comparison of Antibiotics
The following antibiotics are agents with activity against gram-positive bacteria. All act on the bacterial cell wall through varying mechanisms.
Table: Comparison of antibiotics
Class of antibiotics
Mechanism of action
Drugs
Lipopeptides
Disruption of the bacterial cell membrane by generating an ion-conducting channel, depolarizing the membrane, and leading to cell death
Daptomycin
Glycopeptides
Inhibition of cell wall synthesis by binding to the D-alanyl-D-alanine terminus of cell wall peptidoglycan (PG) precursors
Lipoglycopeptides
Dual action of inhibition of cell wall synthesis and depolarization of the cell membrane

Telavancin
Dalbavancin
Oritavancin
Comparison of Antibiotic Coverage
Different antibiotics have varying degrees of activity against different bacteria. The table below outlines the antibiotics with activity against 3 important classes of bacteria: gram-positive cocci, gram-negative bacilli, and anaerobes.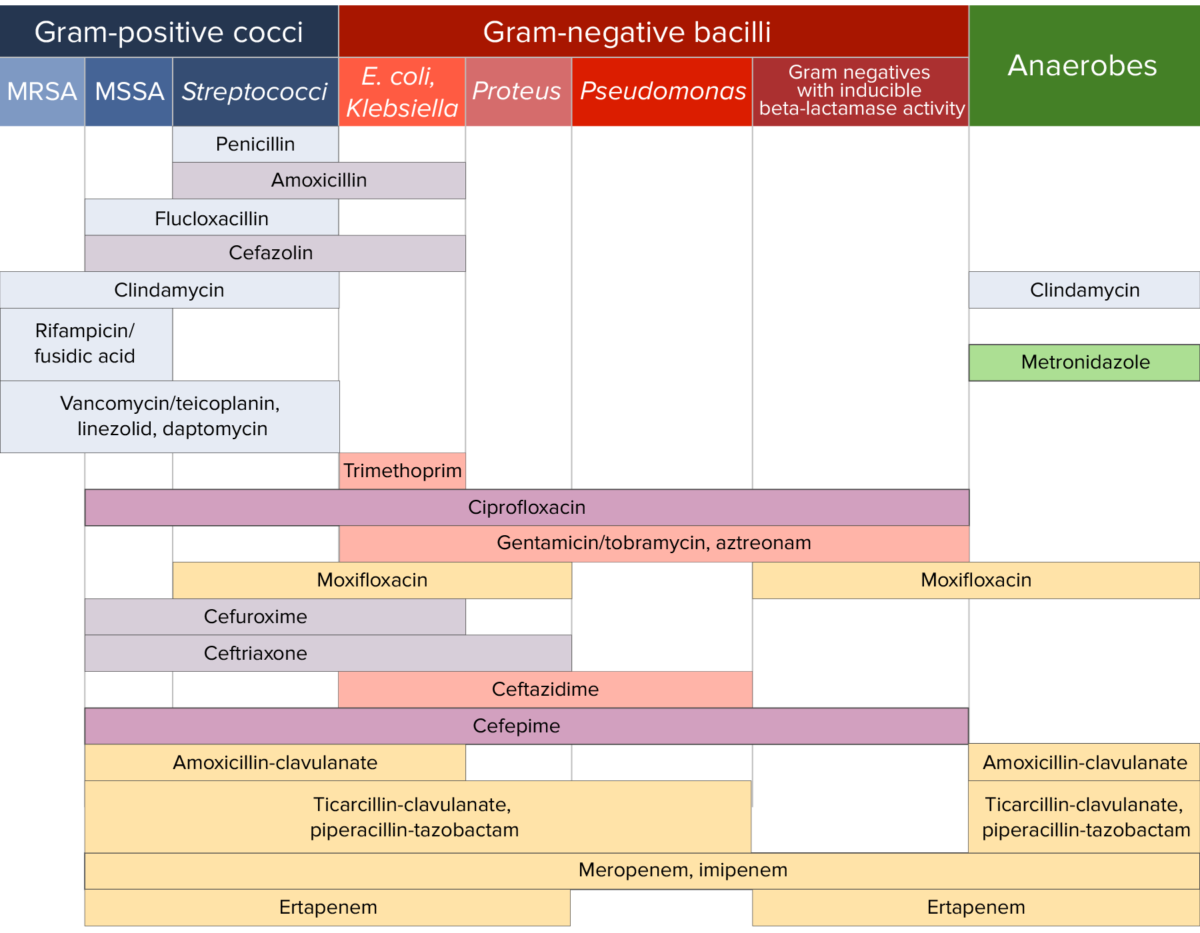 References
Bartlett, J.G., Auwaerter, P.G., Pham, P.A. (2010). The Johns Hopkins ABX Guide. Diagnosis and Treatment of Infectious Diseases. 2nd Edition. Jones & Bartlett Publishers, Sudbury MA.
Binda, E., Marinelli, F., & Marcone, G.L. (2014). Old and New Glycopeptide Antibiotics: Action and Resistance. Antibiotics (Basel, Switzerland). 3(4), 572–594. https://doi.org/10.3390/antibiotics3040572
Butler, M., Hansford, K., Blaskovich, M., et al. (2014). Glycopeptide antibiotics: Back to the future. J Antibiot. 67, 631–644. https://doi.org/10.1038/ja.2014.111
Deck, D.H., Winston, L.G. (2012). Beta-Lactam & Other Cell Wall- & Membrane-Active Antibiotics (Chapter 43). In Katzung, B.G., Masters, S.B., Trevor, A.J. (Eds.), Basic and Clinical Pharmacology. 12e. McGraw-Hill/Lange.
Economou, N. J., et al. (2013). Structure of the complex between teicoplanin and a bacterial cell-wall peptide: use of a carrier-protein approach. Acta crystallographica. Section D, Biological crystallography. 69(4), 520–533. https://doi.org/10.1107/S0907444912050469
Finch, R.G., Eliopoulos, G.M. (2005). Safety and efficacy of glycopeptide antibiotics. J Antimicrob Chemother. 55 (Suppl 2), ii5–13. https://doi.org/10.1093/jac/dki004
MacDougall, C. (2017). Protein synthesis inhibitors and miscellaneous antibacterial agents. In Brunton L.L., et al. (Eds.), Goodman & Gilman's: The Pharmacological Basis of Therapeutics, 13e. McGraw Hill. https://accessmedicine.mhmedical.com/content.aspx?bookid=2189&sectionid=172485211
Patel, S., Preuss, C.V., Bernice, F. (2021). Vancomycin. StatPearls. Treasure Island (FL): StatPearls Publishing. https://www.ncbi.nlm.nih.gov/books/NBK459263/
Riedel, S., et al. (Eds.). (2019). Antimicrobial chemotherapy. Jawetz, Melnick, & Adelberg's Medical Microbiology, 28e. McGraw Hill. https://accessmedicine.mhmedical.com/content.aspx?bookid=2629&sectionid=217773038
Vancomycin: Drug information. (2021). UpToDate. Retrieved July 17, 2021, from https://www.uptodate.com/contents/vancomycin-drug-information