Eukaryotic Organisms
Eukaryotic organisms include:
Protozoans
Algae
Fungi
Plants
Animals
Cellular organization
Cellular characteristics
Size:

Large
0.5–100 μm in diameter

Organization:

Compartmentalized in membrane-bound organelles
Shape determined by cytoskeleton
Endomembrane system (endoplasmic reticulum, Golgi, lysosomes) containing large ribosomes for protein synthesis

DNA:

Linear
Structured in multiple rod-shaped chromosomes
Organized and packaged with histones
Chromosomes can be haploid (unpaired) or diploid (paired).
Stored in membrane-bound nucleus
Transcription occurs inside the nucleus; translation occurs in the cytosol.

Cell membrane: lipid bilayer
Cell wall:

Only present in some cells
Composed of cellulose (plants and algae) or chitin (mollusks, insects, crustaceans, fungi)

Motility:

Flagella
Flexible projections made of microtubules

Cell division:
Transport of matter across cell membrane:

Simple and facilitated diffusion
Phagocytosis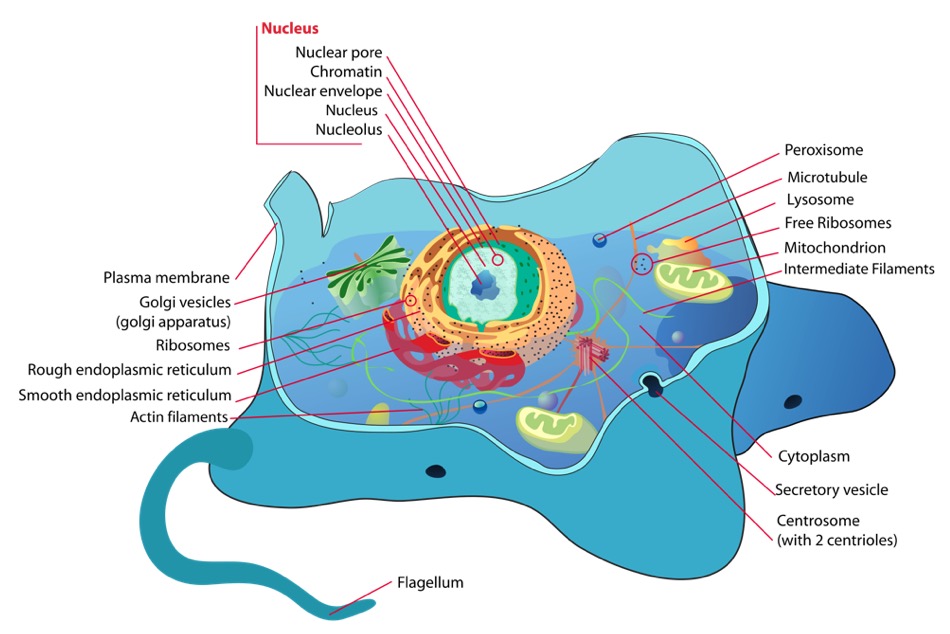 Prokaryotic Organisms
Prokaryotic organisms include bacteria and archea.
The cellular organization is unicellular.
Cellular characteristics
Size:

Small
0.5–100 μm in diameter

Organization:

No true compartmentalization
Metabolic reactions occur freely in cytosol.
Ribosomes found free in cytosol
Lack cytoskeleton
Can have "inclusion bodies": dense polymerized aggregates of proteins or nutrients

DNA:

Circular
Organized and packaged with nucleoid-associated proteins (NAPs)
Chromosomes are exclusively haploid (unpaired).
Single chromosome
May have additional extrachromosomal segments of DNA called plasmids
Found in the nucleoid (nonmembrane-bound area)
Transcription and translation both occur in the cytosol.

Cell membrane: lipid bilayer
Cell wall:

Found in almost all cells
Often composed of peptidoglycan

Motility: rigid spiral flagella
Cell division: binary fission
Transport of matter across cell membrane: simple and facilitated diffusion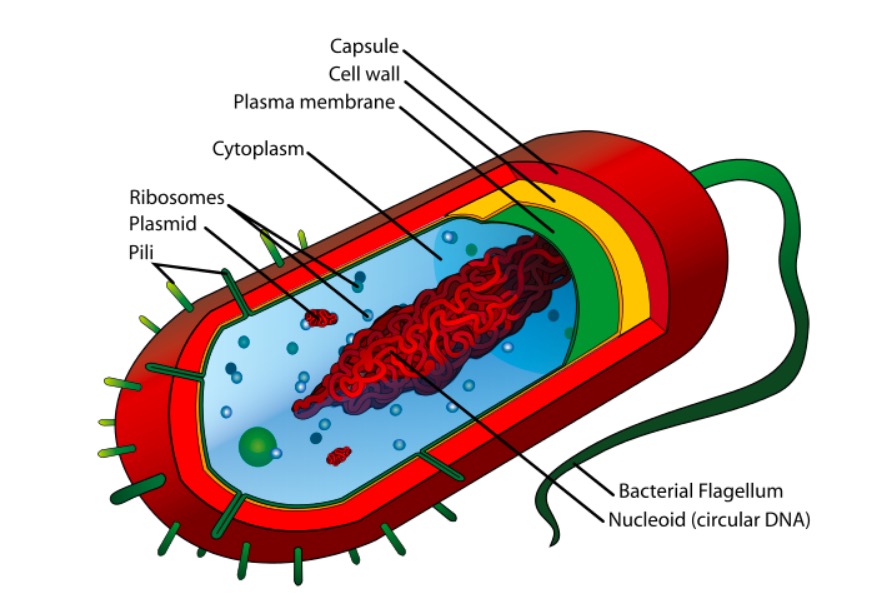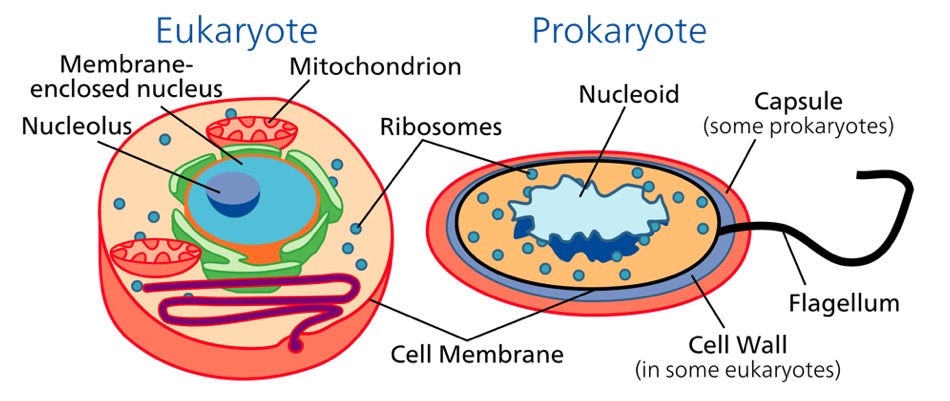 Clinical Relevance
Bacteria: prokaryotic single-celled microorganisms that are metabolically active and divide by binary fission. Some of these organisms play a significant role in the pathogenesis of diseases. Management of bacterial disease generally involves antibiotics; however, antibiotic choice may vary depending on the bacterial structure and metabolism.
Fungi: these organisms belong to the eukaryote domain and, like plants, have cell walls and vacuoles, exhibit cytoplasmic streaming, and are immobile. Almost all fungi, however, have cell walls composed of chitin, not cellulose. Fungi do not carry out photosynthesis but obtain their substrates for metabolism as saprophytes (i.e., they obtain their food from dead matter). An infection caused by a fungus is called a mycosis.
References
Lodish H, Berk A, Zipursky SL, et al. (2000). Molecular Cell Biology. 4th edition. New York: W. H. Freeman. Section 1.3, The Architecture of Cells. https://www.ncbi.nlm.nih.gov/books/NBK21665/
Vellai T, Vida G. (1999). The origin of eukaryotes: the difference between prokaryotic and eukaryotic cells. Proc Biol Sci. 266(1428):1571-7. doi: 10.1098/rspb.1999.0817