Chemistry and Pharmacodynamics
Chemical structure
Nitroimidazoles are composed of an imidazole ring and an attached nitro group.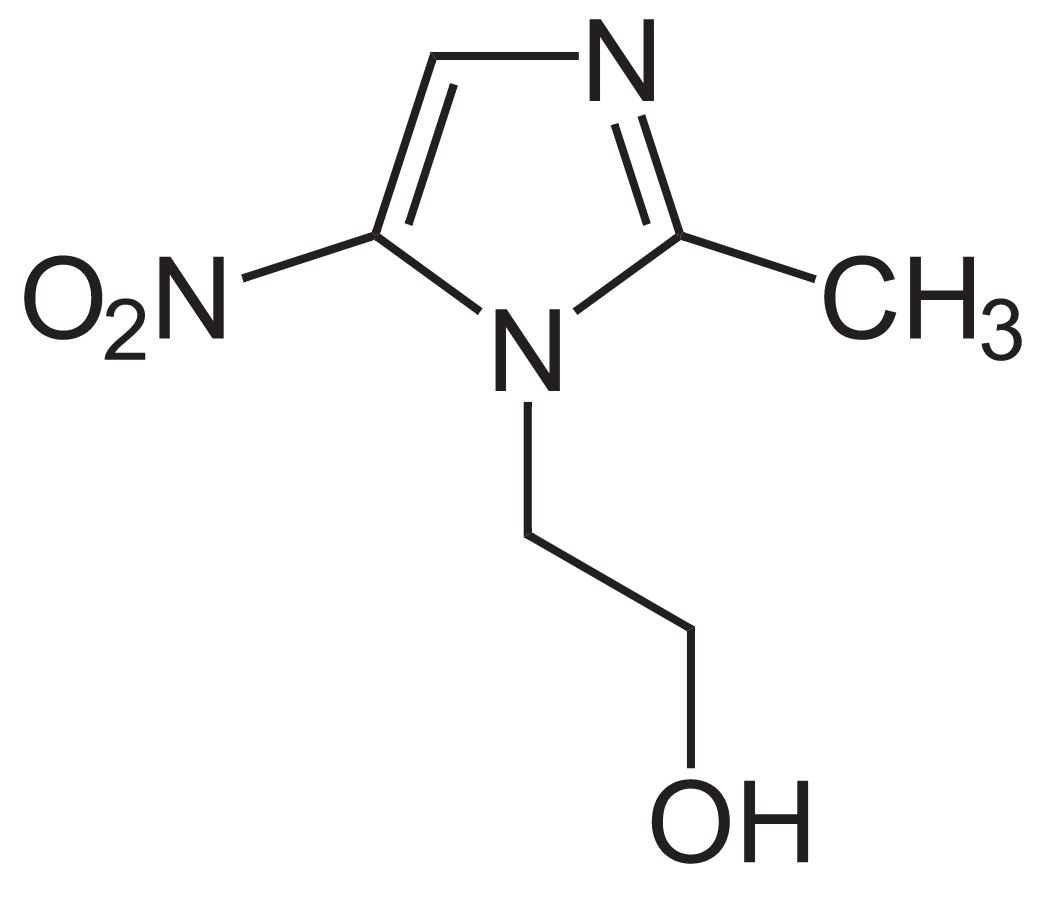 Mechanism of action
Nitroimidazoles passively diffuse into the microbial cell.
Nitroreductases (produced by susceptible organisms) → reduce the nitro group on the molecule
Results in the production of:

Free radicals
Cytotoxic metabolites → interact with host DNA → strand breakage and destabilization of the DNA helix

Cell death occurs
Effect:

Bactericidal against anaerobic bacteria
Antiprotozoal
Pharmacokinetics
The following describes the pharmacokinetics for metronidazole (the prototype drug of the class) and tinidazole.
Absorption
Almost completely absorbed when given orally
Bioavailability > 90%
Distribution
Distributed widely in tissues
Low protein binding (< 20%)
Crosses the blood–brain barrier
Metabolism and excretion
Extensively metabolized in the liver
Excreted mainly in the urine
Indications
Antimicrobial coverage
Anaerobic bacteria:

Helicobacter pylori
Bacteroides
Clostridium (including C. difficile)
Gardnerella

Protozoa:

Giardia
Entamoeba
Trichomonas
Types of infections
Pseudomembranous colitis
Gynecologic infections (including bacterial vaginosis)
Amebiasis
Nongonococcal urethritis
Intraabdominal infections
Intracranial abscess
Adverse Effects and Contraindications
Adverse effects
GI upset
Disulfiram-like reaction with alcohol (due to inhibition of aldehyde dehydrogenase)
Dysgeusia (metallic taste)
Peripheral neuropathy
Headache
Dizziness
Seizures
Urine discoloration (red-brown color)
Contraindications
Pregnancy (1st trimester)
Breastfeeding
Severe hepatic impairment
Drug interactions
Ethanol-containing elixirs:

Cough syrups
IV trimethroprim–sulfamethoxazole

Disulfiram: can cause acute psychosis
↓ Elimination of:
↓ Liver metabolism of:

Phenytoin
Warfarin
Carbamazepine
Mechanism of Resistance
Metronidazole resistance is rare, but can occur by:
↓ Rate of metronidazole reduction inside anaerobes
↓ Uptake of the drug
↑ Efflux of drug from the cell
↑ LDH activity
↑ Activity of DNA repair enzymes
↑ Oxygen-scavenging capabilities
Comparison of Antibiotics
The following table compares several classes of antibiotics with anaerobic coverage:
Table: Comparison of several classes of antibiotics with anaerobic coverage
Drug class
Mechanism of action
Effect
Coverage
Carbapenems

Irreversibly bind penicillin-binding proteins
Inhibit cell wall synthesis

Bactericidal

Gram-positives
Aerobic gram-negatives
Anaerobes

Fluoroquinolones

Inhibit DNA synthesis
Cause breakage of DNA

Bactericidal

Gram-positives
Aerobic gram-negatives
Anaerobes
Atypical organisms

Lincosamides

Reversibly bind to the 50S subunit
Inhibit bacterial protein synthesis

Bacteriostatic
Nitroimidazoles

Produce free radicals
Cause breakage of DNA

Bactericidal
Antiprotozoal

Anaerobic bacteria
Protozoans