Classification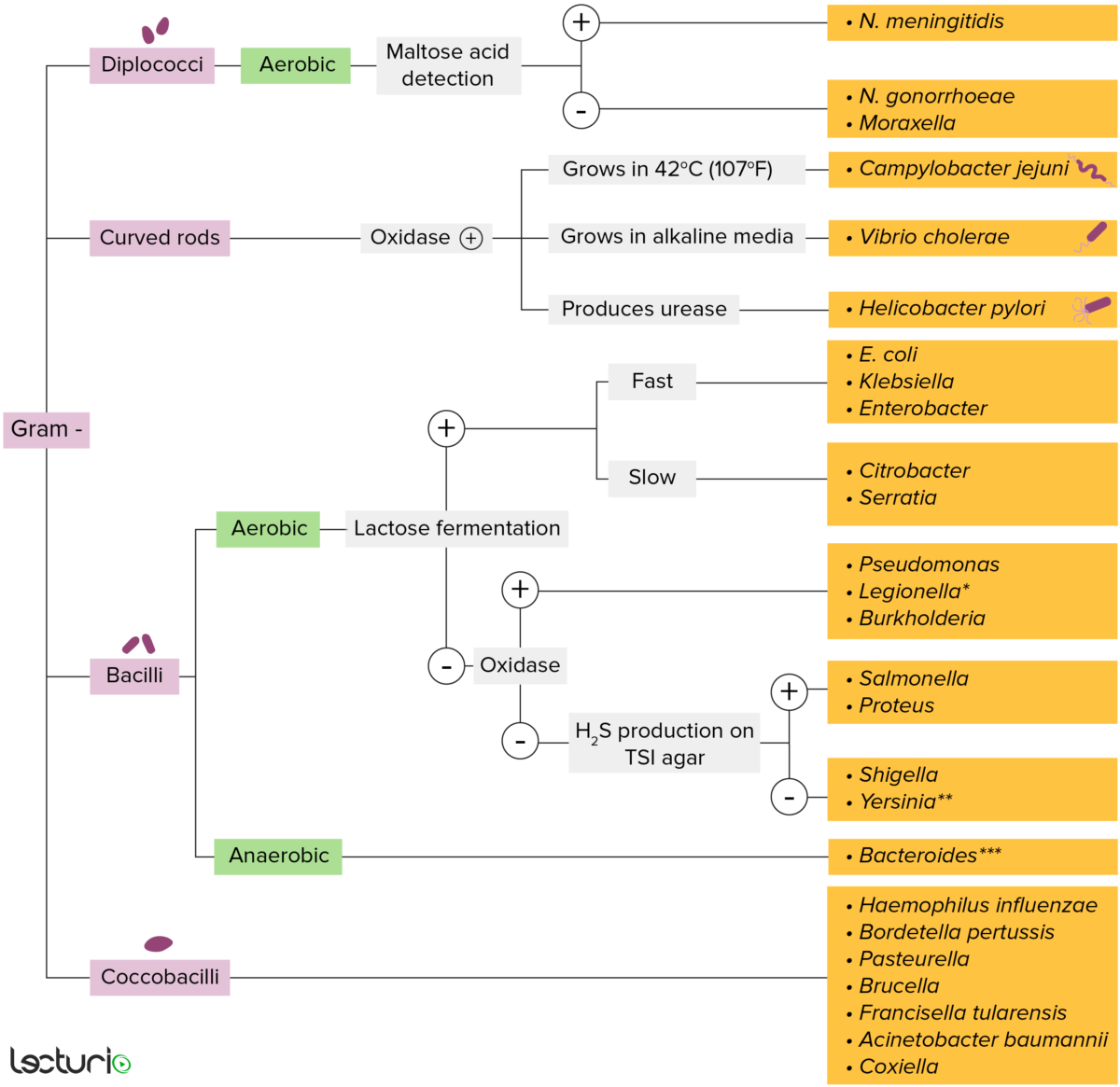 Characteristics
Features:
Stains:

Gram-negative
Detected with silver stain

Morphology:

Motile rod
Curved shape
Contains multiple flagella

Growth and culture:

Microaerophilic
Complex growth requirements (special transport media required)
Oxidase-positive, catalase-positive
Urease-positive production: creates alkaline environment that permits survival of bacteria in acidic mucosa
Helicobacter genus contains about 35 species, with H. pylori being the most well known.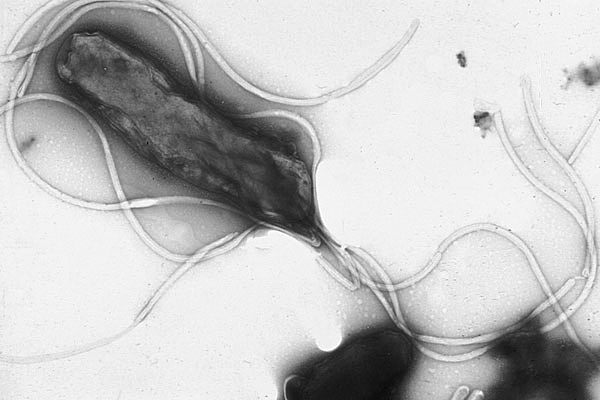 Pathogenesis
Transmission
Ubiquitous organism
Humans are the primary reservoir.
Acquired by:

Ingestion:

Oral–oral transmission: bacteria regurgitated with gastric content and temporarily colonize oral cavity
Fecal–oral transmission: contaminated food and water supplies (poor sanitation)

Person-to-person contact: clusters of infection noted in families

Prevalence of infection:

Low during childhood
40%–50% in older adults
Highest in developing countries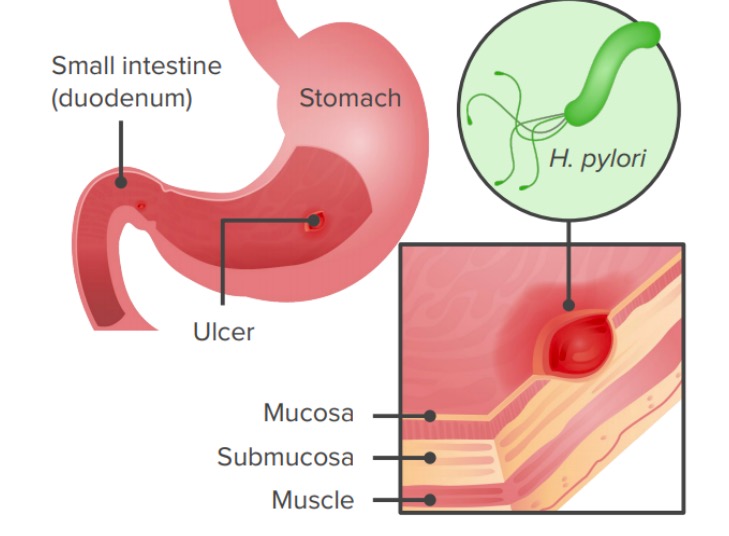 Pathogenic features of Helicobacter pylori
Urease-positive organism that produces ammonia:

Neutralizes gastric acid → hypochloridia → stimulates gastrin production → increased gastric acid → mucosal damage
Initial neutralization of gastric acid allows for mucosal colonization.

Multiple flagella allow for rapid penetration of the mucosa.
Contains mucinase and cytotoxins:

Produces local tissue damage
Acts as chemoattractant and activates host inflammatory response

Effects: gastritis, development of ulcer(s), gastric carcinoma and gastric MALT lymphomas
Associated Diseases
Gastritis
Increased production of stomach acid or damage of the gastric mucosal barrier → irritate the sensitive stomach lining → gastritis
H. pylori infection is one of the most common etiologies.
May be asymptomatic, or symptoms may include burning abdominal pain, dyspepsia, nausea, and vomiting
Management of H. pylori infection: proton pump inhibitors with antibiotics
Gastric and duodenal ulcers
Two most common types of peptic ulcers:

Gastric ulcers:

Located in the stomach
Classically associated with pain that is worse when eating

Duodenal ulcers:

Located in the duodenum
Typically have improvement in the level of pain while eating, followed by worsening of pain after the conclusion of the meal.

Most common etiologies include H. pylori infection and prolonged use of NSAIDs.
Management:

H. pylori eradication (antibiotics and proton pump inhibitors)
Eliminating risk factors
Gastric adenocarcinoma
Gastric cancer is the formation of malignant neoplasms of the stomach lining.
Second most common cancer of the GI tract
Chronic H. pylori infection: associated with an increased risk of gastric adenocarcinoma
Iron deficiency anemia and vitamin B12 deficiency
In H. pylori infection:
↓ Absorption of iron in the GI tract is observed, as uptake of iron requires an acidic environment.
Chronic gastritis creates inflammatory damage to acid-producing cells → loss of acid production → reduced iron absorption
Ongoing inflammation likewise leads to loss of parietal cells from which intrinsic factor is produced.
Without intrinsic factor, vitamin B12 deficiency develops.
References
Jensen P. J., Feldman M. (2020). Acute and chronic gastritis due to Helicobacter pylori. Retrieved 20 April 2021, from https://www.uptodate.com/contents/acute-and-chronic-gastritis-due-to-helicobacter-pylori
Kusters J. G., van Vliet A. H. M., Kuipers E. J. (2006). Pathogenesis of Helicobacter pylori infection. Clinical Microbiology Reviews 19:449–490.
Riedel S., Hobden J. A., Miller S., et al. (Eds.). (2019). Jawetz, Melnick, & Adelberg's Medical Microbiology, 28th ed. McGraw-Hill.
Lamont, J. T., Feldman M. (2020). Bacteriology and epidemiology of Helicobacter pylori infection. Retrieved 20 April 2021, from https://www.uptodate.com/contents/bacteriology-and-epidemiology-of-helicobacter-pylori-infection