Classification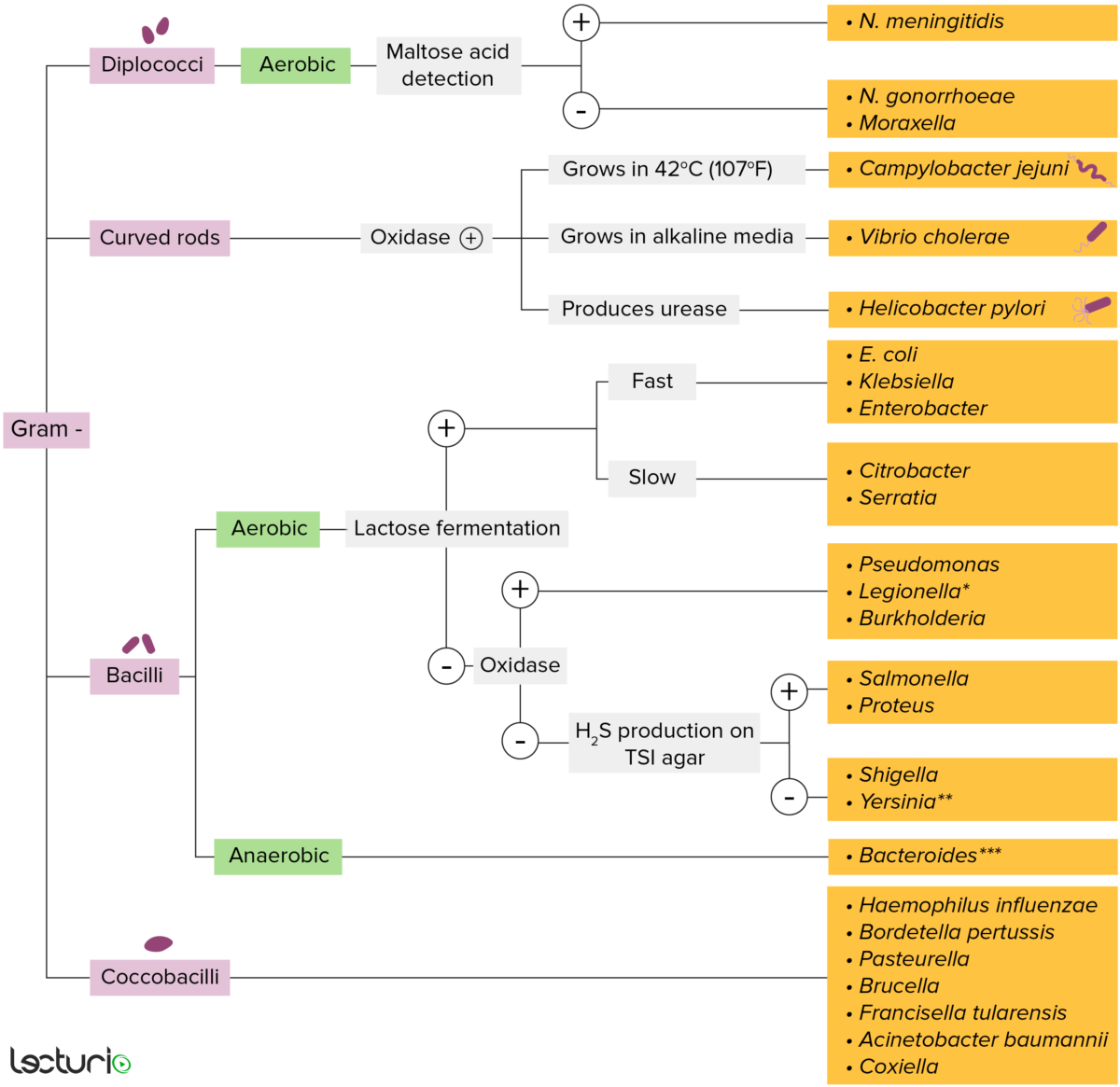 General Characteristics
Features:

Stain: gram-negative
Morphology: bacillus (rod)
Facultative anaerobic
Either nonmotile or motile (flagellated)
Catalase-positive
Ferments lactose

Special media and biochemical test:

MacConkey agar: grows as pink colonies
Eosin–methylene blue (EMB) agar: grows as metallic, green colonies
Indole test–positive
Pathogenesis and Virulence Factors
Virulence
Antigenic structures:

O antigen: component of the lipopolysaccharide (LPS) in the cell wall
H antigen: flagellar protein
K antigen: polysaccharide capsule

Adherence factors and toxins are specific to the E. coli strain.
Avirulent variants of Escherichia coli
Reservoir:

Humans are the primary reservoir.
Strains are part of the normal gut flora.

Transmission:

In urinary tract infections (UTIs):

Bacterium ascends urethra to cause infection.
More common in women or with catheter use
Type 1 fimbriae (pili): virulence factor that allows bacterial attachment to uroepithelial cells.

In neonatal meningitis:

Infant infected with maternal E. coli through rupture of membranes or during childbirth
K1 capsular polysaccharide: virulence factor in most cases
Pathogenic variants of Escherichia coli
Pathogenic strains are found exogenously and are introduced through unsanitary food production or preparation.
Transmission:

Fecal–oral route
Contaminated meat or produce

Employ various virulence factors in producing illness, depending on the pathogen
Table: Pathogenic variants of E. coli
Pathogen
Pathogenesis/Virulence factor
Signs and Symptoms
ETEC

Fimbrial adhesins allow binding to the intestinal mucosa
Heat-labile (LT) enterotoxin increases cAMP → altered electrolyte transport (↑ chloride secretion) and diarrhea
LT: related to cholera toxin
Heat-stabile (ST) enterotoxin increases cGMP → diarrhea
No inflammation or invasion

No inflammation or invasion → traveler's diarrhea (watery)
EPEC

For colonization, requires bundle-forming pilus (BFP) (encoded by a plasmid EPEC adherence factor or EAF)
Carries chromosomal locus of enterocyte effacement (LEE), which encodes intimin, a specific adhesin that binds intestinal epithelium
No toxin production

Mild inflammation → watery diarrhea with mucus
EAEC

Aggregative adherence fimbriae (AAF) to adhere to intestinal mucosa; forms a biofilm
"Stacked-brick" adherence pattern
Some possess a heat-stable (ST) enterotoxin, similar to ETEC.

Mild inflammation → watery diarrhea
EHEC

Binds to intestinal epithelium via bacterial fimbriae
Employs phage-encoded Shiga toxin:

Cytotoxic to both intestinal villi and colon epithelial cells
Inhibits protein synthesis → cell death

O157:H7 strain may lead to hemolytic uremic syndrome.

Severe inflammation → dysentery (bloody diarrhea)
EIEC
Direct invasion of the intestinal epithelium and formation of enterotoxins → necrosis and inflammation
Severe inflammation → dysentery (bloody diarrhea) similar to Shigella
ETEC = enterotoxigenic E. coli
EPEC = enteropathogenic E. coli
EAEC = enteroaggregative E. coli
EHEC = enterohemorrhagic E. coli
EIEC = enteroinvasive E. coli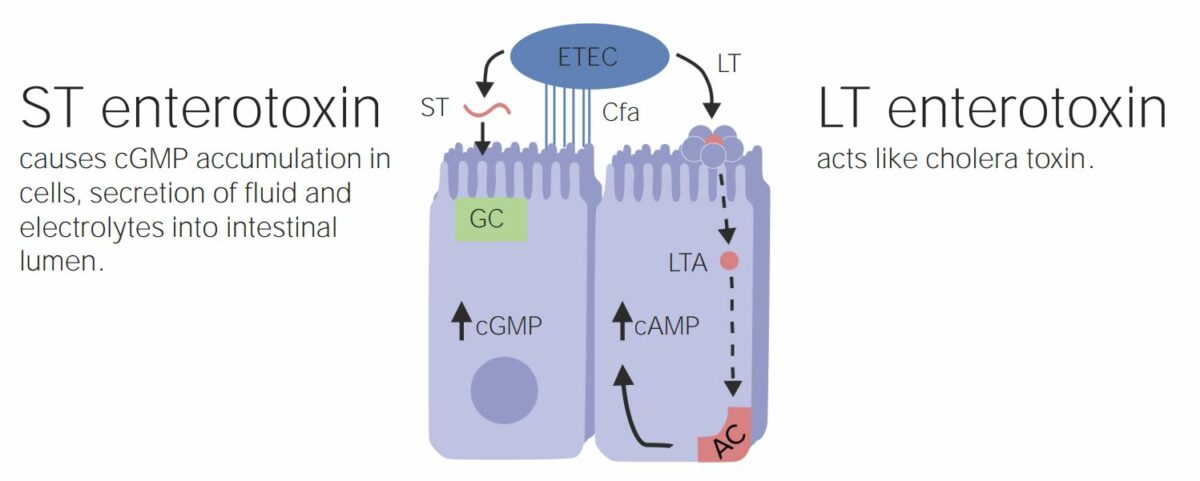 Associated Diseases
Urinary tract infections
E. coli is the leading cause of UTIs in women.
Diagnosis: urinalysis with urine culture
Treatment: antibiotics (e.g., nitrofurantoin, trimethoprim–sulfamethoxazole)
Neonatal meningitis
E. coli can cause meningitis and sepsis (which often coexist, or sepsis may precede meningitis).
Signs and symptoms:

Fever
Full fontanelles
Vomiting
Coma
Convulsions
Poor or absent Moro reflex
Hypertonia or hypotonia

Diagnosis: CSF analysis showing leukocytosis and low glucose and bacteria on Gram stain
Treatment: antibiotics (e.g., ceftriaxone)
Diarrhea
Enterotoxigenic E. coli (ETEC):

Most common cause of traveler's diarrhea worldwide

Diarrhea usually in resource-limited settings (especially with sanitation problems)

Short incubation period, lasting ≤ 5 days
Watery, secretory diarrhea, with nausea, cramping:

Similar to cholera
Diarrhea from ETEC is rice-colored.
Patients can lose up to 20 L of fluid a day.

Diagnosis: detection of heat-labile or heat-stable enterotoxins (by polymerase chain reaction (PCR))
Treatment is supportive.

Enteropathogenic E. coli (EPEC):

EPEC is a major cause of sporadic watery diarrhea in children (mostly < 2 years of age) in developing countries.
Watery diarrhea without blood nor pus
Diagnosis: stool PCR
Treatment is supportive.

Enteroaggregative E. coli (EAEC):

EAEC is the second most common cause of traveler's diarrhea.
Results in both acute and chronic watery diarrhea in patients with HIV and AIDS
Treatment: fluoroquinolones to prevent chronic infection

Enterohemorrhagic E. coli (EHEC):

Primarily a food-borne infection
Painful, bloody diarrhea
Infection with strain O157:H7 can lead to hemolytic uremic syndrome (HUS), a triad of:

Hemolytic anemia
Thrombocytopenia
AKI

Children are more likely to develop HUS than adults.
Diagnosis: detection of Shiga toxin by enzyme immunoassay or PCR
Treatment:

Supportive
Avoid antibiotics, as they have been associated with the development of HUS.

Enteroinvasive E. coli (EIEC):

Seen in travelers to and children in developing countries
EIEC directly invades the intestinal epithelium, causing bloody diarrhea.
Treatment is supportive.