Moro Reflex
Also known as the "startle reaction"
Stimulus: sudden drop of an infant's head
Reaction: Infant extends arms and then pulls them in as if grasping; usually accompanied by crying.
Disappears normally by the age of 3 months but can last until 6 months of age
Absence could mean injury during birthing trauma (clavicle fracture or injury in the brachial plexus) or damage in the central nervous system.
Rooting Reflex
Stimulus: stroking infant's cheek or mouth
Reaction: Infant orients toward the side of the face touched, turning neck and eyes in that direction.
Assists with breastfeeding
Disappears by 4 months of age
Palmar Grasp Reflex
Stimulus: Slide the finger across the palm from lateral border.
Reaction: Infant closes their hand around the finger.
Disappears by 6 months of age
Replaced by voluntary grasp at 45 weeks of age
Plantar Reflex (Babinski Sign)
Stimulus: plantar stimulation by firmly stroking the lateral aspect of the sole of the foot
Reaction: dorsiflexion of the large toe and fanning of the other toes
Disappears by 12 months of age
Also seen in patients with upper motor neuron lesion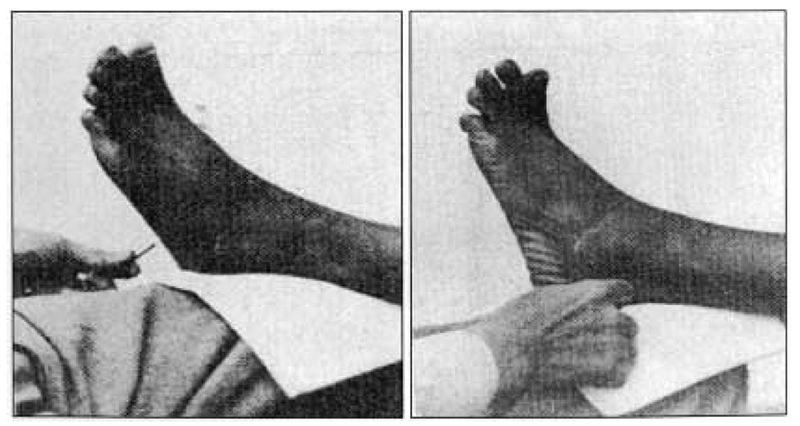 Stepping Reflex
Stimulus: holding the infant so that only the soles of the feet touch the ground flat
Reaction: Infant places 1 foot in front of the other in a "walking pattern."
Disappears by 2 months of age
Tonic Neck Reflex
Stimulus: Infant turns neck to 1 side.
Reaction: Arm on the side to which the infant turns straightens, contralateral arm bends in "fencing" posture
Disappears by 5–7 months of age
Reflex should be equal on both sides; asymmetric reflex may be a sign of pathology.
Galant Reflex
Stimulus: stroking along 1 side of the spine while the infant is held facing down
Reaction: lateral flexion of the lower limbs toward the side of stimulation
Disappears by 6 months of age
Summary
Table: Summary of primitive reflexes

| Reflex | Stimulus | Reaction | Disappears |
| --- | --- | --- | --- |
| Moro | Pull up → drop | Spreads arms → pulls them back | 3–6 months |
| Rooting | Stroke cheek/mouth. | Orients mouth toward the stimulus | 4 months |
| Palmar grasp | Slide finger across the palm. | Infant closes hand around finger. | 6 months |
| Babinski | Firmly stroke the sole of the foot. | Dorsiflexion of large toe; fanning of the other toes | 12 months |
| Stepping | Placing infant's soles flat on surface while holding infant | Walking motion | 2 months |
| Tonic neck | Turning neck to side | Fencing posture | 5–7 months |
| Galant | Stroke along 1 side of the spine while infant faces down. | Lateral movement of the limbs toward stimulated side | 6 months |
Clinical Relevance
Upper motor neuron lesions can cause disinhibition and deficits in judgement, orientation, and concentration. This type of lesion is also characterized by the restoration of primitive reflexes. The various reflexes manifesting in an adult can be helpful in identifying the location of the lesion in the CNS.