Overview
Osteoid osteomas and osteoblastomas are bone-forming lesions found in children; osteomas can also be seen in adults. Osteochondromas are cartilage-forming tumors. Giant-cell tumors are osteolytic. Fibromas and bone cysts are other benign bone lesions.
Characteristics of benign bone tumors
Noncancerous, do not spread to other body parts
May cause pain
Range from static lesions (remain essentially unchanged) to locally aggressive lesions (expand until treated, but are still benign)
Characteristic radiographic features are seen on x-rays.
Often discovered incidentally
Osteoid osteoma:

Morphologically and genetically similar to osteoblastoma
May be 2 different presentations of the same genetic entity
Epidemiology
Osteochondromas are the most common type of benign bone tumors: 30%–35%
Giant-cell tumors: 20%
Osteoblastomas: 14%
Osteoid osteomas: 12%
All others: less common
Staging and classification
Staging:

Latent: asymptomatic; discovered incidentally
Active: mild symptoms; continued tumor growth
Aggressive: grow rapidly

Classification:

Diaphyseal
Metaphyseal
Epiphyseal
Osteoid Osteoma (in Children)
Description
Bone-forming hamartomatous lesion seen in young people
Ovoid: nidus < 2 cm
Predominantly located in the cortex of metaphysis and diaphysis (80%–90%) of long bones
Locations:

Most common:
Other locations:

Tibia
Spine
Other parts of the femur
Epidemiology
Peak incidence: age 10–30 years (90% < age 25)
Affects males 2–3 times more often than females
Clinical features
Often asymptomatic and discovered incidentally
When symptomatic, presents with:

Pain:

Constant, intense
Worse at night
Manifests before the lesions are visible on x-ray

Swelling
Deformity
Pathologic fracture

Spine lesions may present with:

Limping
Scoliosis
Localized tenderness
Restriction of motion
Paravertebral muscle spasm
Diagnosis
X-ray or CT:

Radiolucent core (nidus) surrounded by sclerosis
Cortical thickening
Diffuse medullary sclerosis
25%–40% not seen on x-ray and need CT imaging for visualization
MRI not recommended: shows soft-tissue edema, which may obscure the nidus

Scintigraphy: intense enhancement; accurate in localizing the nidus
Histology: almost identical to osteoblastoma, osteosarcoma, and enostosis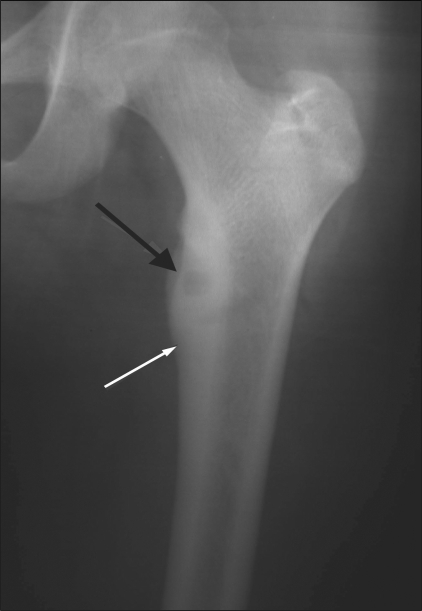 Management
NSAIDs: effective because the nidus produces high levels of prostaglandins
Surgical removal: if pain is unresponsive to medical treatment
Osteoma (in Adults)
Description
Differ from osteoid osteomas in that osteomas are solid, bony growths (as opposed to a radiolucent nidus surrounded by sclerosis).
Benign, round, bone-forming tumors on the cortical surface of a bone
Well-defined and solitary
Diameter usually < 1 cm
Arises from osteoblasts:

Compact osteomas: composed of mature lamellar bone
Spongy osteomas: composed of trabecular bone with marrow
Epidemiology
May develop at any age, but most common in middle-aged individuals
Occur in men slightly more often than in women
Associated with Gardner syndrome as an extracolonic manifestation of familial adenomatous polyposis
Clinical presentation
Usually discovered incidentally; often asymptomatic
May be symptomatic, causing serious "mass effect" symptoms (even though they are considered benign)
Location: may cause the following symptoms:

In facial bones, may cause:

Disturbances in vision and hearing
Cranial-nerve palsies/proptosis
Facial asymmetry

In cranial bones (especially paranasal sinuses), may cause:

Secondary sinus obstruction/congestion
Headaches

Vertebral column: may cause spinal cord compression

Radiologic findings on x-ray or CT:

Radiodense, well-circumscribed, round to ovoid lesions
Do not penetrate the surrounding soft tissues

Management
Asymptomatic → no treatment
Symptomatic tumor growth → surgery
Osteoblastoma
Description
Bone-forming lesion
Predominantly cortical tumor
Larger than osteoid osteoma (> 2 cm)
Predominance of metaphyseal over diaphyseal locations
May be locally aggressive
Epidemiology
Approximately 14% of benign bone tumors
Peak incidence: age 10–30 years
Male-to-female predominance: 2.5 to 1
Clinical features
Location:

Involve the axial skeleton
Vertebral lesions often involve the posterior elements (vertebral arch).

Presentation:

Insidious, dull pain; worse at night
Painful scoliosis if vertebral lesion present
Neurologic symptoms if spinal cord compression present
Diagnosis
X-ray:

Predominantly lytic lesions with a rim or perifocal sclerosis
May have internal calcification or "bubbly" appearance
Majority of individuals will have rapid cortical expansion:

Sometimes cortical destruction
Approximately 50% have surrounding sclerosis or periostitis.

CT:

Lesions demonstrated as lytic, similar to x-ray
Internal matrix mineralization is better seen on CT.

MRI:

Features may overestimate the lesion.
Decreased areas of intensity correspond to foci of calcification.
Usually highly vascular and enhance significantly with gadolinium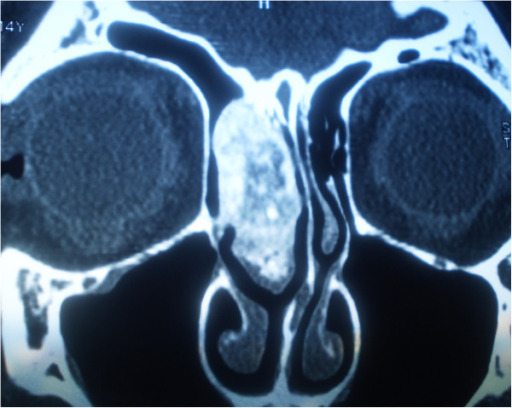 Management
Asymptomatic → no treatment
Majority not responsive to NSAIDs
Surgery:

Resection of the nidus for refractory symptoms
Curettage and bone grafting preferred

Follow-up x-rays every 4–5 months
Osteochondroma
Description
Appearance: bony exostosis (spur) with a cartilage cap

Cartilage cap is thick in children (> 2 cm).
Thinner in adults (< 1 cm)

Location:

Metaphysis of long bones adjacent to growth plates
Approximately 50% occur around the knee–distal femur or proximal tibia.
Also seen in the proximal humerus
Epidemiology
Most common primary benign bone tumor:

30% of all benign bone tumors
9% of all bone tumors

Peak incidence: age 10–30 years
Sex: male > female
Hereditary multiple osteochondromas: autosomal dominant disease characterized by several bone lesions
Clinical presentation
Usually asymptomatic
Can be palpable near the ends of long bones
If symptomatic with pain, the pain is due to the direct mass effect on surrounding soft tissue.
Diagnosis
X-ray:

Osseous spur that arises from the surface of the cortex.
May be sessile (base > cap) or pedunculated (cap > base)
Usually involves the metaphysis

MRI:

Warranted if concern for adjacent tissue impingement
Indicated if potential for surgical resection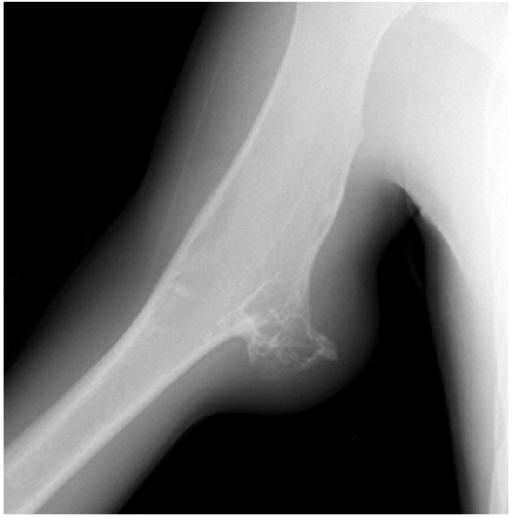 Management
Most cases do not need treatment.
Symptomatic cases → excision
Approximately 1% transform into a chondrosarcoma.
Giant-Cell Tumor
Description
Also known as "osteoclastoma"
Benign but locally aggressive tumor
Composed of giant cells that arise from the bone marrow.
Affects the epiphysis of long bones (usually near the knee)
Epidemiology
Peak incidence: age 20–40 years
Rate overall: 1.3 cases per million people per year

15%–20% of all benign bone tumors
3%–5% of all primary bone tumors
Clinical presentation
Found in the epiphysis or metaphysis of long bones
50% around the knee
Pathologic fractures
Local pain and swelling
Limited range of motion
Diagnosis
X-ray: multicystic osteolytic lesions ("soap bubble" appearance)
Biopsy/histopathology:

Not completely understood to be neoplastic
Multinucleated giant cells are reactive and resemble osteoclasts.
Receptor activator of nuclear factor kappa-B ligand (RANKL)–expressing cells:

Also known as "osteoclast differentiation factor"
Highly expressed by the stromal cells within giant-cell tumors
RANKL expression by the stromal cells → recruitment of osteoclastic cells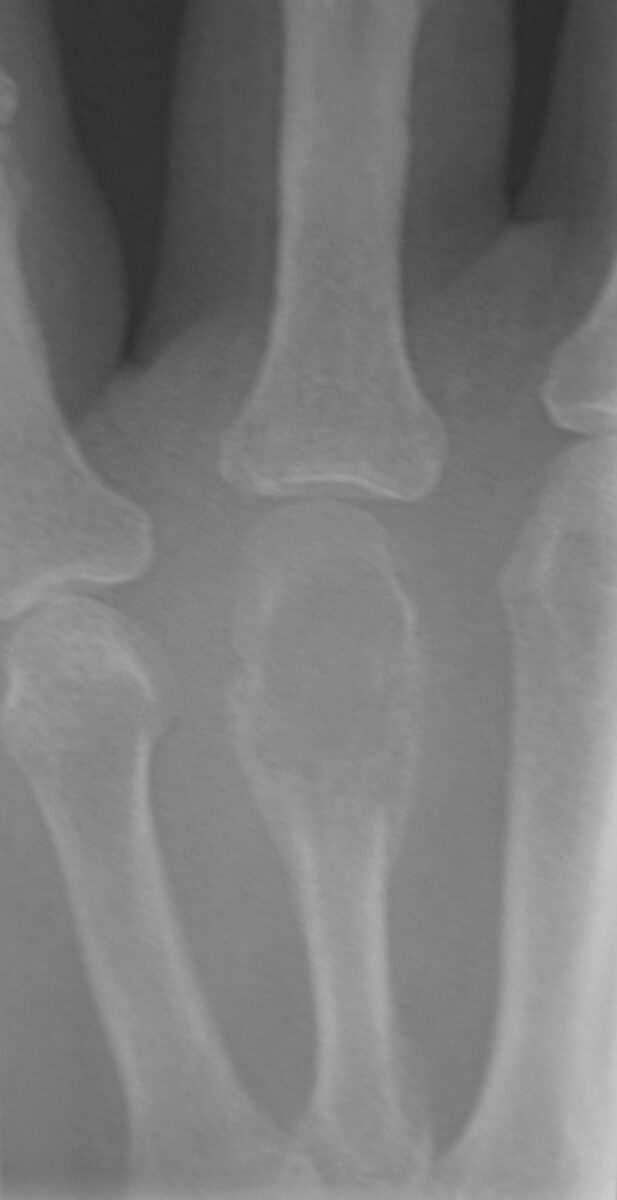 Management
Comprehensive histologic sampling is needed to ensure diagnosis.
Surgery:

Curettage and bone grafting
En bloc resection to minimize recurrence rate

Watchful follow-up for recurrence
Prognosis
Typically benign; rare risk of malignant degeneration ↑ with age (approximately 4%)
Tendency for significant bone destruction and local recurrence
Differential Diagnosis
Osteosarcoma: primary malignant tumor of the bone characterized by the production of osteoid or immature bone by the tumor cells. Osteosarcoma is most common in children and young adults, and it presents with pain and swelling, sometimes with a palpable mass, or as a pathologic fracture. Diagnosis is established with imaging studies and biopsy. Management involves systemic chemotherapy and surgical resection.
Ewing sarcoma: primary bone malignancy derived from primitive round cells. Ewing sarcoma affects primarily children and teenagers and commonly presents with a painful mass, swelling, and pathologic bone fractures. Diagnosis is established with imaging and biopsy. Treatment involves systemic chemotherapy and local control of the tumor with surgical resection or radiation. With proper treatment, the overall 5-year survival is over 70%.
Chondrosarcoma: malignant bone tumor characterized by the production of a cartilaginous matrix. Chondrosarcoma usually presents with a slowly increasing mass or swelling and dull, aching pain. Depending on the location, the condition may also be associated with symptoms of nerve compression. The diagnosis is established on the basis of characteristics found on imaging and tissue biopsy results. The mainstay of treatment is surgical excision.
Multiple myeloma: malignant condition of plasma cells (activated B lymphocytes) primarily seen in the elderly. Monoclonal proliferation of plasma cells results in cytokine-driven osteoclastic activity and excessive secretion of IgG antibodies. Diagnosis is established by plasma electrophoresis and bone marrow biopsy. Some low-risk individuals may remain stable for years without treatment, while others may progress despite treatment. Chemotherapy is indicated for individuals who meet high-risk criteria.
Craniopharyngiomas: rare squamous epithelial tumors with a solid and/or cystic structure that arise from the remnants of the Rathke pouch along the pituitary stalk in the suprasellar region. Symptoms of craniopharyngiomas include headaches, nausea, vomiting, visual disturbances, endocrine dysfunction, and behavioral issues. Diagnosis is made by imaging and biopsy. Management involves surgical excision and radiation therapy.