Overview
Definition
MALT lymphoma is a clinically indolent non-Hodgkin's lymphoma postulated to arise from postgerminal center memory B cells with the capacity to differentiate into marginal zone cells and plasma cells.
Epidemiology
Relatively uncommon subtype of non-Hodgkin's lymphoma:

5%–10% of all non-Hodgkin's lymphomas
Approximately half of non-Hodgkin's lymphomas in stomach, ocular adnexa, and lung

Incidence in the United States: 18.3 cases per 1 million person-years
Primarily seen in adults (median age at diagnosis: 66 years)
Highest incidence in non-Hispanic whites
Lowest incidence in African Americans
In males, more common involvement in:

Stomach
Small intestine
Skin
Kidney

In females, more common involvement in:

Salivary glands
Soft tissue
Thyroid
Etiology
Generally present in the setting of chronic immune stimulation due to bacterial, viral, or autoimmune stimuli:

Implicated autoimmune conditions:

Sjögren's syndrome (parotid extranodal marginal zone lymphoma (EMZL))
Systemic lupus erythematosus
Relapsing polychondritis
Hashimoto's thyroiditis (thyroid EMZL)

Implicated bacteria:

Helicobacter pylori gastritis: best-established relationship
Chlamydia psittaci (ocular adnexa)
Campylobacter jejuni (small intestine)
Borrelia afzelii (skin)
Achromobacter xylosoxidans (lung)

Several translocations resulting in increased activation of nuclear factor kappa-B with and without immune stimulation have been implicated as a potential etiology.
Pathophysiology
MALT lymphoma develops because of chronic stimulation of lymphoid tissue:

Leads to local accumulation and proliferation of antigen-dependent B cells and T cells
Over time, the B cells, which are still antigen-dependent, develop mutations.
Monoclonal B cells then develop additional mutations and become antigen-independent and capable of systemic spread.

Proliferation of MALT cells at certain sites depends on activated, antigen-driven T cells.
MALT lymphoma reproduces the morphologic features of normal MALT:

Reactive follicles are usually present with neoplastic cells occupying the marginal zone and/or the interfollicular region.
Neoplastic cells may occasionally colonize follicles.

Common chromosome translocations leading to increased expression of nuclear factor kappa-B (which provides a survival advantage to the neoplastic B cells):

t(11;18)(q21;q21)
t(14;18)(q32;q21)
t(1;14)(p22;q32)
t(3;14)(p13;q32)

Monoclonal gammopathy:

Present in 27%–36% of patients
Correlates with:

Plasmacytic differentiation
Advanced disease
Involvement of lymph nodes and bone marrow

Prototypical example:

H. pylori infection with chronic gastritis
May lead to development of gastric MALT
Remains localized for significant periods of time (but is a clonal B-cell neoplasm)
Frequently recurs
Potential for systemic spread
Can transform into an aggressive B-cell lymphoma
Clinical Presentation
Clinical presentation varies depending on the location where the MALT lymphoma develops.
Stomach:

GERD
Epigastric pain or discomfort
Anorexia
Weight loss
Occult GI bleeding

Ocular adnexa:

Slow-growing mass
Eye redness
Epiphora (excessive eye watering)

Salivary gland:

Slow-growing mass
Minority of patients: bilateral involvement

Skin:

Red to violaceous papules, plaques, or nodules
Commonly localized to trunk and upper extremities

Lung:

Asymptomatic
Lung nodules and/or airspace consolidation on imaging

Small intestine:

Intermittent diarrhea
Colicky abdominal pain
Symptoms related to malabsorption
Dissemination to other sites of MALT tissue:
30% of cases
Lymph nodes
Marrow
Peripheral blood is usually not involved.
Systemic B symptoms are uncommon:
Fevers
Night sweats
Weight loss
Diagnosis
History
Constitutional:
Head, eyes, ears, nose, throat (HEENT):

Red, watery eyes
Oral mass

GI:

GERD
Epigastric pain and discomfort
GI bleeding
Diarrhea
Colicky abdominal pain

Skin: trunk and upper extremity changes
Nutritional and performance evaluation using the following performance scales:

Eastern Cooperative Oncology Group (ECOG)
Karnofsky
Physical exam
HEENT:

Oral/salivary gland mass
Eye redness
Epiphora

Enlarged lymph nodes
Hepatosplenomegaly (if liver or spleen involved)
Skin:

Reddish papules, plaques, or nodules
More common on:
Laboratory
Biopsy of affected site:

Morphologic, immunophenotypic, and genetic analysis of the biopsy sample should be analyzed within clinical context:

Morphology: polymorphous infiltrate of small cells with reactive-appearing follicles
Immunophenotype: B cells positive for CD19, CD20, and CD22 and negative for CD5, CD10, and CD23
Genetic analysis: PCR analysis of IgH rearrangement is helpful in differentiating MALT lymphoma from reactive proliferations.

Obtain large sample (so cancer is not missed in biopsy sample).
Esophagogastroduodenoscopy:

For gastric MALT lymphoma
Multiple biopsies from each gastric region

Biopsies for H. pylori:

If negative: perform stool antigen test or urea breath test
FISH or PCR testing for t(11;18) to identify tumors unlikely to respond to H. pylori eradication

Blood tests (may provide information about organs involved/associated diseases):

CBC/DIFF
Serum electrolytes
Liver function tests
Renal function tests
↑ LDH
Serum protein electrophoresis (to evaluate for monoclonal gammopathy)
Serologic testing:

Imaging:

CT and MRI:

To evaluate for distant disease
Extent of primary lesion
Do not differentiate malignant MALT lesions from benign
Can image chest, abdomen, pelvis, orbits, and salivary glands

Whole-body combined fluorodeoxyglucose (FDG) PET/CT to evaluate for:

Radiation therapy
Suspected large-cell transformation

Bone marrow biopsy to confirm suspected early (stage I/II) disease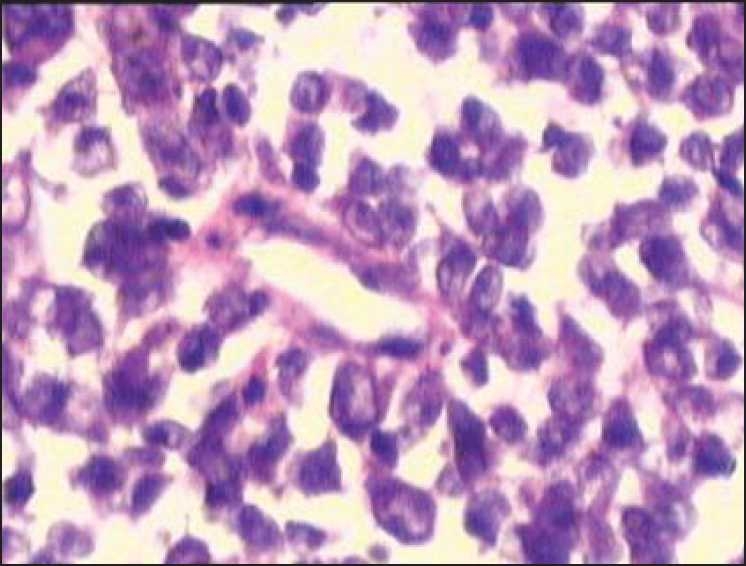 Staging
Lugano staging system (for gastric involvement):

Stage I/II:

Single primary lesion
Multiple noncontiguous lesions confined to the GI tract that may have nodal involvement

No stage III defined
Stage IV:

Disseminated extranodal involvement or
Concomitant supradiaphragmatic nodal involvement

Ann Arbor staging system for non-gastric MALT:

Stage 1: single lymph node region
Stage 2: one side of diaphragm
Stage 3: both sides of diaphragm
Stage 4: disseminated
Management and Prognosis
Management
Gastric MALT lymphoma:

H. pylori–positive:

H. pylori eradication therapy
Follow up with serial endoscopies
Treatment failures: treat with radiation therapy (RT)
Gastric resection for perforation, uncontrolled bleeding, or obstruction

H. pylori–negative:

RT
Immunotherapy or chemotherapy for RT failure or Lugano stage IV

Nongastric MALT lymphoma: treatment is dependent on location and stage of the disease:

Involved-site RT (ISRT): primary option
Surgery: for diagnostic purposes or for tumors in areas not conducive to RT, such as lung
Rituximab if patient cannot receive ISRT or if advanced disease

Coexistent large-cell lymphoma (in any site or stage) treated as diffuse large B-cell lymphoma
Prognosis
Overall, relatively good prognosis: median survival > 10 years
Prognosis is worse with higher-grade MALT lymphoma.
MALT International Prognostic Index (MALT-IPI):

Prognostic scoring system for MALT lymphoma
Identifies patients with high-risk disease that is more likely to progress
3 independent adverse prognostic factors identified:

Age ≥ 70 years
Stage III or IV
Serum LDH level higher than upper limit of normal

3 risk groups:

Low risk (no risk factors): overall survival, 99%
Intermediate risk (1 risk factor): overall survival, 93%
High risk (≥ 2 risk factors): overall survival, 64%
Differential Diagnosis
Reactive lesions: painless hyperplastic tissue resulting from a repair response: Reactive lesions develop in response to chronic inflammation. Reactive lesions are usually limited to the follicle. MALT lymphoma can usually be distinguished from reactive lesions by demonstration of immunoglobulin light-chain restriction or clonal IgH rearrangements by molecular techniques. Management is highly variable and depends on the etiology and site.
Nodal and splenic marginal zone lymphoma (NMZL): a primary nodal lymphoma with histologic features identical to those of lymph nodes involved by MALT lymphoma or splenic marginal zone lymphoma, but without prominent extranodal involvement: A diagnosis of NMZL is more likely where there is widespread nodal involvement, even if there is splenic enlargement and/or minimal extranodal disease. Management focuses on alleviation of symptoms, reversal of cytopenias, and improvement of quality of life.
Other B-cell neoplasms:

Diffuse large B-cell lymphoma (DLBCL): the most common subtype of non-Hodgkin's lymphoma with a primarily extranodal presentation: Diffuse large B-cell lymphoma is very aggressive clinically and has rapid growth. Characterized by large clusters of cells or sheets of large cells, DLBCL is cytogenetically, biologically, and clinically different from MALT lymphoma and has a much worse prognosis. Treatment is with rituximab and/or chemotherapy.
Small lymphocytic lymphoma (SLL): a solid-tumor variant of the more common CLL: Small lymphocytic lymphoma is primarily node-based, and extranodal disease develops only late in the disease course. Immunophenotypically, SLL co-expresses CD5 and CD23, while MALT lymphomas do not. Management is primarily observation; there is no commonly agreed-on treatment algorithm.
Mantle cell lymphoma (MCL): a mature B-cell non-Hodgkin's lymphoma composed of small- to medium-sized lymphocytes that can involve GI tract: On immunophenotyping, MCL expresses CD5 and cyclin D1 due to t(11;14) translocation. MALT lymphoma does not express these markers or have this translocation. Management is with combination chemotherapy plus immunotherapy with autologous hematopoietic cell transplantation (HCT).
Follicular lymphoma (FL): lymphoma derived from germinal-center B cells with prominent and/or reactive follicles that are sometimes colonized with marginal zone or monocytoid cells: Presentation is usually painless peripheral adenopathy. Management is observation, with treatment directed at alleviating symptoms, including RT and CD20 monoclonal antibody therapy.
References
Freedman AS, Aster JC. (2020). Clinical manifestations, pathologic features, and diagnosis of extranodal marginal zone lymphoma of mucosa associated lymphoid tissue (MALT). UpToDate. Retrieved March 20, 2021, from https://www.uptodate.com/contents/clinical-manifestations-pathologic-features-and-diagnosis-of-extranodal-marginal-zone-lymphoma-of-mucosa-associated-lymphoid-tissue-malt
Freedman AS, Friedberg JW, Ng AK. (2021). Treatment of extranodal marginal node lymphoma of mucosa associated lymphoid tissue (MALT). UpToDate. Retrieved March 20, 2021, from https://www.uptodate.com/contents/treatment-of-extranodal-marginal-zone-lymphoma-of-mucosa-associated-lymphoid-tissue-malt-lymphoma
Kumar V, Abbas AK, Aster JC. (2015). Robbins & Cotran Pathologic Basis of Disease. Philadelphia: Elsevier Saunders.
Novak U, et al. (2011). Genomic analysis of non-splenic marginal zone lymphomas (MZL) indicates similarities between nodal and extranodal MZL and supports their derivation from memory B-cells. Br J Haematol 155(3):362–365. https://pubmed.ncbi.nlm.nih.gov/21883140/
Sagaert X, et al. (2007). The pathogenesis of MALT lymphomas: where do we stand? Leukemia 21(3):89–396. https://pubmed.ncbi.nlm.nih.gov/17230229/
Zucca E, et al. (2020). Marginal zone lymphomas: ESMO Clinical Practice Guidelines for diagnosis, treatment and follow-up. Ann Oncol 31(1):17–29. https://pubmed.ncbi.nlm.nih.gov/31912792/