Scales
Scales are dry or greasy masses of keratin that represent thickened stratum corneum.
Characteristic types of scales are:
Silvery-white scales: psoriasis
Greasy/waxy, yellowish scales: seborrheic dermatitis
Dry, diffuse, and fish-like scales on lower legs (ichthyosiform): ichthyosis vulgaris
Fine scales: tinea versicolor
Scaling in sheets: scarlet fever
Follicular scales (such as keratotic plugs): keratosis pilaris
Gritty (sandpaper-like) scales: actinic keratosis
Crust
Dried exudate of body fluids (blood, pus, or sebum) on an area of damaged skin
The color of the crust gives clues to its cause:

Yellow crusts arise from sebum.
Yellow-green crusts are formed from pus.
Red or brown crusts are formed from blood (hemorrhagic crust).

Shape may indicate previous lesion:

Round/oval: former vesicle/bulla or pustule
Linear: excoriations

May be thin, delicate, and easy to remove or thick and deeply attached to the skin.
Examples include:

Tinea capitis
Impetigo
Scabs on healing wounds
Erosion
Discontinuity of the skin exhibiting incomplete loss of the epidermis
Does not penetrate below the dermal–epidermal junction and, thus, heals without scarring
Lesion is moist, well-circumscribed, and depressed.
Can be traumatic, inflammatory, or due to infectious skin diseases
Examples include:

Tinea pedis
Candidiasis
Eczematous disease
Herpes simplex
Excoriation
Excoriation is a linear abrasion produced by mechanical means (scratching, rubbing, or picking) that usually involves only the epidermis but can reach the papillary dermis.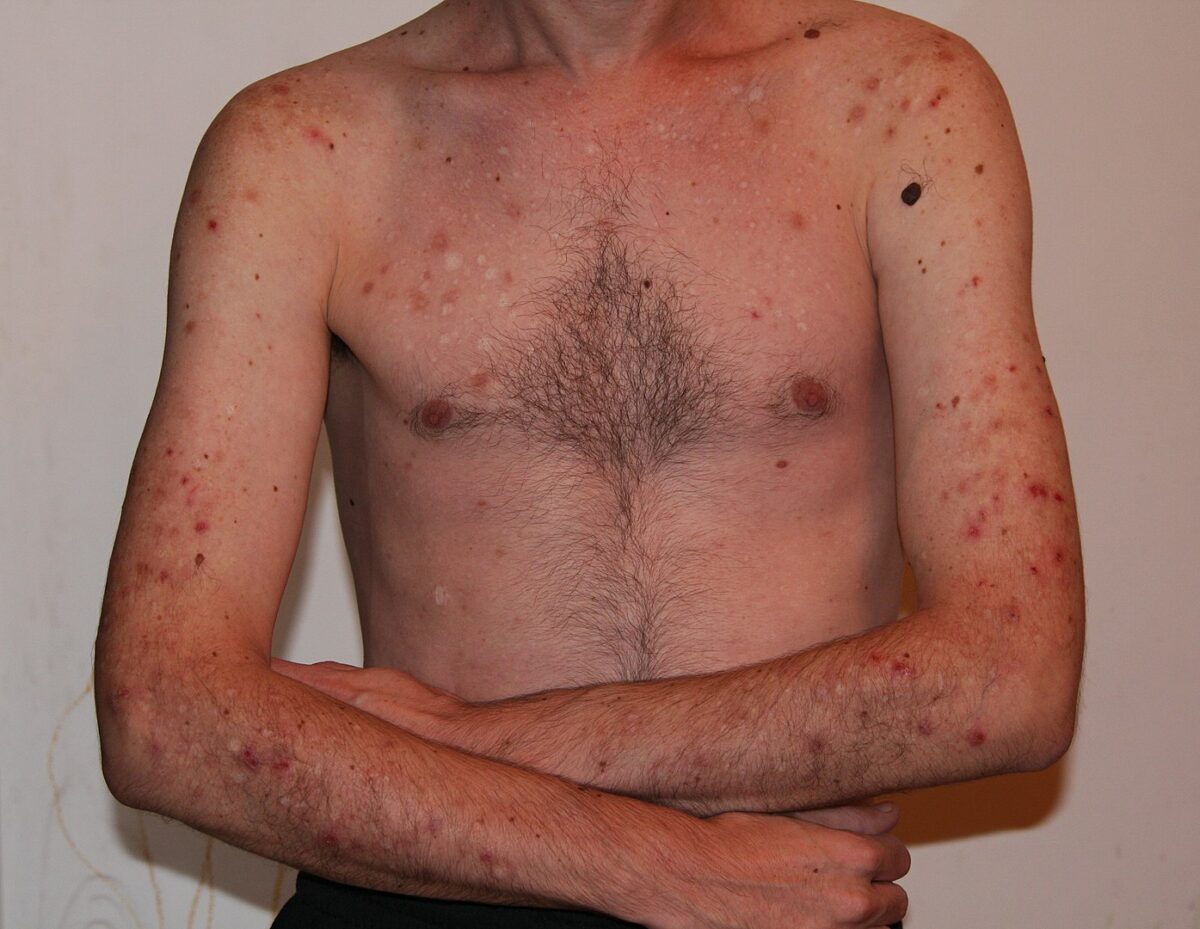 Ulcer
A breakdown of the skin exhibiting complete loss of the epidermis and often portions of the dermis and subcutaneous fat
Ulcers always result in a scar.
Causes include:

Trauma (e.g., heat, cold, electrical, chemical)
Infections (e.g., bacterial, viral, fungal)
Chronic venous stasis
Vascular compromise (e.g., decubitus ulcers and peripheral arterial disease)
Fissure
A linear crack in the skin that is usually narrow and extends through the epidermis into the dermis
Caused by external tension or excessive drying of the skin
Fissures commonly occur at the angles of the mouth (angular cheilitis).
Examples also include eczema (fingertips) and intertrigo.
Atrophy
A loss of tissue that can be epidermal, dermal, or subcutaneous
Atrophic skin usually appears thin, translucent, and wrinkled.
Produced by long-term sun exposure, aging, and some inflammatory and neoplastic skin diseases, such as systemic lupus erythematosus and cutaneous T-cell lymphoma
Atrophy also may occur as a result of the long-term use of topical corticosteroids.
Lichenification
Thickening and hyperpigmentation of the skin resulting from repeated rubbing
Normal skin/skinfold markings become more prominent.
Examples include:

Lichen simplex chronicus
Prurigo
Atopic dermatitis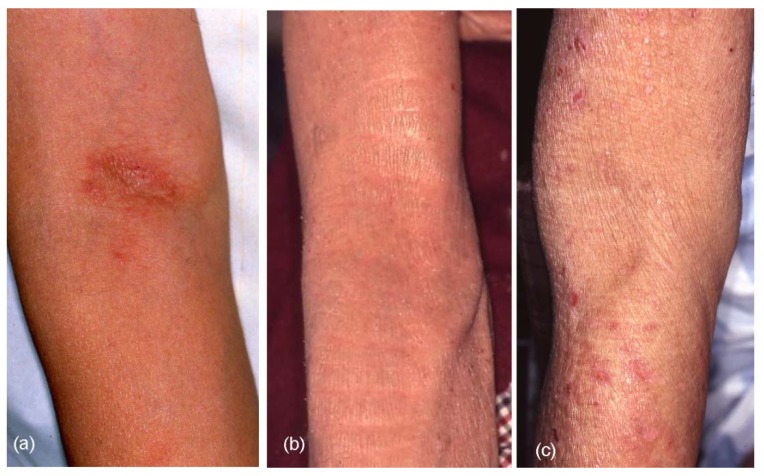 Approach to Diagnosing Skin Conditions
Complete medical history
Underlying conditions (e.g., autoimmune disorders, diabetes)
Accompanying symptoms (e.g., burning, itching)
Medications
Allergies
Evolution and duration of skin lesion, aggravating and alleviating factors
Social, sexual, and travel history
Physical examination
A general physical examination as well as a focused dermatologic examination should be performed:
Skin and its appendages as well as mucous membranes
Performed with the naked eye and using a dermatoscope
Skin features and commonly associated skin conditions and/or lesions to consider:
Texture:

Raised: papule, plaque, nodule, cyst, wheal
Depressed: ulcer, atrophy
Flat: macule, patch
Fluid-filled: vesicle, bulla, furuncle, pustule, abscess

Morphology:

Dome-shaped: hemangioma
Flat-topped: verruca plana
Umbilicated: molluscum contagiosum
Accuminate: condylomata acuminata
Verrucous: verruca vulgaris
Pedunculated: acrochordon (skin tag)

Diameter: varies per condition
Composition: fluid-filled, pus-filled, blood-filled, or solid
Borders: regular or irregular, flat or raised
Color: hypopigmentation, hyperpigmentation, or erythema
Arrangement: grouped (herpetiform)/scattered
Configuration:

Annular: tinea corporis, granuloma annulare
Round/discoid/nummular: eczema, discoid lupus
Polycyclic: urticaria
Arcuate: urticaria
Linear: scabies burrow, lichen nitidus
Reticular: livedo reticularis
Serpiginous: cutaneous larva migrans
Targetoid lesions: erythema multiforme
Whorled: incontinentia pigmenti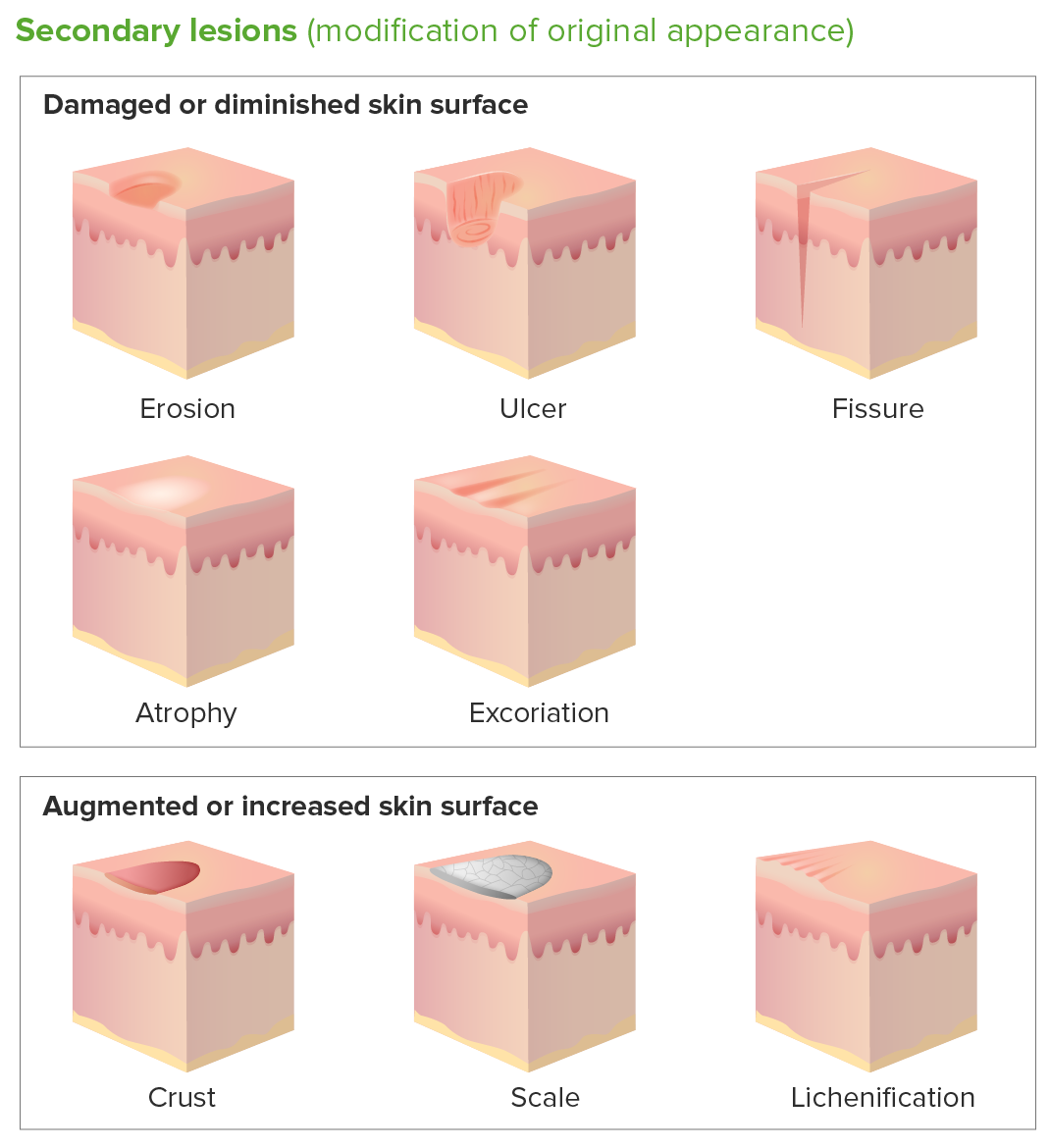 Diagnostic procedures
Skin biopsy (lesion excised, saucerized, or taken by punch biopsy)
KOH preparation:

Lesion is scraped and placed on a glass microscope slide, where it is treated with 1 or 2 drops of a solution of 10%–20% KOH.
If fungal infection suspected

Tzanck smear: cytologic technique when vesicular conditions are noted (infections from herpes simplex virus or varicella zoster virus).
Diascopy: determines whether lesion will blanch under pressure, differentiating a hemorrhagic (does not blanch) from a fluid-filled lesion
Wood's light:

Uses 360-nm UV light to evaluate lesions
Conditions: erythrasma (coral pink color), Pseudomonas wound infection (blue), vitiligo (white)

Patch test: allergens placed on patient's back under occlusive dressings and then checked for hypersensitivity reactions after 48 hours
References
Amerson, E. H., Burgin, S., Shinkai, K. (2019). Fundamentals of clinical dermatology: morphology and special clinical considerations. In Kang, S., et al. (Eds.). Fitzpatrick's Dermatology, 9th ed. McGraw-Hill.
Bolognia, J. L., Schaffer, J.V ., Cerroni, L. (2018). Basic Principles of Dermatology, 4th ed. Edinburgh. Elsevier.