General Characteristics
Basic features of Candida
Genus within the Saccharomycetaceae family
Dimorphic:

Yeast

Small
Oval
Unicellular
Reproduce by budding

Pseudohyphal and hyphal forms

Gross colony appearance:

Round
White or cream-colored

Characteristics:

Ferments:
C. albicans does not ferment lactose.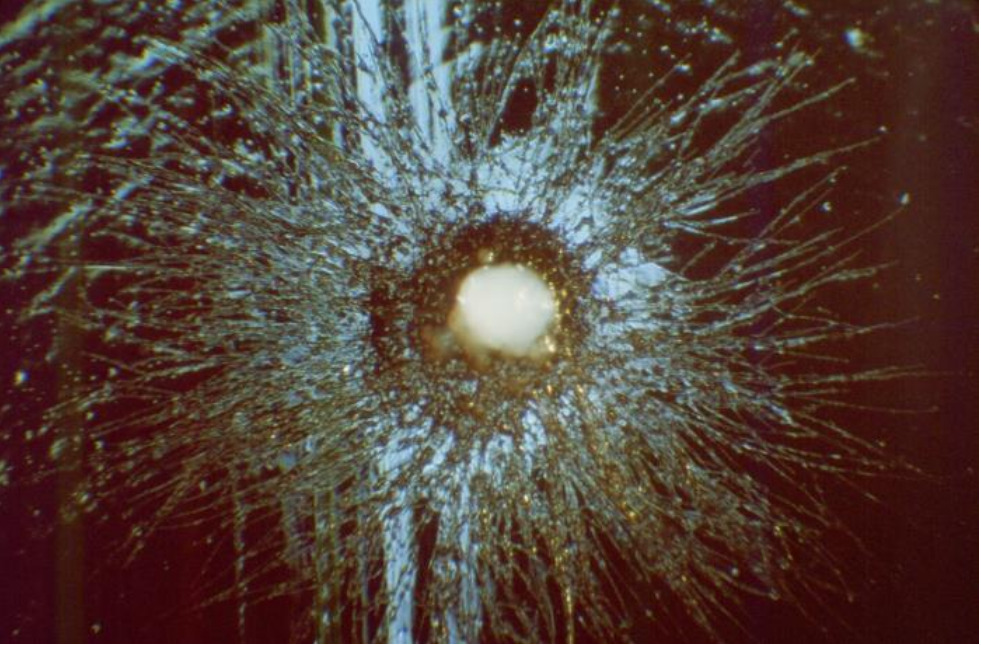 Clinically relevant species
The most clinically relevant Candida species include:
C. albicans (most common)
C. glabrata
C. parapsilosis
C. tropicalis
C. krusei
C. auris (emerging, multidrug-resistant species)
Pathogenesis
Reservoir
Candida albicans is part of the normal human flora, particularly:
Oropharynx
GI tract
Genitourinary tract
Skin
Transmission
Candida is usually transmitted to newborns during childbirth and becomes part of the normal flora.
Endogenous spread from colonized sites can occur through:

Mucosal disruptions (often in oropharynx of GI tract)
Indwelling catheters (e.g., central venous catheters, urinary catheters
Host risk factors
Candidiasis is the most common opportunistic fungal infection.
General risk factors for candidiasis:
Hot weather
Restrictive clothing
Infrequent undergarment or diaper changes
Antibiotic therapy
Skin conditions (particularly affecting skin

Skin

The skin, also referred to as the integumentary system, is the largest organ of the body. The skin is primarily composed of the epidermis (outer layer) and dermis (deep layer). The epidermis is primarily composed of keratinocytes that undergo rapid turnover, while the dermis contains dense layers of connective tissue.

Structure and Function of the Skin folds)
Xerostomia
Pregnancy

Pregnancy

Pregnancy is the time period between fertilization of an oocyte and delivery of a fetus approximately 9 months later. The 1st sign of pregnancy is typically a missed menstrual period, after which, pregnancy should be confirmed clinically based on a positive β-hCG test (typically a qualitative urine test) and pelvic ultrasound.

Pregnancy: Diagnosis, Maternal Physiology, and Routine Care
Immunosuppression

HIV/AIDS
Hematologic malignancies
Individuals who have undergone transplantation
Immunosuppressive therapy
Diabetes
Additional risk factors for invasive disease:
ICU hospital stay
Central venous catheters
Total parenteral nutrition
Renal failure requiring dialysis

Dialysis

Renal replacement therapy refers to dialysis and/or kidney transplantation. Dialysis is a procedure by which toxins and excess water are removed from the circulation. Hemodialysis and peritoneal dialysis (PD) are the two types of dialysis, and their primary difference is the location of the filtration process (external to the body in hemodialysis versus inside the body for PD).

Overview and Types of Dialysis
Abdominal surgery
GI tract perforation or anastomotic leak
Virulence factors
Cell-surface adhesins: facilitates adherence to host cells
Biofilm formation: provides protection from host defenses and antimicrobials
Extracellular hydrolytic enzymes

Enzymes

Enzymes are complex protein biocatalysts that accelerate chemical reactions without being consumed by them. Due to the body's constant metabolic needs, the absence of enzymes would make life unsustainable, as reactions would occur too slowly without these molecules.

Basics of Enzymes: facilitate invasion into host tissue
Hyphae: facilitate tissue invasion
Pathophysiology
Host defense against Candida infection:

Epithelial barrier
T-cell–mediated immunity
Macrophages and neutrophils

Superficial infection:

Disruption of normal flora or host immunity → overgrowth of Candida
Epithelial desquamation → buildup of keratin and necrotic tissue → pseudomembrane forms on mucosa
Underlying edema

Edema

Edema is a condition in which excess serous fluid accumulates in the body cavity or interstitial space of connective tissues. Edema is a symptom observed in several medical conditions. It can be categorized into 2 types, namely, peripheral (in the extremities) and internal (in an organ or body cavity).

Edema and ulceration can develop.

Invasive infection:

Disruption of mucosal barrier and immune evasion → tissue penetration
Vascular invasion can occur → dissemination to other host tissues
Clinical Presentation
Oropharyngeal candidiasis
This infection, commonly known as "thrush," may present with: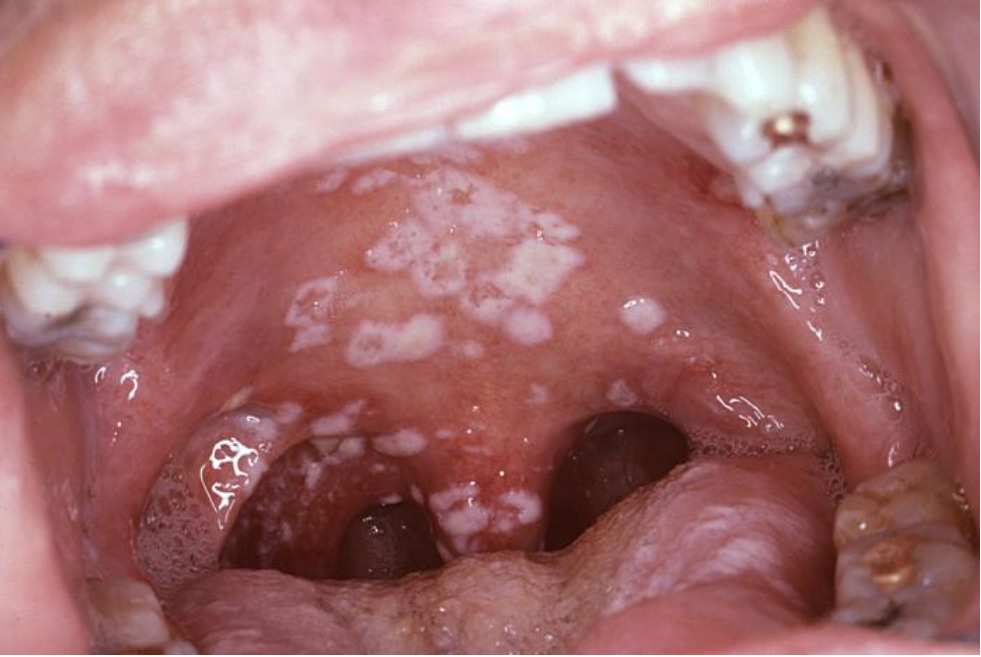 Esophageal candidiasis
Esophageal candidiasis is an AIDS-defining illness that occurs in individuals with a CD4 count < 100 cells/µL.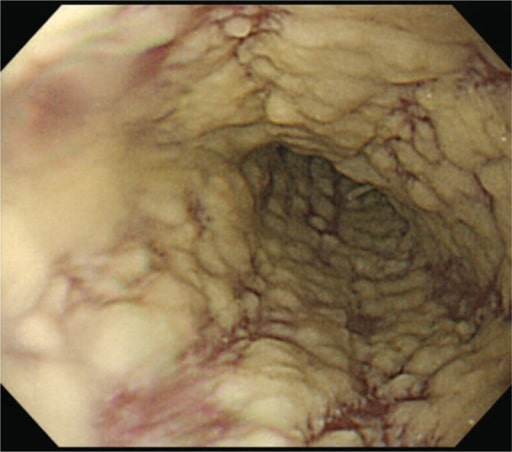 Intertriginous candidiasis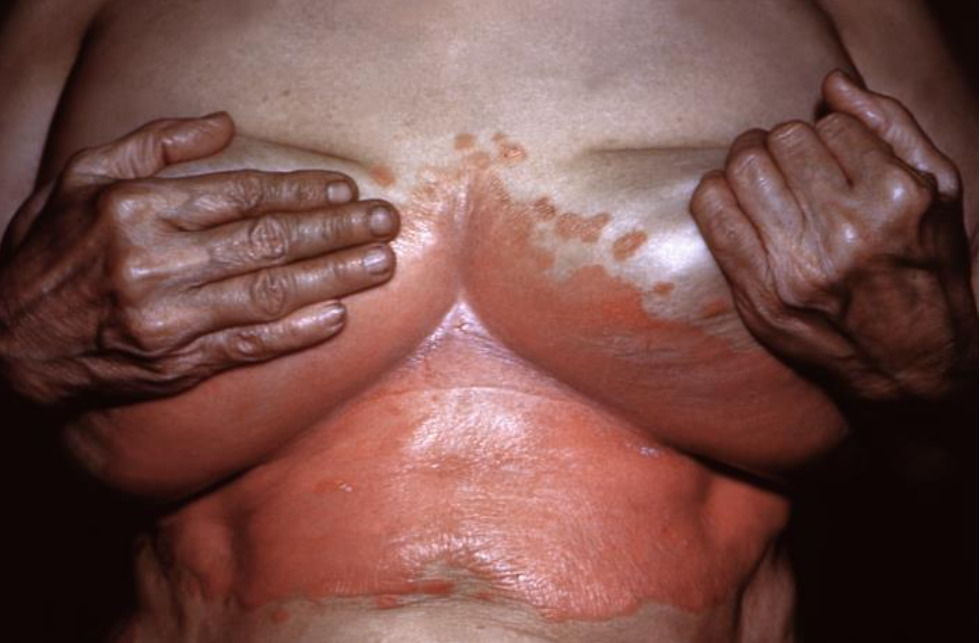 Vulvovaginal candidiasis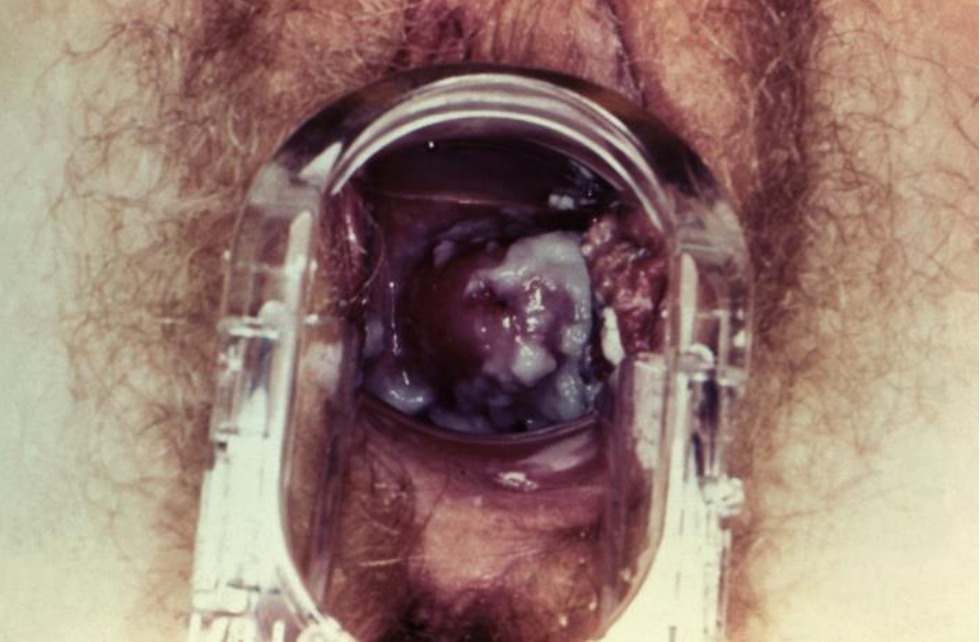 Invasive candidiasis
Invasive Candida infections can have a variety of presentations, including (but not limited to):
Diagnosis and Management
Diagnosis
Identification of Candida organisms can be made with:
Wet mount with 10% KOH of sample scrapings

Budding yeast
Pseudohyphae or hyphae

Fungal cultures
Tissue biopsy
Management
Localized mucocutaneous infections:
Topical antifungals :
Systemic antifungals (fluconazole, itraconazole) can be used for:

Extensive disease
Esophageal candidiasis
Invasive infection:
Requires treatment with IV antifungals
Options include:

Fluconazole
Voriconazole
Caspofungin
Amphotericin B