Overview
Definition
Epidemic typhus is a potentially lethal, febrile illness caused by the obligate intracellular gram-negative bacterium, Rickettsia prowazekii.
Epidemiology
Transmission:
Typhus is transmitted by infected lice.
Infections occur in winter or spring.
Risk factors:
Overcrowded conditions:

Reported in army camps, refugee camps, prisons, and homeless shelters
Sometimes called "jail fever"

Poor hygiene:
Malnutrition:
Geography:
In the US:

Rare
Cases often associated with exposure to flying squirrels

Epidemic typhus outbreaks have been reported in the following countries:

Africa:

Ethiopia
Nigeria
Rwanda
Burundi

Mexico
Central America
South America
Eastern Europe
Afghanistan
Russia
Northern India
China
Etiology and Pathophysiology
Etiology
Causative agent: R. prowazekii is the most pathogenic member of the Rickettsia genus.
Vector:

Human body louse, Pediculus humanus corporis
Human head louse, P. humanus capitis

Reservoir:
Transmission:

Infected lice pass infectious feces when they feed.
The feces and not the bite of the louse spread illness in humans.
Transmitted when the infectious feces of lice or crushed, infected body lice are rubbed into small cuts or abrasions on the skin
The disease may also be spread when:

A person breathes in dust containing infected dried feces of lice
Mucous membranes, such as the conjunctiva of the eye, are exposed to infectious feces
Pathophysiology
After entering the body, Rickettsia infect and multiply in the endothelial cells of the small venous, arterial, and capillary vessels.
Infected endothelial cells enlarge due to microbial proliferation.
Multiorgan vasculitis develops.
Vasculitis can lead to:

Thrombosis of the supplying blood vessels: gangrene of the distal parts of the extremities, nose, ear lobes, and genitalia
Deposition of leukocytes, macrophages, and platelets results in the formation of small nodules.
Increased vascular permeability:

Loss of intravascular colloid with subsequent hypovolemia
Loss of electrolytes
Decreased tissue perfusion → organ failure
Clinical Presentation
Incubation period: usually < 14 days
Clinical manifestations:

General:

Fever
Severe headache
Rash (a pink macular rash that spares the palms and soles)
Chills
Myalgias
Arthralgias
Anorexia
Nonproductive cough

GI:

Nausea
Abdominal pain
Vomiting
Diarrhea

Severe epidemic typhus can lead to:

Hypotension
Gangrene
Loss of digits, limbs, or other appendages
CNS dysfunction (ranging from decreased mentation to coma)
Multiorgan system failure
Death

Brill-Zinsser disease:

Recrudescence of epidemic typhus following an initial attack
Patients can have a prolonged, asymptomatic R. prowazekii infection for years.
A relapse that occurs months or years following the 1st illness, when the immune system is weakened due to certain medications, advanced age, or illness
Symptoms are similar to the original infection, but usually milder.
Diagnosis and Management
Diagnosis
Epidemic typhus is diagnosed by its clinical features in the setting of a louse infection.
Confirmatory laboratory tests:

Biopsy of rash using fluorescent antibody staining to determine the causative microbe
Acute and convalescent serologic testing
PCR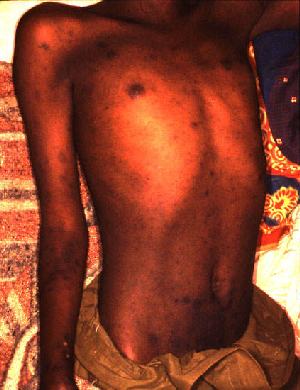 Management
Antibiotics:
Primary treatment: doxycycline (4 mg/kg/day)
Alternative treatments:

Tetracycline (25–50 mg/kg/day)
Chloramphenicol 500 mg orally or IV 4 times daily for 7 days
Prevention:
Louse control:

Lice may be eliminated by dusting infested individuals with malathion or lindane.
Washing of clothing in hot water
Sweeping off dust particles, as they contain excreta of infected lice

Immunization is highly effective for prevention; however, typhus vaccines are no longer available in the US.
Antibiotic prophylaxis with doxycycline (once weekly) for individuals traveling to high-risk areas
Prognosis:
Mortality rate of untreated epidemic typhus:

20% in otherwise healthy individuals
60% in the elderly or in debilitated individuals

When treated with appropriate antibiotics, the mortality rate can decrease to approximately 3%–4%.
Differential Diagnosis
Rocky Mountain spotted fever (RMSF): a disease caused by R. rickettsii and transmitted by ixodid ticks. The incidence is highest in children < 15 years and in individuals who frequent tick-infested areas for work or recreation. Rocky Mountain spotted fever presents with abrupt headaches, chills, prostration, muscular pains, and centripetal rash, and is diagnosed based on clinical features, serology, and PCR. Treatment is using doxycycline.
Kawasaki disease: an acute febrile illness of early childhood of unknown cause. Kawasaki disease is the leading cause of acquired coronary artery disease in developed nations and is characterized by vasculitis of the medium-sized arteries, especially coronary arteries. Other features of Kawasaki disease include rashes on the extremities, oropharyngeal rash, and bulbar conjunctivitis, as well as acute, unilateral, nonpurulent cervical lymphadenopathy. The diagnosis is made on clinical grounds and the diagnostic test of choice is echocardiography. The mainstays of treatment are aspirin and IV Igs.
Anthrax: a disease caused by the gram-positive microbe Bacillus anthracis. Anthrax is transmitted to humans when they come in contact with infected animals or their products. Cutaneous anthrax begins as a painless, pruritic, red-brown papule 1–10 days after exposure to infective spores. The papule can enlarge, become necrotic, and form a black eschar. The diagnosis is made through clinical findings and is based on occupational and exposure history. Confirmatory laboratory tests include Gram staining and culture, direct fluorescent antibody test, and PCR. Empiric treatment is using ciprofloxacin, levofloxacin, moxifloxacin, or doxycycline.