Overview
Definition
Platelets are small cell fragments without nuclei, but with a variety of organelles. Platelets are involved in primary hemostasis by adhering to damaged blood vessels and aggregating with one another (platelet plug).
Description:
Diameter: 2–3 µm
Lens-shaped biconvex discoid
Normal count: 150,000–450,000 platelets/µL
Lifespan: up to 10 days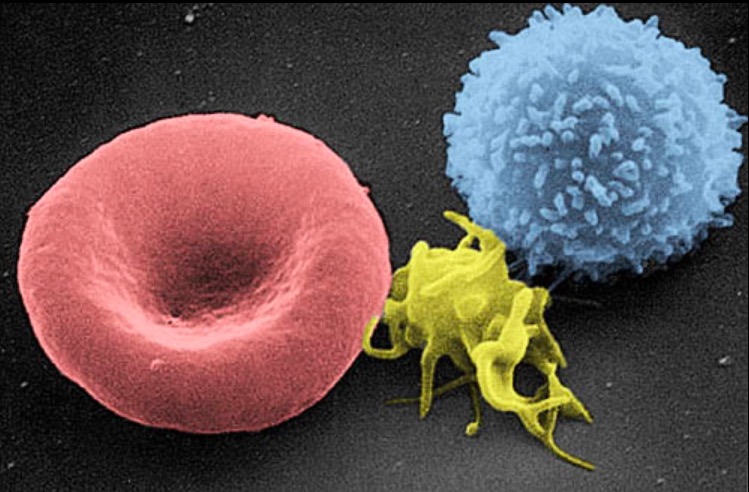 Structure
Outer membrane: Receptors facilitate platelet aggregation and adhesion to endothelial surfaces.
Open canalicular system: tunnels from membranes to platelet interior:

For entry of exterior elements
For granule release
For storage of glycoproteins

In the cytoplasm:

α granules (most abundant) contain: 

Proteins for primary hemostasis (e.g., integrin)
Proteins such as von Willebrand Factor (vWF), fibrinogen, factor V, and factor XI (needed for secondary hemostasis)
May have antiangiogenic-protein populations
May have proangiogenic-protein populations (e.g., vascular endothelial growth factor (VEGF))

δ granules contain:

Mediators of vascular tone: serotonin, calcium 
ADP and ATP

Lysosomes with hydrolytic enzymes:

Digest cytosolic contents
Participate in fibrinolysis and destruction of the extracellular matrix

The cytoskeleton (including actin, spectrin, tubulin, and filamin) is involved in:

Changing shape 
Motility towards the site of injury 
Granule release

Contains: the Golgi complex, elements of the rough endoplasmic reticulum (RER), mitochondria, and glycogen granules
Thrombopoiesis
Platelet production
Hematopoiesis location:

1st–2nd month in utero: mesoderm of the yolk sac
2nd month: liver and spleen
5th month: bone marrow, which becomes the predominant source of blood cells

As with other blood cells, thrombopoiesis starts with multipotent hematopoietic stem cells (HSCs).
HSCs → multipotent progenitor (MPP) cells → common myeloid progenitor (CMP) or colony-forming unit–granulocyte, erythrocyte, monocyte, megakaryocyte (CFU-GEMM) → fragmentation of megakaryocyte (platelets)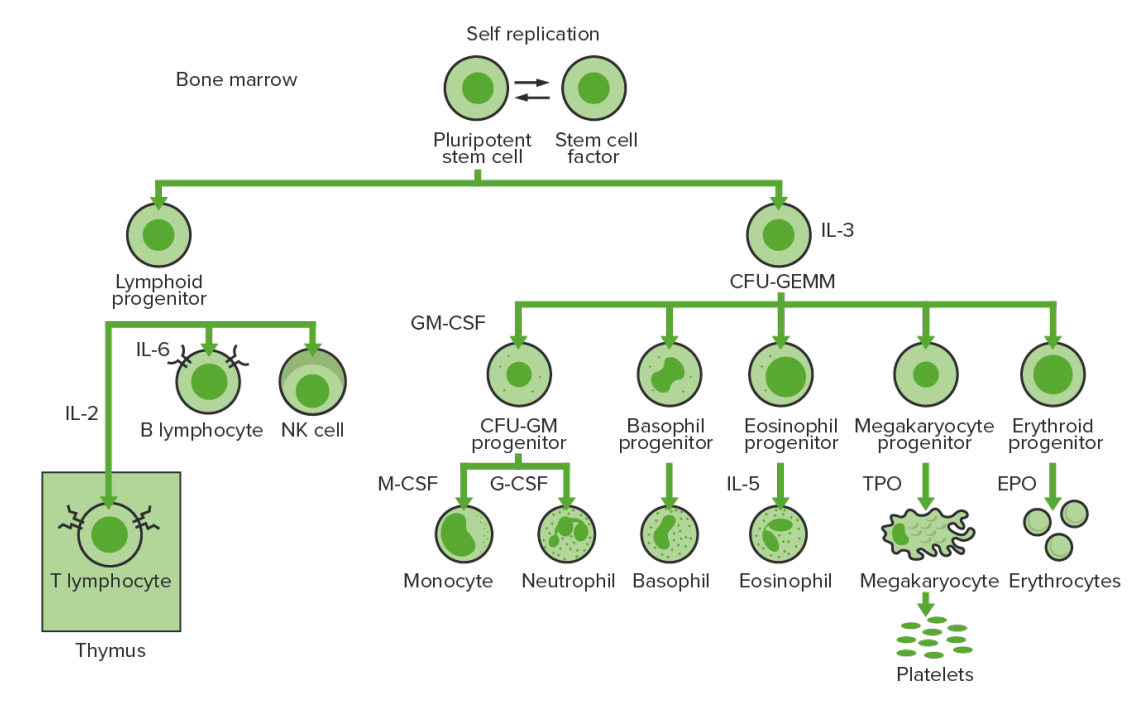 Stages of platelet development
Development takes 1 week on average:
Megakaryoblast:

Basophilic cytoplasm with a large, ovoid-, or kidney-shaped nucleus
May have several nucleoli

Megakaryocyte:

Giant cells (up to 150 μm in diameter)
Less basophilic
Long, branching cytoplasmic projections/extensions (proplatelets)

Platelets: 

Results from megakaryocyte-cytoplasm fragmentation
Fragmented-cell remains become apoptotic and removed by macrophages.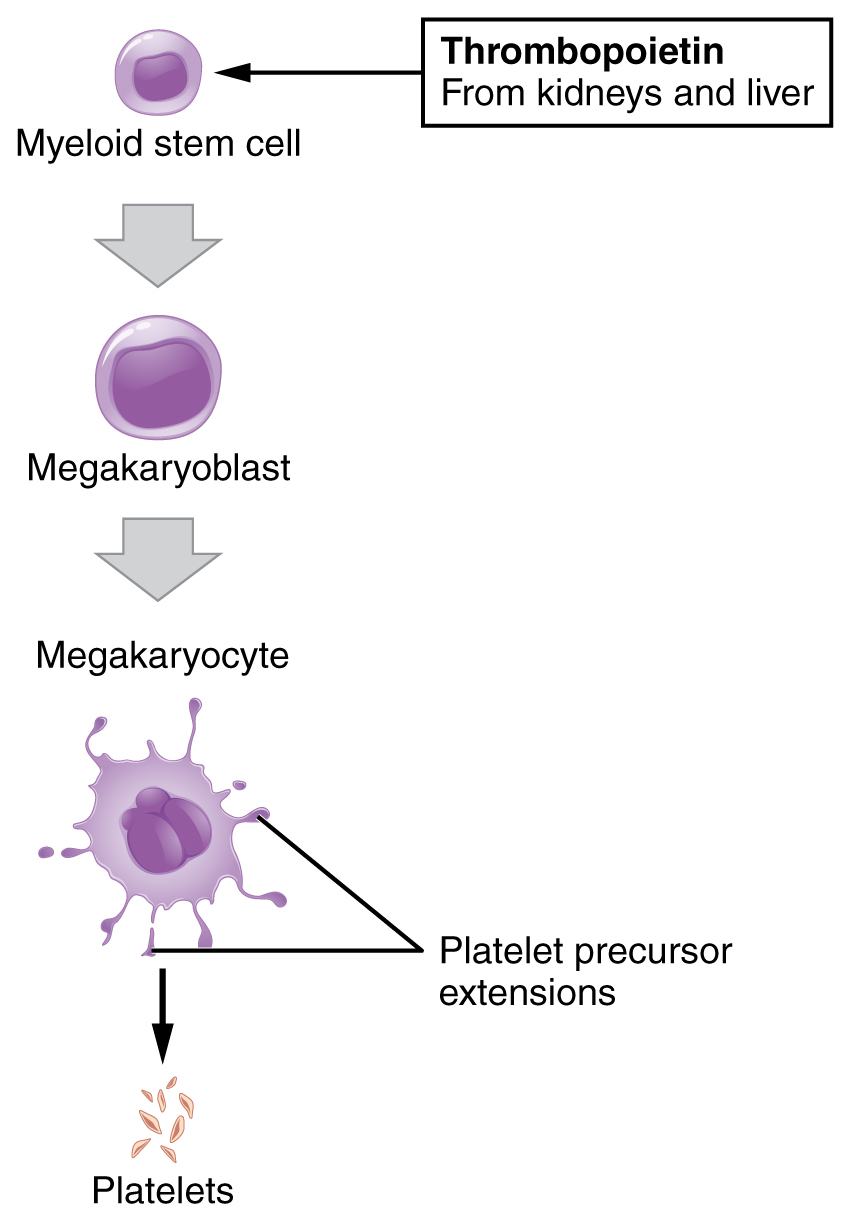 Regulation
Table: Regulation

| Cytokines/growth factors | Activities | Source |
| --- | --- | --- |
| Stem cell factor (SCF) | Stimulates all hematopoietic progenitor cells | Bone-marrow stromal cells |
| Granulocyte-macrophage colony-stimulating factor (GM-CSF) | Stimulates myeloid progenitor cells | Endothelial cells, T cells |
| Thrombopoietin (TPO) | Stimulates thrombopoiesis | Kidney, liver |
| Interleukin-3 (IL-3) | Mitogen for all granulocyte and megakaryocyte-erythrocyte progenitor cells | T helper cells |
Clinical Relevance
Thrombocytopenia: The patient presents with circulating platelets in the bloodstream below normal levels (< 150,000 platelets/µL).
Von Willebrand disease (vWD): The most frequently inherited bleeding disorder among humans. Von Willebrand factor (vWF) allows platelet aggregation and contributes to the formation of fibrin clots. Different types of vWD (types 1, 2, and 3) are based on qualitative or quantitative defects in vWF. The condition may also be acquired (e.g., lupus and myeloproliferative disorders).
Essential thrombocythemia (ET): a myeloproliferative neoplasm characterized by the clonal thrombocytosis linked to somatic mutations involving JAK2, CALR, and MPL oncogene. The presentation can be complicated by thrombohemorrhagic events, and progression to myelofibrosis and acute myeloid leukemia. The diagnosis is by laboratory finding of thrombocytosis, bone-marrow biopsy, and genetic studies. Treatment aims to reduce platelet counts with cytoreductive agents (hydroxyurea) and decrease thrombosis with aspirin and systemic anticoagulation.