Epidemiology and Etiology
Epidemiology
Worldwide prevalence: 100 million cases currently
Most common in tropical and warm temperate regions, with ¾ of cases in Southeast Asia, Africa, and Western Pacific countries
Etiology
Strongyloidiasis is caused by a parasitic infection by the roundworm (nematode) Strongyloides stercoralis. Roundworms are nonsegmented worms that can infect the GI tract, blood, or skin.
The ability to "auto-infect" its host leads to chronic cases.
Adult males: 0.9 mm (0.04 in) long, can be distinguished from females by size and presence of spicules (needle-like mating structure)
Adult females: 2.0–2.5 mm (0.08–0.10 in) long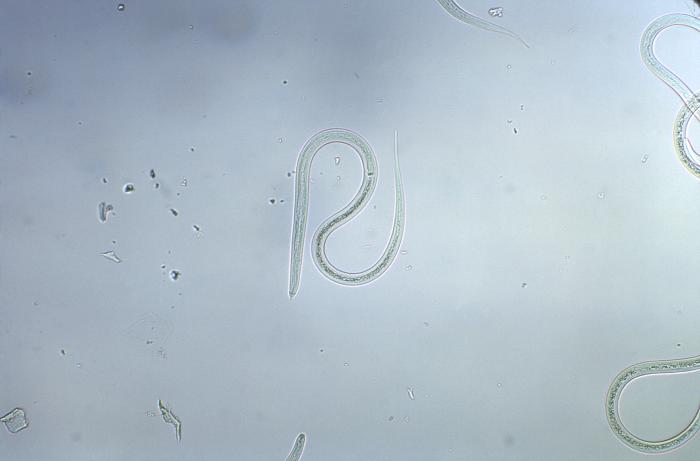 Pathophysiology
Life cycle of S. stercoralis
Filariform larvae in contaminated soil penetrate human skin.
Larvae migrate through bloodstream and lymphatics to lungs.

In lung parenchyma, larvae penetrate alveoli and migrate up trachea and larynx.
Larvae are then swallowed by the host.

Swallowed larvae enter GI tract.

Larvae mature within mucosa of small intestine.
Adult larvae produce eggs, which yield noninfectious, rhabditiform larvae that migrate to intestinal lumen and are excreted in feces.

Autoinfection can occur in hosts with compromised immune systems:

Noninfectious, rhabditiform larvae mature into infectious, filariform larvae within the intestine.
Filariform larvae penetrate intestinal mucosa or perianal skin to migrate through bloodstream and lymphatics to restart infectious cycle.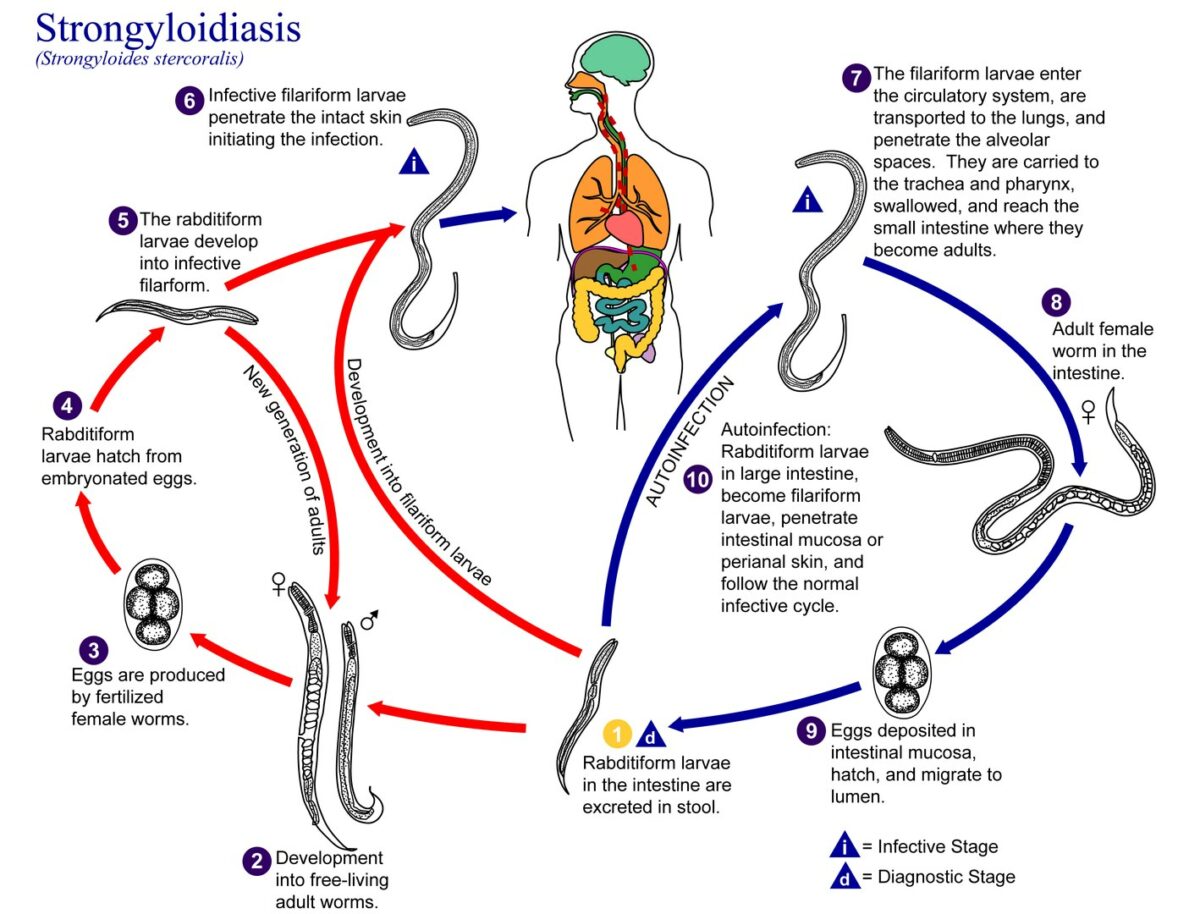 Reservoirs
Humans (most common)
Cats and dogs
Transmission
Most common: larvae found in contaminated sand or soil penetrate skin
Fecal-oral transmission (less common)
Host risk factors
Walking barefoot on contaminated soil
Contact with human waste or sewage
Occupations that increase contact with contaminated soil (farming and coal mining)
Immunosuppression
Clinical Presentation
Phases of strongyloidiasis infection
Strongyloidiasis can cause both acute and chronic infection. Symptoms correlate with the migration of the larvae from the skin, lung, and intestine.
Cutaneous phase: secondary to penetration of larvae into skin

Swelling
Erythema
Pruritus
Maculopapular rash with serpiginous lesions (larva currens)

Pulmonary phase: secondary to migration of larvae through bronchial tree and alveoli

1 week after skin penetration
Löffler syndrome (pulmonary eosinophilia): transient respiratory disorder characterized by accumulation of eosinophils in lungs due to parasitic infection

Dry cough
Throat irritation
Wheezing

GI phase: secondary to adult larvae within mucosa of small intestine

3–4 weeks after skin penetration
Symptoms:

Abdominal pain
Diarrhea or constipation
Anorexia
Nausea/vomiting
Severe manifestations
Hyperinfection syndrome: occurs due to acceleration of Strongyloides life cycle

Excessive worm burden within traditional reproductive route (skin, lungs, and intestines)
Occurs most often in immunosuppressed patients

Disseminated strongyloidiasis: due to widespread dissemination of larvae outside traditional reproductive route, often involving liver, brain, heart, and urinary tract

CNS:

Headache
Altered mental status
Focal seizures
Disorientation
Coma

Respiratory:

Choking
Hemoptysis
Chest pain
Palpitation
Dyspnea (can progress to acute respiratory distress syndrome)

Immune:
GI:

Malabsorption
Abdominal pain
Distension
GI inflammation and hemorrhage
Small bowel obstruction
Diagnosis and Management
Diagnosis
Diagnosis requires a high clinical suspicion test, based on symptoms.
Eosinophilia

Common finding in chronic infections
Nonspecific finding

Skin biopsy: may provide microscopic identification of mobile rhabditiform larvae
Serologic studies

ELISA
Indirect immunofluorescence microscopy
Immunoblot

Stool studies: identify parasite in feces
Endoscopy not routinely performed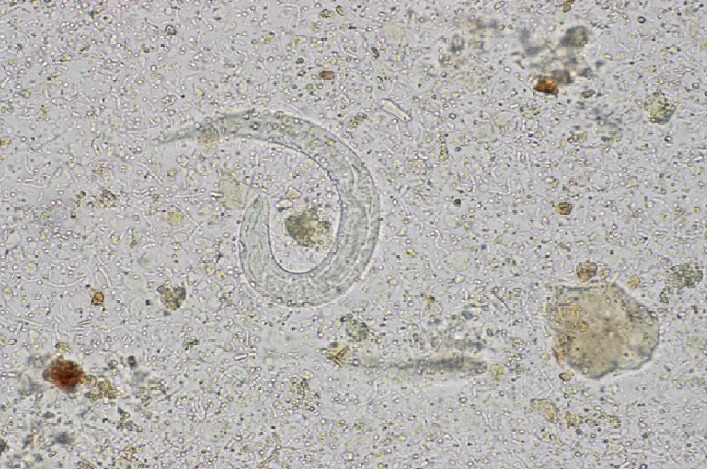 Management
Anthelmintic medication:

1st line: ivermectin
For complicated infections in immunosuppressed individuals, albendazole may be added.

Treatment may need to be repeated for persistent infections.
Prevention
Use of footwear when walking outdoors, especially on soil or sand in endemic regions
Proper sewage disposal and fecal management
Differential Diagnosis
Pulmonary phase:

Tuberculosis: pulmonary bacterial infection caused by Mycobacterium tuberculosis, which may present asymptomatically or with fever, weight loss, night sweats, hemoptysis, and productive cough.
Ascariasis: infection caused by a parasitic roundworm, Ascaris lumbricoides. May present asymptomatically or with abdominal discomfort, bowel obstruction, and Löffler syndrome.

GI phase:

Crohn's disease: inflammatory bowel disease characterized by inflammation of GI tract, presenting with signs of malabsorption, abdominal pain, and non-bloody, chronic diarrhea.
Peptic ulcer disease: presence of 1 or more ulcerative lesions in stomach or lining of duodenum, presenting with dyspepsia. May progress with signs of GI bleeding.