Epidemiology and Etiology
Epidemiology
One of the most common inflammatory lesions of the eyelid
Exact incidence and prevalence in the United States are unknown.
More common in adults (especially those aged 30–50 years) than in children (possibly due to higher levels of androgenic hormones and increased sebum viscosity)
Affects both genders equally
Etiology
Occurs due to gland blockage, which can be associated with:
Lifestyle factors:

Poor lid hygiene
Stress (mechanism unknown)

Local factors:

Chronic blepharitis
Eyelid trauma or surgery
Viral conjunctivitis (can cause recurrent chalazia in children)
Hordeolum (chalazion may arise afterward)

Systemic factors:

Seborrheic dermatitis
Rosacea
Hyperlipidemia
Tuberculosis
Immunodeficiency
Malignancy (can be disguised as recurrent chalazia, especially in the elderly)
Pathophysiology and Clinical Presentation
Pathophysiology
A chalazion forms due to obstruction of Meibomian or Zeis glands.
Lipid breakdown products accumulate and leak into the surrounding tissue, causing a granulomatous inflammatory response. Sterile inflammation distinguishes a chalazion from a hordeolum.
Location on the eyelid is dependent on which gland is obstructed:

Meibomian gland → inflammation on the conjunctival portion
Zeis gland → inflammation along the lid margin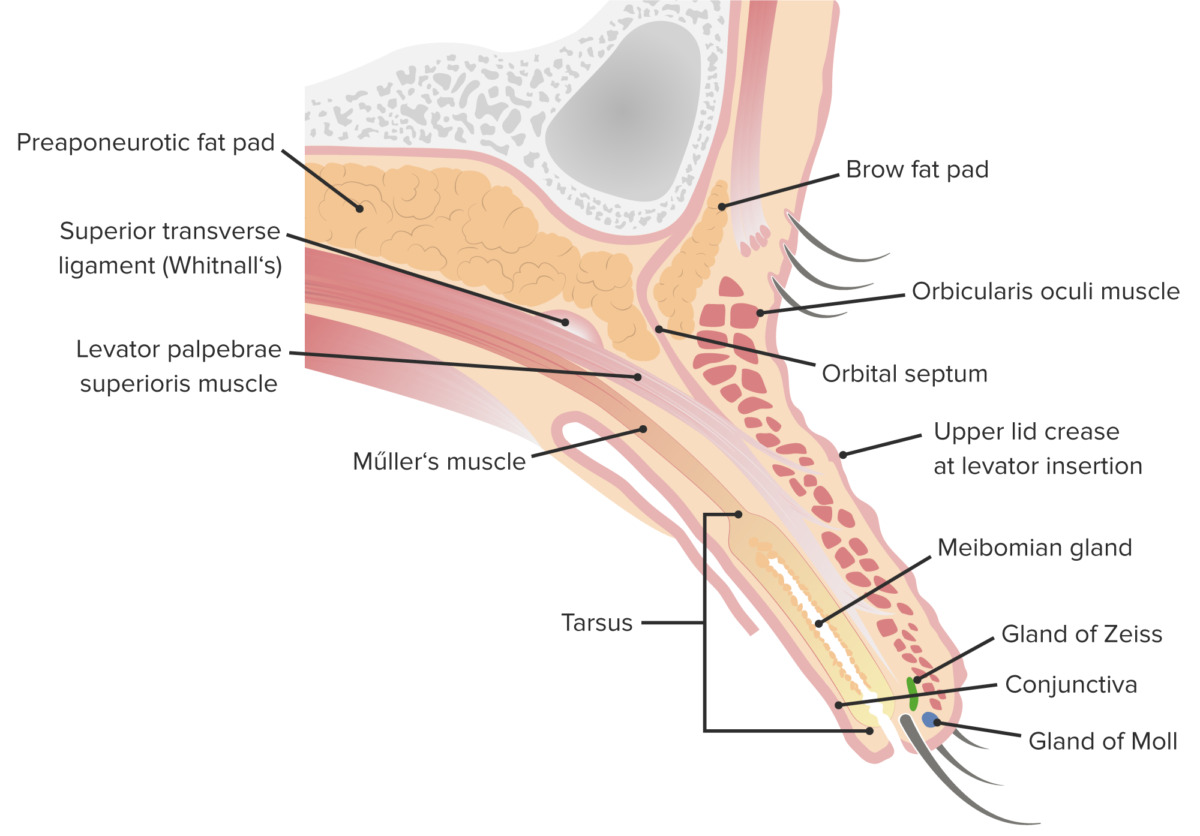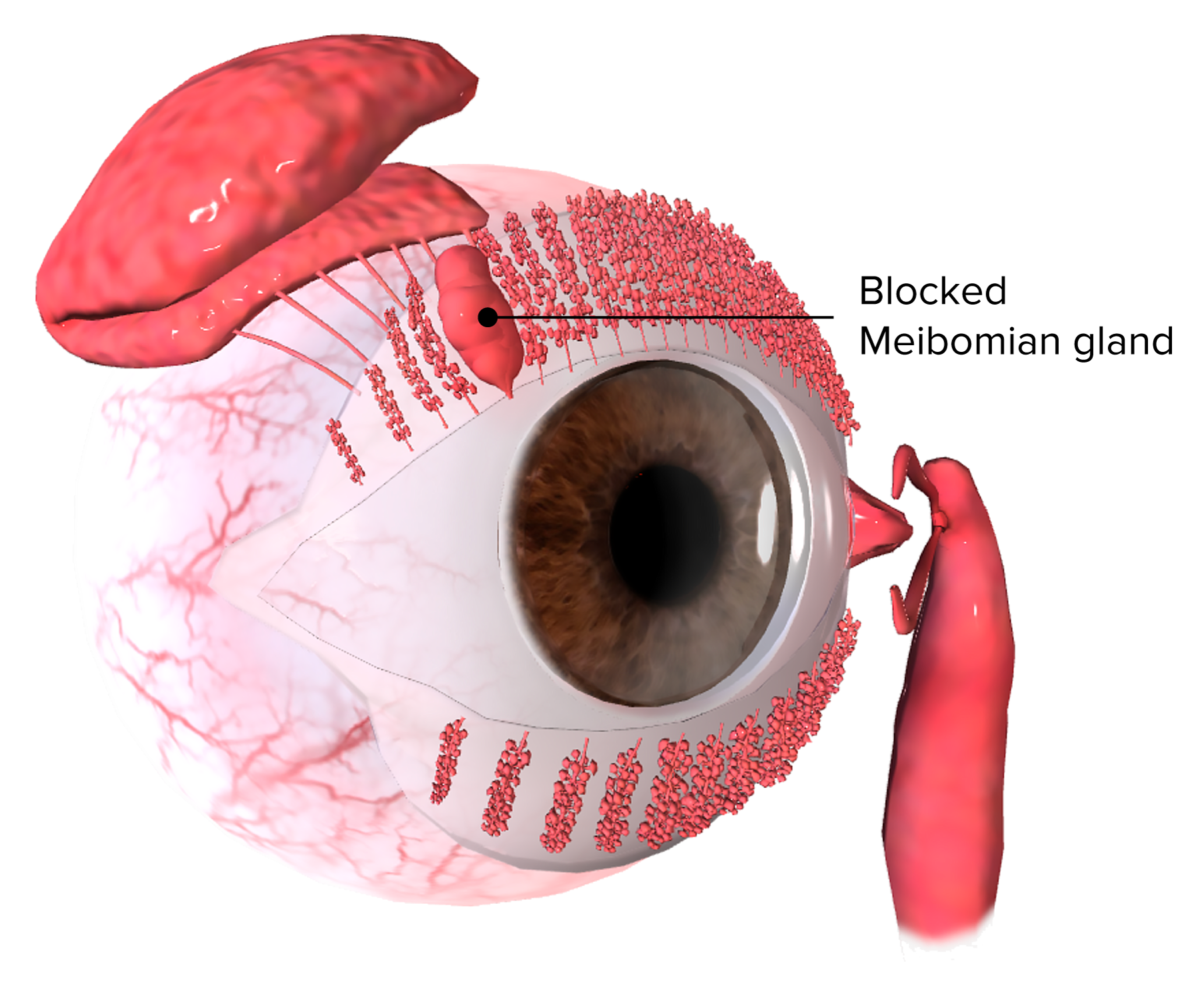 Clinical presentation
Slow-growing, rubbery nodule on the eyelid

If large enough, can compress the cornea and cause astigmatism
More common on the upper lid due to the increased number and length of Meibomian glands

Normally painless, but may cause mild tenderness if the lesion progresses to a large size
Increased tearing
Eyelid heaviness
Conjunctival erythema
Swollen preauricular lymph nodes may be present in cases of secondary bacterial infection.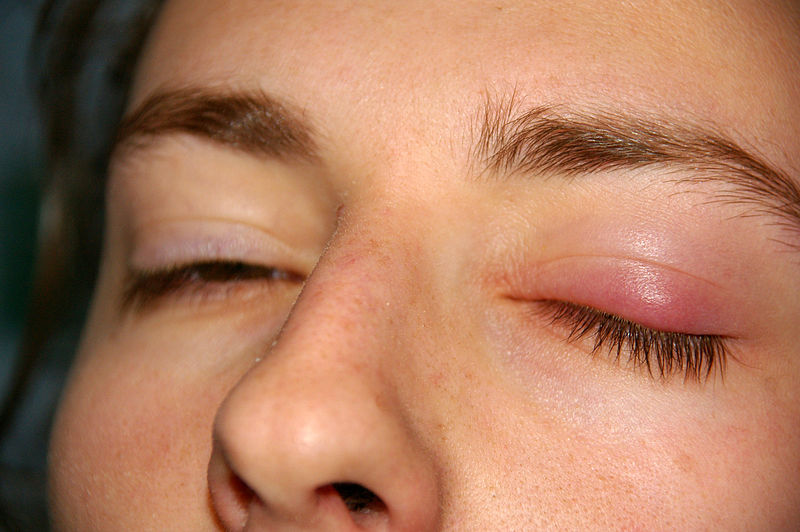 Diagnosis and Management
Diagnosis
Diagnosis is clinical based on the history and physical exam.
Physical exam will show:

Presence of a non-tender, firm, palpable nodule on the eyelid
Everting the eyelid may improve visualization.

Recurrent or persistent lesions should prompt further investigation: fine needle aspiration cytology or biopsy to rule out malignancy
Visual acuity and field testing may be necessary if a chalazion is large.
Management
Conservative management:

Most will resolve without treatment.
Keep area clean.
Warm compresses
Lid massages
If the chalazion does not resolve within a couple of months, the patient may need a referral to ophthalmology.
Systemic antibiotics are generally not necessary, but if a secondary infectious process is present, antibiotic options are:

Tetracycline
Doxycycline
Minocycline
Azithromycin
Metronidazole

Invasive treatment (for a persistent or large, symptomatic chalazion):

Steroid injection
Incision and drainage
Differential Diagnosis
Hordeolum: a localized infection arising from the Zeis gland, Moll gland, or Meibomian gland. Staphylococcus aureus is a common cause. Examination findings of a tender, erythematous, pus-filled nodule help establish the diagnosis. Management is generally conservative, though severe cases may require antibiotics or drainage. Chalazia, on the other hand, are due to sterile, granulomatous inflammation and are not painful.
Blepharitis: an inflammatory condition of the eyelid margins; classified as posterior or anterior blepharitis. Inflammation is seen at the inner portion of the eyelid or at the base of the eyelashes. Patients present with red, swollen, itchy eyelids or vision changes. Diagnosis is clinical, and management includes eyelid hygiene and conservative measures. Symptoms and physical exam differentiate this condition from a chalazion.
Sebaceous carcinoma: a rare malignancy of the sebaceous glands, such as the Meibomian and Zeis glands. Presents as a round, painless nodule of the eyelid. Diagnosis is made by biopsy of the lesion, and management requires surgical removal of the tumor. Distinguishing this from a chalazion may be difficult, and biopsy should be pursued for persistent lesions.
References
Gosh, C., & Gosh, T. (2020). Eyelid lesions. In J. Givens (Ed.), UpToDate. Retrieved October 20, 2020, from https://www.uptodate.com/contents/eyelid-lesions
Deschenes, J., & You, J.Y. (2019). Chalazion. In A.A. Dahl (Ed.), Medscape. Retrieved October 20, 2020, from https://emedicine.medscape.com/article/1212709-overview
Kasper, D. L., Fauci, A. S., Longo, D.L., Bruanwald, E., Hauser, S. L., Jameson, J.L., (2007). Harrison's principles of internal medicine (16th edition.). New York: McGraw Hill Education.