Definition and Etiology
Definition
Crush syndrome is a condition of systemic manifestations (including shock and renal failure) that develop from high-degree crush injury or traumatic compression of the torso, extremities, or other parts of the body.
Etiology
Vehicular accidents (trapped under a vehicle)
Industrial, construction, or agricultural accidents
Major earthquakes (structure collapse, entrapment > 24 hours is associated with increased mortality)
Stampede
Pathophysiology
Initial events
Compression leads to direct tissue damage and venous occlusion.
Crush syndrome can also occur with compartment syndrome (when damage is confined within the muscle compartment(s)).
Prolonged compression results in rhabdomyolysis.
Systemic effects
Renal failure from:

Hypovolemia:

Enzymes released (including CK) damage capillaries.
Leakage of fluid and sequestration in extracellular spaces follow.
This process leads to ↓ intravascular volume → renin-angiotensin-aldosterone (RAA) system is stimulated
RAA effect: reduced renal blood flow

Release of myoglobin from necrotic muscles:

Myoglobin is cytotoxic to the nephrons.
Myoglobin also results in lipid peroxidation of renal cell membranes.
Myoglobin scavenges nitric oxide: ↑ renal injury
Other products include free iron, which generates reactive oxygen species (ROS), damaging the renal tubules

Metabolic acidosis: ↑ lactic acid from damaged/ischemic muscles
Hyperphosphatemia from necrotic muscles:

Leads to hypocalcemia
Leads to calcium phosphate salts → renal damage

Uric acid release:

Nucleosides from cell nuclei → uric acid
Uric acid crystal deposition increases in an acidic environment, leading to tubular obstruction.

Cardiac effect:

Reduced intravascular volume → ↓ cardiac output → hypoperfusion of organs
Upon extrication, deterioration can lead to immediate death (also called "smiling death": relief after extrication but cardiac arrest/ventricular fibrillation occurs from hyperkalemia and hypocalcemia).

Disseminated intravascular coagulation (DIC): released thromboplastin from necrotic muscles leading to DIC → multi-organ failure
ARDS from:

Inflammatory response due to multiple injuries
Fat embolism (resulting from fractures)
Distributive shock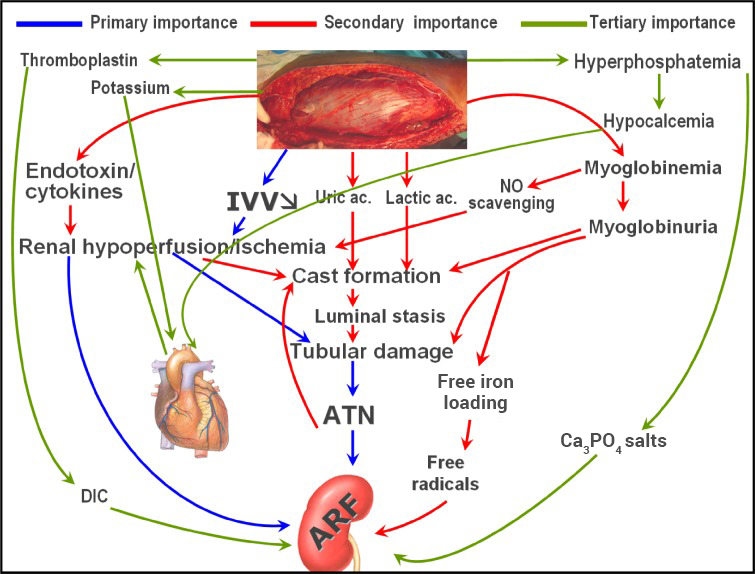 Clinical Presentation
Chest and abdominal crush injury
Chest injury: hemothorax, pneumothorax, pulmonary contusions, rib fractures
Chest compression → ↑ intrathoracic pressure → blood from the superior vena cava and right atrium driven into the brachiocephalic and jugular veins
Deep inspiration against a closed glottis (Valsalva maneuver) causes back pressure → head and neck capillaries are engorged and eventually rupture:

Subconjunctival hemorrhage
Petechial eruptions
Soft tissue edema of the face
Craniocervical cyanosis (engorgement causes blood flow stagnation and subsequent desaturation)

Abdominal crush injury: presents with hollow viscus injuries, liver and splenic lacerations
Prolonged compression can produce spinal cord injury.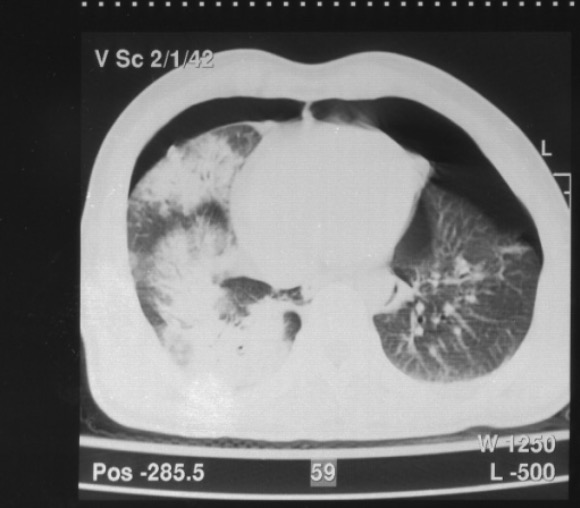 Extremity crush injury
Extremity crush injury ranges from:

Extremity swelling and erythema
Bruising
Open fractures
Mangled/deformed extremities

Rhabdomyolysis: myalgia, weakness, and dark-colored urine
Compartment syndrome: pain, pallor, pulselessness, poikilothermia, paresthesia, and paralysis (the "6 Ps")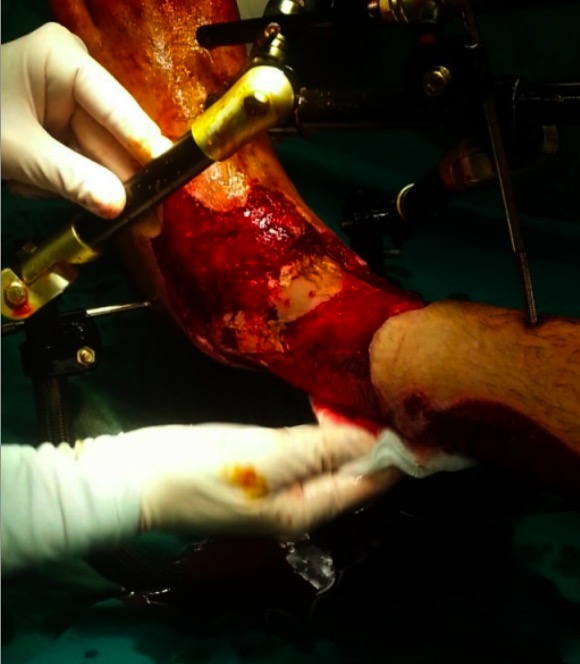 Other clinical features
Shock (hypovolemia and/or hemorrhage): hypotension, tachycardia, pallor
Acute renal failure: oliguria, anuria
Arrhythmia (from acidosis, electrolyte abnormalities):

Conduction abnormalities
Ventricular tachycardia/fibrillation
Asystole

Cardiac failure and ARDS: dyspnea
DIC: bleeding, petechiae, ecchymoses
Diagnosis and Management
Initial assessment and management
Advanced trauma life support (ABCDE):

Airway
Breathing
Circulation
Disability: Perform basic neurologic examination.
Exposure: Search for injuries, and perform environmental control (prevent hypothermia).

Assessment of mechanism of injuries and potential injuries
Administration of isotonic saline in the field prior to or as soon as possible after extrication
If extrication is not possible due to trapped extremity, field amputation is performed after all options are exhausted.
IV hydration and monitoring are continued during transport to the hospital.
Inpatient management
Stabilize patient, assess response to initial resuscitation and need for operative intervention.
Work-up:

Search for potential injuries and perform diagnostic studies:

Portable radiographs
FAST
Emergency CT
Electrocardiogram

General laboratory studies done on admission and subsequently monitored:

Electrolytes, renal function
Arterial blood gas
Urine myoglobin and CK
CBC
Coagulation studies

Continued IV hydration with urine output monitoring
Hemodialysis when indicated
Correct electrolyte imbalances (such as hyperkalemia, hypocalcemia).
Address metabolic abnormalities (e.g., alkalinization of urine in acidosis).
Telemetry monitoring due to risk of arrhythmia
Analgesia
Injury-specific treatment:

Treat open wounds (wound care, antibiotics, tetanus toxoid) and perform debridement when needed.
For compartment syndrome, perform fasciotomy.
Management of organ injuries and fractures
Clinical Relevance
Acute renal failure: a sudden drop in the glomerular filtration rate from kidney damage that happens within a few hours or a few days. Acute renal failure is classified into prerenal, intrinsic, or postrenal, depending on the etiology. Management is based on causation and often revolves around aggressive fluid hydration. Rhabdomyolysis results in acute tubular necrosis from excessive filtered myoglobin, leading to acute renal failure.
Hyperkalemia: a serum potassium (K+) level higher than 5.0 mEq/L. Hyperkalemia is produced by a variety of causes. Acute elevations in serum potassium (usually ≥ 7 mEq/L) can lead to cardiac arrhythmias and muscle weakness. Management involves stabilizing the myocardium, decreasing the extracellular K+ levels, and enhancing K+ removal from the body.
Hypocalcemia: defined as a calcium level < 2.2 mmol/L or < 8.5 mg/dL. Calcium levels are regulated by the parathyroid hormone (PTH). If the body fails to maintain normal calcium levels (especially at ≤ 7.5 mg/dL), patients can present with arrhythmias, seizures, and tetany. Management is with calcium replacement.
Hyperuricemia: elevated uric acid levels, which can result from accelerated purine degradation (as what occurs in high cell turnover states such as rhabdomyolysis). Large amounts of uric acid deposit in the renal tubules, causing acute renal injury. Management involves aggressive intravenous hydration.
ABCDE assessment: the mainstay management approach used in managing critically ill patients and the essential 1st steps to perform in many situations, including unresponsive patients, cardiac arrests, and critical medical or trauma patients. For the trauma patient, ABCDE is included in the primary survey, the initial evaluation, and the management of injuries.
Rhabdomyolysis: a condition characterized by muscle necrosis and the release of myoglobin, which is nephrotoxic. Rhabdomyolysis can be traumatic (by direct muscle compression) or nontraumatic (e.g., intense exertional activity). Creatine kinase elevation with presentation of myalgias and dark urine highly suggest the diagnosis. Management is with IV fluid resuscitation.
Compartment syndrome: a surgical emergency occurring secondary to trauma. The syndrome is marked by increased pressure within a compartment that compromises the circulation and function of the tissues. Long bone fractures are the most common cause. Patients can present with pain, pallor, pulselessness, paresthesia, poikilothermia, and paralysis (the 6 Ps). Diagnosis is clinical but compartment pressure measurement can be used. Management is an emergency fasciotomy.
References
Beck M.A., & Haller P (2020). Compartment syndrome. Tintinalli J.E., & Ma O, & Yealy D.M., & Meckler G.D., & Stapczynski J, & Cline D.M., & Thomas S.H. (Eds.),Tintinalli's Emergency Medicine: A Comprehensive Study Guide, 9e. McGraw-Hill.
Berkeley, R., Bledsoe, B. (2010). Know the Signs and Symptoms of Traumatic Asphyxia. Retrieved 18 Jan 2021 from https://www.jems.com/patient-care/know-signs-and-symptoms-trauma/
Godat, L., Bulger, E., Collins, K. (2019). Severe crush injury in adults. UpToDate. Retrieved 20 Jan 2020, from https://www.uptodate.com/contents/severe-crush-injury-in-adults
Miller, M. (2020). Causes of rhabdomyolysis. Retrieved on January 14th, 2021 from: https://www.uptodate.com/contents/causes-of-rhabdomyolysis
Perazella, M., Rosner, M., Palevsky, P., Motwani, S. (2019). Prevention and treatment of heme pigment-induced acute kidney injury. UpToDate. Retrieved 20 Jan 2021 from https://www.uptodate.com/contents/prevention-and-treatment-of-heme-pigment-induced-acute-kidney-injury
Sever, M. S., & Vanholder, R. (2011). Management of crush syndrome casualties after disasters. Rambam Maimonides medical journal, 2(2), e0039. https://doi.org/10.5041/RMMJ.10039
Stanley M, Adigun R. (2020). Rhabdomyolysis. StatPearls [Internet]. Treasure Island (FL): StatPearls Publishing. Retrieved 19 Jan 2021 from: https://www.ncbi.nlm.nih.gov/books/NBK448168/