Overview
Definition
Compartment syndrome is a condition that occurs when increased pressure in a closed muscle compartment exceeds the pressure to perfuse the compartment, resulting in muscle and nerve ischemia.
Epidemiology
Because men generally have larger muscle mass, they (especially men < 35 years of age), have the highest incidence.
Muscle mass in the compartment increases around 20 years of age but subsequently diminishes after 35 years of age.
Long bone fractures: approximately ¾ of cases

↑ risk of acute compartment syndrome (ACS) in comminuted fractures
Bones most affected:

Tibia (most common)
Humerus near the elbow (supracondylar fractures in children)
Etiology
Traumatic:

Long bone fractures (most common)
Crush injury
Burns
Electrical shocks
Penetration injury
Animal bites

Non-traumatic:

Bleeding, coagulopathy
Ischemia reperfusion syndrome
Extravasation injury
Cast that is too tight
Intense muscle activity
High-pressure injection
Toxins such as snake venom
Group A streptococcus infections of the muscle
Pathophysiology
Muscle groups are divided into compartments, which are reinforced by fascial membranes.
↑ compartment pressure → venous outflow obstruction (↑ venous pressure) → arteriolar collapse (↓ arterial pressure) → decreased tissue perfusion → cellular anoxia → damage to nerve and muscle tissues
Factors affecting injury:

Pressure:

Normal pressure within a compartment: generally 0–8 mm Hg
Pressures tolerated without damage: up to 20 mm Hg

Duration:

Prolonged exposure at elevated pressures results in cell death.
Reversible muscle injury: < 4 hours
Irreversible muscle injury: ≥ 8 hours
Nerve conduction loss: 2 hours
Neuropraxia: 4 hours
Irreversible nerve injury: ≥ 8 hours

Type and location of injury

Can affect any compartment of the body:

Lower extremities (leg): most common location of ACS
Forearm: compartment syndrome associated with supracondylar fracture (children) and distal radius fracture (adults)
Upper arm
Hand
Abdomen
Buttock
Clinical Presentation
General signs and symptoms
Pain out of proportion to exam and injury
Progressive pain on passive stretch of affected compartment
Paresthesia (sensory loss occurs before motor loss)
Pallor
Paralysis
Pulselessness (patient may have normal pulsation)
Cool extremity
Rapidly increasing and tense swelling
Mnemonic
The 6 Ps of compartment syndrome:
Pain
Poikilothermia
Pallor
Paresthesia
Pulselessness
Paralysis
Leg compartment syndromes
Anterior compartment (most common site):

Structures:

Muscles responsible for dorsiflexion, eversion, and inversion of the foot and ankle
Toe extensors
Anterior tibial artery
Deep peroneal nerve

Associated clinical feature(s):

Tense anterior leg
Deep peroneal nerve palsy
Sensory loss in the 1st and 2nd web spaces
Weak toe extensors and foot dorsiflexion
Painful passive motion with toe flexion

Lateral compartment:

Structures:

Muscles responsible for foot eversion
Superficial peroneal nerve
Portion of the deep peroneal nerve

Associated clinical feature(s):

Weak dorsiflexion and inversion of the foot (deep peroneal nerve deficit)
Reduced sensation in the lower leg

Deep posterior compartment:

Structures:

Muscles responsible for foot plantar flexion
Posterior tibial artery, peroneal artery
Tibial nerve

Associated clinical feature(s):

Posterior tibial nerve palsy
Weak toe flexors
Pain with toe extension
Tense distal medial leg

Superficial posterior compartment (least at risk):

Structures:

Muscles of plantar flexion (gastrocnemius, soleus)
No major arteries or nerve

Associated clinical feature(s):

Tense leg area
Pain in the leg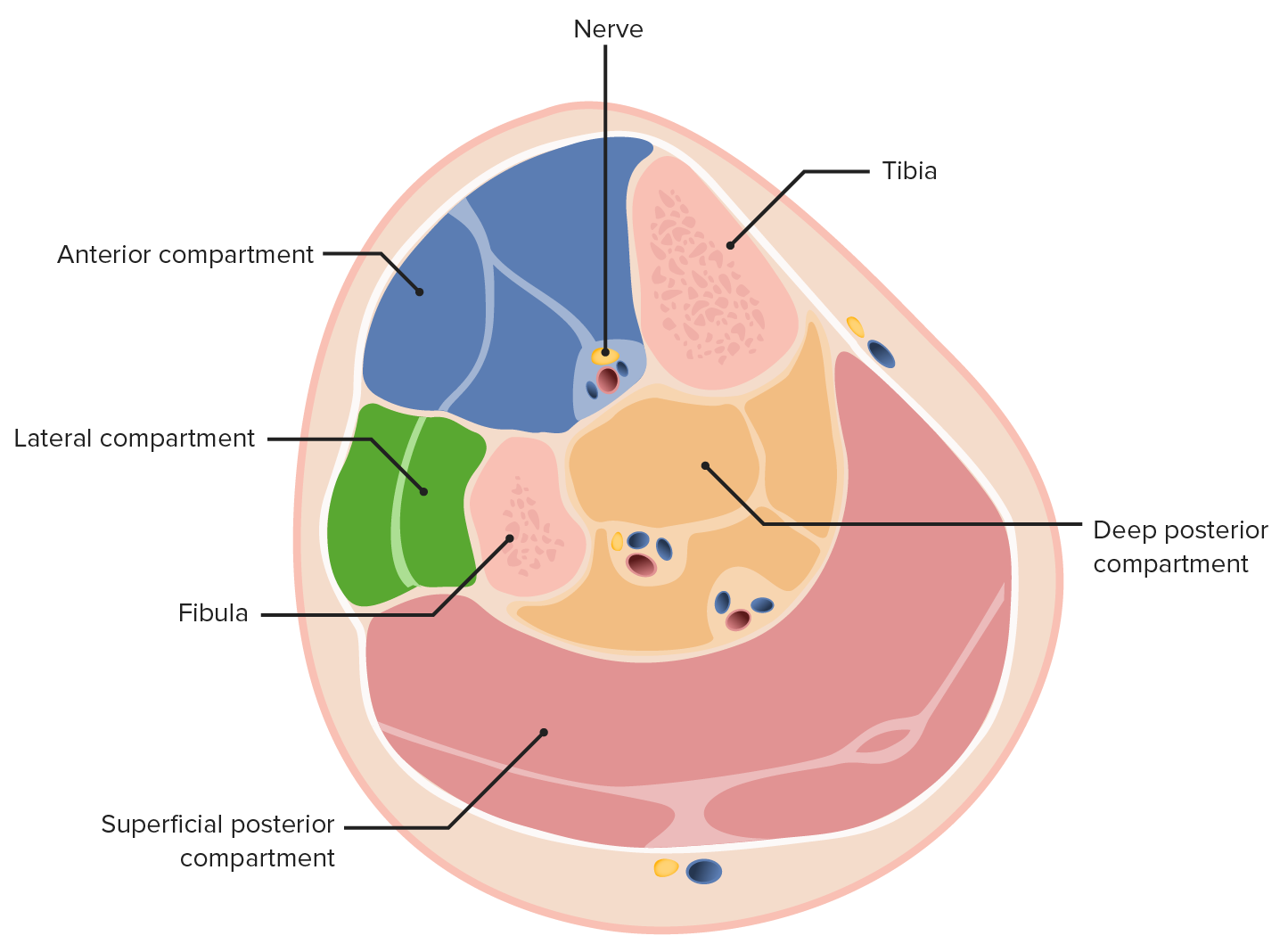 Forearm compartment syndromes
Anterior compartment (superficial and deep groups):

Structures muscles responsible for wrist and digit flexion and pronation
Associated clinical feature(s):

Ulnar and median nerve palsy
Weak digital flexors
Painful digital extension
Tense volar forearm

Posterior compartment of the forearm:

Structures: muscles responsible for wrist and digit extension and forearm supination
Associated clinical feature(s):

Weak digital extensors
Painful digital flexion
Tense dorsal forearm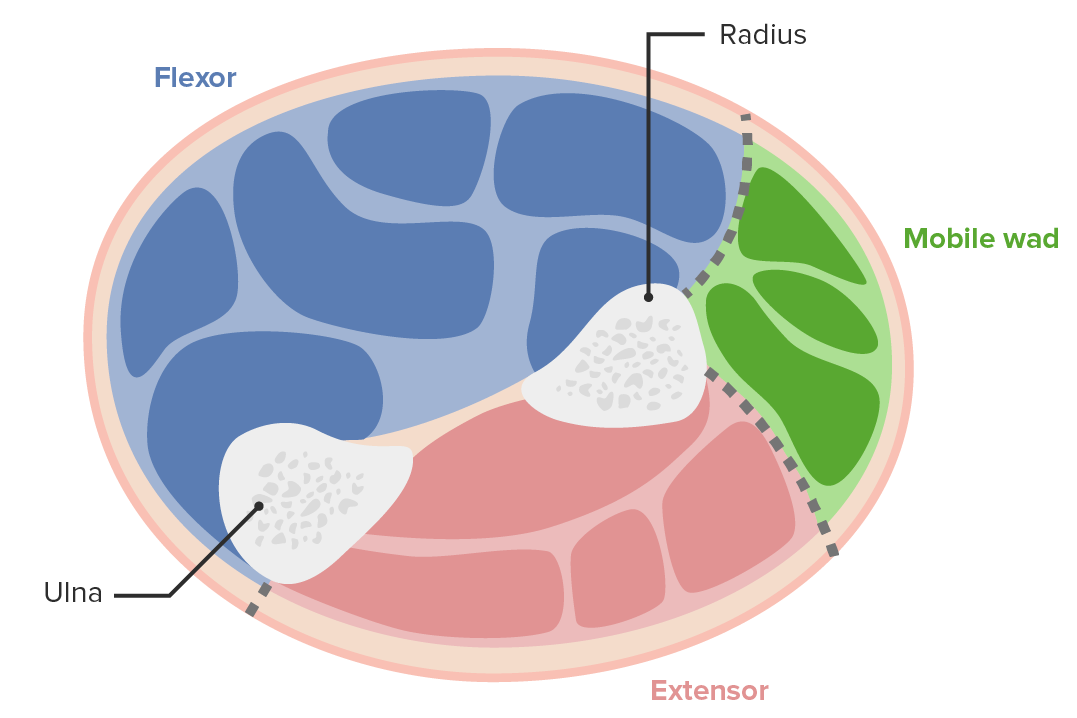 Other compartment syndromes
Arm compartment syndrome:

Rare, as the arm compartments tolerate significant fluid volume
If the anterior compartment is affected, clinical features are:

Ulnar and median nerve palsy
Weak biceps and distal flexors
Painful elbow flexion
Tense anterior upper arm

If the posterior compartment is affected, clinical features are:

Radial nerve palsy
Weak triceps and forearm extensors
Painful elbow extension
Tense posterior upper arm

Thigh compartment syndrome (may occur with major trauma) and hand compartment syndrome are uncommon.
Diagnosis
Primarily a clinical diagnosis
Compartment pressure measurement:

Manometer (hand-held equipment)
Wick or slit-catheter technique (catheter is inserted into the compartment and a transducer monitors the pressure)

Normal pressure of a tissue compartment is 0–8 mm Hg.
Compartment syndrome:

Pressure > 30–40 mm Hg
Differential pressure < 30 mm Hg (the pressure difference between diastolic blood pressure and compartment pressure)
Management
Initial ABCDE (Airway, Breathing, Circulation, Disability, Exposure) assessment for all trauma patients
Remove any binders, casts, or dressings of the affected site.
Compartment pressure within 30 mm Hg of diastolic pressure should undergo emergent fasciotomy:

Long incisions release the pressure in the affected compartment and adjacent compartments.
These wounds are left open, and a 2nd-look procedure for debridement is performed within 48–72 hours.
Wound closure within 7–10 days (may require skin grafting)

Analgesics
For non-traumatic causes:

Hemophiliacs: replacement of factor levels
Patients on anticoagulants: reversal of anticoagulation or factor replacement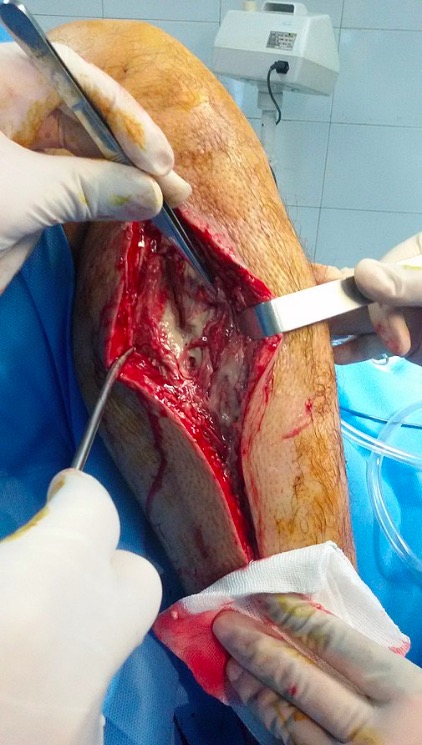 Clinical Relevance
ABCDE assessment: the mainstay management approach used in managing critically ill patients and the essential 1st step to perform in many situations, including unresponsive patients, cardiac arrests, and critical medical or trauma patients. For the trauma patient, ABCDE assessment is included in the primary survey, the initial evaluation, and for the management of injuries.
Rhabdomyolysis: a condition characterized by muscle necrosis and the release of myoglobin, which has nephrotoxic effects. Rhabdomyolysis can be caused by trauma or direct muscle compression, or can be nontraumatic (e.g., intense exertional activity). Creatine kinase elevation with presentation of myalgias and dark urine highly suggest the diagnosis. Management is with intravenous fluid resuscitation.
Crush syndrome: systemic manifestations (renal failure, shock) resulting from a compressive traumatic injury. Compartment syndrome and/or rhabdomyolysis can occur in crush syndrome. Field management with intravenous fluids and extrication is crucial in reducing the risk of complications and death.
Supracondylar fracture: the most common elbow fracture affecting the distal humerus just above the condyles. This injury needs an immediate orthopedic consultation to evaluate possible neurovascular bundle damage, as many vessels and nerves pass by the elbow. This fracture may also be complicated with compartment syndrome.
References
Beck M.A., & Haller P (2020). Compartment syndrome. Tintinalli J.E., & Ma O, & Yealy D.M., & Meckler G.D., & Stapczynski J, & Cline D.M., & Thomas S.H. (Eds.),Tintinalli's Emergency Medicine: A Comprehensive Study Guide, 9e. McGraw-Hill.
Berkeley, R., Bledsoe, B. (2010). Know the Signs and Symptoms of Traumatic Asphyxia. Retrieved January 18, 2021, from https://www.jems.com/patient-care/know-signs-and-symptoms-trauma/
Carter MA (2013). Compartment Syndrome Evaluation. In Roberts JR, Hedges JR, Custalow CB, et al (eds): Clinical Procedures in Emergency Medicine, ed 6. Philadelphia, Saunders Ch 54:p 1095-1124.
Chung, K, Yoneda, H, and Modrall, G. (2020). Pathophysiology, classification, and causes of acute extremity compartment syndrome. Retrieved January 14, 2021, from: https://www.uptodate.com/contents/pathophysiology-classification-and-causes-of-acute-extremity-compartment-syndrome
Elliott KG, Johnstone AJ. (2003) Diagnosing acute compartment syndrome. J Bone Joint Surg. – British. Volume 85: 625–32.
Jimenez, A., Marappa-Ganeshan, R. (2020) Forearm Compartment Syndrome. Retrieved January 18, 2021, from https://www.ncbi.nlm.nih.gov/books/NBK556130/
Miller, M. (2020). Clinical manifestations and diagnosis of rhabdomyolysis. Retrieved on January 14, 2021, from: https://www.uptodate.com/contents/clinical-manifestations-and-diagnosis-of-rhabdomyolysis
Stracciolini, A and Hammerbery, M. (2020). Acute compartment syndrome of the extremities. Retrieved January 14, 2021, from: https://www.uptodate.com/contents/acute-compartment-syndrome-of-the-extremities
Torlincasi, A., Lopez, R., Waseem, M. (2020) Acute Compartment Syndrome. StatPearls. Retrieved January 17, 2021, from https://www.ncbi.nlm.nih.gov/books/NBK448124/