Boundaries
The cubital fossa is the transitional area between the upper arm and the forearm anterior to the elbow joint. The cubital fossa is defined by the following anatomical boundaries:
| Boundary | Structure |
| --- | --- |
| Superior | Horizontal line joining medial and lateral epicondyles of the humerus |
| Lateral | Medial border of the brachioradialis muscle |
| Medial | Lateral border of the pronator teres muscle |
| Apex | Directed inferiorly, the meeting point of the lateral and medial boundaries |
| Floor | Brachialis muscle (proximally) and supinator muscle (distally) |
| Roof | Joining of brachial and forearm fascia plus bicipital aponeurosis |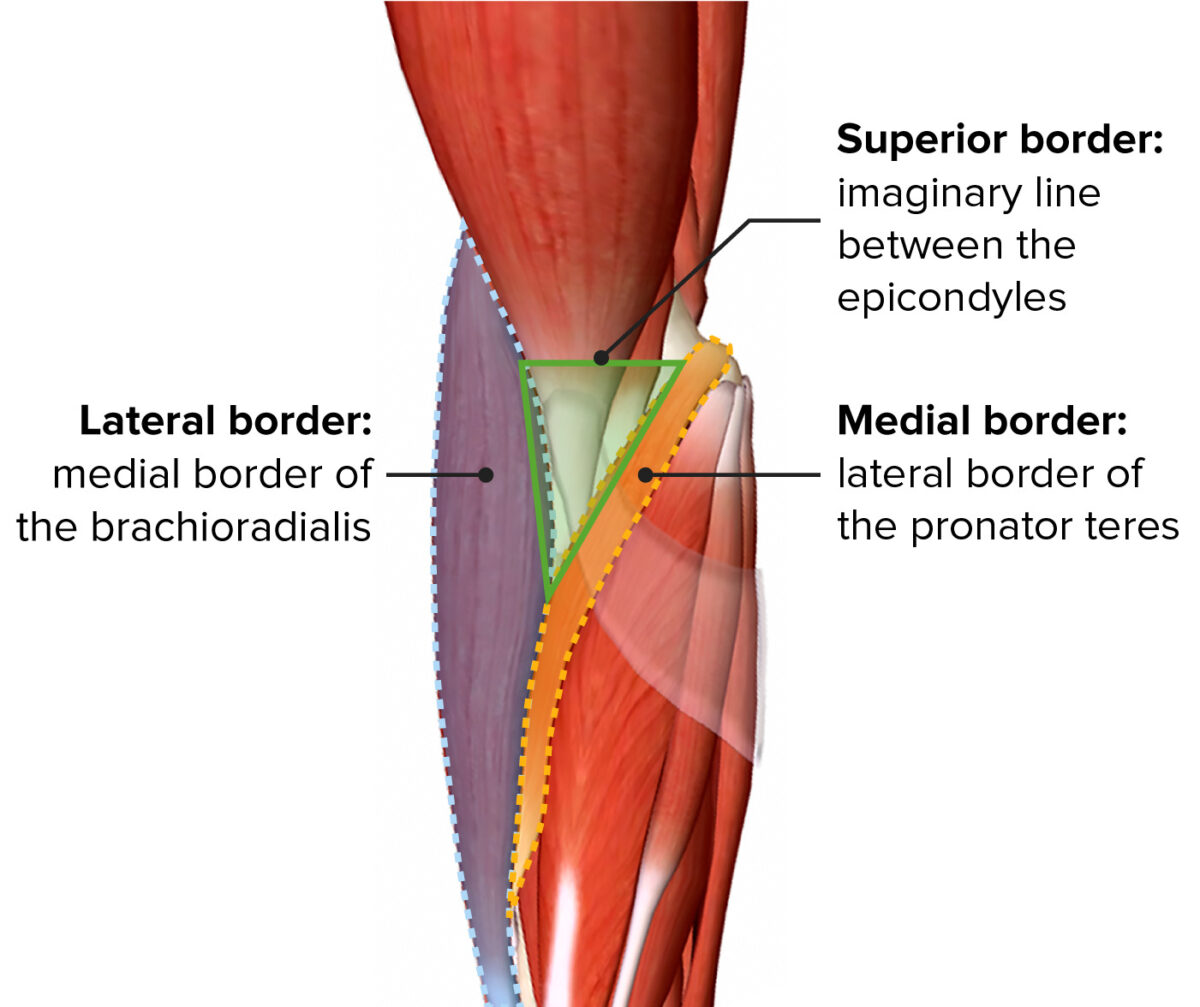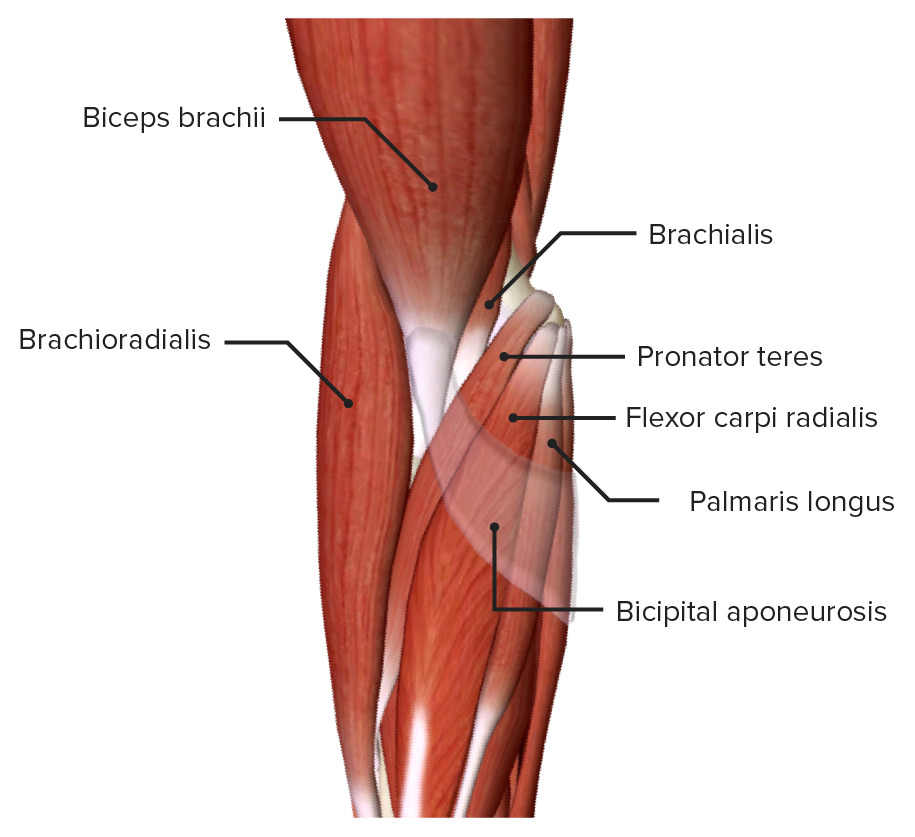 Contents
The important structures of the cubital fossa can be organized from lateral to medial and include all the important neurovascular structures except for the ulnar nerve, which runs posterior to the medial epicondyle.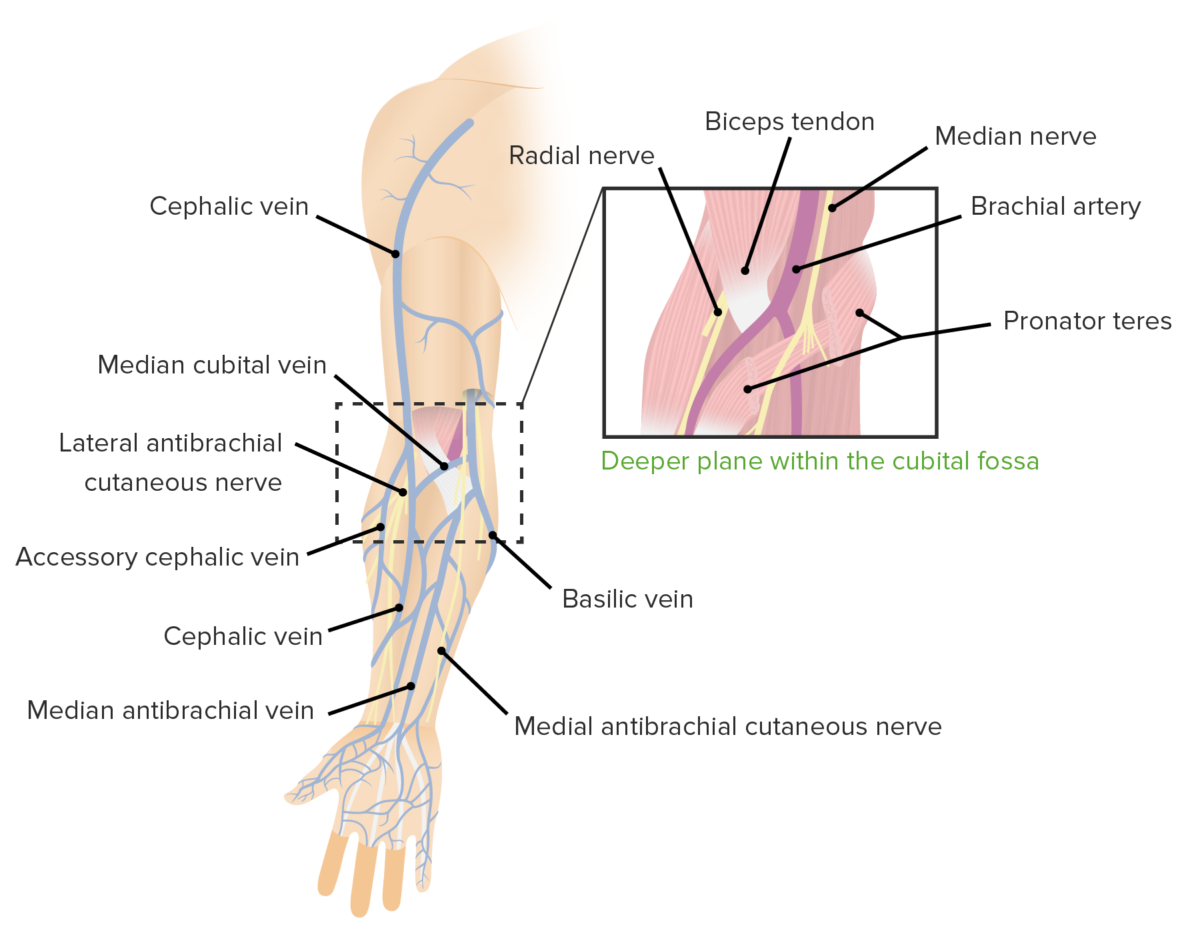 Structures deep within the cubital fossa (lateral to medial)
Radial nerve: located below or posterior to the brachioradialis, and therefore not always included in the description of the cubital fossa
Distal biceps tendon: attaches at the radial tuberosity
Brachial artery: bifurcates into the radial and ulnar arteries at the distal end of the cubital fossa or apex of the fossa
Median nerve: exits the cubital fossa beneath the pronator teres muscle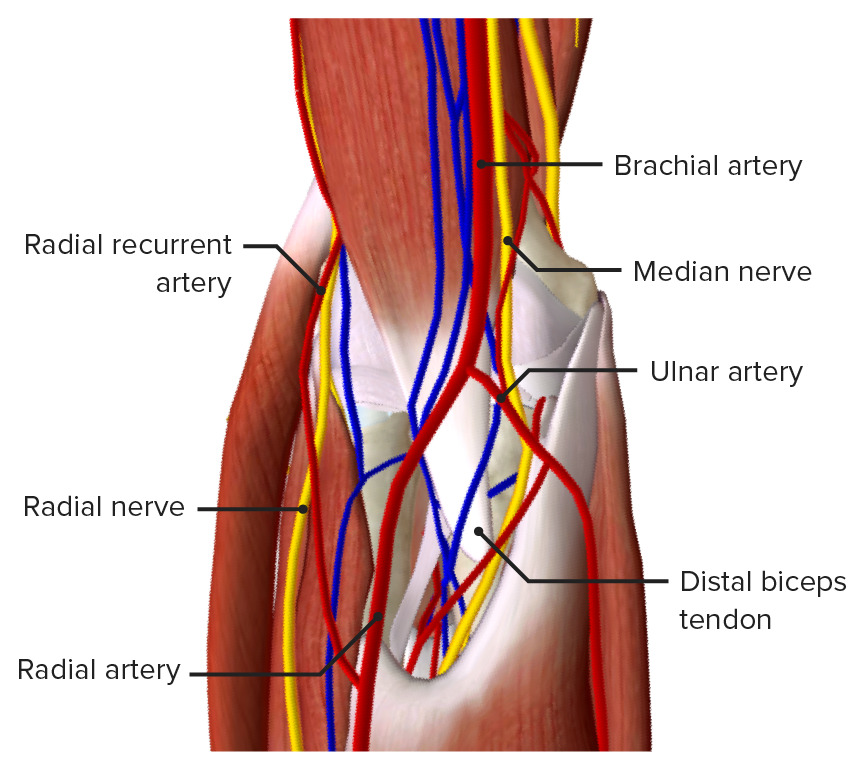 Structures within the superficial fascia of the cubital fossa
Median cubital, cephalic, and basilic veins
Lateral and medial cutaneous nerves of the forearm
Lymphatics: epitrochlear lymph nodes (cubital lymph nodes)

Within subcutaneous fat above the medial epicondyle of the humerus
Drains into the axillary lymph nodes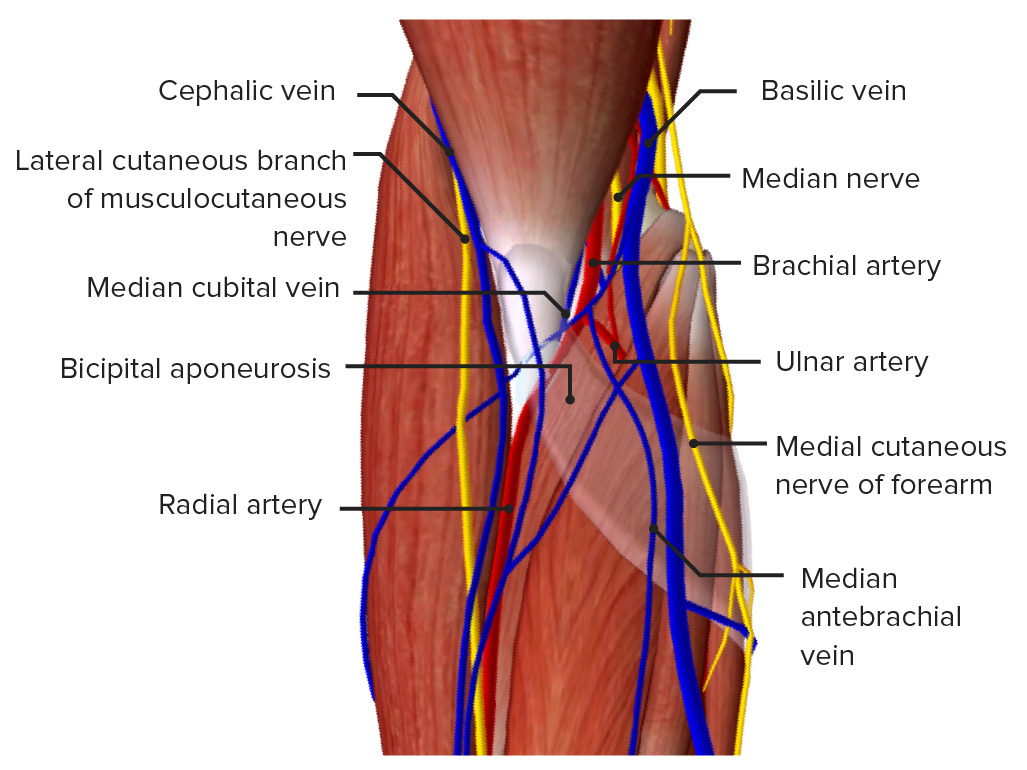 Clinical Relevance
The following are important clinical concepts related to the structures found within the cubital fossa:
Brachial pulse: The brachial pulse (brachial artery) can be palpated immediately medial to the biceps tendon in the cubital fossa.
Blood pressure: The cubital fossa is a site for placement of the diaphragm of the stethoscope during blood pressure measurement over the brachial artery.
Venipuncture: the process of obtaining intravenous access, most commonly performed to obtain venous blood for testing or to acquire intravenous access. The cubital fossa is a common site for venipuncture because of the prominence and accessibility of the veins, especially the median cubital vein located superficially within the roof of the cubital fossa.
References
Drake, R.L., Vogl, A.W., & Mitchell, A.W.M. (2014). Gray's Anatomy for Students (3rd ed.). Philadelphia, PA: Churchill Livingstone