General Characteristics
Basic features of Mucorales
Taxonomy:
Order: Mucorales
Genera most commonly associated with human infection:

Rhizopus
Rhizomucor
Mucor
Cunninghamella
Lichtheimia (formerly Absidia)
Apophysomyces
Saksenaea
Morphology:
Colonies:

Fast growing
Cottony
White-to-yellow color → becomes gray

Microscopic features:

Wide hyphae
Lack or rare septations
Branching at right angles
Sporangiophores:

Upright hyphae
Support sac-like sporangia filled with asexual sporangiospores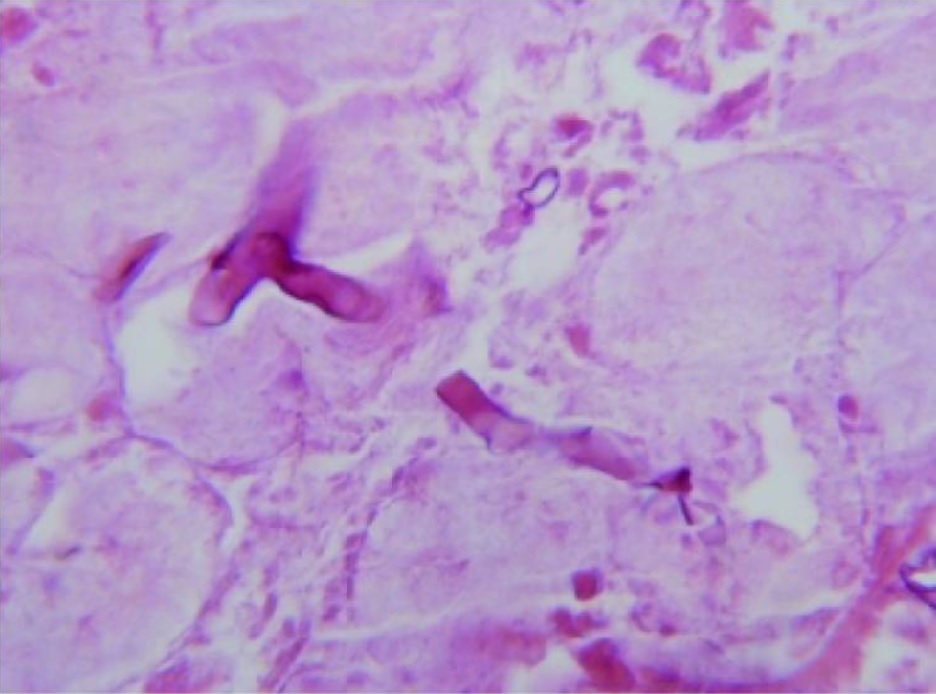 Associated diseases
Mucormycosis is caused by many species within the Mucorales order, which can be classified based on the site of infection:
Rhinocerebral mucormycosis (most common)
Pulmonary mucormycosis
Cutaneous mucormycosis
Gastrointestinal mucormycosis
Epidemiology
Very rare infection; the true incidence is unknown.
Approximately 500 annual cases in the United States
Incidence is increasing due to a rising number of immunocompromised patients.
No gender predilection
No racial predilection
No age predilection
Mortality rate: 50%–85%
Pathogenesis
Reservoir
Mucorales are common in the environment and are found on:
Transmission
Inhalation of spores (primary method)
Ingestion of contaminated food
Skin inoculation
Host risk factors
Almost all infections occur in the presence of an underlying condition:
Diabetes (especially diabetic ketoacidosis)
Hematological malignancies
Solid-organ cancer
Organ transplant
Stem-cell transplant
Immunosuppressive therapy
Chronic corticosteroid use
HIV/AIDS
Neutropenia (neutrophils are the key host defense against the fungi)
Iron-overload conditions (e.g., hemochromatosis and deferoxamine therapy)
Skin injury due to surgery, burns, or trauma
Use of injection drug
Malnutrition
Pathophysiology
Most spores enter through the respiratory tract → adhere to mucus
Healthy individuals:

Usually clear by coughing, sneezing, or swallowing
Neutrophils phagocytize → destroy the fungus

Susceptible patients:

Spores transform into the hyphal form in nasal turbinates or alveoli.
Hyphae invade blood vessels → tissue infarction and thrombosis
Leads to rhinocerebral or pulmonary disease

Other routes of infection → disease at those sites:

Traumatic inoculation or contamination → cutaneous disease
Ingestion → gastrointestinal disease
Clinical Presentation
Rhinocerebral disease
Patients start with symptoms of acute sinusitis. Symptoms progress due to the spread of the infection to contiguous structures.
Fever
Nasal congestion (may have black discharge)
Unilateral retro-orbital headache
Facial pain
Numbness
Hyposmia
Orbital swelling with proptosis and chemosis
Facial cellulitis
Eschar formation can occur on:

Nasal mucosa
Palate
Overlying skin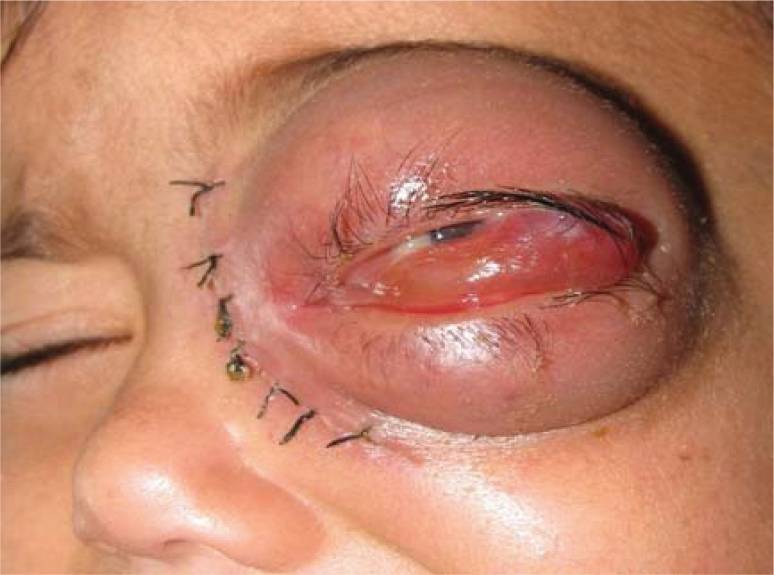 Pulmonary disease
Patients with pulmonary disease develop rapidly progressive pneumonia (often bilateral).
Fever
Dyspnea
Cough
Hemoptysis
Cutaneous disease
Cellulitis
Dermal necrosis
Formation of black eschar
Gastrointestinal disease
The condition causes necrotic ulcers in the gastrointestinal tract, which can lead to perforation. Signs and symptoms include:
Abdominal pain
Distention
Nausea
Vomiting
Hematochezia
Obstruction
Peritoneal signs
Rare manifestations
Disseminated disease:

Can present with nonspecific signs and symptoms

CNS mucormycosis:

Usually direct spread from a sinus infection
Signs and symptoms:

Lethargy
Headache
Focal neurologic deficits
Diagnosis and Management
Diagnosis
A high index of suspicion is required to make the diagnosis.
Biopsy specimen:

Histopathologic identification of the causative organism establishes the diagnosis.
Tissue necrosis can be seen.

Fungal cultures (often negative)
Imaging (e.g., head or chest CT) to assess the extent of infection and tissue damage
1,3-β-D-glucan is not useful (not a component of the Mucorales cell wall).
Management
Treat the underlying condition when possible (e.g., diabetic ketoacidosis).
If possible, management should occur in a tertiary care center.
Antifungal therapy should be started immediately:

Liposomal amphotericin B (1st line)
Isavuconazole
Posaconazole

Surgical resection of necrotic tissue is indicated to limit further spread:

Associated with improved survival
Can lead to significant disfigurement
Comparison of Species
Table: Comparison of species
Organism
Mucorales
Aspergillus
Characteristics

Wide hyphae
Lack of rare septations
Branch at 90-degree angles

Septated hyphae
Branch at 45-degree angles

Transmission

Inhalation
Ingestion
Inoculation

Inhalation
Invasion through damaged skin

Clinical
Mucormycosis:


Rhinocerebral disease
Pulmonary disease
Gastrointestinal disease
Cutaneous disease

ABPA
Sinusitis
Aspergilloma
Chronic pulmonary aspergillosis
Invasive aspergillosis
Cutaneous aspergillosis

Diagnosis
Management

Antifungal therapy
Surgical resection for any form

Antifungal therapy
Surgery for necrotic tissue in invasive disease
ABPA: allergic bronchopulmonary aspergillosis
Differential Diagnosis
Bacterial orbital cellulitis: infection of the orbital tissues, which can occur from hematogenous spread, extension from adjacent sinuses, or traumatic inoculation. Patients present with swelling and redness, conjunctival erythema, pain from eye movement, and proptosis. Diagnosis is clinical. The mainstay of treatment is antibiotic therapy and surgery is reserved for severe cases.
Cavernous sinus thrombosis: a rare, life-threatening condition occurring from a facial infection. Cavernous sinus thrombosis is usually bacterial in etiology. Patients present with fever, headache, proptosis, and ophthalmoplegia. Diagnosis is confirmed with CT or MRI. Management includes antibiotics and, occasionally, steroids. Anticoagulation is controversial.
Community-acquired pneumonia: infection of the lung parenchyma most often caused by a bacteria or virus. Patients present with fever, dyspnea, and a productive cough. Chest X-ray typically shows lobar consolidation. Management involves empiric antibiotics, which can be tailored if the causative organism is identified. Antivirals are used when a viral cause is suspected.