Classification

General Characteristics and Epidemiology
Basic features of CMV
Also known as HHV-5
Taxonomy:

Family: Herpesviridae
Subfamily: Betaherpesvirinae
Genus: Cytomegalovirus

DNA virus:
Structure:

DNA core
Icosahedral nucleocapsid
Tegument
Phospholipid envelope with glycoprotein spikes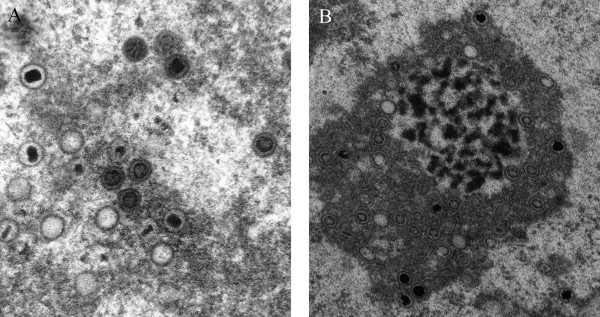 Epidemiology
Approximately 60%–90% of adults have CMV antibodies (lifelong latent infection).
Prevalence increases with age.
Ethnicity: higher prevalence in non-Hispanic Black Americans and Mexican Americans
Higher positivity rates also associated with:

Female sex
Birthplace outside the United States
Low household income and education
Household crowding
Pathogenesis
Reservoir
The CMV strain associated with human infection is found only in humans.
Transmission
Contact with infected bodily fluids
Sexual contact
Blood transfusion
Organ transplantation
Perinatal

In utero (during maternal viremia)
During birth (from contact with vaginal secretions)
Breast milk

Occupational exposure
Host risk factors
Immunocompromised patients are at increased risk of morbidity and mortality from CMV.
HIV/AIDS
Transplant patients
Viral replication cycle
Viral glycoproteins attach to host cell receptors → endocytosis or fusion with cell membrane (unclear)
Capsid transported to the nuclear pore → DNA released into the nucleus
Transcription and replication → viral assembly
Budding through the nuclear membrane → assembly with tegument proteins
Acquires envelope → released from cell
Pathophysiology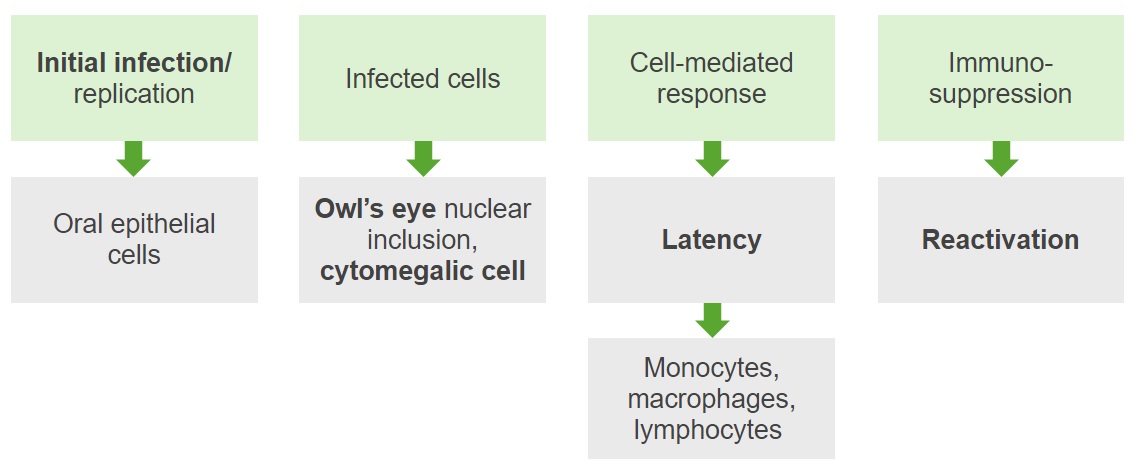 Virus infects oral epithelial cells → viral replication → cytomegalic cells with owl's eye nuclear inclusions
Cell-mediated response ensues (most important for controlling CMV infection) → virus become latent in:

Myeloid progenitor cells in the bone marrow
Monocytes
Macrophages
Lymphocytes

Immunocompromised state → reactivation can occur → viremia → clinical manifestations
Pathology
Cells infected with CMV will:
Enlarge
Contain viral inclusion bodies (owl's eye).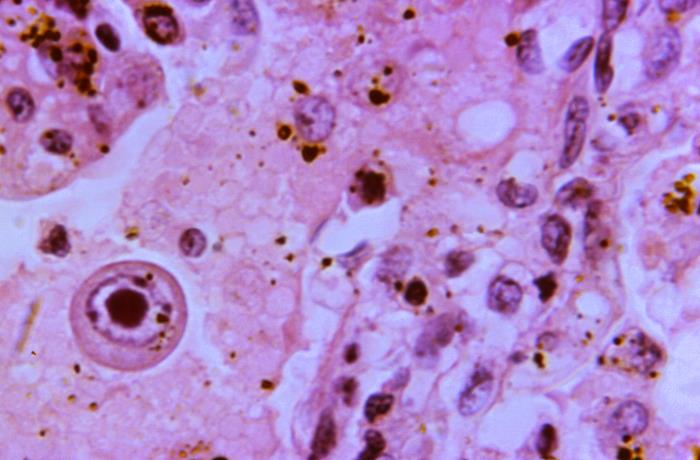 Diseases caused by CMV
The spectrum of clinical presentations with CMV is diverse and depends on the immune status of the host.
CMV mononucleosis
Most immunocompetent patients will be asymptomatic. In the minority who are symptomatic, the most common presentation is a syndrome similar to infectious mononucleosis (EBV).
Clinical presentation:

Fever
Malaise
Headache
Myalgias and arthralgias
Erythematous, maculopapular rash in patients exposed to beta-lactam antibiotics
Less common:

Pharyngitis
Lymphadenopathy
Hepatosplenomegaly

Diagnosis:

Lymphocytosis with atypical lymphocytes
Negative heterophile (monospot test)
Serology for CMV antibodies
PCR for CMV DNA

Management: Most cases are self-limited and do not require antiviral therapy.
Congenital CMV
Congenital CMV is one of the perinatal TORCH (toxoplasmosis, other agents, rubella, cytomegalovirus, and herpes simplex) infections.
Most infants with congenital CMV infection are asymptomatic at birth.
Symptomatic infants present with:

Petechial rash
Chorioretinitis
Jaundice
Hepatosplenomegaly
Intrauterine growth restriction
Microcephaly
Hypotonia
Sensorineural hearing loss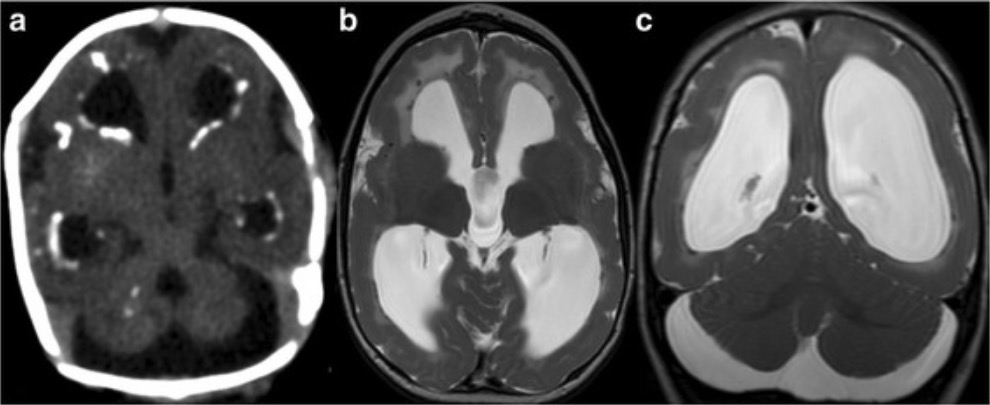 Opportunistic infections
The following are rare in immunocompetent hosts and are often the result of reactivation of a latent infection. Note: Infections outside the lymph nodes, spleen, and liver are considered AIDS-defining conditions.
GI manifestations:

Esophagitis
Colitis
Hepatitis
Pancreatitis

Neurologic manifestations:

Encephalitis
Guillain-Barré syndrome

Ocular manifestations:
Cardiopulmonary manifestations:

Pneumonia
Pericarditis
Myocarditis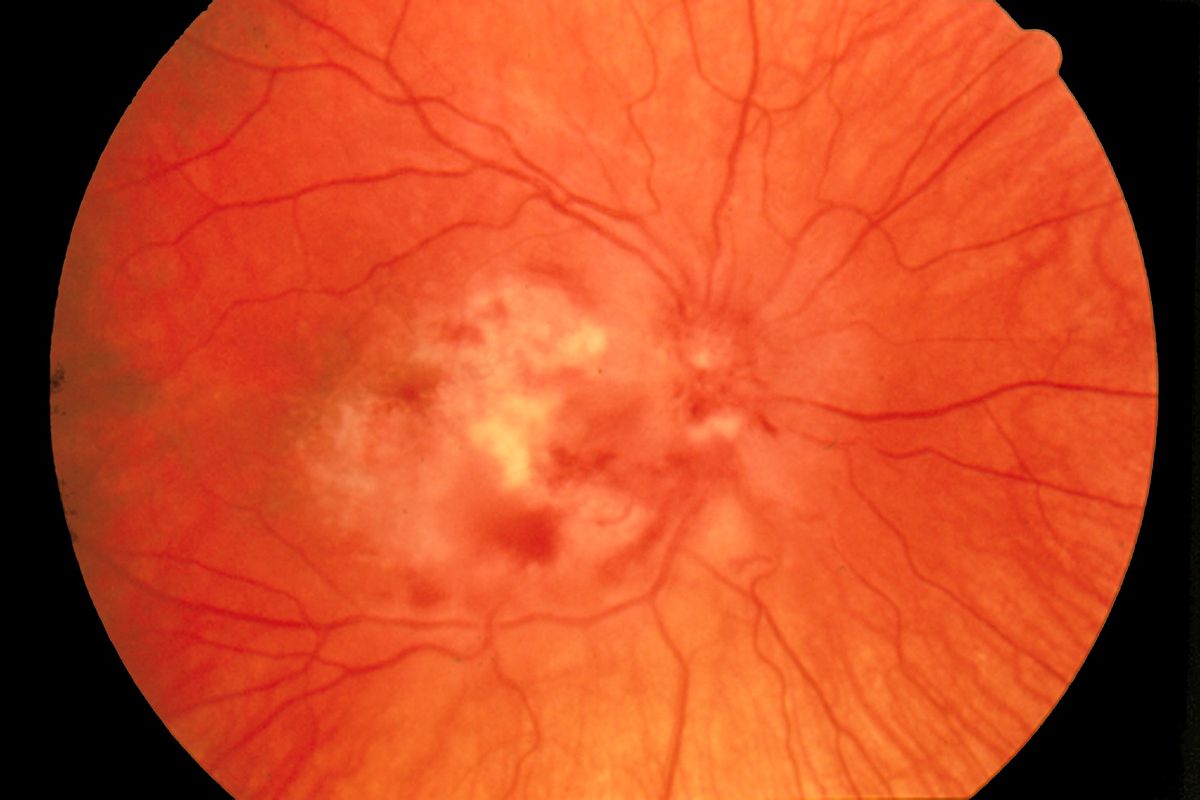 Comparison of Herpesviruses
The following table compares the 9 herpesviruses considered endemic in humans; there are 115 known species of herpesviruses, grouped into 3 families:
Alpha (infect epithelial cells and produce latent infection in postmitotic neurons)
Beta (infect and produce latent infection in a variety of cell types)
Gamma (produce latent infection mainly in lymphoid cells)
Table: Comparison of the 9 herpesviruses considered endemic in humans
HHV
Common name
Primary target cells
Latency site
Clinical presentation*
1
(alpha group)
HSV-1
Mucoepithelial cells
Dorsal root ganglia

Gingivostomatitis
Keratitis
Herpetic whitlow
Encephalitis
Hepatitis
Esophagitis
Pneumonitis

2
(alpha group)
HSV-2

Genital herpes
Meningitis
Proctitis

3
(alpha group)
VZV
4
(gamma group)
EBV
Epithelial cells B cells
Memory B cells

Infectious mononucleosis
Hodgkin lymphoma
Burkitt lymphoma

Oral hairy leukoplakia
EBV-associated gastric cancer

5
(beta group)
CMV

Monocytes
Lymphocytes
Epithelial cells

Hematopoietic progenitor cells in bone marrow

CMV mononucleosis
CMV retinitis
CMV colitis
CMV encephalitis

6A, 6B
(beta group)
HHV-6
T cells
Monocytes
Roseola
7
(beta group)
HHV-7
T cells
8
(gamma group)
Kaposi's sarcoma–associated herpesvirus

Lymphocytes
Epithelial cells

B cells
Kaposi's sarcoma
* Bold in "clinical presentation" column: AIDS-defining illness
VZV: varicella-zoster virus