Overview
Definition
Ebstein's anomaly (EA) is a cyanotic congenital heart disease (CHD) characterized by the downward displacement of the septal and posterior leaflets of the tricuspid valve (TV) into the right ventricle (RV).
Morphology
TV in EA:

The posterior and septal leaflet's annular attachments are displaced downward away from the atrioventricular (AV) junction into the RV.
The anterior leaflet is attached at the AV junction and may be fenestrated and tethered to the myocardium → regurgitation

RV:

Due to the displacement of the AV junction, a portion of the RV is atrialized and thin, lacking ventricular contractility.
The size of the true "functional" RV is limited and in severe cases may just be the right ventricular outflow tract (RVOT).

Associated defects:

Most common (80%): atrial septal defect (ASD) or patent foramen ovale (PFO)
Ventricular septal defect (VSD)
Patent ductus arteriosus (PDA)
Accessory conduction pathways → Wolff-Parkinson-White syndrome
AV junction affecting the conduction pathway → right bundle branch block
Epidemiology
< 1% of all cases of CHD
1 out of every 20,000 live births
Median age of presentation is late childhood or adolescence.
Etiology
Failure of delamination (separation) of the TV from the myocardial wall due to:
Maternal use of lithium in early pregnancy
Heterogeneous genetic predisposition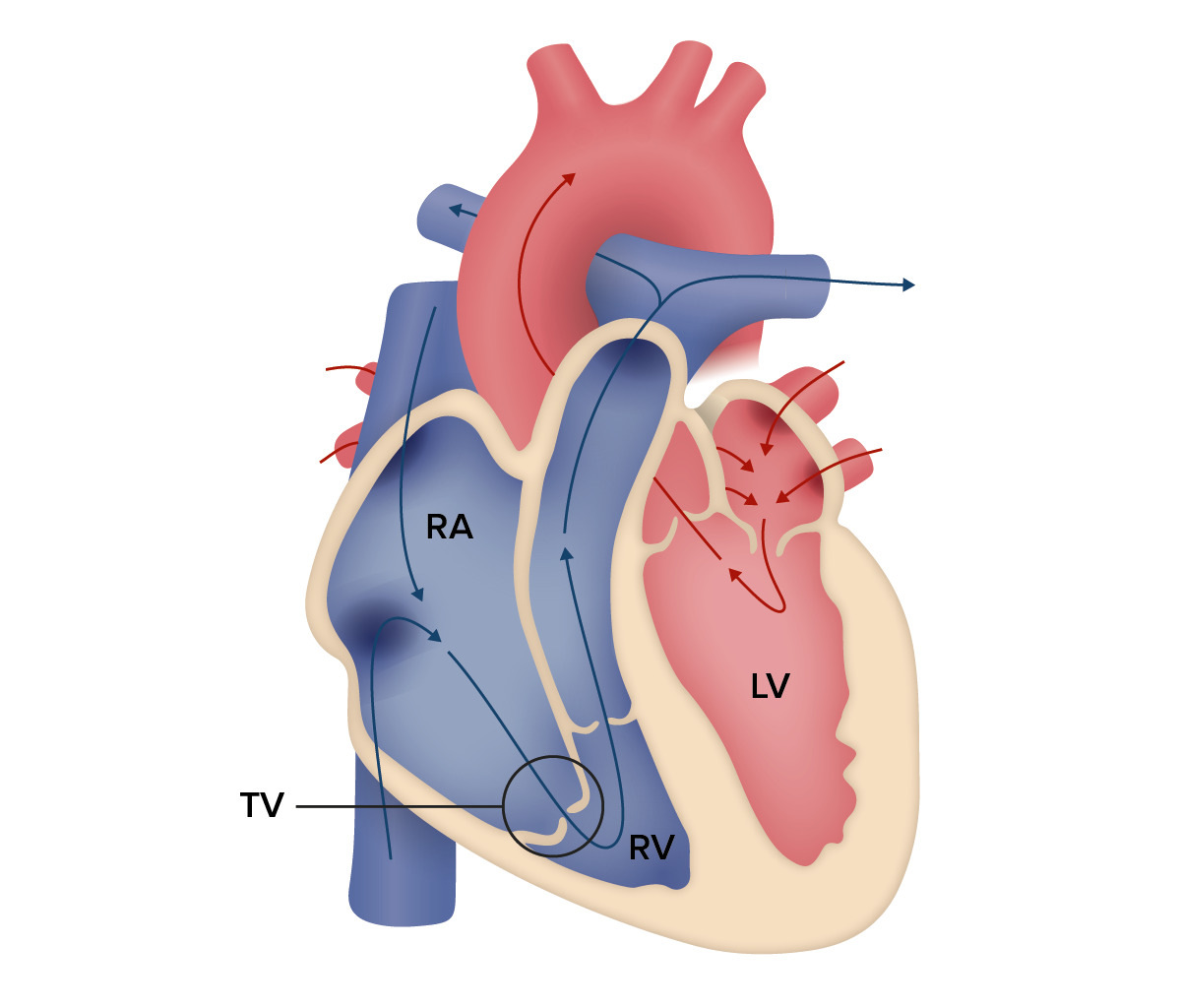 Pathophysiology
The basis of cyanosis and heart failure in EA is due to functionally impaired RV and tricuspid regurgitation that results in reduced ejection fraction (EF).
Increased backflow into the right atrium (RA) results in shunting of blood from the RA into the left through the interatrial defect, bypassing the lung and causing cyanosis.
Reduced RV EF due to:

TV displacement causing the ventricle to reduce to the RVOT
TV regurgitation
RV functionally impaired due to atrialized portion
Reduced EF → right-sided heart failure
Reduced EF → functional pulmonary atresia

Tricuspid regurgitation due to:

RV's dilatation causes valvular annulus dilatation → enhances regurgitation
Backflow of blood into the RA during systole → increased RA pressure → increased venous pressure → systemic venous congestion

RA dilation:

Stagnation of blood may cause further RA dilation and arrhythmias such as atrial fibrillation.
Increased pressure in the chamber → right-to-left (R-L) shunt through an interatrial defect → more deoxygenated blood into the systemic circulation → cyanosis:

In neonates, the R-L shunt is favored by high pulmonary vascular resistance at birth.
Clinical Presentation
Symptoms are variable because they depend on the severity of the downward displacement of the TV, which dictates the degree of regurgitation and dilatation of the RV.
In utero:
May cause hydrops fetalis
May cause severe cardiomegaly at birth
Infancy to adulthood:
Failure to thrive (FTT)
Palpitations (arrhythmia)
Cyanosis
Right-sided heart failure:

Shortness of breath
Edema
Hepatomegaly
Ascites
Increased jugular venous pressure (JVP)
S3 on auscultation
Parasternal heave

Murmur → tricuspid regurgitation:

Holosystolic
Heard over the left sternal border
Increased intensity on inspiration

Paradoxic emboli → stroke
Diagnosis
An echocardiogram is the key test for diagnosing EA.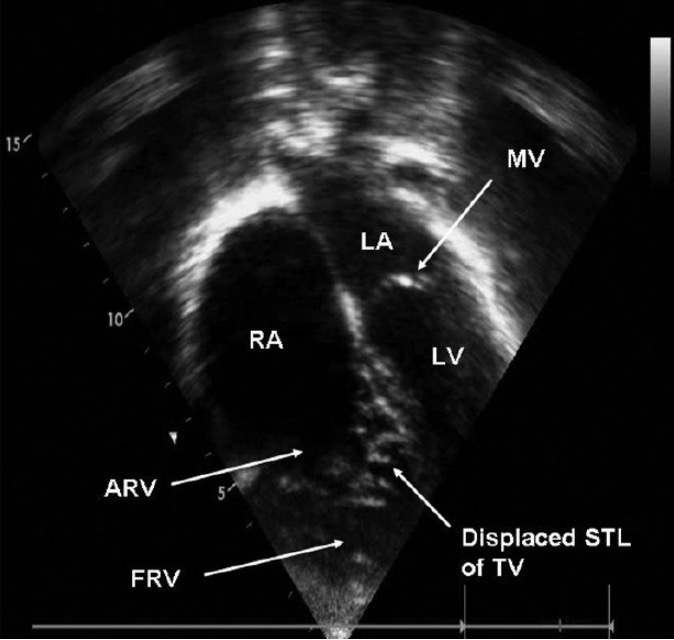 Doppler and transthoracic echocardiogram findings:
The degree of displacement of the tricuspid leaflets (> 8 mm/m3)
Severity of tricuspid regurgitation
Associated cardiac lesions (ASD, PFO)
Tests to confirm the presence of comorbidities:
Electrocardiogram (ECG) looking for:

Right bundle branch block
Wolf-Parkinson-White Syndrome (delta waves)
A 24-hour ECG (Holter) → evaluate arrhythmias

Chest X-ray → cardiomegaly ("wall-to-wall heart")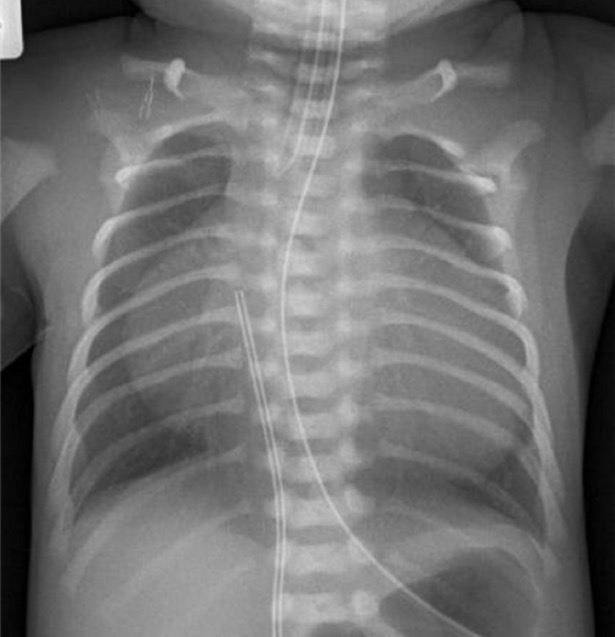 Management and Prognosis
In neonates, the aim is to medically manage the newborn.
Medical therapy
Medical management to optimize heart failure and arrhythmias is used prior to surgical stabilization. Medical management is indicated for neonates and symptomatic adults:
Neonates: aims to reduce pulmonary vascular pressure:

Keep ductus arteriosus open → prostaglandin E1
Inhaled nitric oxide

Child/adult:

Manage heart failure and volume overload.
Manage comorbidities such as arrhythmias.
Surgical therapy
Indicated for symptomatic infants, older children, and medically stable adults
Includes closure of associated defects and ablation of accessory conduction pathways
Prognosis
The severity of the anomaly determines the prognosis.
High mortality rate in utero
Life expectancy is reduced to the 50s if EA presents in childhood.
86% of patients require surgical repair.
Cyanosis and heart failure in infancy carry the worst prognosis.
Differential Diagnosis
The following are differential diagnoses for EA:
Uhl anomaly: a rare CHD characterized by a lack of myocytes in the RV, resulting in RV dilatation and thinning of the myocardium. Most cases present as heart failure in neonates. An echocardiogram differentiates this from EA because Uhl anomaly spares the TV.
Cyanotic heart disease:

Pulmonary atresia: a rare cyanotic CHD characterized by the failed formation of the pulmonary valve, leading to subsequent RV hypoplasia. This may occur as part of the most severe form of tetralogy of Fallot (with VSD), where the entire RV outflow enters the aorta.
TV atresia: a congenital disorder that is caused by the absence of the TV, where there is no communication between the RA and the RV. Patients present with cyanosis and hypoxemia since birth and must be medically managed initially followed by surgical correction.
The following conditions are comorbidities of EA:
Tricuspid regurgitation (TR): one of the key morphologic features of EA, TR results in the backflow of blood from the RV to RA during systole. Regurgitation worsens with time due to the increased diameter of the annulus ring. Must be surgically repaired.
ASD: the most common intra-atrial defect present in EA patients. Eisenmenger's syndrome occurs as the RA pressure increases, resulting in cyanosis, especially in late childhood. Can also lead to a paradoxic embolus in some cases.
Heart failure: Ebstein's anomaly results in right-sided heart failure due to the dysfunction of the RV. Symptoms of right-sided heart failure include edema and hepatic congestion with signs of raised JVP, pitting edema, and ascites.
Supraventricular tachycardia: Ebstein's anomaly is commonly associated with the presence of accessory pathways, which results in arrhythmias such as Wolff-Parkinson-White syndrome. Many patients in adulthood may present with palpitations as the 1st symptom. Other forms of arrhythmias such as atrial fibrillation or atrial flutter have been noted in some rare cases due to RA dilatation.
References
Kliegman, R. M. et al. (2020). Cyanotic congenital heart disease: Lesions associated with decreased pulmonary blood flow. In R. M. Kliegman MD et al. Nelson textbook of pediatrics (pp. 239-2407.e1). https://www.clinicalkey.es/#!/content/3-s2.0-B9780323529501004570
Murthy, R., Moe, T. G., Van Arsdell, G. S., Nigro, J. J., & Karamlou, T. (2019). Congenital heart disease. In F. C. Brunicardi et al. (Eds.), Schwartz's principles of surgery, 11e. New York, NY: McGraw-Hill Education. Retrieved from accessmedicine.mhmedical.com/content.aspx?aid=1164311314
Lange, R. A., M.D., & Cigarroa, J. E., M.D. (2019). Congenital heart disease. In R. D. Kellerman MD, & D. P. Rakel MD (Eds.), Conn's current therapy 2019 (pp. 105-110). https://www.clinicalkey.es/#!/content/3-s2.0-B9780323596480000286