Overview
Definition
Patent foramen ovale (PFO) is a persistent, post-natal communication between the atria due to the failure of the closure of the foramen ovale during the transition from in-utero to ex-utero neonatal circulation.
Epidemiology
Autopsy studies show a prevalence rate of approximately 27% in the general population.
Often associated with other cardiac anomalies:

Atrial septal aneurysm
Atrial septal defect (ASD)
Eustachian valve: located at the junction of the inferior vena cava and right atrium
Ebstein's anomaly (EA): congenital apical displacement of the septal and posterior tricuspid valve leaflets and an abnormal anterior leaflet
Embryology
In-utero circulation: Pulmonary vasculature is a high-pressure system due to lack of oxygen (vasoconstriction).

Oxygenated blood comes from the placenta (lungs not used).
Inferior vena cava carries oxygenated blood to the right atrium.
Oxygenated blood is shunted through the foramen ovale and one-way valve (from right to left atrium, bypassing high-pressure pulmonary system).
Aorta carries oxygenated blood to the rest of the body.

Transition to ex-utero circulation:

At birth:

Lungs expand.
Oxygen causes vasodilation of the pulmonary vascular bed, making it a low-pressure system.
This causes the pressure gradient between the right and left atria to reverse.
The one-way valve shuts against the septum secundum and closes the foramen.

After several months:

Becomes an anatomical closure (fossa ovalis)
Incomplete closure leads to persistent communication between the atria (PFO).
Clinical Presentation and Imaging
Isolated PFO
Frequently asymptomatic
Cryptogenic strokes:

Occurring in the absence of blood clots in the heart
Caused by an embolus that passes from the left to the right side of the heart without going through the natural filter of the lung vasculature (paradoxical embolus)
Present with signs of transient ischemic attack or ischemic stroke including headache, hemisensory deficits, paresis, and ataxia

Vascular headaches:

Caused by hypo-oxygenation of the brain
Due to right-to-left shunting of oxygenated blood through the PFO

Less common manifestations:

Decompression sickness with nitrogen gas embolism when emerging from deep-sea scuba diving
Myocardial or other systemic infarctions
Patent foramen ovale associated with other cardiac anomalies
Often associated with pathological processes that cause elevated pulmonary vascular pressure:

Pulmonary stenosis
Tricuspid valve abnormalities
Pulmonary hypertension

Atrial septum aneurysm: aneurysm of the membrane of the fossa ovalis
EA:

Embryological malformation of the right atrium and tricuspid valve
Leads to retrograde flow through the tricuspid valve
Diagnostic imaging
Color-flow Doppler echocardiography is commonly used to identify PFOs.
Contrast-enhanced 2-dimensional or 3-dimensional transesophageal echocardiography may identify small PFOs.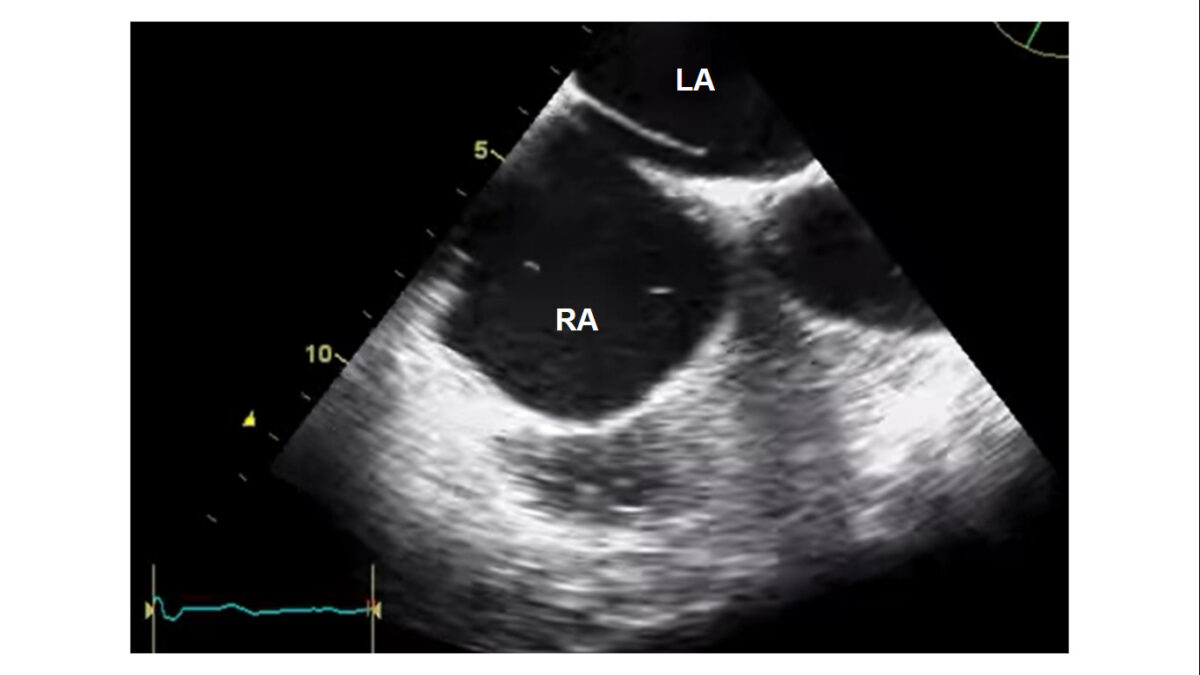 Management
Isolated asymptomatic PFO: no treatment indicated
Isolated PFO associated with an otherwise unexplained stroke:

All patients: lifestyle modifications aimed at reducing heart disease and risk of strokes including diet, exercise, and smoking cessation
Low risk for recurrent stroke: antiplatelet agents (e.g., aspirin, clopidogrel)
High risk for recurrent stroke: aspirin + warfarin

Open surgical closure or percutaneous closure: indicated in patients with recurrent stroke, large PFOs, contraindications to anticoagulant therapy, etc.