Classification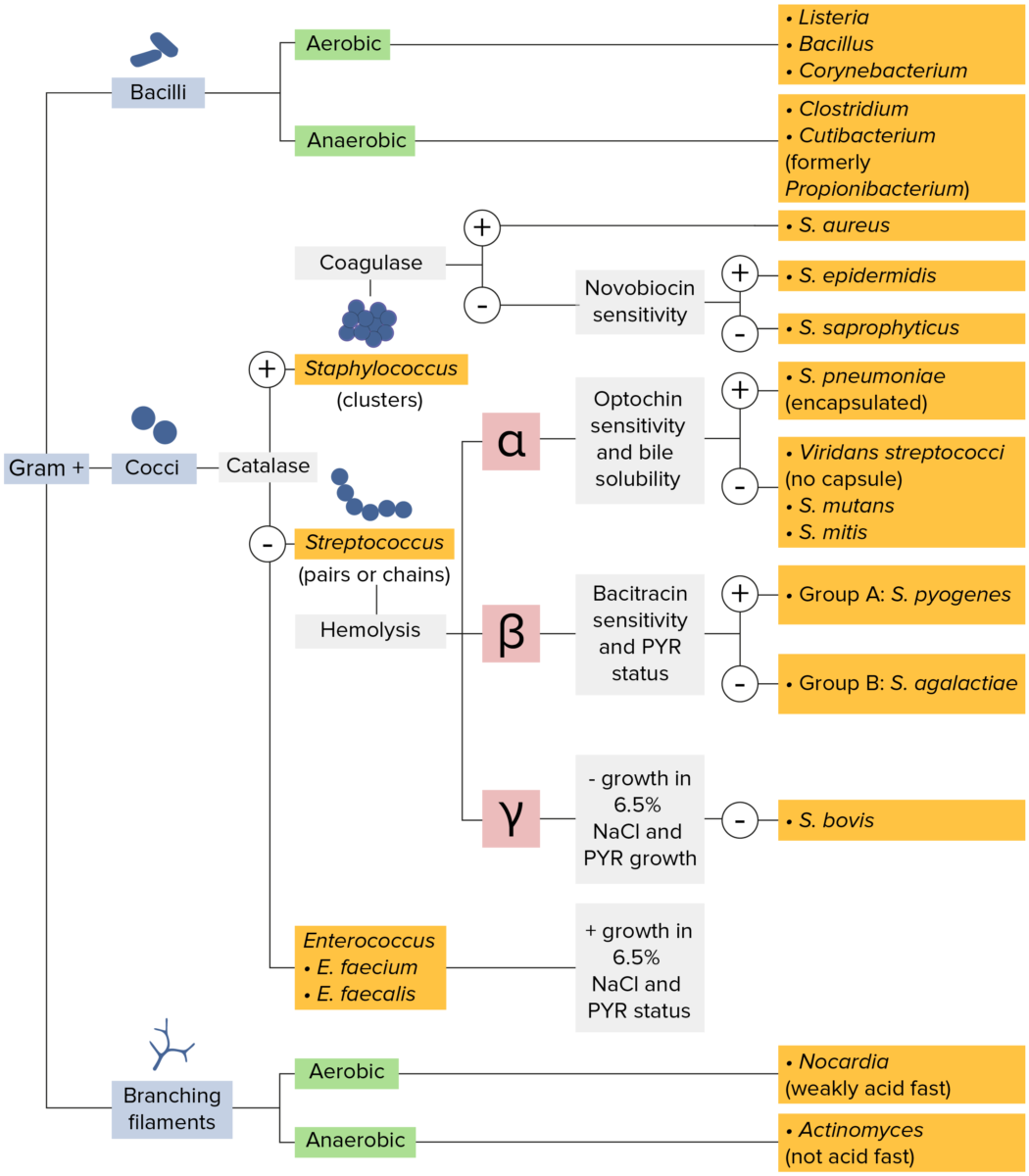 General Characteristics
Enterococci (formerly classified as group D streptococci) are part of the normal flora of the human GI tract. Fewer than ⅓ of the known species are responsible for clinically significant human disease.
Genus characteristics
Oval-shaped gram-positive cocci
Arranged in pairs or short chains
Facultative anaerobes
Catalase-negative
Optochin-resistant
Pyrrolidonyl arylamidase (PYR)–positive
Possess Lancefield group D antigen (hence, previously classified as group D streptococci)
Can be cultured in bile media and 6.5% NaCl
Clinically significant human pathogens (most common):

Enterococcus faecalis
E. faecium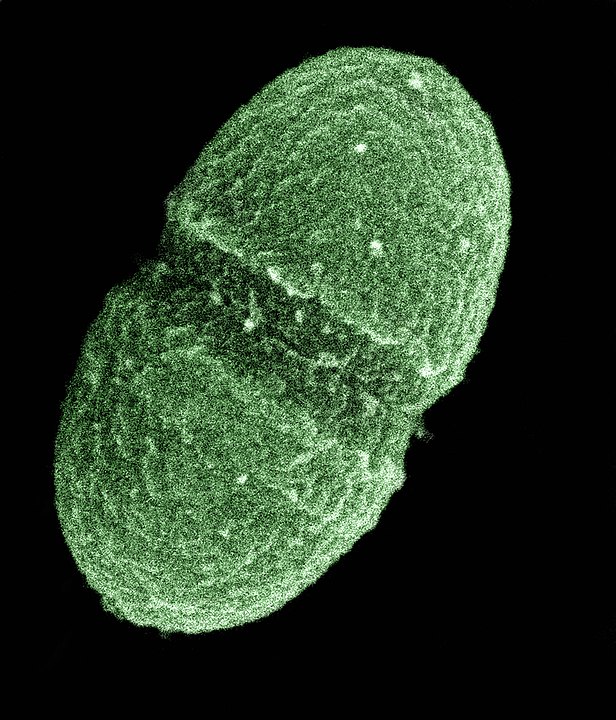 Pathogenesis
Enterococci most commonly appear in nosocomial infections.
Reservoir: human GI tract
Transmission:

Translocation from colonization site in the colonized patient (frequently associated with GI and genitourinary procedures)
Transmission to health care workers and other patients through direct contact, fecal–oral transmission, or fomites

Virulence factors:

Antimicrobial resistance:

Intrinsic (beta-lactam antibiotics (through penicillin-binding proteins), trimethoprim–sulfamethoxazole, low levels of clindamycin and aminoglycosides)
Acquired (beta-lactam antibiotics (through beta-lactamases), high-level aminoglycosides, tetracycline, fluoroquinolones, rifampin, chloramphenicol, and vancomycin)

Biofilm formation:

Protects against host defenses
Allows gene exchange (further promoting antibiotic resistance)

Host factors that increase susceptibility:

Critical illness
Receiving lengthy courses of antibiotics
Hematologic malignancies
Solid organ transplantation
Clinical Relevance
Epidemiology
Enterococci are 1 of the top 3 species causing nosocomial infections.
4th most common cause of nosocomial bloodstream infections in the United States
35%–40% of enterococcal bloodstream infections involve vancomycin-resistant E. faecium (VRE)
Diseases caused by enterococci
Often associated with:

Indwelling catheters
Surgical instrumentation
Underlying structural abnormalities

Common infections associated with Enterococcus include:

Urinary tract infections (most common)
Endocarditis
Bacteremia
Intra-abdominal and pelvic infections (often cholecystitis)
Wound infections

Other less common infections:

Meningitis
Pleural space infection
Skin/soft tissue infections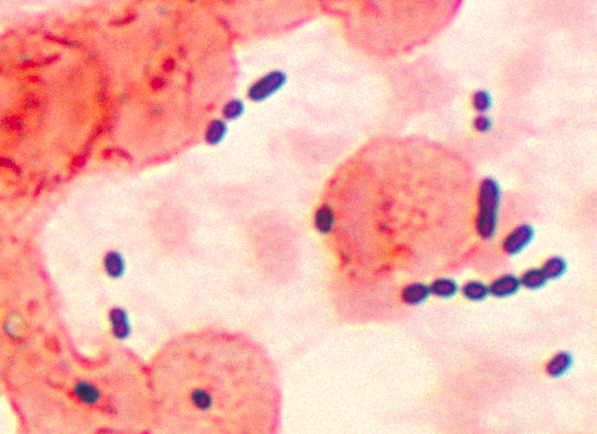 Organism isolation
Blood cultures: susceptibility testing should be included to choose appropriate therapy
Stool and perirectal cultures: to evaluate for VRE colonization
Antibiotic selection
Monotherapy:

May be appropriate in noncritically ill patients without endocarditis
Ampicillin is the drug of choice for susceptible species.

Combination therapy:

Most commonly used in practice
For endocarditis and all critically ill patients
Cell-wall inhibitor (ampicillin, ceftriaxone, vancomycin) + aminoglycoside
Often ampicillin and gentamicin

VRE infections:

Linezolid
Daptomycin
Tigecycline

In addition to antibiotic therapy:

All indwelling line and catheters should be removed.
Abscesses should be drained.
References
Riedel S., et al. (2019). In Jawetz, Melnick & Adelberg's Medical Microbiology, pp. 215–233.
Murray, B., Miller, W. (2021). Microbiology of enterococci. UpToDate. Retrieved May 01, 2021, from https://www.uptodate.com/contents/microbiology-of-enterococci
Murray, B., Miller, W. (2021). Treatment of enterococcal infections. UpToDate. Retrieved May 01, 2021, from https://www.uptodate.com/contents/treatment-of-enterococcal-infections
Fraser S.L. (2018). Enterococcal infections treatment & management. https://emedicine.medscape.com/article/216993-treatment