Chemistry and Pharmacodynamics
Chemical structure
Oxazolidinone medications contain the same 5-membered ring (2-oxazolidone) containing nitrogen (N) and oxygen (O).
Similar to a N- and O-containing azole (oxazole), with a carbon oxidized to a ketone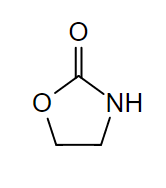 Mechanism of action
Inhibits bacterial protein synthesis

Binds to the bacterial 23S ribosomal RNA (rRNA) of the 50S subunit
Blocks the formation of the 70S initiation complex → prevents translation

Prevents:

Bacterial growth
Toxin production

Primarily bacteriostatic (exception: bactericidal against most streptococcal strains)
Resistance:

Can occur because of a mutation at the binding site on 23S rRNA
No cross-resistance with other protein synthesis inhibitor antibiotics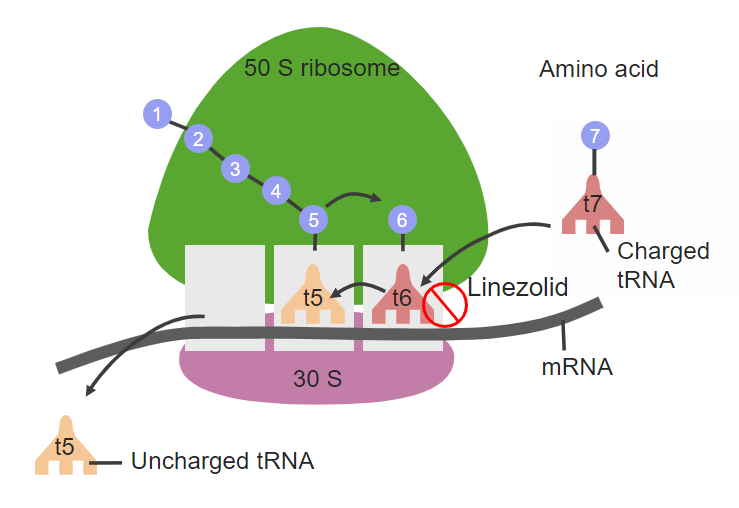 Pharmacokinetics
Absorption and distribution
90%–100% bioavailability after ingestion
Tedizolid is a prodrug → converted to active form by phosphatases
Protein binding:

Linezolid: poor
Tedizolid: highly bound

Readily distributes into well-perfused tissues
Volume of distribution for linezolid is similar to total body water (↑ for tedizolid).
Metabolism
Hepatic:

Linezolid: metabolized by nonenzymatic oxidation into 2 inactive metabolites
Tedizolid: sulfation into inactive sulfate conjugates

Neither induce nor inhibit cytochrome P450 enzymes
Excretion
Linezolid: urine > feces
Tedizolid: feces > urine
Indications
Antimicrobial coverage
Oxazolidinones are used to treat infections caused by gram-positive bacteria, including:

Streptococcus
Enterococcus, including vancomycin-resistant Enterococcus (VRE)
Coagulase-negative Staphylococcus
Staphylococcus aureus, including MRSA
Bacillus
Corynebacterium
Listeria

Activity has also been demonstrated in vitro against Mycobacterium species.
Types of infections
These medications are FDA-approved for:
Linezolid:

Skin and soft tissue infections
Pneumonia
VRE infections

Tedizolid: skin and soft tissue infections
Adverse Effects
Adverse effects
GI upset
Myelosuppression (all blood cell lineages)
Peripheral and optic neuropathy
Lactic acidosis
Hepatotoxicity
Hypoglycemia
Note: The more severe side effects occur more frequently with prolonged use.
Warnings
Linezolid may cause a hypertensive crisis in the following conditions:
Uncontrolled hypertension
Hyperthyroidism/thyrotoxicosis
Pheochromocytoma
Drug interactions
Serotonergic agents: linezolid can reversibly inhibit monoamine oxidase → ↑ risk of serotonin syndrome

Selective serotonin reuptake inhibitors
Serotonin–norepinephrine reuptake inhibitors
Monoamine oxidase inhibitors

Warfarin: ↑ PT
Sympathomimetic, vasopressor, or dopaminergic medications: ↑ blood pressure
Comparison of Antibiotics
Table: Comparison of several classes of bacterial protein synthesis inhibitor antibiotics
Drug class
Mechanism of action
Coverage
Adverse effects
Amphenicols

Bind to the 50S subunit
Prevent transpeptidation

Gram positives
Gram negatives
Atypicals

GI upset
Optic neuritis
Aplastic anemia
Gray baby syndrome

Lincosamides

Bind to the 50S subunit
Prevent transpeptidation

Gram-positive cocci:
Anaerobes

GI upset
Allergic reactions
Pseudomembranous colitis

Macrolides

Bind to the 50S subunit
Prevent transpeptidation

Gram positives
Gram negatives
Atypicals
Mycobacterium avium complex

GI upset
QT prolongation
Hepatotoxicity
Myasthenia gravis exacerbation

Oxazolidinones

Bind to the 23S rRNA of the 50S subunit
Prevent initiation complex formation

Gram-positive cocci:

MSSA
MRSA
VRE
Streptococcus

Myelosuppression
Neuropathy
Lactic acidosis
Serotonin syndrome
rRNA: ribosomal RNA
VRE: vancomycin-resistant Enterococcus