Overview
Definition
Pheochromocytoma is a catecholamine-secreting tumor derived from chromaffin cells.
Anatomy
98% intra-abdominal
90% located in adrenal glands
Familial cases tend to be bilateral.
Extra-adrenal pheochromocytoma is referred to as paraganglioma:

Develops in paraganglion chromaffin tissue of sympathetic ganglia
Anywhere from base of brain to urinary bladder
Most common:

Organ of Zuckerkandl (at origin of inferior mesenteric artery)
Bladder wall
Heart
Mediastinum
Carotid and glomus jugulare bodies
Epidemiology
Most common tumor of adrenal medulla in adults
Approximately 1,000 cases diagnosed annually in the United States
Estimated 0.8 per 100,000 persons/year in the United States
No gender difference
Age of onset typically 30–50 years old for sporadic cases
Approximately 40% associated with hereditary disorders and younger age of onset
Etiology
Chromaffin cell neoplasia (derived from the neural crest)
60% or more are sporadic.
10+ gene mutations have been identified in association with pheochromocytoma.
Most common genetic syndromes associated with pheochromocytoma:

Von Hippel-Lindau (VHL)
Multiple endocrine neoplasia type 2 (MEN2)
Neurofibromatosis type 1 (NF-1)
Mnemonic
The "rule of 10s" for pheochromocytoma characteristics:
10% of cases are malignant.
10% of tumors are bilateral.
10% of tumors have extra-adrenal locations (e.g., bladder wall, organ of Zuckerkandl).
10% of tumors show calcifications on imaging.
10% of cases are pediatric.
Pathophysiology
Excessive catecholamine secretion by tumor
Intermittent or continuous
Most pheochromocytoma secrete predominantly norepinephrine (normal medulla approximately 85% epinephrine); may also secret dopamine.
Secretion is not regulated by neural pathways like the normal medulla.
Triggers for secretion may include:

Direct pressure
Postural changes
Medications: inhibitors of catecholamine reuptake (e.g., tricyclic antidepressants)
Changes in tumor blood flow
Emotional or physiological stress

Transient increase in secretion may precipitate hypertensive crisis.
Effects of catecholamine secretion
𝛂-adrenergic stimulation:

↑ Blood pressure
↑ Cardiac contractility
↑ Glycogenolysis
↑ Gluconeogenesis
↑ Intestinal relaxation

𝜷-adrenergic stimulation:

↑ Heart rate
↑ Cardiac contractility
Malignant potential
No biochemical or histologic difference between benign and malignant pheochromocytoma
Malignancy defined by:

Local invasion of surrounding tissues
Distant metastasis (may occur as late as 50 years after resection)
Clinical Presentation
Classic triad (most patients rarely present with all 3 symptoms):

Headache: 90% of symptomatic patients
Sweating: 60%–70% of symptomatic patients
Tachycardia

Sustained or paroxysmal hypertension is the most common symptom.
Hyperadrenergic spells (pallor, anxiety, palpitations, tremor)
Orthostatic hypotension (from catecholamine-induced volume contraction)
Cardiomyopathy (catecholamine-induced)
5%–15% of patients may have normal blood pressure and no other symptoms:

Pre-biochemical phase (normal catecholamine levels)
Tumor incidentally discovered on imaging

Pheochromocytoma crisis (rare):

Hyper- or hypotension
Hyperthermia (> 40℃)
Mental status changes
Multiple organ dysfunction
Mnemonic
To recall the most common clinical features of pheochromocytoma or episodic hyperadrenergic spells, remember the "5 Ps":
Pressure (high blood pressure)
Pain (headache)
Perspiration
Palpitations
Pallor
Diagnosis
History
Presence of classic triad
Hyperadrenergic spells (pallor, anxiety, palpitations, tremor)
Hypertension onset at young age (< 20 years old)
Hypertension with poor response to medications
Family history of pheochromocytoma
Family history of VHL, MEN2, or NF-1
Idiopathic dilated cardiomyopathy
Carney triad: gastric stromal tumors + pulmonary chondromas + paraganglioma
Physical exam
Hypertension
Tachycardia
Pallor
Orthostatic hypotension
Biochemical testing
Catecholamine metabolized to metanephrine in chromaffin cells
Plasma fractionated metanephrine:

High sensitivity (96%–100%), but poor specificity (85%–89%; < 80% for patients > 60 years old)
Use as 1st test if suspicion is high (family history or genetic syndromes).
Usually preferred test in children for whom 24-hour urine collection may be difficult

24-hour urine fractionated metanephrine, vanillylmandelic acid, and catecholamines:

Similar sensitivity, but better specificity than plasma metanephrine
Preferred 1st test in low-suspicion cases

For patients with spells, testing should ideally be performed at the time of the spell.
Medications affecting test results:

Tricyclic antidepressants
Psychoactive medications
Phenoxybenzamine
Beta-blockers
Levodopa
Imaging
Contrast-enhanced CT:

Usually 1st test
Pheochromocytoma has low lipid content and usually attenuation of > 10 Hounsfield units.

MRI:

Alternative test
1st test in children and pregnant women

Iodine metaiodobenzylguanidine (MIBG) scintigraphy:

Radioactive iodine taken by adrenergic tissues similar to norepinephrine
Can detect multiple tumors or tumors not visualized on CT or MRI

Image-guided biopsy: contraindicated as it may precipitate catecholamine release and severe hypertensive crisis
Management
Surgery
Only definitive treatment
Laparoscopic adrenalectomy is the standard of care for adrenal pheochromocytoma.
Bilateral partial adrenalectomy or cortical-sparing adrenalectomy should be performed for bilateral lesions.
Total bilateral adrenalectomy often considered in MEN2 because of high recurrence risk
Laparoscopic resection also feasible for some abdominal paragangliomas
Open resections reserved for large, difficult to access, or locally invasive tumors
Preoperative preparation
Goals:

Control hypertension and tachycardia to prevent hypertensive crisis.
Volume expansion with IV fluids

α-adrenergic blockade:

Started at least 7 days preoperatively
Preferred drug: phenoxybenzamine, but other α-adrenergic receptor blockers can be used
Goal: seated blood pressure < 120/80 mm Hg with standing systolic pressure > 90

High-sodium diet:

Started on 2nd–3rd day of α-blockade
Aids volume expansion

𝛃-adrenergic blockade:

Usually started 2–3 days preoperatively after adequate α-adrenergic blockade and volume expansion have been accomplished
Should be started cautiously at a low dose for concerns of catecholamine-induced cardiomyopathy

Calcium channel blockers: sometimes used in place of α-blockers with similar effectiveness
Metyrosine:

Inhibitor of catecholamine synthesis
Add if α-blockade is not effective enough.
Metastatic pheochromocytoma
No curative treatment
Resection of primary and metastatic disease should be attempted whenever possible.
Other therapies:

External beam radiation
Ablative therapies:

Radiofrequency
Cryoablation
Percutaneous ethanol injection

Chemoembolization (for liver metastasis)
Iodine MIBG
Chemotherapy:

Somatostatin analogs
Cytotoxic therapy (cyclophosphamide, dacarbazine, vincristine, doxorubicin)
Tyrosine kinase receptor inhibitors (sunitinib)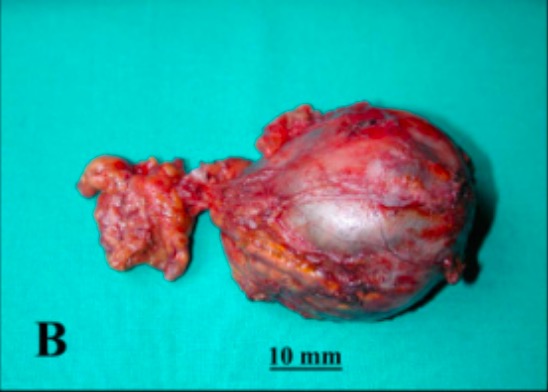 Prognosis
Recurrence is approximately 16% (even for apparently benign tumors).
Recurrence is higher for familial forms.
Long-term monitoring with annual biochemical screening advised
Malignant/metastatic disease:

5-year survival at 12%–84%
Prognosis depends on tumor burden, location of metastasis, and rate of progression.
Differential Diagnosis
Malignant hypertension: severely elevated blood pressure that can lead to end organ-damage. Malignant hypertension mostly affects patients with a long-standing history of hypertension associated with renal disease or medication noncompliance. Malignant hypertension needs to be recognized and treated emergently.
Hyperthyroidism: a condition caused by excessive secretion of thyroid hormone by the thyroid gland. Presentation can include anxiety, sweating, palpitations, and heat intolerance. The diagnosis is established by measurement of plasma levels of thyroid and thyroid-stimulating hormone.
Anxiety disorder: psychiatric disorder often associated with physical manifestations. Presentation can include palpitations, sweating, tremors, and shortness of breath. The diagnosis is established by ruling out other medical conditions.
Carcinoid syndrome: constellation of symptoms associated with a hormone-producing carcinoid tumor. Presentation commonly includes flushing, diarrhea, and asthma-like symptoms. Carcinoid syndrome is usually caused by the secretion of serotonin. The diagnosis is established by urinary 5-hydroxyindoleacetic (5-HIAA) levels.
Insulinoma: an insulin-secreting tumor. Presentation commonly includes symptoms of hypoglycemia such as weakness, confusion, and palpitations. The diagnosis is suspected based on low blood glucose levels associated with symptoms.
Paroxysmal supraventricular tachycardia: episodic condition with abrupt onset of tachyarrhythmia. Paroxysmal supraventricular tachycardia is caused by cardiac conduction abnormalities. Presentation can include palpitations and associated anxiety. The diagnosis is established by electrophysiological studies. 
Munchausen's syndrome: psychiatric disorder in which patients deliberately falsify symptoms of illness. Symptoms can be induced by medication ingestion. The diagnosis may be challenging and requires detailed medical and psychosocial history.