Overview
Definition
Carcinoid tumor is a neuroendocrine tumor arising from enterochromaffin cells, typically in the GI and bronchopulmonary tracts.
Epidemiology
Rare, but rising incidence, likely due to improved detection
The reported annual incidence is 4.7/100,000.
Black patients have a higher annual rate of incidence than whites.
Presents in all age groups; greater incidence in the elderly (50–70 years)
No clear gender predominance
Carcinoid syndrome occurs in approximately 5% of carcinoid tumors
Etiology
Exact cause is unknown.
Several risk factors have been identified:

Genetics:

Approximately 10% of GI carcinoids are associated with multiple endocrine neoplasia type 1 (MEN1).
Other associations: neurofibromatosis type 1, Von-Hippel-Lindau (VHL) syndrome, tuberous sclerosis complex

Race:

GI carcinoids are more common in Blacks.
Lung carcinoids are more common in whites.

Pernicious anemia: stomach carcinoids
Mnemonic
The rule of 1/3s can be used to recall the characteristics of carcinoid tumors:
1/3 of carcinoid tumors metastasize.
1/3 of carcinoid tumors present with 2nd malignancy.
1/3 of carcinoid tumors are multiple.
Pathophysiology
Carcinoid tumors
Biological behavior:
Low-grade indolent tumors
Part of the spectrum for neuroendocrine tumors, ranging from low- and intermediate-grade (carcinoids) to high-grade tumors (small-cell lung cancer)
Classification based on embryonic origin:
Foregut carcinoids:

Stomach:

Type 1 (70%–80%): associated with chronic atrophic gastritis
Type 2: associated with Zollinger-Ellison syndrome and MEN1
Type 3: sporadic (most aggressive type)

Bronchial

Midgut (90% of all GI carcinoids):

Jejunoileal
Appendix:

Most common appendiceal tumor
Discovered incidentally in 1/300 appendectomies

Hindgut:

Colon
Rectum
Genitourinary tract (very rare)

Other uncommon sites:

Ovary
Liver
Gallbladder
Cystic duct
Thymus
Middle ear
Carcinoid syndrome
Carcinoid tumors sometimes secrete several substances:

Stomach carcinoids: histamine

Lung/bronchial carcinoids:

Serotonin
Gastrin
Adrenocorticotropic hormone
Histamine

Classic carcinoid syndrome is associated with midgut tumors metastatic to liver:

Associated mostly with serotonin production
Serotonin is produced from tryptophan and converted in the body to 5-hydroxyindoleacetic acid (HIAA).
Effects of serotonin:

Vasodilation
↑ Platelet aggregation

No symptoms appear while the tumor confined to the gut, as serotonin is metabolized by the liver.

Other substances contributing to clinical symptoms:

Histamine
Kallikrein
Tachykinins
Prostaglandins
Clinical Presentation
Symptoms of primary tumor
Many individuals are asymptomatic and discovered incidentally on imaging.
Presentation depends on location:

Gastric: asymptomatic, discovered on endoscopy

Small bowel:

Asymptomatic
Nonspecific abdominal pain
Small bowel obstruction/intussusception

Appendix:

Usually asymptomatic
Most commonly discovered incidentally on appendectomy

Colon:

Asymptomatic until large (> 5 cm)
Symptoms similar to colon cancer when present (pain, bleeding, obstruction)

Rectum:

Mostly asymptomatic
Rarely cause rectal bleeding, pain, change in bowel habits
Carcinoid syndrome
Specific symptoms depend on substances that are produced.
Hindgut tumors are mostly nonsecretory.
Typical carcinoid syndrome:

Metastatic small bowel and appendiceal carcinoids
Symptoms:

Episodic skin flushing (85% of patients)
Venous telangiectasia (late finding)
Diarrhea
Bronchospasm
Cardiac valvular lesions (deposits of fibrous tissue)
Retroperitoneal fibrosis
Muscle wasting
Niacin deficiency (from diversion of tryptophan synthesis to serotonin synthesis)

Atypical (variant) syndromes:

Gastric tumors:

Associated with histamine secretion
Patchy, well-demarcated flushing with pruritus

Lung/bronchial tumors:

Specific mediator unclear, possibly histamine
Severe and prolonged flushing
Disorientation/anxiety
Tremors
Periorbital edema
Lacrimation/salivation
Hypotension/tachycardia
Diarrhea
Asthma/dyspnea
Edema
Oliguria

Carcinoid crisis:

Rare life-threatening form of carcinoid syndrome
Massive release of bioactive compounds
Triggered by:

Tumor manipulation (surgery/biopsy)
Anesthesia
Diagnosis
History
Chronic and severe diarrhea
Flushing
Family history/presence of genetic conditions (MEN1, VHL syndrome, NF1)
Laboratory studies
24-hour urine to determine 5-HIAA:

About 90% sensitivity and specificity for serotonin-producing midgut tumors
Does not pick up foregut or hindgut tumors, as they rarely produce serotonin

Plasma chromogranin A levels:

Elevated levels associated with carcinoids
Low specificity
Should not be used as initial screening test
May be used as tumor marker for patients with an established diagnosis

Blood serotonin: high rate of false positives
Blood 5-HIAA levels:

Relatively new test
Needs to be validated
Imaging
CT abdomen with contrast:

Useful in detecting liver metastases
Small bowel and appendiceal carcinoids are usually small and may not be detected.
Colon carcinoids can be seen, but cannot be distinguished from other colonic tumors.

MRI: more sensitive than CT for detection of liver metastases
Somatostatin receptor scintigraphy:

Most carcinoids express somatostatin receptors.
Whole-body imaging

Endoscopy with biopsy
Upper and lower endoscopy should be performed for metastases with unknown primary.
Bronchoscopy for lung/bronchial lesions (can miss peripheral tumors)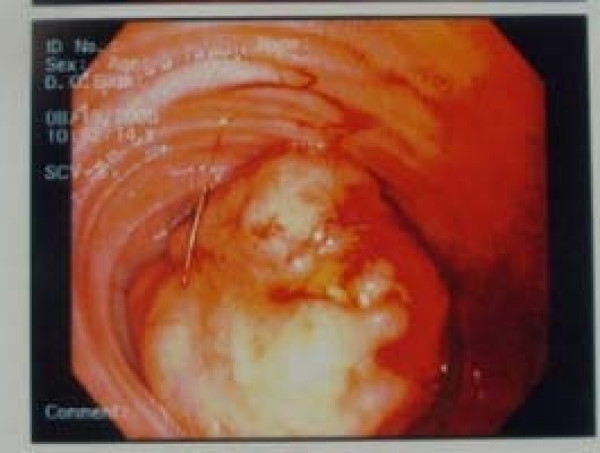 Management
Primary tumors
Surgical resection is the definitive treatment for non-metastatic tumors.
Small bowel: resection of involved segment and mesentery
Appendix:

Simple appendectomy for tumors < 2 cm confined to the appendix
Right hemicolectomy:

Tumor > 2 cm
Presence of mesoappendiceal invasion

Colon: partial colectomy with lymphadenectomy similar to colonic adenocarcinoma
Rectum:

Endoscopic excision usually feasible for small tumors
Low anterior or abdominoperineal resection required for tumors > 2 cm or with invasion of muscularis propria

Stomach:

Types 1 and 2:

Endoscopic resection is adequate for tumors < 2 cm
Followed by endoscopic surveillance every 6–12 months

Type 3: wedge resection with lymphadenectomy usually recommended

Lung/bronchial: surgical resection
Carcinoid syndrome and metastatic disease
Medical management of carcinoid syndrome focuses on the use of somatostatin analogs to inhibit serotonin secretion.
Therapy with somatostatin analogs:

About 80% of GI carcinoids express somatostatin receptors
Octreotide and lanreotide:

Bind to somatostatin receptors
Inhibit serotonin release
Provide symptomatic relief (50%–70% of patients) and inhibit proliferation of tumor cells

Additional therapy for refractory symptoms:

Telotristat: tryptophan hydroxylase inhibitor (decreases serotonin production)
Interferons
Anti-diarrheal medications (loperamide, diphenoxylate-atropine)

Hepatic resection:

Can be curative for resectable liver lesions
Can also serve as palliation for carcinoid syndrome
Performed if > 90% of tumor can be resected/ablated

Hepatic transarterial embolization: for unresectable liver-dominant disease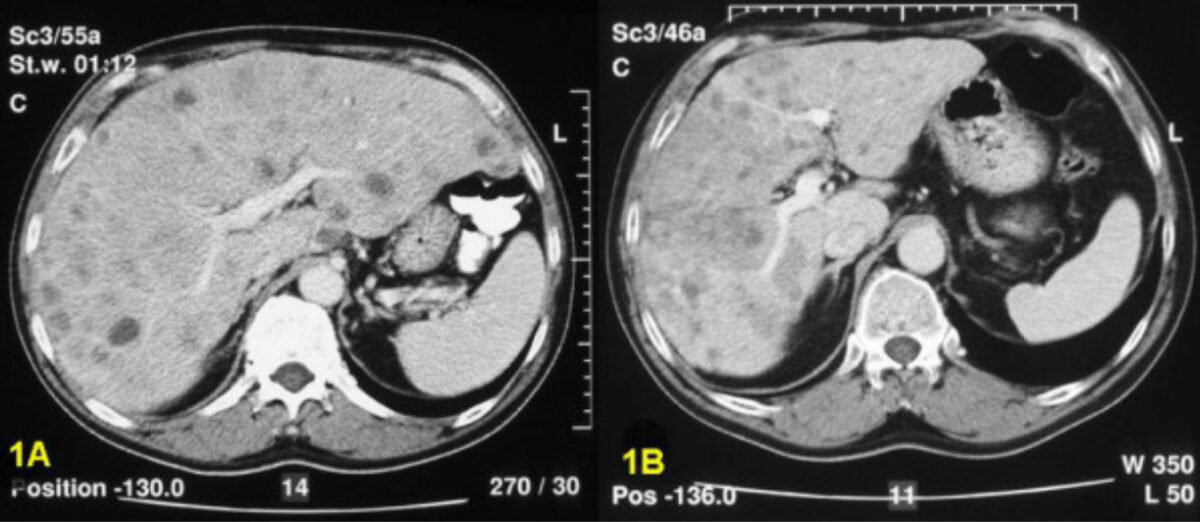 Prognosis
Depends on the site of tumor, stage, histological grade, and overall tumor burden
Midgut tumors tend to metastasize more than foregut and hindgut tumors; however, once metastatic, the tumors tend to progress slowly.
Overall 5-year survival: from 41.8% (colon) to 78% (rectum)
5-year survival with metastatic disease:

Lowest for colon: 4.1%
Highest for small bowel: 32.4%
Differential Diagnosis
Gastrinoma: a gastrin-secreting tumor that causes Zollinger-Ellison Syndrome. Tumors can arise from the pancreas, stomach, duodenum, jejunum, and/or even lymph nodes and can be malignant, with metastases to the liver and regional lymph nodes. Symptoms include refractory peptic ulcers and diarrhea. Diagnosis is established based on fasting gastrin levels. Treatment includes surgical resection and symptomatic management.
VIPoma: 3rd most common neuroendocrine tumor of the pancreas (after insulinoma and gastrinoma). VIPomas are associated with MEN1 and release large amounts of vasoactive intestinal peptide (VIP), which causes chronic diarrhea and flushing.
Celiac disease: a malabsorption syndrome, which is also known as gluten-sensitive enteropathy or nontropical sprue. Celiac disease presents with chronic diarrhea and weight loss. Diagnosis is established histologically. The mainstay of management is a gluten-free diet.
Irritable bowel syndrome (IBS): a condition affecting the colon. Other terminologies include spastic bowel, nervous colon, and spastic colon. Cellular/anatomical disruption is not observed (e.g., histological findings appear normal). Irritable bowel syndrome commonly presents with alternating diarrhea and constipation, and is often a diagnosis of exclusion.