Overview
Definition
Hereditary angioedema (HAE) is a hereditary condition featuring recurrent episodes of swelling (angioedema), usually of the mucosa of the respiratory and gastrointestinal (GI) systems, without urticaria or itching.
Epidemiology
Worldwide incidence:

1 in 50,000–150,000 people
Represents 2% of clinical angioedema
No difference in prevalence between genders
No difference in prevalence between ethnic groups
75% of patients present by 15 years of age

Emergency department (ED) visits due to HAE: 15,000–30,000/year
Etiology
Genetic mutations are the cause of HAE:
Inherited mutations in the gene for the C1 esterase inhibitor (C1-INH): mapped to 11q12-13.1
Autosomal dominant disease
Transmission: 50% probability of transmission to children of either gender
Pathophysiology and Types
The basic pathophysiology of swelling in HAE has to do with the overproduction of bradykinin.
HAE type I
HAE type II
HAE type III
Prevalence
80%–85% of cases
15%–20%
Very rare; usually in women
Cause
Reduced secretion of C1-INHs
Production of non-functional C1-INH

Normal C1-INH levels
Unclear cause; contact with estrogens and hormone replacement therapy, such as oral contraceptives
Mutation in F12 gene, which encodes for a protein involved in blood clotting (disease-causing gene on chromosome 5q35.2-35.3)

Pathophysiology
Excess production of inflammatory anaphylatoxins that affect the flow of body fluids between the vascular system and body tissues
Excess production of inflammatory anaphylatoxins that affect the flow of body fluids between the vascular system and body tissues

Increased activity of the enzyme kininogenase, which leads to a rise in levels of bradykinin
Other patients with mutations in F12, encode defective protein functioning in blood coagulation
Clinical Presentation
Patients with HAE have recurrent attacks:
Angioedema attack
Cutaneous symptoms:

Swelling of skin in non-dependent areas
Seen most commonly on face and genitals
Swelling increases over 24 hours and subsists over the following 48 hours.

GI symptoms:

Symptoms of colic, nausea, vomiting, and diarrhea
Often preceded by prodromal symptoms of fatigue, hunger, irritability, and rash

Airway symptoms:

Swelling of the lips, tongue, uvula, or palate
Early symptoms may include voice changes, sore throat, and "barky" cough
Severe episodes may cause airway obstruction and suffocation.
More than ½ of patients will experience airway symptoms.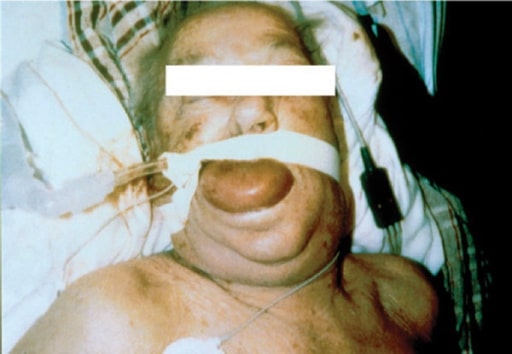 Triggers
Illness:

Upper respiratory infection
H. pylori infection

Trauma:

Intubation
Dental work
Piercings

Medication:

ACE inhibitors
Tamoxifen
Some hormone replacement medications
Diagnosis
History and physical exam
Recognizing HAE is often difficult due to a wide variability in disease expression:
May be similar to other types of angioedema resulting from allergies or other medical conditions
HAE should be considered if the patient presents with:

Recurrent angioedema (without urticaria)
Recurrent episodes of abdominal pain and vomiting
Laryngeal edema
Positive family history of angioedema
Laboratory testing
Blood tests often used to confirm the diagnosis:
Serum complement factor 4 (C4): most reliable and cost-effective screening test
C1-INH antigenic protein
C1-INH functional level (if available)
Table: Common lab findings in HAE based on types

| Type of angioedema without urticaria | C1-INH protein | C1q | C4 & C2 |
| --- | --- | --- | --- |
| HAE type I | ↓ | Normal | ↓ |
| HAE type II | N or ↑ (but dysfunctional) | Normal | ↓ |
| Acquired angioedema with C1-INH deficiency (type I) | ↓ | ↓ | ↓ |
| Acquired angioedema with C1-INH deficiency (type II) | ↓ | ↓ | ↓ |
Management
There is no chronic preventive treatment; management focuses on treating attacks based on specific symptoms:
Medications used in all acute attacks as soon as symptoms start:

C1-INHs: 1st-line treatment:

Concentrates from human plasma
Recombinant forms

Bradykinin B2-receptor antagonist
Kallikrein inhibitors (available in the United States only)

Airway symptoms:

Airway management
Intubation should be considered early.

GI symptoms:

Supportive care and close monitoring
Rehydration may be necessary.
Monitor for signs of intestinal occlusion from swelling.

Cutaneous symptoms: usually with medication only
Preventative therapy: C1-INH is often administered 1–1.5 hours before surgery.
References
Nordenfelt, P., Nilsson, M., Björkander, J., Mallbris, L., Lindfors, A., & Wahlgren, C.F. (2016). Hereditary Angioedema in Swedish Adults: Report From the National Cohort. Acta Derm Venereol. May;96(4):540-5. doi: 10.2340/00015555-2274. PMID: 26540175.
Bork, K., Meng, G., Staubach, P., & Hardt, J. (2006). Hereditary angioedema: New findings concerning symptoms, affected organs, and course. Am J Med. Mar;119(3):267-74. doi: 10.1016/j.amjmed.2005.09.064. PMID: 16490473.
Bork, K., Frank, J., Grundt, B., Schlattmann, P., Nussberger, J., & Kreuz, W. (2007). Treatment of acute edema attacks in hereditary angioedema with a bradykinin receptor-2 antagonist (Icatibant). J Allergy Clin Immunol. Jun;119(6):1497-503. doi: 10.1016/j.jaci.2007.02.012. Epub 2007 Apr 5. PMID: 17418383.