Overview
Definition
Angioedema is a localized, self-limited (but potentially life-threatening), nonpitting, asymmetrical edema occurring in the deep layers of the skin and mucosal tissue.
May occur with or without urticaria:

With urticaria: indicates an IgE-mediated type I hypersensitivity reaction
Without urticaria: mediated by substances other than IgE, usually bradykinin

Acute or chronic:

Acute angioedema: < 6 weeks duration
Chronic angioedema: 2–3 episodes per week for ≥ 6 weeks duration
Epidemiology
Incidence:

Data on overall incidence are limited.
Relatively common
Occurs in 40%–50% of patients with chronic urticaria
Approximately 10%–20% of people will experience an episode of angioedema at some point.

Age range:

Occurs in any age group
↑ Incidence after adolescence (highest at 20–30 years old)

No gender bias
Most commonly seen in African Americans
Etiology and Pathophysiology
Classification
Angioedema may result from 3 primary mechanisms:
Mast cell-mediated angioedema (most common and associated with urticaria):

Mast cells are activated by:

IgE to specific antigens
Physical stimuli
Medications (non–IgE-mediated direct activation of mast cells)

Once activated, mast cells release inflammatory mediators:

Histamine
Leukotrienes
Prostaglandins
Heparin

Bradykinin-mediated angioedema (not associated with urticaria):

Bradykinin is an inflammatory mediator that can lead to vasodilation and vascular permeability.
↑ Bradykinin → ↑ vasodilation and ↑ vascular permeability
Due to:

↓ C1 inhibitor → ↓ inhibition of kinin generation → ↑ bradykinin
↑ Angiotensin-converting enzyme (ACE) inhibition → ↓ bradykinin degradation → ↑ bradykinin

Idiopathic or unknown mechanism
General pathophysiology
Inflammatory mediators → ↑ vascular permeability and dilation of capillaries and venules
Extravasation of fluid from vasculature → asymmetric edema in the subcutaneous tissue and deep dermis:

Occurs in areas of affected vasculature
Not gravitationally dependent
Mast cell-mediated etiologies
Mast cell-mediated angioedema is typically associated with urticaria.
IgE to specific antigens (type I hypersensitivity reactions):

Pollen and mold
Foods, most commonly:

Peanuts
Tree nuts
Shellfish
Dairy
Eggs

Drugs:

Penicillin
Sulfa drugs
NSAIDs

Environmental:

Insect stings (venom) and bites
Latex

Physical stimuli:

Cold
Heat
Exercise
Vibrations
Pressure

Medications (directly stimulate mast cells without IgE):

Opioids
NSAIDs

Most commonly due to aspirin
Note: IgE-mediated allergy and direct mast cell stimulation are both possible.

Radiocontrast agents
Bradykinin-mediated etiologies
These etiologies are not associated with histamine release or urticaria.
Dysfunctional C1 inhibitor:

Hereditary angioedema (HAE): an autosomal dominant abnormality in the quantity or function of C1 inhibitor
Acquired C1 inhibitor deficiency angioedema: development of antibodies against C1 inhibitor

Medications (both via ↓ bradykinin degradation):

ACE inhibitors (ACEI)
Dipeptidyl peptidase-4 inhibitors
Other etiologies
Urticaria may or may not be present.
Idiopathic angioedema:

An etiology is not determined after a thorough evaluation.
Commonly associated with chronic angioedema

Other causes of angioedema with unknown mechanisms:

Infections:

Common cold
Streptococcal pharyngitis
Urinary tract infections

Calcium channel blockers
Other drugs or herbal medicine (uncommon)
Clinical Presentation
Swelling in deep cutaneous and mucosal tissue:

Face
Lips, mouth, tongue
Throat, larynx, and uvula
Extremities
Genitalia
Bowel wall:

Colicky abdominal pain
Nausea and vomiting
Diarrhea

Characteristics of swelling:

Onset:

Mast cell-mediated: minutes to hours
Bradykinin-mediated: hours to days

Spontaneous resolution (hours to days)
Asymmetric distribution
Form in nongravitationally dependent areas

Urticaria (in mast cell-mediated cases only)

Coalescing, well-circumscribed wheals
Intensely pruritic
Erythematous
Edematous
Raised borders
Central blanching

Anaphylaxis:

Life-threatening throat and airway swelling → impaired airflow
Signs and symptoms:

Shortness of breath
Wheezing and stridor
Tachycardia
Hypotension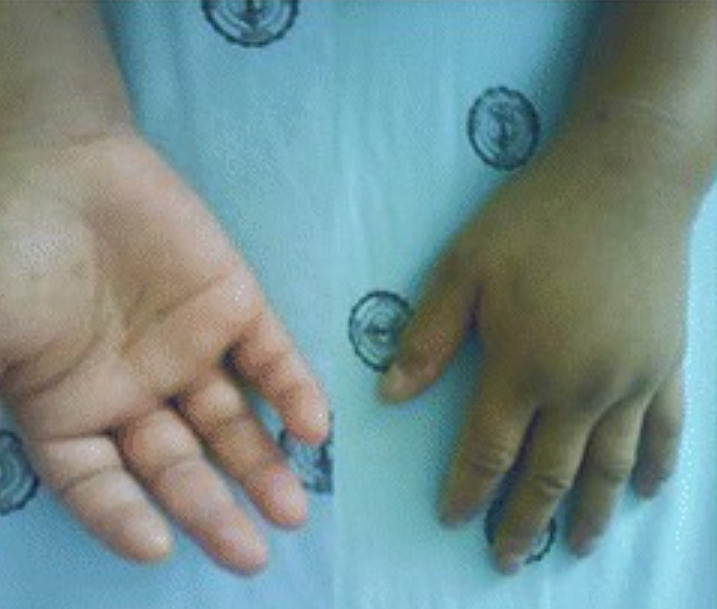 Diagnosis
The diagnosis of angioedema is usually clinical, but testing can help to clarify the etiology. Most cases of chronic angioedema are idiopathic.
Important history:

Recent allergen exposure
Stings or bites
Medication history

Mast cell-mediated angioedema with urticaria:

CBC/DIFF:

Possible eosinophilia
Normal WBC count

With anaphylaxis: ↑ tryptase confirms mast cell activation
Allergy skin testing
Medication withdrawal and challenge
Repeat physical stimuli (if suspected as triggering event).
Serum IgE antibodies to specific antigens

Isolated angioedema without urticaria:

↑ CRP → infection, ACEI-induced angioedema
↓ Complement protein C4 → evaluate for HAE or acquired C1 inhibitor deficiency:

C1 inhibitor antigen
C1 inhibitor function levels
Management
General management
Assess airway → intubate if there are signs of airway compromise
Assess for anaphylaxis → stabilize if present:

Epinephrine
Intravenous fluids
Oxygen

Discontinue any potential causative medications.
Management of mast cell-mediated angioedema
Identify and remove triggers.
H1 antihistamines (1st line): to suppress histamine released by mast cells:

Diphenhydramine
Cetirizine
Loratadine

Systemic glucocorticoids:

Methylprednisolone
Prednisone
Prednisolone
Management of bradykinin-mediated angioedema
HAE:

1st-line options to attempt to ↓ bradykinin:

Purified C1 inhibitor concentrate
Kallikrein inhibitor: ecallantide
Bradykinin B2 receptor antagonist: icatibant

2nd-line options:

FFP
Only used when 1st-line options are not available

ACEI-associated angioedema:

The above therapies for HAE can be used, but their efficacy has not been proven.
Most cases resolve 24–72 hours after discontinuing the ACEI.
Management of chronic idiopathic angioedema
Patients should be referred to an allergy specialist.
Medical therapy:

Nonsedating antihistamines:
Leukotriene receptor antagonist (montelukast) can be added.
For acute episodes:

Prednisone
Diphenhydramine
Differential Diagnosis
Contact dermatitis: inflammation of the skin in response to contact irritants, which can affect the face in some circumstances (often cosmetics or topical pharmaceuticals). Edema and pruritus may develop mimicking angioedema. Microvesiculation (formation of small vesicles), pain, and a burning sensation can help distinguish contact dermatitis from angioedema. Management involves removing the offending agent and reducing skin inflammation with steroids or topical calcineurin inhibitors.
Cellulitis and erysipelas: skin infections presenting with well-demarcated erythema, edema, and warmth. Cellulitis involves the deeper dermis and subcutaneous fat while erysipelas involves the upper dermis. Cellulitis and erysipelas tend to be accompanied by a fever, are more painful than angioedema, and have more pronounced demarcation than angioedema. The diagnosis is clinical, and management is with antibiotics.
Autoimmune conditions: systemic lupus erythematosus, polymyositis, dermatomyositis, and Sjogren's syndrome, which may all present with edema of the face, periorbital areas, and hands. The presence of other findings (e.g., Raynaud's phenomenon, dry eyes/mouth, and characteristic rashes) differentiates the autoimmune conditions from angioedema. The diagnosis is based on clinical findings and antibody testing. Management varies, but often includes steroids and immunosuppressants.
Superior vena cava (SVC) syndrome: tumors involving the right lung, lymph nodes, or mediastinal structures that may obstruct blood flow through the SVC by direct invasion or external compression, causing swelling in the face or neck and dyspnea. Other symptoms (e.g., chest pain, respiratory, or neurologic) help distinguish SVC syndrome from angioedema. Diagnosis is with imaging and venography. Management involves treatment for the malignancy and techniques to relieve the obstruction.
References
Frank Austen, K. (2008). Allergies, anaphylaxis, and systemic mastocytosis. In Fauci, A. S., Braunwald, E., Kasper, D.L., et al. (Eds.). Harrison's Internal Medicine. 17th Ed., pp. 2065-2067.
Zuraw, B. (2019). An overview of angioedema: Pathogenesis and causes. In Feldweg, A. M. (Ed.). UpToDate. Retrieved February 18, 2021, from https://www.uptodate.com/contents/an-overview-of-angioedema-pathogenesis-and-causes
Zuraw, B. (2019). An overview of angioedema: Clinical features, diagnosis, and management. In Feldweg, A. M. (Ed.). UpToDate. Retrieved February 18, 2021, from https://www.uptodate.com/contents/an-overview-of-angioedema-clinical-features-diagnosis-and-management
Zuraw, B. (2018). Hereditary angioedema: Pathogenesis and diagnosis. In Feldweg, A. M. (Ed.). UpToDate. Retrieved February 18, 2021, from https://www.uptodate.com/contents/hereditary-angioedema-pathogenesis-and-diagnosis
Zuraw, B., Farkas, H. (2020). Hereditary angioedema: Epidemiology, clinical manifestations, exacerbating factors, and prognosis. In Feldweg, A. M. (Ed.). UpToDate. Retrieved February 18, 2021, from https://www.uptodate.com/contents/hereditary-angioedema-epidemiology-clinical-manifestations-exacerbating-factors-and-prognosis
Delves, P.J. (2020). Angioedema. MSD Manual Professional Version. Retrieved February 21, 2021, from https://www.msdmanuals.com/professional/immunology-allergic-disorders/allergic,-autoimmune,-and-other-hypersensitivity-disorders/angioedema
Li, H.H. (2018). Angioedema. In Kaliner, M.A. (Ed.). Medscape. Retrieved February 21, 2021, from https://emedicine.medscape.com/article/135208-overview
Memon, R.J. (2020). Angioedema. StatPearls. Retrieved February 21, 2021, from https://www.ncbi.nlm.nih.gov/books/NBK538489/