General Assessment
History
Obtain information on any patient concerns.
Past medical history: Include any conditions being treated currently or in the past.
Past surgical history: Include inpatient and outpatient procedures.
Allergies: Note the allergy and reaction.
Current medications:

Dose, frequency, and reason for taking
Ask about supplements and over-the-counter medications.

Family history:

Any known conditions in both 1st-degree (parent, child, sibling) and 2nd-degree relatives (grandparents, uncles/aunts, cousins)
If deceased, include cause of death if known.

Social history:

Marital status and number of children
Household/home environment (of everyone who lives in the home)
Use of alcohol, tobacco, and recreational drugs
Employment/occupation
Diet and physical activity
Sexual activity: orientation, number of partners, use of protection

Review of systems: questions regarding possible symptoms (past or present) in every organ system
Physical exam
Vital signs: BP, heart rate, temperature, respiratory rate + oxygen saturation
General measurements:

Height
Weight
BMI (calculated as kg/m²):

Below normal: < 18.5
Normal: ≥ 18.5 to < 25
Overweight: ≥ 25 and < 30
Obese: ≥ 30

Waist circumference (in some instances)

Constitutional:

Alertness
Appearance (e.g., well nourished, thin, ill appearing, unkempt)

Head, eyes, ears, nose, throat (HEENT):

Head lesions
Conjunctiva, eye motility, and reactivity
External ear and otoscopic exam, including gross hearing
Oral mucosa, throat, dental features
Nasal appearance, presence of lesions or congestion

Neck: lymph nodes, thyromegaly, and ease of mobility
Cardiovascular: any murmurs, abnormalities in heart rate or rhythm, extremity edema, and weakened or absent peripheral pulses
Respiratory: respiratory effort and any abnormalities on auscultation
Breasts: any lumps/masses, tenderness, abnormal coloration, or nipple discharge; include axillary findings
Gastrointestinal: bowel sounds, masses, tenderness, liver/spleen enlargement, swelling/distension, and hernias; include rectal exam
Genitourinary: bladder, pelvic exam
Musculoskeletal: Assess mobility of joints in upper and lower extremities as well as the spine.
Neurologic: Assess cranial nerve function, strength/weakness in extremities, and deep tendon reflexes.
Skin: Assess for any new or changing lesions or rash.
Psychiatric: Assess orientation to place and time, mood, temperament, and judgment.
Screening for Metabolic Disorders
Hypertension
The United States Preventive Services Task Force (USPSTF) recommends BP measurement in all adults ≥ 18 years of age.
Ensure appropriate cuff size for accurate measurement.
Normal BP: < 120/80 mm Hg
Check BP at least every 2 years or with each visit.
Annual screening is recommended for the following individuals:

Age ≥ 40 years of age
High-risk factors such as being African American or overweight/obese
BP of 120–139/80–89 mm Hg

Confirm measurements outside the clinical setting before initiating medication.
Table: Categories of high BP

| Category | Systolic BP | | Diastolic BP |
| --- | --- | --- | --- |
| Elevated BP | 120–129 mm Hg | AND | < 80 mm Hg |
| Hypertension stage 1 | 130–139 mm Hg | OR | 80–89 mm Hg |
| Hypertension stage 2 | ≥ 140 mm Hg | OR | ≥ 90 mm Hg |
If there is a disparity between the stages of systolic and diastolic BP, the higher number determines the stage.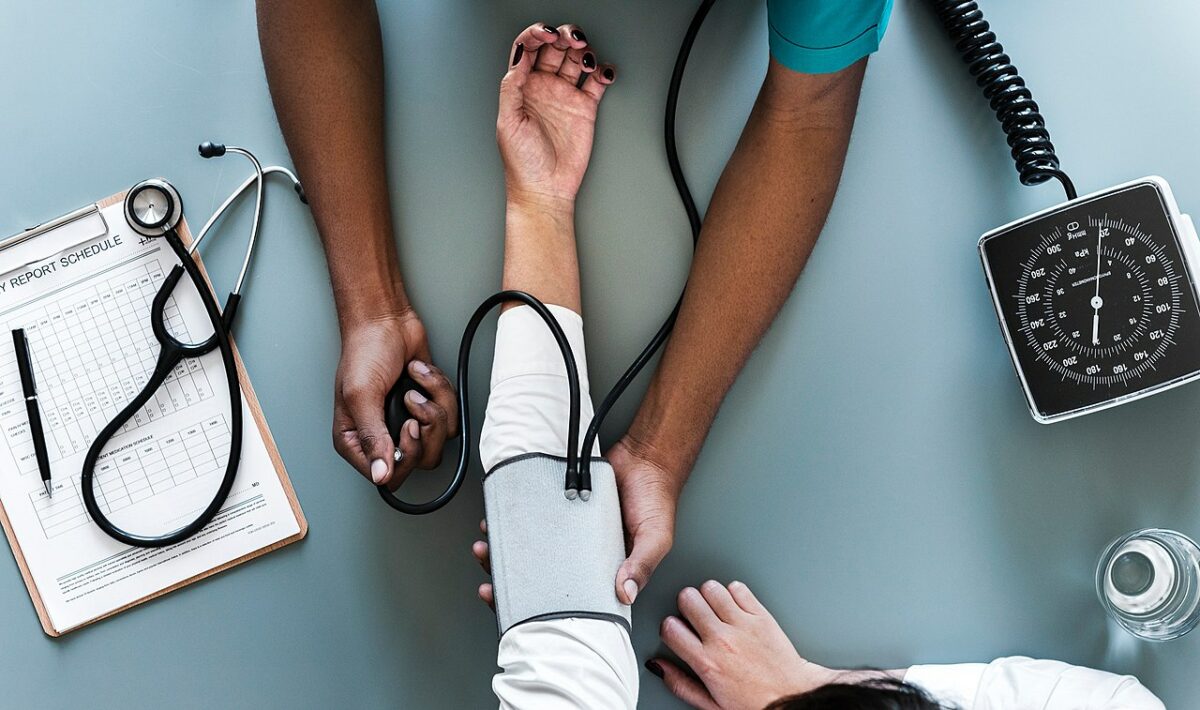 Dyslipidemia
Dyslipidemia is defined as lipid values associated with an increased risk of and/or presence of disease for which the initiation of lipid-lowering therapy will be of benefit.
USPSTF recommendations for lipid screening:

Screen individuals between 40 and 75 years of age.
No recommendations for or against screening for dyslipidemia in individuals < 35 years of age

Centers for Disease Control and Prevention (CDC) recommends cholesterol testing at age ≥ 20 years.
It is still recommended to obtain baseline lipid testing in young adults at initiation of care with an adult primary care provider. Repeat screening is guided by the patient's cardiovascular disease risk:

In high-risk patients (history of diabetes, hypertension, smoker, obesity, family history of premature heart disease):

Follow-up lipid in men between the ages of 25 and 30 years
Follow-up lipid in women between the ages of 30 and 35 years

In low-risk patients:

Follow-up lipid in men at age 35 years
Follow-up lipid in women at age 45 years

Assessment of cardiovascular disease risk and lipid levels are recommended to be repeated:

Generally every 5 years
Every 3 years if near the threshold for treatment
Cardiovascular disease risk
Statin for primary prevention:

Addition of statins for primary prevention is influenced by the atherosclerotic cardiovascular disease risk, which is calculated as a percentage based on:

Patient age
Systolic BP
Total cholesterol and high-density lipoprotein cholesterol
Hypertension on medications
Cigarette smoking
Diabetes

Low-to-moderate-dose statin is recommended by the USPSTF for the prevention of cardiovascular disease in adults aged 40 to 75 years with:

≥ 1 cardiovascular disease risk factor (dyslipidemia, diabetes, hypertension, or smoking)
A 10-year atherosclerotic cardiovascular disease risk ≥ 10%

Aspirin for primary prevention:

Low-dose daily aspirin use is recommended by the USPSTF in adults 50–59 years of age to prevent cardiovascular disease in patients with:

> 10% 10-year atherosclerotic cardiovascular disease risk
No increased risk for bleeding
Life expectancy ≥ 10 years
Willingness to take low-dose aspirin daily for ≥ 10 years

After age 59 years, discussion with the clinician is recommended to determine if low-dose aspirin is ideal way to begin preventing cardiovascular disease.
Diabetes
USPSTF recommends checking glucose levels in overweight or obese adults aged 40–70 years of age via 1 of the following tests:

Fasting glucose
HbA1c
Oral glucose tolerance test

Normal values:

Fasting glucose < 100 mg/dL
HbA1c < 5.7%
Oral glucose tolerance test < 140 mg/dL

Impaired glucose tolerance (prediabetes):

Fasting glucose: 100–125 mg/dL
HbA1c: 5.7–6.4%
Oral glucose tolerance test: 140–199 mg/dL

Diabetes

Fasting glucose ≥ 126 mg/dL
HbA1c ≥ 6.5%
Oral glucose tolerance test ≥ 200 mg/dL

Optimal screening time is debatable, but suggested to re-screen at least every 3 years
Consider starting screening at an earlier age in persons with the following risk factors:

Family history of diabetes
History of gestational diabetes
History of other conditions associated with diabetes:

Hypertension
Acanthosis nigricans
Dyslipidemia
Polycystic ovarian syndrome

Member of certain groups:

Native Americans
Asian Americans
Native Hawaiians/South Pacific Islanders
Hispanics
African Americans
Screening for Malignancies
Cervical cancer screening
USPSTF recommendations:
Routine cytology screening every 3 years starting at age 21 years, regardless of sexual history
For ages 21–29 years: cytology alone every 3 years
For ages 30–65 years, options are:

Cervical cytology alone every 3 years
High-risk HPV every 5 years
Cytology with high-risk HPV co-testing every 5 years
Screening is not recommended in:
Women < 21 years of age, regardless of sexual activity
Women > 65 years of age who have had adequate screening previously and are not high risk
Breast cancer screening
USPSTF recommendations for average-risk individuals:
For women aged 50–74 years: Screening mammography is recommended every 1–2 years.
For women aged 40–49 years, the decision to start biennial screening is individualized (made via shared decision-making between patient and provider).
USPSTF recommendations for high-risk individuals:
High-risk individuals include women with:

Personal history of breast, ovarian, tubal, or peritoneal cancer
Ancestry (associated with BRCA1 and BRCA2)

Familial risk assessment tool is recommended.
If positive, a referral for genetic counseling and possibly genetic testing should be provided.
Timing of screening modalities depend on the personal and family history of genetic mutations, high-risk syndromes, and history of chest radiotherapy.
Modalities include:

Clinical breast exam
Mammogram
Breast MRI

Risk reduction:

Chemoprevention: risk-reducing medications (tamoxifen or aromatase inhibitors) recommended for women ≥ 35 years of age
Prophylactic mastectomy: offered to those with high-risk genetic mutations (BRCA1 or BRCA2 carriers)
Colorectal cancer screening
The USPSTF recommends screening for colorectal cancer (CRC) in adults to be initiated at age 45 years.
Screening methods include:
Annual high-sensitivity guaiac-based fecal occult blood test (HS-gFOBT)
Annual fecal immunochemical test (FIT)
Stool DNA-FIT test every 3 years
Flexible sigmoidoscopy every 5 years (limited to distal part of the colon)
Flexible sigmoidoscopy every 10 years plus annual FIT
Colonoscopy every 10 years
CT colonography every 5 years
A positive screening stool-based test, CT colonography, or sigmoidoscopy warrant a colonoscopy.
Individuals requiring more frequent screening and before 45 years of age (depending on the condition):
Individuals with a family history of colorectal cancer
Individuals with hereditary colorectal cancer syndrome
Personal history of inflammatory bowel disease
History of radiation to the abdomen or pelvis
The USPSTF recommends daily low-dose aspirin for primary prevention of CRC (and cardiovascular disease) for individuals aged 50–59 years who have:
No bleeding risk
At least 10 years of life expectancy
≥ 10% risk of 10-year cardiovascular disease risk
Lung cancer screening
Screening recommendation: annual low-dose CT of the lung
Patient selection based on organization recommendations:

USPSTF 2020 recommends lung cancer screening for (must meet all criteria):

Adults aged 50–80 years
20 pack-year smoking history
Current smoker or has quit within the past 15 years

The American Cancer Society recommends screening for (must meet all criteria):

Adults aged 55–74 years
30 pack-year smoking history
Current smoker or has quit within the past 15 years

Other organizations have similar recommendations, although there is variability in the age range.
Prostate cancer screening
USPSTF recommendations:

Men aged 55–69 years should:

Discuss potential benefits and harms with their clinician
Consider age, family history, race/ethnicity, comorbid conditions, and life expectancy
Make an individual decision about screening

Men ≥ 70 years:

Benefits do not outweigh the expected harms.
Should not be routinely screened for prostate cancer

Men who do not express a preference for screening should not be screened.

PSA blood test alone recommended for screening, if elected, every 1–2 years
Digital rectal examination (DRE) is not recommended as a screening tool with or without PSA test.
Screening for Sexually Transmitted and Blood-borne Diseases
HIV screening and prevention
The USPSTF recommends screening for HIV in:
All individuals aged 15–65 years
Patients < 15 years of age or > 65 years of age who are high risk
Men who have sex with men (screened annually or even more frequently depending on risks)
All pregnant women
An HIV pre-exposure prophylaxis (PrEP) with antiretrovirals is recommended for high-risk individuals.
Chlamydia and gonorrhea screening
Recommended for all sexually active women ≤ 24 years of age
Recommended for older women who are considered higher risk (new sexual partner, multiple sex partners, unprotected sex in non-monogamous relationship)
Other diseases
Syphilis: recommended for persons in high-risk groups (history of previous sexually transmitted disease, multiple sex partners, men who have sex with men)
Hepatitis B screening: recommended for those in high-risk groups (injection drug users, engagement in high-risk sexual activities)
Hepatitis C screening: all adults age 18–79 years
Miscellaneous Screenings
Alcohol and tobacco use
Tobacco/cigarette use:

Inquire about tobacco use in any form.
Discuss health risks, determine readiness for cessation, and offer interventions to aid in cessation.

Alcohol abuse/misuse:

Inquire about amounts and frequency of alcohol use in ≥ 18 years of age.
Further screening can be done via the CAGE questionnaire or similar screening tool:

Ever feel the need to Cut down on drinking?
Ever feel Annoyed by others criticizing your drinking?
Ever feel Guilty about your drinking?
Have you ever needed a drink first thing in the morning (Eye-opener) to steady yourself or combat a hangover?

If screen is positive, behavioral counseling interventions are recommended.
Obesity
BMI should be a part of health maintenance examination.
Individuals with BMI > 30 should be offered behavior interventions (e.g., nutrition consult) and counseling to promote weight loss.
Domestic violence and depression
Intimate partner violence:

Screen all women of child-bearing age.
If screen is positive, referral to interventional services should be provided.

Depression:

USPSTF recommends screening all adults (including pregnant and postpartum women) for depression using a validated tool.
If positive, assess for suicidality and provide further evaluation and management.
Abdominal aortic aneurysm
Only in men aged 65–75 years who have any history of smoking tobacco
1-time ultrasonography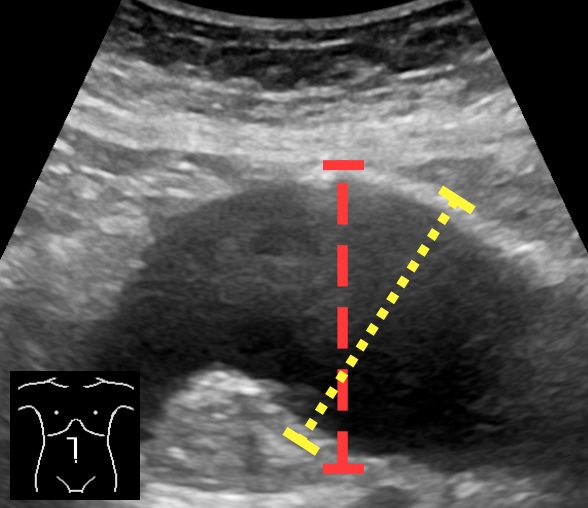 Osteoporosis
Recommended for women aged ≥ 65 years for prevention of osteoporotic fractures
Consider screening in postmenopausal women < 65 years of age if considered high risk (smoker, alcohol abuse).
Bone mineral density screening using DEXA scan
There are conflicting data regarding recommendations for men:

USPSTF states that there is not enough evidence to support screening in men.
Other organizations (such as the Endocrine Society) recommend screening:

All men > 70 years of age
Men 50–70 years of age with risk factors (glucocorticoid therapy, androgen deprivation treatment for prostate cancer, hypogonadism, primary hyperparathyroidism)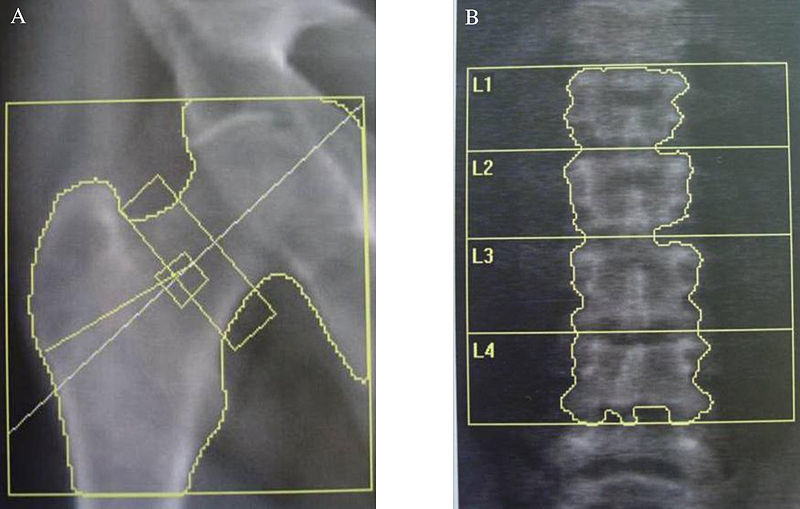 Vaccinations
Influenza vaccine
Vaccines:
Inactivated vaccine
Live attenuated vaccine (intranasal):

Only approved for use in individuals 2–49 years of age
Should not be given to individuals who are pregnant, immunocompromised, have functional or anatomic asplenia, or have cochlear implants
Influenza vaccine is recommended to be given annually to all adults ≥ 18 years of age unless they have a history of allergic reactions to components.
Tetanus, diphtheria, and pertussis vaccination
Vaccines:
In the United States:
Tdap or Td is given intramuscularly every 10 years to all adults with complete prior immunization to tetanus and diphtheria.
If the adult has not been vaccinated against tetanus and diphtheria, a 3-vaccine series is initiated with Tdap as the preferred 1st dose, followed by Td or Tdap.
Older adults:
Likely to have decreased antibodies either from not having the initial vaccine or from not receiving the subsequent booster doses
Thus, Tdap is important for all older adults, especially those in contact with children under 1 year of age:

Tdap may be given 1 time, to replace the Td booster.
Tdap can be administered regardless of the interval since the last Td booster.
Special indications:
1-dose Tdap is also given with each pregnancy.
1-dose Td or Tdap is also given in the setting of severe wound or burn, if it has been at least 5 years since the last booster.
Measles, mumps, and rubella vaccination
Vaccines:
Live virus vaccines against measles, mumps, and rubella
2 formulations:

Measles, mumps, rubella (MMR)
Measles, mumps, rubella, varicella (MMRV)
General principles:
Measles and mumps component:

If born before 1957, individuals are generally considered immune to measles and mumps.
This does not apply to health care personnel, who need documentation of immunity.

Rubella component:

Immunity in adulthood is not guaranteed.
Women of childbearing age should have lab testing for immunity.
Recommendations:
1 dose is recommended for most adults if with no evidence of immunity and/or born after 1957.
2 doses recommended for certain populations if with no evidence of immunity:

Health care personnel
Students in postsecondary educational institutions
International travellers
Patients with HIV (without severe immunocompromise)
Hematopoietic cell transplant patients 2 years after transplant and without immunosuppressive therapy or active graft-versus-host disease

Women of childbearing age:

Those with no evidence of immunity should get vaccinated while not pregnant.
Those who are pregnant and with no evidence of immunity should be vaccinated upon completion of pregnancy.
Human papillomavirus vaccination
In the United States, only Gardasil 9 (9-valent vaccine) is available.
Indicated for adults up to age 26 years:

If received a single dose between ages 9–14 years and/or a 2nd dose was given less than 5 months apart, 1 more dose is needed.
If no previous vaccinations given before 15 years of age, 3 doses should be given at 0, 1–2, and 6 months of age.

Shared decision-making recommended regarding vaccinating adults aged 27–45 years
Not approved for use in individuals > 45 years of age
Pneumococcal vaccine
Vaccines:
Pneumococcal polysaccharide vaccine (PPSV) 23: contains 23 pneumococcal polysaccharides
Pneumococcal conjugate vaccine (PCV): made of pneumococcal capsular polysaccharides

PCV13: 13 capsular types
PCV7 (Prevnar7): 7 capsular types
In adults aged 19–64 years with an increased risk of pneumococcal infection and complications, a dose of PPSV 23 is indicated for those with:
Heart disease (not including hypertension)
Chronic liver disease
Chronic lung disease
Alcoholism
Cigarette smoker
In adults aged 19–64 years of age, both PCV13 and PPSV23 are recommended for individuals:
Who have increased risk for meningitis:

CSF leak
Cochlear implant
History of pneumococcal meningitis

Schedule: PCV13 then 1 dose of PPSV23 ≥ 8 weeks after
In adults aged 19–64 years of age, PCV13 and 2 doses of PPSV23 are recommended in individuals with:
Impaired splenic function (asplenia, splenectomy, sick cell disease, hyposplenism)
Other immunocompromising diseases:

HIV
Chronic kidney disease
Hematologic malignancy (leukemia, lymphoma)
Solid tumor malignancies with or without metastasis
Solid organ and hematopoietic cell transplantation
Immunosuppressive medications
Congenital or acquired immunodeficiency

Schedule: PCV13, then 1st PPSV23 ≥ 8 weeks after; 2nd PPSV23 5 years after 1st PPSV23 dose
In all immunocompetent adults ≥ 65 years of age:
1 dose of PPSV23 is recommended.
If PPSV23 was given before age 65 years, give due dose at least 5 years after the prior administration.
PCV13 in adults ≥ 65 years of age:
Recommended for those who have not received the vaccine previously and if with immunocompromising diseases and impaired splenic function
PCV13-type of disease has declined significantly in the ≥ 65-year-old age group because of pediatric vaccinations.
Thus, for immunocompetent patients, shared decision-making is recommended regarding PCV13 vaccination.
If it is decided that PCV13 is to be administered, PCV13 is given 1st followed by PPSV23 after ≥ 1 year.
Varicella and herpes zoster vaccine
Varicella vaccine:
Formulations:

Single-antigen varicella vaccine (live)
MMRV

Indicated for adults with no history of chickenpox or evidence of immunity
Single-antigen vaccine: 2 doses given, 1 to 2 months apart
Herpes zoster vaccine:
Vaccine:

Shingrix (recombinant zoster vaccine)
2 doses, given 2 to 6 months apart

Indicated for adults ≥ 50 years of age to decrease risk of developing herpes zoster (shingles) and postherpetic neuralgia
Vaccine should be given irrespective of previous vaccination or disease history.
Other vaccines
Hepatitis A vaccine:

2-dose series recommended for high-risk individuals
Indications: chronic liver disease, IV drug user, travel to endemic areas

Hepatitis B vaccine:

2 or 3 doses, depending on vaccine, are recommended for high-risk individuals.
Indications: chronic liver disease such as hepatitis C infection, HIV infection, IV drug use, high-risk sexual behavior, health care personnel

Haemophilus influenzae type b vaccine:

1 dose (inactivated vaccine)
Indications: anatomic or functional asplenia or recipient of hematopoietic stem cell transplant

Meningococcal vaccine:

In the United States: quadrivalent meningococcal conjugate vaccines (inactivated)
Indicated for college students and military recruits living in residential housing if not previously vaccinated at age 16 years or older

Also indicated for those with anatomic or functional asplenia
Additional Preventative Counseling
Lifestyle
Healthy diet and physical activity encouraged to decrease risk of cardiovascular disease and associated risk factors:

At least 150 minutes of moderate-intensity exercise per week, or 75 minutes of vigorous activity per week
Participation in strengthening exercises recommended at least twice per week

Ultraviolet (UV) radiation exposure: Counsel adults, especially fair-skinned individuals, to minimize sun exposure to decrease risk of skin cancer.
Sleep hygiene:

Recommendation is to obtain at least 7–8 hours sleep per night
Maintain a regular sleep schedule.
Avoid stimulants (e.g., caffeine) and electronic screens (e.g., phones, laptops) before bed.
Sexual health and contraception
Counseling on safe sex practices
If patient is interested in contraception, discuss contraceptive options, methods, effectiveness, risks/benefits, and possible side effects.
Folic acid supplementation recommended in women of child-bearing age to prevent neural tube defects in offspring