Raise Your USMLE® Score With Your Personal
Medical Coach
Individualized coaching for students preparing for the USMLE and other medical school exams
Unveiling Our USMLE Coaching Program: An In-Depth Look at
What Sets Us Apart
Propel Your USMLE Step 1 and Step 2 CK Success
Meet regularly with your medical coach for one-on-one sessions to identify your individual goals, discuss specific problems, and stay on track.
Assessing your strengths and weaknesses at the beginning and during the program will help you improve exam results and boost your confidence.
Our coaches are trained in learning science and can help you transform inefficient routines and study habits to improve your knowledge retention in the long term.
Customized assignments will help you focus on the most important concepts for your upcoming exam. Take a deep-dive into medical topics taught by renowned, passionate professors—and apply these concepts in clinical case scenarios!
Our coaches curate relevant content from the Lecturio Medical Platform to Enhance your learning Experience, which include: videos, NMBE-style questions, concept pages and more.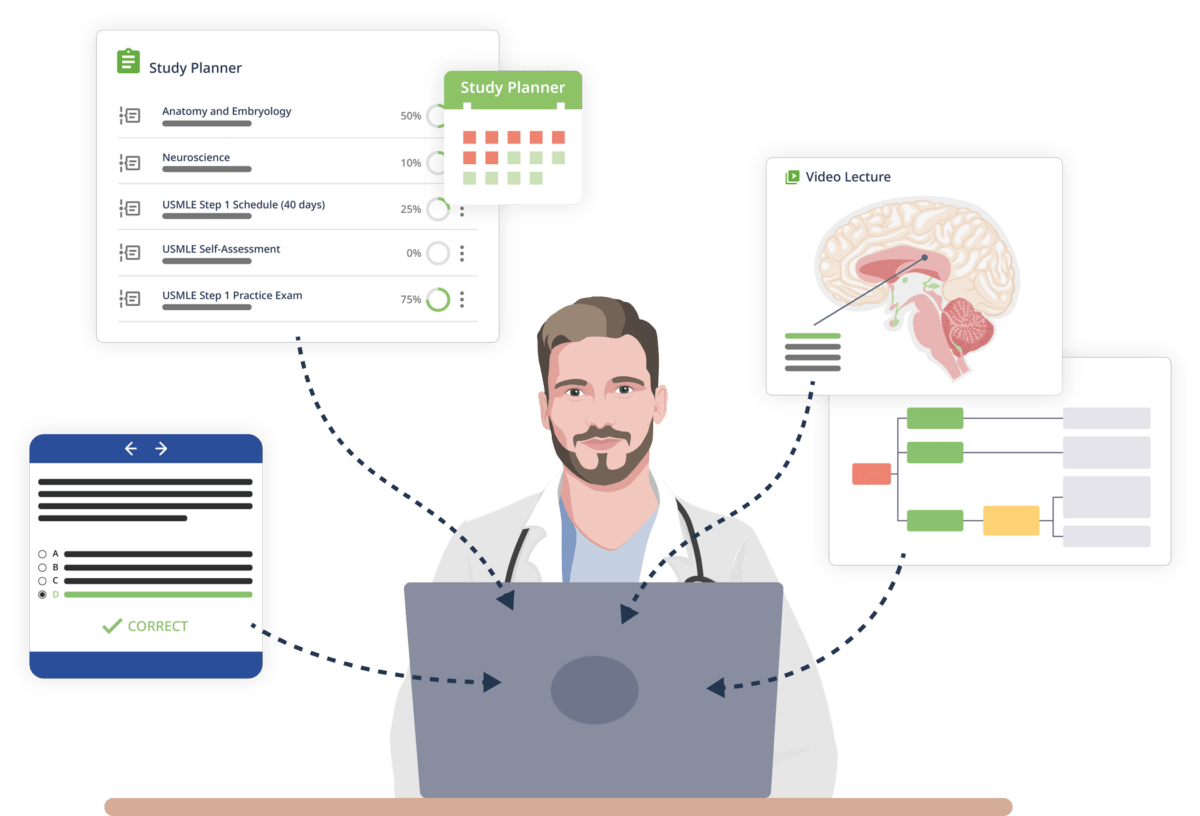 Trust, Expertise, and Results: Our Credo at Lecturio
Experience the Benefits of Personalized Coaching
Our coaches have been in your shoes and have passed the board exams with exceptional scores. They are trained in learning science and can provide you with the tools you need to succeed in medical school.
Empowering Students

to Achieve Their Goals
"The guidance of my teaching staff gave me the confidence to take the USMLE exam, with a well-structured study plan that supported me throughout the learning process. Thanks to their help, I was able to achieve my desired score."
"My coaching experience was excellent. Working through questions with guided help boosted my confidence and improved my approach to answering questions. I also appreciated the personalized encouragement and advice provided by my tutor. I highly recommend these sessions to anyone preparing for Step 1. "
Become a
Top Performer

with Lecturio's Premium Coaching
Limited Seats Available - Enroll Now and Secure Your Spot
AUD,CAD,EUR,GBP,USD,INR,MXN
AUD,CAD,EUR,GBP,USD,INR,MXN
369,349,289,249,249,19999,4499
1
AUD,CAD,EUR,GBP,USD,INR,MXN
369,349,289,249,249,19999,4499
charged every month
Experienced US-trained USMLE coaches
2 individualized coaching sessions (30 min each)
Personalized plan to meet your goals
Ongoing feedback via email and discord
AUD,CAD,EUR,GBP,USD,INR,MXN
AUD,CAD,EUR,GBP,USD,INR,MXN
339,309,259,229,229,18999,4199
1
AUD,CAD,EUR,GBP,USD,INR,MXN
1017,927,777,687,687,56997,12597
charged every 3 months
Experienced US-trained USMLE coaches
6 individualized coaching sessions (30 min each)
Personalized plan to meet your goals
Ongoing feedback via email and discord
Progress tracking and support
AUD,CAD,EUR,GBP,USD,INR,MXN
AUD,CAD,EUR,GBP,USD,INR,MXN
299,269,229,199,199,16999,3699
1
AUD,CAD,EUR,GBP,USD,INR,MXN
1794,1614,1374,1194,1194,101994,22194
charged every 6 months
Experienced US-trained USMLE coaches
12 individualized coaching sessions (30 min each)
Personalized plan to meet your goals
Ongoing feedback via email and discord
Progress tracking and support
Secure Your
Medical Coach

Spot and Start Succeeding