Overview
Breast Cancer
Breast cancer is a disease characterized by malignant transformation of the epithelial cells of the breast.
Epidemiology
Breast cancer is the most common cancer in women.
Accounts for 29% of all malignant diseases among women in the United States
Incidence: 125 cases per 100,000 women
Risk increases with age, with 90% of cases occurring in women > 40 years of age
Male breast cancer accounts for < 1% of total cases.
An important cause of death in women:

United States: the 2nd-leading cause of cancer-related deaths
Developing countries: the leading cause of cancer-related deaths

Early detection and improved treatments have reduced death rates.
Risk factors
Unmodifiable factors that increase the risk:
Family history:

Breast cancer in 1st- or 2nd-degree relatives (mother, grandmother, sister)
Ashkenazi Jewish descent

Hormonal influences: long hormone exposure due to early menarche and/or late menopause
Genetic mutations (examples):

BRCA1 (on chromosome 17q)
BRCA2 (on chromosome 13q)
p53 (on chromosome 17)

Increasing age
Breast cancer on the contralateral side
Modifiable risk factors:
Lifestyle factors that increase the risk:

High-fat diet
Obesity (especially after menopause)
Heavy alcohol use
Tobacco

Hormonal influences that increase the risk:

Higher age at 1st delivery (> 30 years of age)
Nulliparity
Hormone replacement therapy after menopause (> 5 years)

Hormonal influences that decrease the risk: breastfeeding for at least 6 months
Mnemonics:
"BReast-CAncer 1 and 2" = Mutated genes are the BRCA1 and BRCA2 genes.
Initial risk assessment
Details of the patient's medical and personal history are needed to determine their risk:
Personal and family history of breast, ovarian, tubal, or peritoneal cancer
Ancestry (associated with BRCA1 and 2)
Known carrier of a gene mutation for breast or ovarian cancer
Mammographic breast density
High-risk lesion on a previous breast biopsy
History of chest radiotherapy (age 10 to 30 years)
A patient's risk for developing breast cancer can be classified as:
Average:

Have none of the above risk factors (most patients)
Lifetime risk < 15%

Moderate:

Most women with a family history of breast cancer in a 1st-degree relative, but no known genetic syndrome
Lifetime risk 15%‒20%

High:

Patients with a known genetic predisposition, a personal history of breast cancer, or radiotherapy
Lifetime risk > 20%
Risk prediction models
Prediction models are utilized for specific categorization of risk, with more factors considered.
Breast cancer risk assessment tool (Gail model):

The most commonly used risk model
Indicated for patients with no personal or strong family history of breast cancer
Takes into account age, ethnicity, age of menarche, parity, and family history
Less precise for older women
Cannot be used in certain subgroups (such as patients with genetic mutations)

Other risk assessment models are used for patients with:

History of breast cancer or in situ breast cancer
Known mutation in the BRCA1 or 2 genes
Known or suspected inherited syndrome (linked with breast cancer)
Strategies for Screening
Breast examination
Self-examination:

Generally discouraged
Can lead to unnecessary procedures (e.g., mammograms and biopsies)

Clinical examination:

Generally not recommended for average-risk women (adjunct only)
Utilized in the case of:

Women with a high risk (initial age differs depending on risk factors)
Any breast complaints or abnormalities
Low-resource settings

Localizing breast lesions:

If there is a vague or large area, then the area may be localized by a quadrant.
If there is a focal area, then the area will be localized by the clock face position and distance from the nipple.
Mammography
Mammography is the most effective method of detecting early breast cancer, consistently demonstrating a 20%–40% decrease in mortality among screened women:
High false-negative rate:

May miss an average of 20% of breast cancers
If there is clinical suspicion for malignancy, a negative mammogram does not rule out cancer, and further investigation is warranted.

Types:

Screen film mammography: mostly replaced by digital mammography in the United States
Digital mammography: preferred for dense breasts (approximately 50% of all women)
Digital breast tomosynthesis (BDT, "3-D mammography"):

Takes images from many angles to obtain a 3-dimensional picture
Improves the sensitivity and specificity of mammography
Preferred modality by the American College of Breast Surgeons

Computer-aided detection (CAD) often used: an artificial intelligence (AI) technique that uses pattern recognition to highlight suspicious features and marks the features for the radiologist to review; CAD decreases oversights

The breast imaging reporting and data system (BI-RADS):

Standardizes the mammography report
Indicates categories and corresponding recommendations

Screening versus diagnostic mammograms:

Screening mammogram: performed on a woman with no symptoms or signs of breast cancer
Diagnostic mammogram: performed on a woman who has a breast lesion suspicious for cancer either on clinical grounds or by findings on a screening mammogram
Table: Mammography findings and recommendations

| Category | Assessment | Follow-up |
| --- | --- | --- |
| BI-RADS 0 | Incomplete assessment | Additional mammography views or ultrasound follow-up needed |
| BI-RADS 1 | Negative | Continue with routine screening. |
| BI-RADS 2 | Benign findings | Continue with routine screening. |
| BI-RADS 3 | Probably benign findings | Diagnostic mammography or ultrasound in 6 months |
| BI-RADS 4 | Suspicious abnormality | Biopsy should be considered. |
| BI-RADS 5 | Highly suggestive of malignancy | Biopsy should be performed. |
| BI-RADS 6 | Biopsy-proven malignancy | Management for breast cancer |
Note: A negative report should not rule out malignancy if there is a high clinical suspicion. Consider ultrasound follow-up.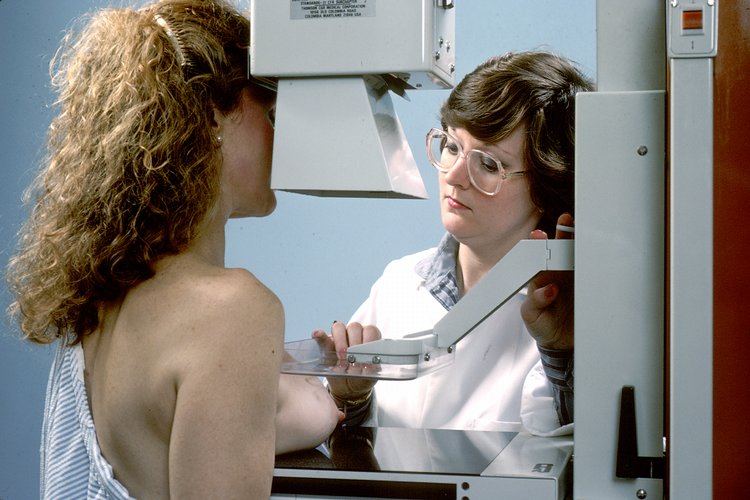 Magnetic resonance imaging (MRI)
Indicated as supplementary screening along with mammography in women with a high risk of breast cancer:

BRCA1 or 2 mutations
Strong family histories of breast and/or ovarian cancer
History of mantle radiation for Hodgkin's lymphoma

Used to follow up an abnormal or inconclusive mammogram result
Higher false-positive rates in women with dense breasts, leading to unneeded biopsies
Despite the increased sensitivity for malignancy, there is no evidence of a decreased mortality benefit.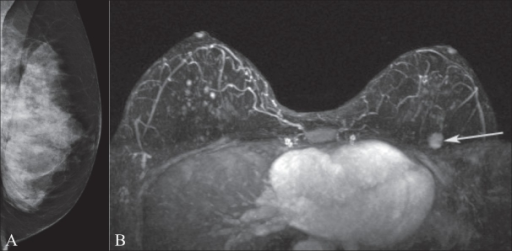 Ultrasound (US)
Not routinely used for screening due to a high false-positive rate
Primarily used for diagnostic follow-up of an abnormal mammogram
Can be considered as an adjunct in patients with dense breasts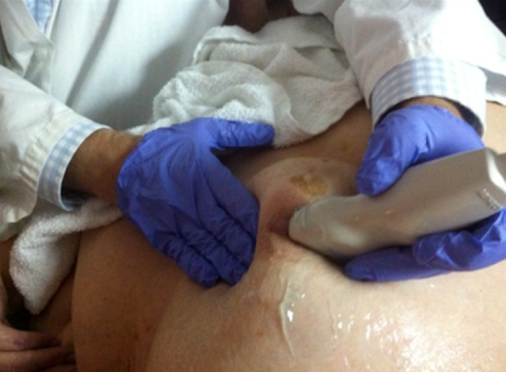 Screening for Average- and Moderate-risk Individuals
Average risk
Society and government-sponsored guidelines differ in:
The recommended age to start regular mammograms
Frequency of mammograms (annually or biennially)
Discontinuation of screening
Table: Breast cancer screening guidelines for average-risk individuals
Organization
Mammography
Clinical breast examination
USPSTF

Age 40–49: individualize*
Age 50–74: every 2 years
Age > 75: insufficient evidence

Insufficient evidence
ACP

Age 40–49: individualize*
Age 50–74: every 2 years
Age ≥ 75: Discontinue screening if life expectancy is < 10 years.

Not recommended
ACS

May offer at age 40; start at age 45.
Age 45–54: annually
Age 55 and above: every 1–2 years
Continue if life expectancy is ≥ 10 years.

Not recommended
ACOG

May offer at age 40.
Start no later than age 50: every 1–2 years.
Age > 75: Assess health, longevity, and discontinuation options.

Age 29–39: every 1–3 years
Age ≥ 40: annually

NCCN

Age 20–39: every 1–3 years
Age ≥ 40: annually
*Discuss breast cancer screening, risks, benefits, and potential for unnecessary procedures. For patients who choose to initiate screening, mammography is performed every 1‒2 years.
ACOG: American College of Obstetricians and Gynecologists
ACP: American College of Physicians
ACS: American Cancer Society
NCCN: National Comprehensive Cancer Network
USPSTF: U.S. Preventive Services Task Force

Moderate risk
A similar approach to average-risk patients
Supplemental screening with MRI or US can be offered on a case-by-case basis.
Screening for High-risk Individuals
Screening and genetic testing
Recommendations:
Clinical breast exam: every 6–12 months by age 25 years (initiation and frequency depend on risk)
Annual mammogram (starts at age 30) and MRI (starts at age 25): for patients with BRCA1 or 2 mutations
Annual mammogram and MRI generally start at age 30:

1st-degree relative with known BRCA1 or 2 mutations
> 20% lifetime risk of breast cancer
Patients with radiation therapy to the chest at 10–30 years of age
Most high-risk syndromes

An annual mammogram for other high-risk women (e.g., personal history of in situ lesions, atypical ductal hyperplasia), with MRI discussed with a clinician
Genetic counseling and testing (USPSTF):
Familial risk assessment tools are recommended for women with the following:

A personal or family history of breast, ovarian, tubal, or peritoneal cancer
Ancestry associated with BRCA1 or 2 mutations

Familial risk assessment tools include:

Ontario family history risk assessment tool
Manchester scoring system
Referral screening tool
Pedigree assessment tool
7-question family history screen
International breast cancer intervention study model
BRCAPRO (calculates the probability of carrying BRCA1 and/or BRCA2 mutation)

Positive results should lead to genetic counseling and potential genetic testing.
For women without a personal or family history or ancestry associated with BRCA1 or 2: genetic counseling and testing are not recommended.
Risk reduction
Non-surgical
Target modifiable risk factors:

Regular physical exercise
Weight loss
Decrease alcohol consumption
Smoking cessation
There is no evidence that dietary changes reduce risk.

Chemoprevention:

USPSTF: Risk-reducing medications recommended for high-risk women age ≥ 35 years (for a total of 5 years).
Considered in women at a high risk of breast cancer
Tamoxifen:

Selective estrogen receptor modulator
Indicated for BRCA2 carriers who opt out of prophylactic mastectomy
Less effective than risk-reducing surgery
Used in pre- or postmenopausal women

Anastrozole:

Aromatase inhibitor
Used in postmenopausal women
Surgical: Prophylactic mastectomy
Women should be counseled on the potential morbidity of surgical procedures (surgical menopause, libido, body image).
Indications:

BRCA1 or BRCA2 carriers
Other genetic mutations that carry a greater lifetime risk for developing breast cancer

Does not completely eliminate the risk of cancer
May be done in conjunction with salpingo-oophorectomy to reduce ovarian cancer risk
Screening for Special Populations
Patients with dense breast tissue
The same approach to screening is recommended.
Digital mammography is preferred over film.
If there are no additional risk factors, no supplemental screening is recommended.
MRI or US may be used as an adjunct in moderate- or high-risk patients.
Male BRCA carriers
Male BRCA carriers have a higher risk for breast, prostate, and pancreatic cancers:
Monthly breast self-examination starting at age 35
Annual clinical breast exam starting at age 35
Annual mammography can be considered in men with gynecomastia or increased breast density (evidence is limited).
Prostate cancer screening starting at age 40 for BRCA2 carriers
Consideration of prostate screening starting at age 40 for BRCA1 carriers
Patients with breast implants:

Make mammography difficult (radiopaque content)
Involves 4 views (instead of the usual 2 views per breast)
References
American Cancer Society. (2020). American Cancer Society recommendations for the early detection of breast cancer. https://www.cancer.org/cancer/breast-cancer/screening-tests-and-early-detection/american-cancer-society-recommendations-for-the-early-detection-of-breast-cancer.html
Elmore, J.G., & Lee, C.I. (2020). Screening for breast cancer: Strategies and recommendations. UpToDate. Retrieved December 14, 2020, from https://www.uptodate.com/contents/screening-for-breast-cancer-strategies-and-recommendations
Venkataraman, S., & Slanetz, P.J. (2020). Breast imaging for cancer screening: Mammography and ultrasonography. UpToDate. Retrieved December 14, 2020, from https://www.uptodate.com/contents/breast-imaging-for-cancer-screening-mammography-and-ultrasonography
Elmore, J.G., & Lee, C.I. (2020). Screening for breast cancer: Evidence for effectiveness and harms. UpToDate. Retrieved December 14, 2020, from https://www.uptodate.com/contents/screening-for-breast-cancer-evidence-for-effectiveness-and-harms
Freer, P.E., & Slanetz, P.J. (2020). Breast density and screening for breast cancer. UpToDate. Retrieved December 14, 2020, from https://www.uptodate.com/contents/breast-density-and-screening-for-breast-cancer
Isaacs, C., & Peshkin, B.N. (2020). Cancer risks and management of BRCA1/2 carriers without cancer. UpToDate. Retrieved December 14, 2020, from https://www.uptodate.com/contents/cancer-risks-and-management-of-brca1-2-carriers-without-cancer
Peshkin, B.N., & Isaacs, C. (2020). Genetic testing and management of individuals at risk of hereditary breast and ovarian cancer syndromes. UpToDate. Retrieved December 14, 2020, from https://www.uptodate.com/contents/genetic-testing-and-management-of-individuals-at-risk-of-hereditary-breast-and-ovarian-cancer-syndromes
Viera, A.J. (2020). Overview of preventative care in adults. UpToDate. Retrieved December 14, 2020, from https://www.uptodate.com/contents/overview-of-preventive-care-in-adults
Sharma, P., & Chen, W.Y. (2020). Selective estrogen receptor modulators and aromatase inhibitors for breast cancer prevention. UpToDate. Retrieved December 15, 2020, from https://www.uptodate.com/contents/selective-estrogen-receptor-modulators-and-aromatase-inhibitors-for-breast-cancer-prevention
Kosir, M.A. (2020). Breast cancer. MSD Manual Professional Version. https://www.msdmanuals.com/professional/gynecology-and-obstetrics/breast-disorders/breast-cancer
Newton, E.V., & Grethlein, S.J. (2020). Breast cancer screening. Medscape. https://emedicine.medscape.com/article/1945498-overview
U.S. Preventive Services Task Force. (2016). Screening for breast cancer: U.S. Preventive Services Task Force recommendation statement. Annals of Internal Medicine. 2016(164), 279–96.
U.S. Preventive Services Task Force. (2019). Risk assessment, genetic counseling, and genetic testing for BRCA-related cancer. JAMA. 322(7), 652–65.
American Society of Breast Surgeons. (2019). Position Statement on Screening Mammography. https://www.breastsurgeons.org/docs/statements/Position-Statement-on-Screening-Mammography.pdf
Ibrahim, M., Yadav, S., Ogunleye, F., & Zakalik, D. (2018). Male BRCA mutation carriers: Clinical characteristics and cancer spectrum. BMC Cancer, 18. https://doi.org/10.1186/s12885-018-4098-y
Isaacs, C., & Peshkin, B.N. (2020). UpToDate. Retrieved January 13, 2021, from https://www.uptodate.com/contents/cancer-risks-and-management-of-brca1-2-carriers-without-cancer
Katzen, J., & Dodelzon, K. (2018). A review of computer aided detection in mammography. Clinical Imaging, 52, 305–309. https://doi.org/10.1016/j.clinimag.2018.08.014