Nonproliferative Epithelial Breast Lesions
Definition
Nonproliferative breast lesions are conditions generally not associated with an increased risk of breast cancer.
Simple breast cyst
Round or oval fluid-filled masses from the terminal duct lobular unit
Epidemiology:

Prevalence: estimated to be 50%–90%
Up to ⅓ of women aged 30–50 have breast cysts

Clinical presentation:

Felt as a palpable mass
Pain noted with acute enlargement of cyst

Diagnosis:

Ultrasonography (US):

Differentiates masses (solid, fluid-filled, or with mixed elements)
Simple cyst: well-circumscribed, anechoic, with no solid components

Mammogram: oval or round shape with circumscribed margins

Management:

No further intervention most of the time
Fine needle aspiration

For signs of infection or inflammation
Pain from increased size
Mild hyperplasia of the usual type
Pathology:

Cells look very close to normal.
An increase in the number of epithelial cells within a duct
Cell depth is more than 2 but not more than 4 cells.

Clinical presentation: found on biopsy or surgical excision
Management: no treatment needed
Papillary apocrine change
Pathology:

Proliferation of ductal epithelial cells with apocrine features
May be simple, complex, or highly complex lesions

Clinical presentation: found on histological examination (biopsy or surgical excision)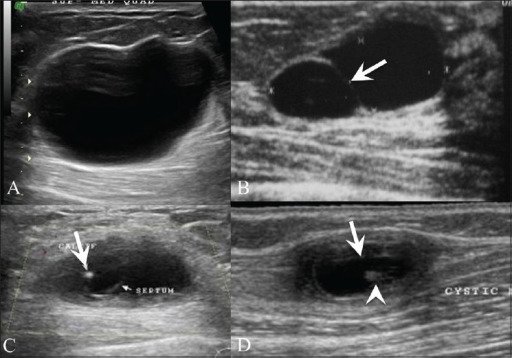 Proliferative Epithelial Lesions without Atypia
Definition
In proliferative breast lesions without atypia, the development of breast cancer is 1.5–2 times the risk of the general population.
Intraductal papilloma
Benign mass with a papillary configuration of breast stroma and epithelium within a breast duct
Epidemiology:

Peak incidence: 30–50 years of age
< 10% of benign breast lesions
High-risk precursor lesion with the following predisposing factors:

Contraceptive use
Hormone replacement therapy
Family history of breast cancer

Clinical presentation: depends on the size and location

Central type:

Frequently a solitary mass, close to or behind the nipple within principal lactiferous ducts
Usually large enough to be palpated
Unilateral serous or bloody nipple discharge: a common presentation
Mostly benign

Peripheral type: (10% of cases)

Often appears as multiple papillomas and affects younger premenopausal women
Found on the outer areas of the breast (growth in terminal ducts)
Usually non-palpable and less likely to have discharge
Appears as mammographic calcifications
Increased risk for breast cancer

Diagnosis:

Mammography:

Can be occult
When seen, oval/round mass; margins can be ill-defined
May have calcifications

Core needle biopsy (CNB) (guided by ductogram or US):

Preferred over fine needle biopsy (risk of inadequate tissue sample)
Shows papillary cells with a central branching fibrovascular core

Management:

Surgical excision/lumpectomy with complete removal: due to risk of atypical ductal hyperplasia or ductal carcinoma in situ (DCIS)
Annual breast exam and mammogram
Simple fibroadenoma
A benign solid breast mass composed of fibrous and glandular tissue
Epidemiology:

Most common benign tumor of the breast
Peak incidence: 15–35 years of age
For majority, no potential for cancer
Risk factors of subsequent cancer:

Proliferative histology
Complex mass
Family history of breast cancer

Clinical presentation:

Small, well-defined, spherical, mobile mass
Rubbery or firm consistency, non-tender
Size: usually ≤ 3 cm in diameter, solitary
Location: often in the upper outer quadrant
Mass size and tenderness influenced by estrogen levels:

Increased size: pregnancy, lactation, pre-menstruation, and oral contraceptives
Regresses after menopause

Diagnosis:

US: well-defined solid mass, regular boundaries, and a weak echo signal
Mammogram:

Well-circumscribed oval mass, may have lobulations
Popcorn-like calcifications in involuting fibroadenomas

Biopsy:

Indications:

> 5 cm or increasing size
Irregular borders
Considerable pain

Cytology: uniformly distributed epithelial cells (honeycomb or antler-like pattern)
Microscopy: stroma and epithelial cells either in pericanalicular or intracanalicular pattern

MRI: may have dark internal septations

T1: iso- or hypointense to normal parenchyma
T2: varies with amount of myxoid or fibrous elements

Management:

Fibroadenoma with benign features: observation, breast exam, and annual mammogram
Cryoablation: an option for small but symptomatic fibroadenomas

CNB done first to confirm diagnosis
Criteria:

For fibroadenomas < 4 cm in size, < 3 in number
No bleeding tendency and no local skin infection

Surgical excision for:

Adolescent-onset fibroadenoma persisting through adulthood (risk of breast cancer increases)
Increase in size or with atypical features or symptoms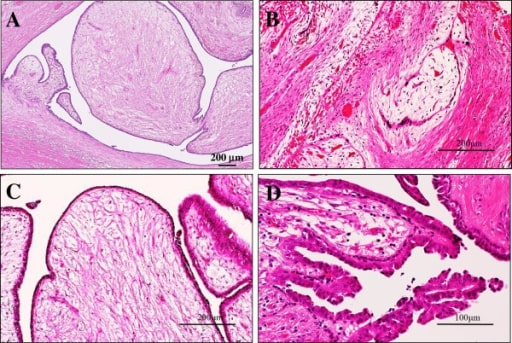 Radial scars
Complex sclerosing lesions
Clinical presentation:

Incidental finding in a biopsy done for other reason
If large, seen in mammogram as an architectural distortion

Pathology: fibroelastic core with radiating ducts and lobules
Management: surgical excision as lesions may be premalignant (up to 17% have malignancy)
Sclerosing adenosis
Enlarged and distorted lobules (milk-producing sacs) with stromal fibrosis and interspersed glandular cells
Clinical presentation: felt as a palpable mass
Diagnosis:

Mammogram: calcifications, well-circumscribed to spiculated mass
CNB

Management:

Small risk of subsequent malignancy
Observation with annual breast exam and mammogram
Usual ductal hyperplasia
Pathology: increased cells in ductal space or lobule (without atypia)
Clinical presentation: seen incidentally on biopsy or as calcifications on mammogram
Management:

Small risk of subsequent malignancy
Observation with annual breast exam and mammogram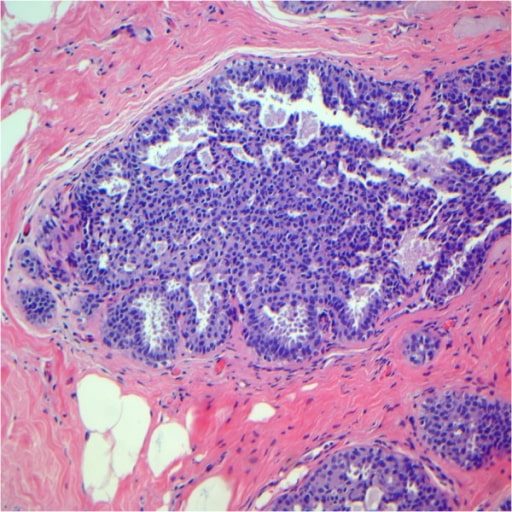 Benign Epithelial Breast Lesions with Atypical Hyperplasia
Atypical ductal hyperplasia (ADH)
Found in 5%–20% of breast biopsies
Moderate increase in breast cancer risk
Clinical presentation: too small for palpation, discovered incidentally on biopsy (for mammographic findings such as calcifications)
Diagnosis:

CNB
Pathology: proliferation of monomorphic epithelial cells in the breast duct
Shares features of low-grade DCIS without meeting full criteria

Management:

Surgical excision: standard of care (ADH is premalignant)
Breast exam every 6–12 months and annual mammogram
Avoid hormone replacement therapy, oral contraceptives
Lifestyle and dietary changes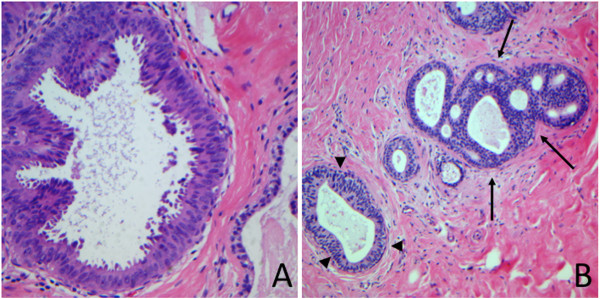 Atypical lobular hyperplasia (ALH)
Increased risk of developing breast cancer in either ipsilateral or contralateral breast
Clinical presentation: discovered incidentally on biopsy (for mammographic findings such as calcifications)
Diagnosis:

Pathology: Within the acini of terminal duct lobular unit, there is over-proliferation of dyshesive epithelial cells.
Shares features of lobular carcinoma in situ or invasive lobular carcinoma without meeting full criteria

Management:

Surgical excision is generally appropriate but not routine.
Excision for high-risk patients (family/personal history of breast cancer, BRCA1 or BRCA2 mutation)
In carefully selected lower-risk patients:

Estrogen receptor modulators
Increased mammogram and follow-up frequency

Risk-reduction measures:

No hormone replacement therapy, oral contraceptives
Lifestyle and dietary changes
Flat Epithelial Atypia
A distinct lesion from ADH and ALH
Flat growth pattern (does not meet architectural criteria of ADH)
High-risk or atypical breast lesion but risk remains undefined
Clinical presentation: discovered on biopsies done for mammographic calcifications
Diagnosis: pathology characterized by columnar changes with atypia
Management:

Surgical consultation with risk assessment
Observation is an option along with frequent exam and mammogram.
Breast Abscess
Epidemiology: usually associated with mastitis

Known risk factors (in lactating women):

Age > 30 years
Primiparous
Late delivery
Smoking

Known risk factors (in non-lactating women):

African American
Obesity
Diabetes
Smoking

Clinical presentation:

Unilateral and fluctuant mass
Painful, erythematous, and edematous breast
Possible purulent discharge from the nipple
Fever

Diagnosis:

Clinical: history and findings of a fluctuant, tender, palpable mass
Nipple discharge: Culture may help guide choice of antibiotic.
Ultrasound: ill-defined hypoechoic collection with internal septations
Needle aspiration reveals purulent contents.

Management:

Incision and drainage especially:

If with skin ischemia or pressure necrosis
If needle aspiration and/or antibiotics fail

Needle aspiration:

Can be an initial treatment if overlying skin is not ischemic or abscess(es) < 3 cm
Repeated every 2–3 days until there is no collection

Antibiotics that target most common causative agent, Staphylococcus aureus: cephalexin, dicloxacillin, or amoxicillin-clavulanate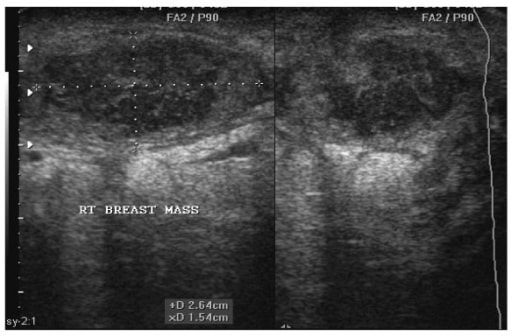 Miscellaneous Breast Lesions
Diabetic mastopathy
Lymphocytic mastopathy or lymphocytic mastitis
May be due to secondary autoimmune reaction from effects of hyperglycemia on connective tissue
Seen in up to 13% of patients with diabetes mellitus type 1
Clinical presentation: painless mass, seen in long-standing diabetes mellitus type 1
Diagnosis:

Mammogram: solid mass with asymmetric density
Ultrasound: irregular hypoechoic mass
CNB

Management:

Excision not needed as there is no increased risk for breast cancer
Known to recur after surgical removal
Annual mammogram
Sarcoidosis
Seen in patients with systemic sarcoidosis but mammary involvement can be the sole manifestation
Clinical presentation: firm breast masses
Diagnosis:

Mammogram: irregular, ill-defined masses
CNB: noncaseating granulomas

Management:

Glucocorticoids
Surgical excision an option
Galactocele
A retention cyst within the mammary gland containing milk
An obstruction of a lactiferous duct → accumulation of epithelial cells and milk → distention of the duct → cyst formation
Epidemiology: most common benign breast condition in lactating women
Clinical presentation:

Palpable, firm mass in the subareolar region
Presents with no fever or pain (pain suggests secondary bacterial infection)
Unilateral

Diagnosis:

Mainly clinical
Fine needle aspiration reveals milky contents
Mammogram:

Complex cystic masses
With fat/fluid levels (from the layering of portions of retained milk)

Ultrasound:

Depends on the fat and water cystic content
Typically, a homogeneous hypoechoic lesion with acoustic attenuation, well-defined margins, and thin walls

Management:

Most cases resolve spontaneously.
Increased breastfeeding, warm compresses, and massage
Repeated needle aspiration or surgical excision: for symptomatic cysts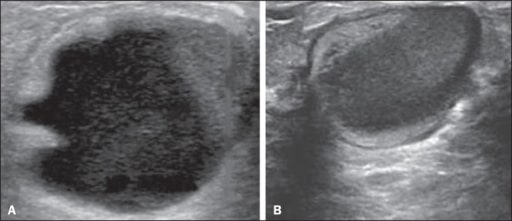 Phyllodes tumor
Cystosarcoma phyllodes
Fibroepithelial tumor similar to fibroadenomas, characterized by rapid growth
Epidemiology:

Most common in women between 40 and 50 years of age
Account for < 1% of all breast neoplasms
Although usually benign, some may become malignant (25% of cases)

Clinical presentation:

Painless, multinodular, firm, rapidly growing mass
Usually 4–7 cm in diameter
About 20% nonpalpable, identified on mammography

Diagnosis:

Mammography: lobulated mass, resembles fibroadenoma
Ultrasonography: well-defined, hypoechoic mass (like fibroadenomas, without microcalcifications)
MRI: well-circumscribed with irregular walls, high signal intensity on T1, and low signal intensity on T2
CNB:

Papillary projection (phyllodes/"leaf-like") of proliferating epithelium-lined stroma
Varying degrees of atypia and hyperplasia (depends on benign or malignant nature)

Management:

Surgical resection with wide margins (due to high recurrence rate)
Breast exam and mammogram every 6 months for 2 years, then annually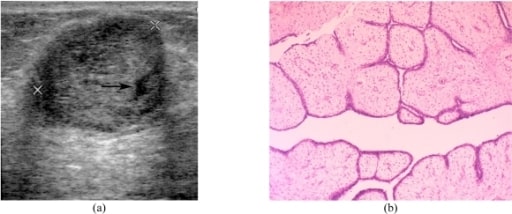 Giant juvenile fibroadenoma
Approximately 0.5%–2% of all fibroadenomas
Usually occurs in African American adolescents
Clinical presentation:

Rapid increase in size; unilateral tumors > 5 cm in diameter
May cause skin ulceration and venous engorgement

Management: surgical excision (as they are not easily distinguished from phyllodes tumors on examination or imaging studies)
Complex fibroadenoma
Fibroadenoma containing pathologic features:

Sclerosing adenosis
Duct epithelial hyperplasia
Cysts > 3 mm
Apocrine metaplasia

Slight increase in cancer risk
Clinical presentation: presents as a palpable lump or mass on breast imaging
Diagnosis: biopsy distinguishes it from simple fibroadenoma
Management: observation, risk assessment with annual exam and mammogram
Differential Diagnosis
Fibrocystic changes of the breast: refers to the changes that happen to breast tissue as a woman ages. The normal histologic appearance of predominant ducts, lobules, intralobular stroma, and interlobular stroma is replaced by fibrous tissue and cystic formation.
Fat necrosis of the breast: usually due to breast injury. As the damaged breast tissue is repaired, it is replaced by scar tissue. Some fat cells may have a different response, however, and form what are known as oily cysts (seen in mammogram and ultrasound).
Gynecomastia: unilateral or bilateral breast enlargement in males due to increased glandular proliferation. A very common and mostly physiologic condition that is seen in neonates, pubertal boys, and elderly patients. Some cases are pathologic and are secondary to drugs, hyperthyroidism, neoplasms, and chronic liver and kidney disease.
Mastitis: inflammation of the mammary gland tissue, which can be lactational or non-lactational. Mastitis is most common in women in the childbearing years.