Classification and Mechanism of Action
Classification
Neuromuscular blockers can be classified based on their mechanism of action.
Depolarizing neuromuscular junction (NMJ) blockers: succinylcholine
Nondepolarizing NMJ blockers:

Atracurium
Cisatracurium
Mivacurium
Pancuronium
Rocuronium
Tubocurarine
Vecuronium
Mechanism of action
Normal physiology:
Nicotinic cholinergic receptors (nAChRs) are ionotropic (ligand-gated receptors that are ion channels).

Evoke fast excitatory postsynaptic potential (EPSP)
Target for skeletal muscle relaxants

N1 nAChR location: NMJ (end plate) on skeletal muscles innervated by the somatic nervous system

Nervous system

The nervous system is a small and complex system that consists of an intricate network of neural cells (or neurons) and even more glial cells (for support and insulation). It is divided according to its anatomical components as well as its functional characteristics. The brain and spinal cord are referred to as the central nervous system, and the branches of nerves from these structures are referred to as the peripheral nervous system.

General Structure of the Nervous System (SNS)
Activation of nAChRs by acetylcholine (ACh):

Ion channel opens → net Na+ influx → fast EPSP
Depolarization at postsynaptic membrane → action potential in muscle fiber → muscle contracts
Depolarizing neuromuscular blockers:
Noncompetitively bind to the N1 nAChR and keep the ion channel open → Na+ influx → transient muscle contractions, followed by persistent depolarization of the end plate

Phase I blockade
Associated with skeletal muscle fasciculations

End plate eventually repolarizes, but N1 nAChR is desensitized → nondepolarizing blockade

Phase II blockade
Associated with flaccid paralysis

Succinylcholine is degraded by plasma pseudocholinesterase.
Cholinesterase inhibitors do not reverse effects → may prolong depolarization due to plasma pseudocholinesterase inhibition
Nondepolarizing neuromuscular blockers:
Competitively block ACh from binding to the N1 nAChR and keep the ion channel closed → prevents muscle contraction
Effects reversed by cholinesterase inhibitors (e.g., physostigmine, neostigmine)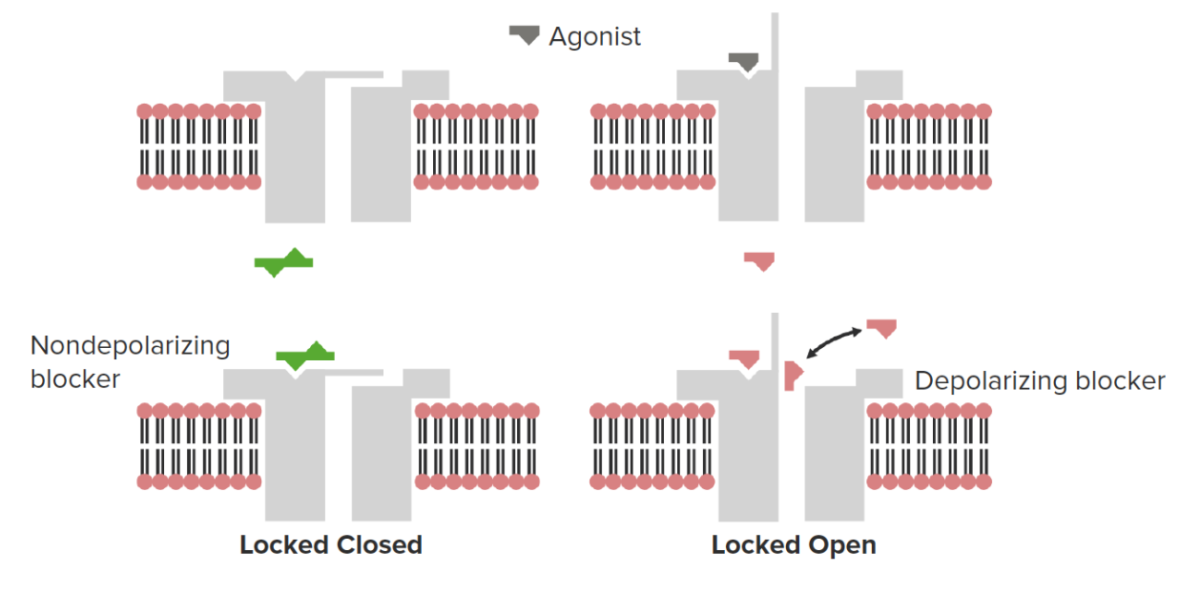 Pharmacokinetics
Table: Pharmacokinetics of neuromuscular blocking agents
Medication
Onset of action (min)
Duration of action (min)
Metabolism
Excretion
Succinylcholine
< 1
4–6
Plasma pseudocholinesterase
Urine
Atracurium
2–3
20–35

Ester hydrolysis
Hofmann elimination*

Urine (minimal)
Cisatracurium
2–3
20–35
Hofmann elimination*
Urine and bile
Pancuronium
2–3
60–100

Hepatic
Active metabolite

Urine and bile
Rocuronium
1–2
30

Hepatic (minimal)
Less active metabolite

Bile and urine
Vecuronium
3–5
45–65

Hepatic
Active metabolite

Bile and urine
*Hofmann elimination: the spontaneous degradation of a compound at physiologic body temperature and pH, allowing the compound to bypass renal and hepatic clearance
Indications
Induction of neuromuscular blockade for:

Facilitation endotracheal intubation
Mechanical ventilation:

Severe ventilator dyssynchrony despite sedation
Prevents spontaneous respiratory effort, which could have the potential for lung injury in certain circumstances

Adjunct to general anesthesia

Anesthesia

Anesthesiology is the field of medicine that focuses on interventions that bring a state of anesthesia upon an individual. General anesthesia is characterized by a reversible loss of consciousness along with analgesia, amnesia, and muscle relaxation.

Anesthesiology: History and Basic Concepts during surgery

Note: Neuromuscular blockers do not have a sedative effect, so they should be given in conjunction with adequate sedation.
Adverse Effects and Contraindications
Table: Adverse effects, precautions, contraindications, and drug interactions associated with neuromuscular blocking agents
Medication
Adverse effects
Precautions
Contraindications
Drug interactions
Succinylcholine

Respiratory arrest
Bradycardia
Hypotension
Hyperkalemia
Anaphylaxis
Malignant hyperthermia

Malignant hyperthermia

An important complication of anesthesia is malignant hyperthermia, an autosomal dominant disorder of the regulation of calcium transport in the skeletal muscles resulting in a hypermetabolic crisis. Malignant hyperthermia is marked by high fever, muscle rigidity, rhabdomyolysis, and respiratory and metabolic acidosis.

Malignant Hyperthermia
Fasciculations
Postop myalgia
↑ IOP
Tachyphylaxis

Atypical plasma cholinesterase gene → altered metabolism

During recovery following (risk of ↑ K+):

Major burns

Burns

A burn is a type of injury to the skin and deeper tissues caused by exposure to heat, electricity, chemicals, friction, or radiation. Burns are classified according to their depth as superficial (1st-degree), partial-thickness (2nd-degree), full-thickness (3rd-degree), and 4th-degree burns.

Burns
Extensive trauma
Denervation of skeletal muscle or UMN injury

History of malignant hyperthermia
Skeletal muscle myopathy
Hypersensitivity

↑ NMB activity:

Aminoglycosides

Aminoglycosides

Aminoglycosides are a class of antibiotics including gentamicin, tobramycin, amikacin, neomycin, plazomicin, and streptomycin. The class binds the 30S ribosomal subunit to inhibit bacterial protein synthesis. Unlike other medications with a similar mechanism of action, aminoglycosides are bactericidal.

Aminoglycosides
Tetracyclines

Tetracyclines

Tetracyclines are a class of broad-spectrum antibiotics indicated for a wide variety of bacterial infections. These medications bind the 30S ribosomal subunit to inhibit protein synthesis of bacteria. Tetracyclines cover gram-positive and gram-negative organisms, as well as atypical bacteria such as chlamydia, mycoplasma, spirochetes, and even protozoa.

Tetracyclines
Clindamycin
Amphotericin B
Vancomycin
Inhaled anesthetics

Inhaled anesthetics

Inhaled anesthetics are chemical compounds that can induce and maintain general anesthesia when delivered by inhalation. Inhaled anesthetics can be divided into 2 groups: volatile anesthetics and gases. Volatile anesthetics include halothane, isoflurane, desflurane, and sevoflurane.

Inhaled Anesthetics
CCBs
Beta-blockers
Procainamide
Loop diuretics

Loop diuretics

Loop diuretics are a group of diuretic medications primarily used to treat fluid overload in edematous conditions such as heart failure and cirrhosis. Loop diuretics also treat hypertension, but not as a 1st-line agent.

Loop Diuretics
Steroids
Cyclophosphamide
Cyclosporine
Dantrolene
Mg

↓ NMB activity:

Carbamazepine
Phenytoin
Ranitidine
Theophylline

Atracurium

Bradycardia
Hypotension
Respiratory arrest
Histamine release
Anaphylaxis

Resistance in burn or immobilized patients
Hypersensitivity
Cisatracurium

Bradycardia
Respiratory arrest
Residual paralysis
Anaphylaxis

Pancuronium

Hypertension or hypotension

Hypotension

Hypotension is defined as low blood pressure, specifically < 90/60 mm Hg, and is most commonly a physiologic response. Hypotension may be mild, serious, or life threatening, depending on the cause.

Hypotension
Tachycardia
Respiratory arrest
Histamine release
Anaphylaxis

Renal and hepatic impairment → reduced clearance
Rocuronium

Tachycardia
Hypertension or hypotension

Hypotension

Hypotension is defined as low blood pressure, specifically < 90/60 mm Hg, and is most commonly a physiologic response. Hypotension may be mild, serious, or life threatening, depending on the cause.

Hypotension
Respiratory arrest
↑ Vascular resistance
Anaphylaxis
Prolonged paralysis

Renal and hepatic impairment
Valvular disease or PH

Vecuronium

Respiratory arrest
Anaphylaxis
Prolonged paralysis

Renal and hepatic impairment
IOP: intraocular pressure
NMB: neuromuscular blocking
PH: pulmonary hypertension

Pulmonary Hypertension

Pulmonary hypertension (PH) or pulmonary arterial hypertension (PAH) is characterized by elevated pulmonary arterial pressure, which can lead to chronic progressive right heart failure. Pulmonary hypertension is grouped into 5 categories based on etiology, which include primary PAH, and PH due to cardiac disease, lung or hypoxic disease, chronic thromboembolic disease, and multifactorial or unclear etiologies.

Pulmonary Hypertension
Postop: postoperative
UMN: upper motor neuron
CCB: calcium channel blocker