Overview
Cardiac action potential
The trajectory followed by the action potential depends on the membrane potential of cardiac cells, which varies between different parts of the heart.
Phase 4: resting potential
Phase 0: rapid depolarization phase that occurs because of the influx of Na ions through voltage-dependent Na channels
Phases 1‒3:

Represent repolarization
Prominent efflux of K
In Phase 2, the efflux of K is balanced by the transient influx of calcium → causes the action potential to plateau
Vaughan–Williams classification
The most commonly used classification for antiarrhythmic drugs
5 classes based on the general effects of drugs (mechanisms of action):

Class 1: Na channel blockers (divided into 3 subgroups):

1A: prolong the action potential
1B: shorten the action potential
1C: minimal effect on action potential duration

Class 2: beta-blockers
Class 3: K channel blockers
Class 4: calcium channel blockers
Class 5: drugs that cannot be categorized into the above groups
Mechanism of action of Na channel blockers
Class 1 antiarrhythmics bind to and block the fast Na channels in non-nodal tissue (e.g., myocytes of the atria and ventricles, His-Purkinje system):
The slope of phase 0 depends on:

Activation of fast Na channels
Rapid entry of Na ions into the cell

Blocking these channels:

↓ Slope of phase 0 → ↓ in the amplitude of action potential
↓ Velocity of action potential transmission within the heart (↓ conduction velocity; negative dromotropy)

Important mechanism for suppressing tachycardias caused by abnormal conduction (e.g., reentry mechanisms)
Reentry mechanisms can be interrupted by ↓ abnormal conduction

Note: Na channel blockers generally have no direct effect on nodal tissue, at least through the blockade of fast Na channels.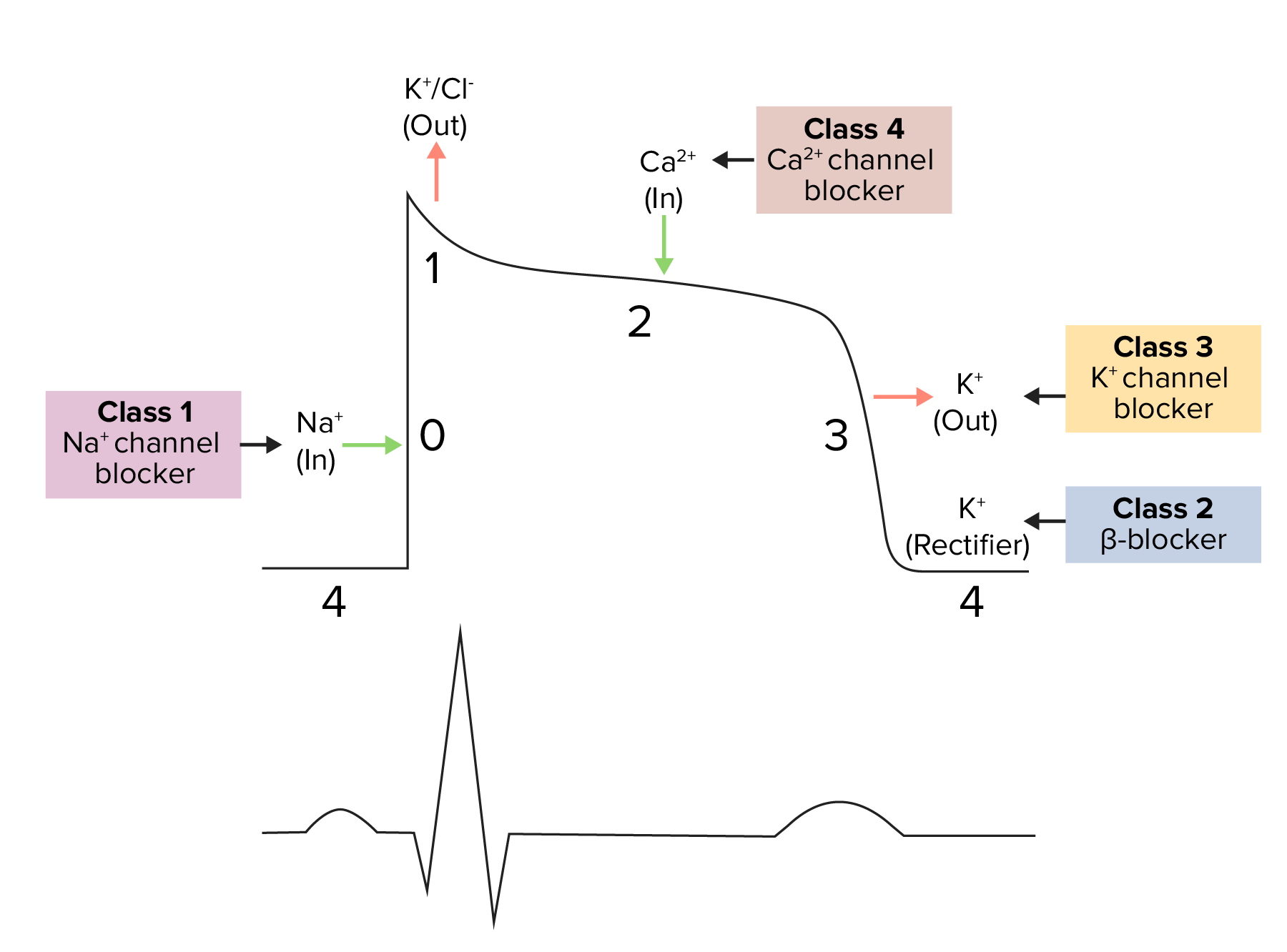 Differences among the class 1 subgroups
Each subgroup varies in the extent of Na channel blockade.
In addition to affecting phase 0 of the action potential, Na channel blockers may also alter:

Action potential duration
Effective refractory period (ERP): the period of time when a new action potential cannot be initiated

The table below summarizes a few of the distinguishing differences in physiologic effects between class 1 subgroups.
Electrophysiologic effects of class 1 antiarrhythmic drugs
Table: Electrophysiologic effects of the class 1 antiarrhythmic drugs
Class 1 subgroup
Strength of Na channel blockade
Effect on action potential duration
Effect on ERP
Effect seen on ECG
1A
Intermediate
↑
↑

QT prolongation
QRS widening

1B
Weak
↓
↓

QT shortening
↑ PR duration

1C
Strong
Minimal to none
Minimal to none*

No QT change
QRS widening
*Exception: ↑ ERP in the atrioventricular node
ERP: effective refractory period
Mnemonic
To recall all class I antiarrhythmic medications, think of ordering a burger at a restaurant: "Double Quarter Pounder with Lettuce, Mayo, Pickles, and Fries, Please!"
Disopyramide
Quinidine
Procainamide
Lidocaine
Mexiletine
Phenytoin
Flecainide
Propafenone
Class 1A
Overview
Medications:

Disopyramide
Quinidine
Procainamide

Mnemonic for class 1A agents: "Double Quarter Pounder"
Mechanism of action
Na channel effects:

Intermediate speed of binding and dissociation from voltage-gated Na channels
Slows the upstroke of action potential and conduction

K channel effects:

Blocks K channels → ↓ K efflux → slows repolarization
Leads to ↑ ERP and action potential duration → QT prolongation

Other effects:

Anticholinergic activity → can ↑ sinoatrial rate and atrioventricular conduction
↓ Myocardial contractility

Affects the following myocardial tissues: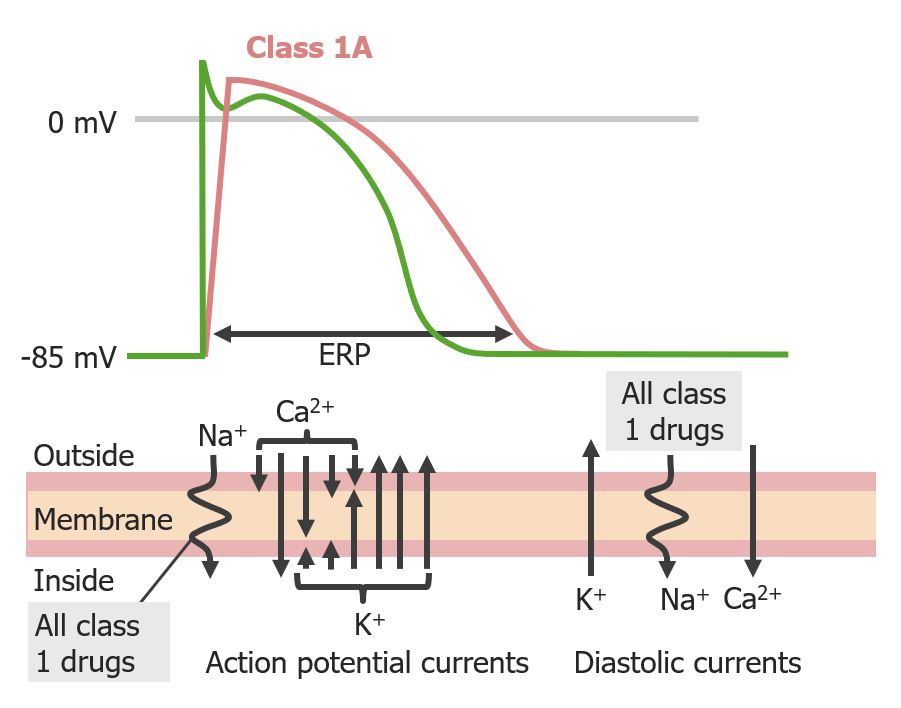 Pharmacokinetics
Absorption:

Oral, IV, and IM routes
Rapid and significant absorption

Distribution:

Protein binding:

↑ For quinidine
↓ For procainamide

Widely distributed

Metabolism:

Disopyramide and quinidine: hepatic metabolism by cytochrome P450
Procainamide: hepatic metabolism to an active metabolite (N-acetylprocainamide, implicated in torsades de pointes)

Excretion: predominantly renal
Indications
Due to severe side effects, such as their proarrhythmic effect, class 1A medications are usually reserved for life-threatening arrhythmias such as:
Ventricular arrhythmias
Atrial arrhythmias
Specific indications:

Wolff-Parkinson-White syndrome (procainamide)
Brugada syndrome (quinidine)
Adverse effects
General:
Proarrhythmic
QT prolongation → torsades de pointes
Widening of the QRS complex
Hyperkalemia exacerbates cardiac toxicity.
↑ Atrioventricular node conduction:

↑ Ventricular rate in individuals with uncontrolled atrial fibrillation
Treatment with beta-blockers, digoxin, or calcium channel blockers is required.

Hypotension
Negative inotropes → may exacerbate heart failure
↓ Presynaptic acetylcholine release at the neuromuscular junction → prolonged activity of neuromuscular blocking agents
Use has been associated with ↑ mortality
Disopyramide:
Anticholinergic side effects:

Xerostomia
Urinary retention
Blurred vision
Avoid in acute angle-closure glaucoma.

Numerous drug interactions
Quinidine:
Drug with the highest proarrhythmic effect in its class
GI upset
Cinchonism: tinnitus, hearing loss, headache, and delirium
Avoid in glucose-6-phosphate-dehydrogenase (G6PD) deficiency.
Avoid with monoamine oxidase inhibitors (MAOIs).
Procainamide:
Agranulocytosis and pancytopenia due to bone marrow suppression
Reversible drug-induced lupus
Vasculitis
Contraindications
2nd- and 3rd-degree heart block
Cardiogenic shock
Congenital long QT syndrome
Myasthenia gravis: exacerbation due to anticholinergic effects
Avoid with fluoroquinolone antibiotics because of the risk of QT prolongation.
Class 1B
Overview
Medications:

Lidocaine
Mexiletine
Phenytoin

Mnemonic used for class 1B agents: "Lettuce, Mayo, Pickles"
Mechanism of action
Rapid binding and dissociation from voltage-gated Na channels → weakest effect on phase 0
↓ ADP
Normal or ↓ ERP
Affects the following myocardial tissues:

Ventricular
Purkinje
Less effect on atrial tissue
Strongest binding in ischemic and depolarized tissues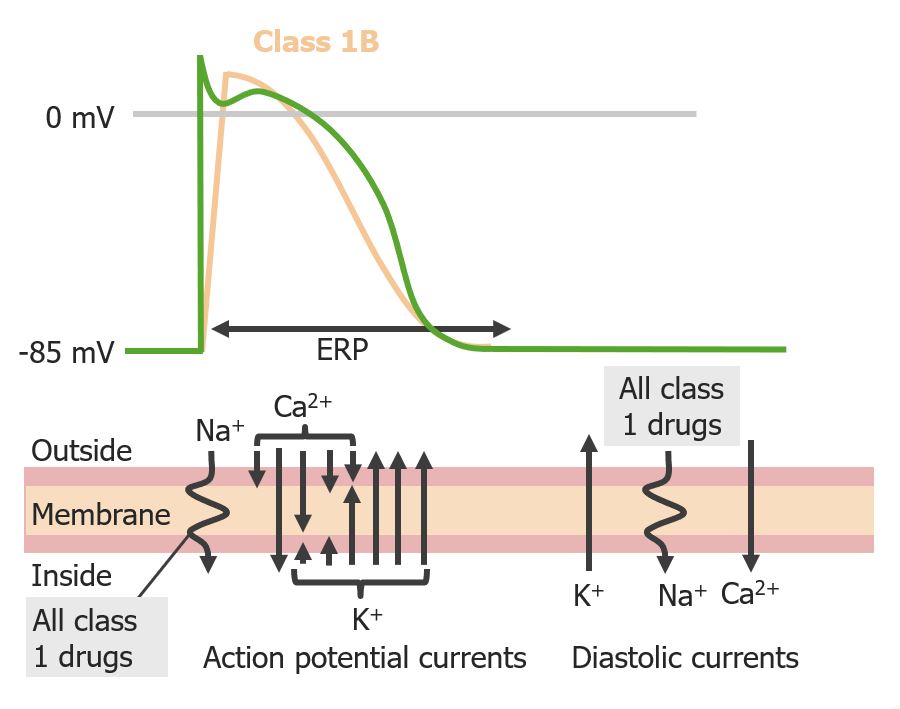 Pharmacokinetics
Absorption:

Lidocaine:

IV only
Immediate and complete absorption

Mexiletine:
Phenytoin:

Oral, IM, and IV administration
Poor water solubility

Distribution:

Lidocaine:

Plasma protein binding is dependent on drug concentration.
Crosses the blood-brain and placental barriers by passive diffusion

Mexiletine: plasma protein binding: 50%‒60%
Phenytoin:

Extensively bound to plasma proteins
Prone to competitive displacement

Metabolism:

Metabolized by the cytochrome P450 system
Lidocaine: high 1st-pass metabolism
Mexiletine: low 1st-pass metabolism

Excretion: Metabolites and unchanged drugs are renally excreted.
Indications
Ventricular arrhythmias
Lidocaine and mexiletine are useful in treating hemodynamically stable ventricular tachycardia.
Phenytoin:

Useful for reversal of digitalis-induced arrhythmias
Rarely used as an antiarrhythmic
More commonly used as an anticonvulsant
Adverse effects
CNS effects:

Lidocaine:

Tremors
Dysarthria
Insomnia or drowsiness
Confusion
Seizures

Mexiletine:

Tremors
Dysphoria
Ataxia
Nystagmus

Cardiac effects:

Hypotension
Sinus slowing and bradycardia
Asystole
May precipitate arrhythmias
Hyperkalemia increases toxicity.

Phenytoin:

Gingival hyperplasia
Nystagmus
Ataxia
Nausea
Contraindications
2nd- and 3rd-degree heart block
Wolff-Parkinson-White syndrome
Severe hepatic dysfunction (leads to restricted metabolism → ↑ toxicity)
Class 1C
Overview
Medications:
Mnemonic used for class 1C agents: "Fries, Please!"
Mechanism of action
Na channel effects:

Slows the speed of binding and dissociation from voltage-gated Na channels → ↑ effect
Prolongs the upstroke of the action potential (has the greatest ↓ in the slope of phase 0)
No (or minimal) impact on action potential duration and ERP, no effect on QT interval (exception: ↑ ERP in atrioventricular node)

Other effects:

↓ Myocardial contractility
Propafenone is also used as a:

Beta-blocker
Calcium channel blocker

The following myocardial tissues are affected:

Atria
Ventricles
Purkinje fibres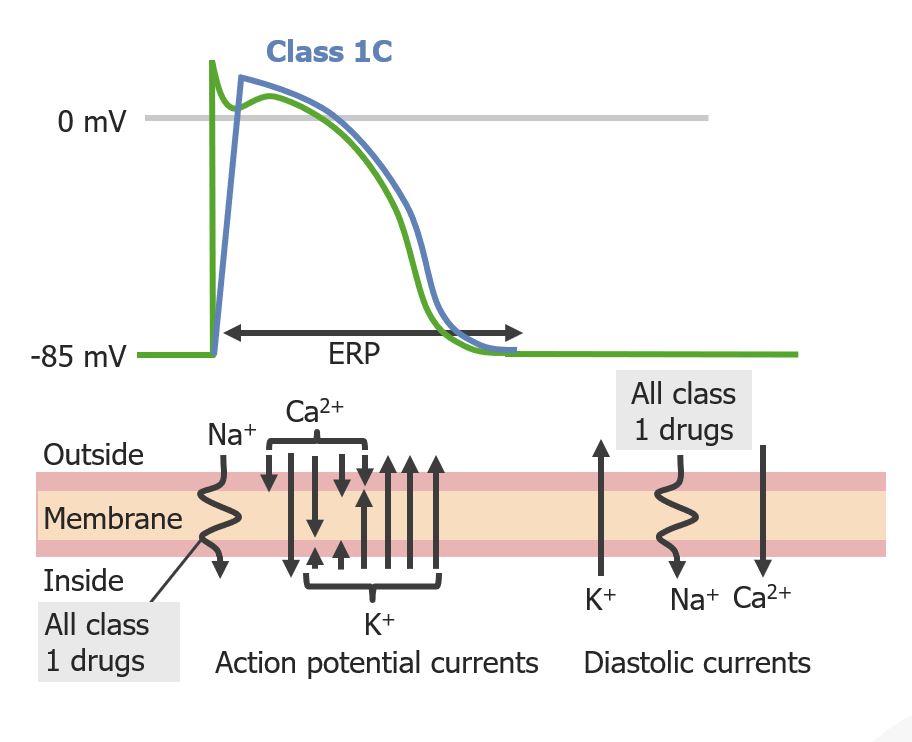 Pharmacokinetics
Absorption:

Administered orally
Well absorbed
Flecainide: ↓ absorption when taken with milk

Distribution:

Flecainide: 40% protein bound
Propafenone: 95% protein bound

Metabolism:

Hepatic: cytochrome P450 system
Propafenone:

2 active metabolites
2 genetically distinct metabolic groups of individuals: poor and extensive metabolizers

Excretion: urine and feces
Indications
Paroxysmal atrial fibrillation/flutter
Prevention of paroxysmal supraventricular tachycardia
Prevention of ventricular arrhythmias
Propafenone: treatment of life-threatening ventricular arrhythmias
Adverse effects
General:
Proarrhythmic effects:

Premature ventricular contractions
Ventricular tachycardia/fibrillation
Disturbances in K and magnesium levels can cause arrhythmias.

↑ Risk of death in individuals with MI
May aggravate or precipitate heart failure
Flecainide:
Headache
Dizziness
Dyspnea
Tremors
Propafenone:
Metallic taste
Dizziness
Bradycardia
Bronchospasm possible in individuals with asthma due to beta-blockade
Contraindications
2nd- and 3rd-degree heart block
Brugada syndrome
Structural heart disease: ↑ mortality in individuals with heart failure and MI
To be used with caution in individuals with hepatic and renal impairment → ↓ elimination
Comparison of Antiarrhythmic Drug Classes
Table: Comparison of antiarrhythmic drug classes 1‒4
Class
Mechanism of action
Effects
Arrhythmia indications
1
1A

Block fast Na channels
↓ Na entry into myocardial cells
Affect depolarization

↓ Phase 0 slope
↓ Conduction velocity in non-nodal tissues

Atrial and ventricular
WPW syndrome

1B
Ventricular
1C
Mostly atrial
2

Block beta receptors
↓ Ca influx into myocardial cells
Affect refractory period

↓ Phase 4 slope
↑ Phase 4 duration
↓ Conduction velocity in nodal and non-nodal tissues

Atrial and ventricular
3

Block K channels
↓ K efflux from myocardial cells
Affect repolarization

↑ Phase 3 duration
Most drugs ↓ impulse transmission in non-nodal tissues
Amiodarone and sotalol ↓ nodal conduction

Atrial and ventricular
4

Block Ca channels
↓ Ca influx into myocardial cells

Affect phase 2 in non-nodal tissues
↓ Phase 0 slope in nodal tissues
↓ Conduction velocity in nodal tissues

Atrial
Ca: calcium
WPW: Wolff-Parkinson-White