Chemistry and Pharmacodynamics
Chemical structure
Digoxin is the prototype drug of the cardiac glycoside class and the only drug in the class used for medicinal purposes.
Steroid nucleus with 4 fused rings
Lactone ring
Glycoside attachment composed of 3 sugars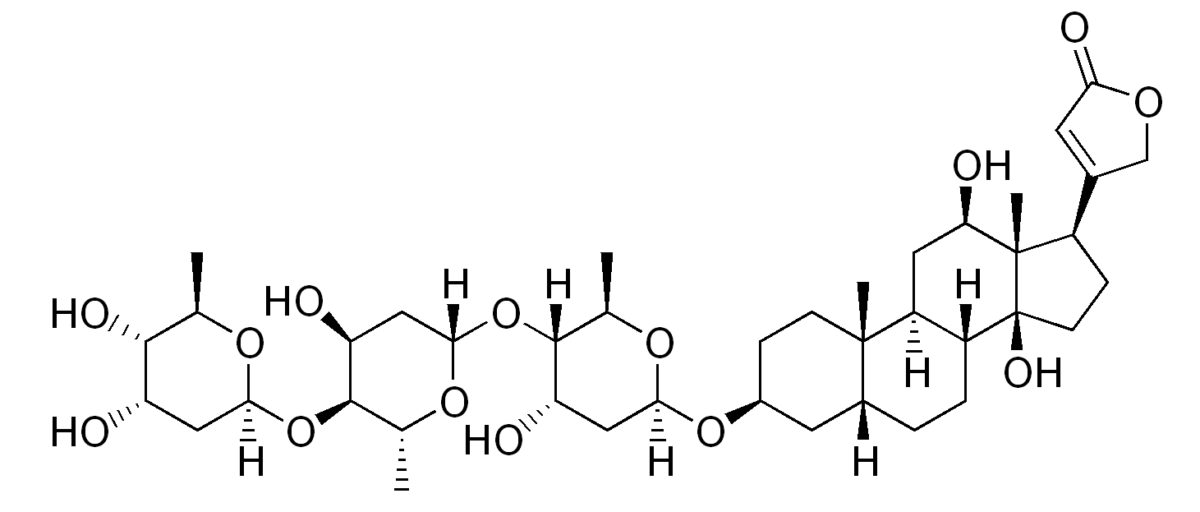 Mechanism of action
Digoxin reversibly inhibits the Na+-K+ ATPase of myocytes, resulting in:

↑ Intracellular Na+ → ↓ Na+-calcium (Ca2+) antiporter exchange → ↓ Ca2+ efflux
↑ Intracellular Ca2+ → ↑ Ca2+ binding to contractile proteins → ↑ cardiac contractility

↑ Vagal tone:

↑ Refractory period → ↓ conduction velocity in the atrioventricular (AV) node
↓ Sinoatrial (SA) node automaticity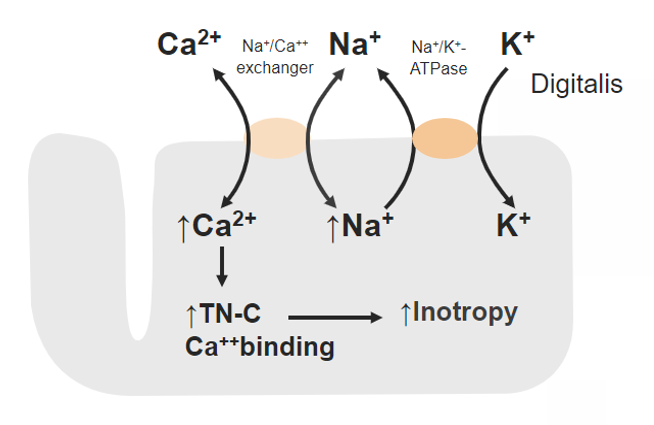 Physiologic effects
↑ Cardiac contractility (positive inotropy) → ↑ cardiac output
AV and SA node slowing → ↓ heart rate
Blood pressure is not significantly impacted.
May cause characteristic changes to a resting ECG ("digitalis effect"):

↑ PR interval (due to ↓ AV conduction)
↓ QT interval
Classic finding: "scooped" ST-segment depressions
Flattened or inverted T wave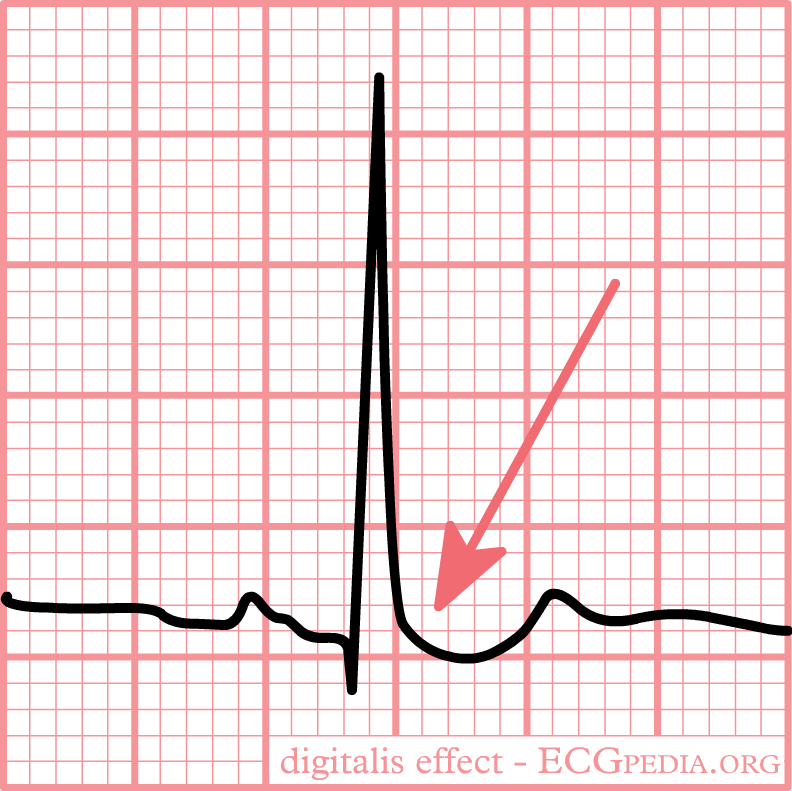 Pharmacokinetics
Absorption
Oral and IV forms are available.
Oral absorption:

Passive, nonsaturable diffusion in the proximal small intestine
Food may delay, but not impact, the extent of absorption.
Distribution
Extensive in peripheral tissues:

Distribution phase: 6–8 hours
Higher concentrations in heart, liver, kidney, and skeletal muscle

Protein binding:

Approximately 25% is protein bound.
Uremic patients: Digoxin is displaced from plasma protein binding sites.
Metabolism and excretion
Minimal hepatic metabolism:

Approximately 16% of an absorbed dose is metabolized to active metabolites.
Does not interact with the cytochrome P450 system

Predominantly excreted in the urine (50%–70% as an unchanged drug)
Indications
Congestive heart failure
2nd-line therapy for heart failure with reduced ejection fraction:

Provides a positive inotropic effect
↓ Symptoms of heart failure and the need for hospitalization
Not shown to improve mortality

1st-line choice in patients with heart failure with reduced ejection fraction complicated by atrial fibrillation.
Arrhythmia
Digoxin is indicated for rate control when other therapies are ineffective or contraindicated:
Atrial fibrillation
Atrial flutter
Supraventricular tachycardia
Adverse Effects
Adverse effects
Digoxin has a very narrow therapeutic window and several signs of toxicity:
Arrhythmias can occur through multiple mechanisms:

↑ Intracellular Ca2+ → delayed afterdepolarizations and ↑ automaticity
Slowed conduction

GI symptoms:

Nausea
Vomiting
Diarrhea
Anorexia

Neurologic symptoms:

Confusion
Weakness
Yellow vision (xanthopsia)
Warnings and precautions
As with all AV node-blocking agents, digoxin should not be used in supraventricular tachyarrhythmias caused by an accessory pathway (e.g., Wolff-Parkinson-White syndrome).
Avoid in sinus node disease and AV block
Acute coronary syndrome:

Use caution in patients with an acute MI.
May ↑ myocardial oxygen demand → ischemia

Hypertrophic cardiomyopathy with left ventricular outflow tract obstruction:

Outflow obstruction may worsen.
Due to digoxin's positive inotropic effects

Thyroid disease:

Use caution in patients with hypothyroidism or hyperthyroidism.
May cause significant changes in digoxin clearance
Drug interactions
Drug interactions may lead to:
↑ AV blocking/bradycardic effect:

Calcium channel blockers
Beta blockers
Dronedarone
Lacosamide

↑ Risk of toxicity due to:

↑ Digoxin concentration:

Amiodarone
Quinidine
Spironolactone

Hypokalemia and/or hypomagnesemia:

Loop diuretics
Thiazide diuretics
Overdose
Risk factors
Factors affecting digoxin levels:

Advanced age
Low lean body mass
Renal impairment
Certain medications

Potential triggers for toxicity:

Hypokalemia
Hypomagnesemia
Hypercalcemia
Clinical presentation
Arrhythmia:

The most serious manifestation of digoxin overdose
May be any type of arrhythmia (except rapidly-conducted atrial arrhythmias)
May be life-threatening

GI symptoms:

Anorexia
Nausea
Vomiting
Abdominal pain

Neurologic symptoms:

Confusion
Weakness
Vision changes
Laboratory evaluation
Serum digoxin concentration:

↑ Level is indicative of toxicity.
Draw 4–6 hours after the dose to avoid false elevation.
Level does not always correlate with toxicity.

↑ Serum K+ level:

Due to Na+-K+ ATPase inhibition
Degree of elevation correlates with mortality risk
Note: Hypokalemia is a potential trigger for digoxin toxicity.

BUN and creatinine → renal dysfunction may be a precipitating factor
ECG:

Evaluate for arrhythmia
Note: The "digitalis effect" does not correlate with toxicity.
Management
Antidote: digoxin-specific antibody (Fab) fragments
Supportive treatment:

Bradyarrhythmias: atropine or temporary pacemaker
Hypotension: bolus IV fluids
Correct electrolyte abnormalities.
Life-threatening arrhythmia treatment

Activated charcoal can be given for acute digoxin intoxication within 1–2 hours.