Progressive Supranuclear Palsy
Definition
Progressive supranuclear palsy (PSP; also known as a Parkinson-plus disorder) is a degenerative movement disorder that affects the brain stem, basal ganglia, diencephalon, and cortex, causing gaze dysfunction, extrapyramidal symptoms, and cognitive dysfunction.
Epidemiology and etiology
Prevalence: 7 per 100,000 in those > 55 years old
Affects 4%–6% of individuals with parkinsonism
Annual incidence: 0.3–0.4 per 100,000
Male predominance
6th to 7th decades of life
Unknown etiology
Incidence ↑ with age
Pathophysiology
Hyperphosphorylation of tau protein leads to ↓ affinity for microtubules.
Hyperphosphorylated tau protein is resistant to proteolysis and forms aggregates.
As a result, tau protein is accumulated and neurofibrillary tangles are formed.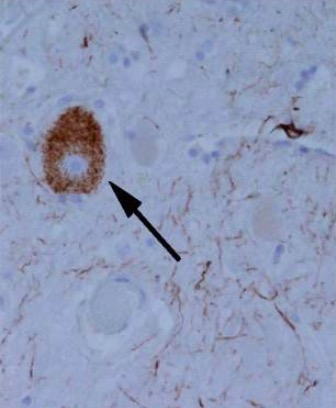 Clinical presentation
History:
Insidious onset
An akinetic-rigid form of parkinsonism

Falls and gait difficulty
Insomnia and difficulty maintaining sleep
Personality changes
Physical examination:
Parkinsonism

Pseudobulbar palsy: spastic dysarthria and dysphagia
Facial dystonia: expression of "perpetual surprise"
Bradykinesia
Micrographia

Eye movement abnormalities

Supranuclear ophthalmoplegia is the hallmark of PSP.
Blepharospasm and eyelid-opening apraxia
Eyes are immobile at the end of the disease.

"Drunken sailor" gait

Stiff and broad-based gait with extended knees and trunk
Turns by pivoting quickly on their toes, rather than turning "en bloc"

Pyramidal signs

Hyperreflexia
Babinski signs

Cognitive dysfunction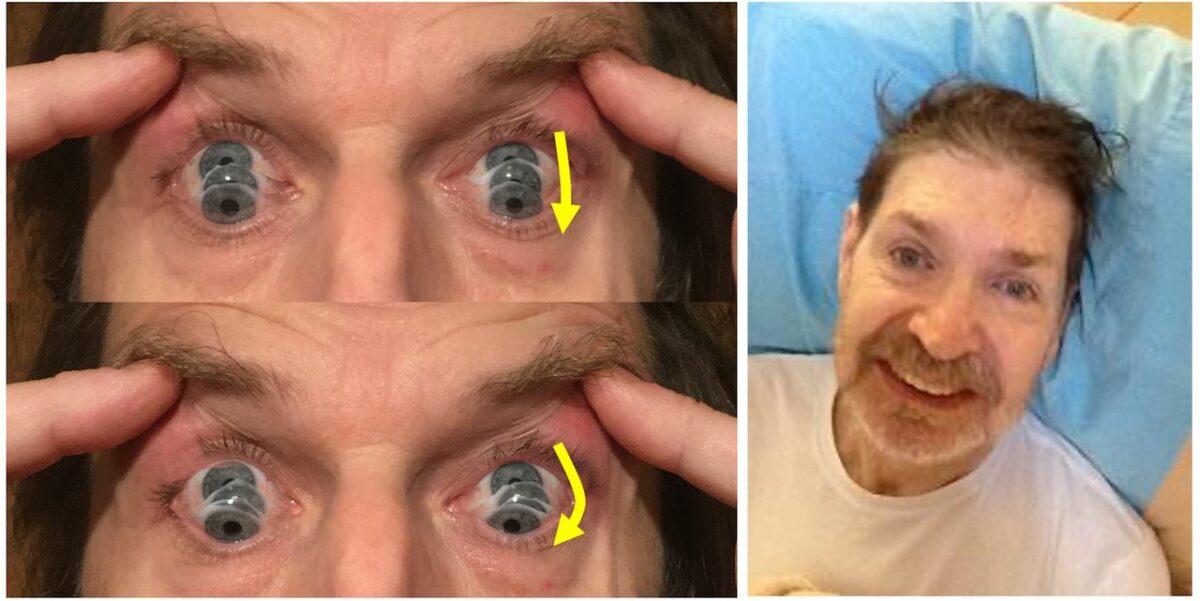 Diagnosis
Initial diagnosis requires fulfillment of diagnostic criteria for PSP. Definitive diagnosis can only be made via pathologic examination.
Inclusion criteria:

Age at onset: > 40 years
Gradual progression
Vertical, supranuclear gaze abnormalities
Postural instability with frequent falls

Exclusion criteria (cannot have these):

Cortical dementia similar to Alzheimer's
Hallucinations or delusions not secondary to exogenous dopamine
Neuroimaging suggestive of structural abnormality
Asymmetric parkinsonian signs
Testing
Neuroimaging with MRI:

Atrophy of the midbrain, quadrigeminal plate, pons, and cerebellum
Degeneration of the red nucleus
Enlargement of the aqueduct and 3rd ventricle
Atrophy of the frontal and temporal lobes indicate advanced disease
Hummingbird sign: Midsagittal cuts of midbrain look like a hummingbird because of atrophy.

Labs:

No diagnostic tests
Labs to rule out other conditions

Management
No definitive treatment
Medical therapy:

Levodopa/carbidopa for parkinsonian symptoms
Injections of botulinum toxin can be used for focal dystonia.
Prognosis
Rapid disease progression
Significant reduction in quality of life and dependency within 3–4 years
Death usually occurs within 6 years after diagnosis.
Dysphagia is associated with ↓ survival.
Multiple System Atrophy
Definition
Multiple system atrophy (MSA) is an adult-onset, sporadic, rapidly progressive, multisystem, fatal neurodegenerative disease characterized by parkinsonian features, cerebellar, autonomic, and urogenital dysfunction; and corticospinal disorders.
Epidemiology and etiology
Incidence: 3 per 100,000
Prevalence: 2–5 cases per 100,000
Mean age at onset: 54 years
Unknown etiology, but trauma has been suggested.
Pathophysiology
Spreading of aberrant α-synuclein from neurons to glial cells → chronic alterations in glial cells → impaired trophic function between oligodendrocytes and axons → secondary neuronal damage + extensive myelin degeneration
Glial and myelin dysfunction occur.
An inflammatory cascade is induced, and secondary neurodegeneration follows.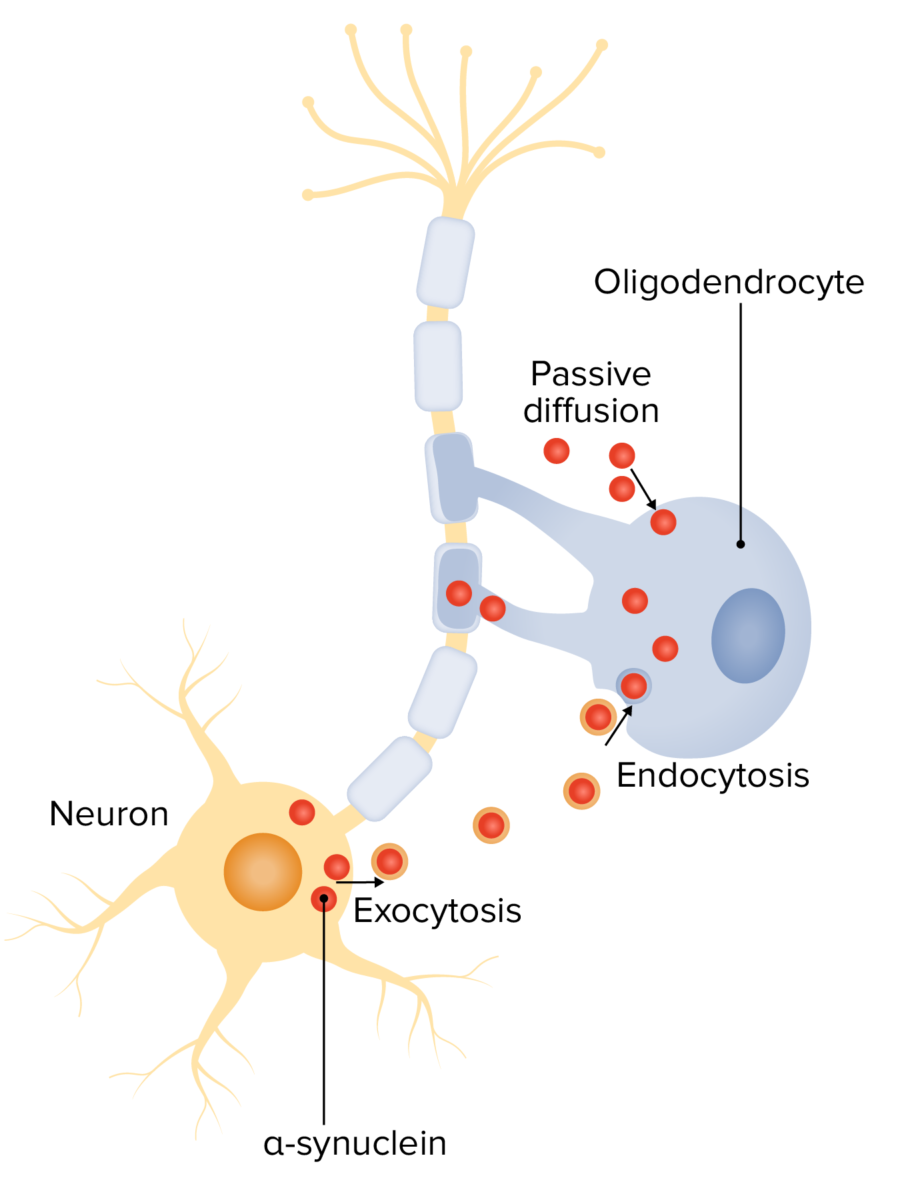 Clinical presentation
History:
Physical examination:
In parkinsonism-predominant cases:

Akinesia/bradykinesia
Rigidity
Postural instability
Postural and action tremor

In cerebellar-predominant cases (cerebellar disorders):

Ataxia
Equilibrium and gait problems
Dysdiadochokinesia: difficulty making rapid alternating movements
Dysarthria
Ocular abnormalities

Cognitive function is usually preserved.
Diagnosis
Diagnosis is made clinically, and definitive diagnosis is done on postmortem pathologic examination.
Clinical features:

Sporadic and progressive onset during adulthood (> 30 years old)
Autonomic failure involving either:

Urinary incontinence or
Orthostatic BP

Levodopa trial: does not reduce symptoms, unlike in Parkinson's disease

Imaging:

Atrophy of the:

Putamen
Middle cerebellar peduncle
Pons

"Hot cross bun sign" on T2-weighted imaging: hyperintense shape of a cross within the atrophied pons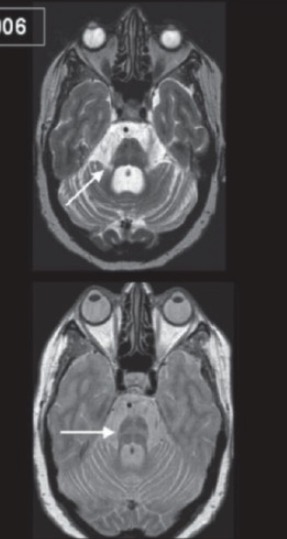 Management
No definitive treatment
Medical therapy:

Botulinum toxin injections can be used for focal dystonia.
Orthostatic hypotension: fludrocortisone acetate (1st-line therapy), midodrine (2nd-line therapy)
Urogenital symptoms: oxybutynin or tolterodine
Prognosis
Rapid progression
Death as soon as 6 years after diagnosis
Corticobasal Degeneration
Definition
Corticobasal degeneration (CBD) is a progressive, asymmetric dementia–movement disorder with sporadic neurodegenerative 4-repeat tauopathy.
Epidemiology and etiology
Prevalence: 5–7 per 100,000
Incidence: 0.6–0.9 per 100,000
5% of cases of parkinsonism
6th to 8th decades of life
May be related to abnormalities in the microtubule-associated protein tau (MAPT) gene
Pathophysiology
Hyperphosphorylation of tau protein leads to less affinity for microtubules → hyperphosphorylated tau protein resists proteolysis and forms aggregates → tau protein is accumulated and neurofibrillary tangles are formed
Classified as a 4-repeat tauopathy (a different interval than other tau-related syndromes)
Ballooned, achromatic, tau-positive neurons, astrocytic plaques, and other dystrophic glial tau findings, similar to those seen in PSP
Extensive neuronal loss
Clinical presentation
History:
Asymmetrical affectation
Frequent falls
Behavioral changes consistent with dementia
Physical examination:
May display PSP features
Bradykinesia/akinesia
Limb rigidity and dystonia
Speech disturbances
Action tremor, myoclonus, and hyperreflexia
"Alien-limb" phenomena: unintended motor actions such as grasping, groping, drifting, or undoing
Slow gait
Dementia
Slow and saccadic eye movements
Diagnosis
Diagnosis is made clinically, and definitive diagnosis is by postmortem pathology examination.

Medical therapy
Levodopa trial: does not reduce symptoms, unlike in Parkinson's disease
No definitive treatment
Propranolol or clonazepam can be used to treat tremor and myoclonus.
Cholinesterase inhibitors (e.g., donepezil, rivastigmine) can be used to treat cognitive dysfunction.
Prognosis
Poor
Death as soon as 5 years after diagnosis
Differential Diagnosis
Parkinson's disease: degenerative disease of the basal ganglia. Parkinson's disease is characterized by diminished facial expression, stooped posture, slowing of voluntary movement, festinating gait (progressively shortened and accelerated steps), cogwheel rigidity, and a "pill rolling" tremor at rest.
Frontotemporal dementia: neurodegenerative disorder characterized by loss of cognitive functions (memory, abstract thinking, reasoning, and executive function), which severely impairs functioning and quality of life. Clinical presentation includes behavioral changes, such as apathy.
Wilson disease: autosomal recessive disorder associated with mutations in the ATP7B gene, which regulates copper transport within hepatocytes. This mutation causes copper to accumulate in the liver, brain, and cornea. Wilson disease often presents in young adulthood with signs of liver disease and neurologic and psychiatric symptoms (often resembling parkinsonism).
Niemann-Pick disease: rare inherited lysosomal storage disorder. Niemann-Pick disease is classified on the basis of the genetic mutation. Type A and type B result from mutations in the SMPD-1 gene, resulting in acid sphingomyelinase enzyme deficiency. Type C results from NPC1 or NPC2 gene mutations; these genes are needed for intracellular transport of lipids.
Myasthenia gravis: autoimmune neuromuscular disorder characterized by weakness and fatigability of skeletal muscles caused by dysfunction/destruction of acetylcholine receptors at the neuromuscular junction. Myasthenia gravis presents with fatigue, ptosis, diplopia, dysphagia, respiratory difficulties, and progressive weakness in the limbs leading to difficulty in movement.
References
Agarwal S, Gilbert R. (2021). Progressive supranuclear palsy. StatPearls. Retrieved August 14, 2021, from http://www.ncbi.nlm.nih.gov/books/NBK526098/
Seeley WW, Miller BL. (2018). Frontotemporal dementia. Jameson J, Fauci AS, Kasper DL, Hauser SL, Longo DL, Loscalzo J (Eds.), Harrison's Principles of Internal Medicine, 20th ed. McGraw-Hill.
Jankovic J. (2022). Parkinson Disease and Other Movement Disorders. In Jankovic, J., et al. (Eds.). Bradley and Daroff's Neurology in Clinical Practice. pp. 1498–1534.e5. Elsevier.
Höglinger GU, et al. (2017). Clinical diagnosis of progressive supranuclear palsy: the movement disorder society criteria. Movement Disorders 32:853–864. https://doi.org/10.1002/mds.26987
Zibetti M. (2015). Parkinson disease: epidemiology, pathology, and clinical diagnosis. DeckerMed Medicine. Retrieved July 31, 2021, from https://doi.org/10.2310/7900.6353
Factor, S. A., Doss Esper, C. (2021). Multiple system atrophy: Clinical features and diagnosis. UpToDate. Retrieved July 31, from https://www.uptodate.com/contents/multiple-system-atrophy-clinical-features-and-diagnosis
Factor, S. A., Doss Esper, C. (2021). Multiple system atrophy: Prognosis and treatment. UpToDate. Retrieved July 31, from https://www.uptodate.com/contents/multiple-system-atrophy-prognosis-and-treatment
Gibbons CH, Engstrom JW. (2018). Disorders of the autonomic nervous system. Jameson J, Fauci AS, Kasper DL, Hauser SL, Longo DL, Loscalzo J (Eds.), Harrison's Principles of Internal Medicine, 20th ed. McGraw-Hill.
Factor, S.A., Tripathi, R. (2021). Corticobasal degeneration. UpToDate. Retrieved July 31, from https://www.uptodate.com/contents/corticobasal-degeneration
Eggenberger, E. (2018). Progressive supranuclear palsy. Emedicine. Retrieved August 9, 2021, from https://emedicine.medscape.com/article/1151430-overview?ecd=ppc_google_rlsa-traf_mscp_emed_md-ldlm-cohort_us#a6
Diedrich A. (2018). Multiple system atrophy. Emedicine. Retrieved August 9, 2021, from https://emedicine.medscape.com/article/1154583-overview?ecd=ppc_google_rlsa-traf_mscp_emed_md-ldlm-cohort_us#a5
Pantelyat A. (2019). Corticobasal syndrome and corticobasal degeneration. Emedicine. Retrieved August 9, 2021, from https://emedicine.medscape.com/article/1150039-overview#a5