Overview
Epidemiology
Occurs in about 1 pregnancy in 1,200 pregnancies in the United States, with hydatidiform mole representing 80 percent of the cases. Higher incidence in Southeast Asia and Japan
Risk factors:

History of gestational trophoblastic disease (GTD)
History of prior spontaneous abortion and/or infertility
Protein, folic acid, and carotene deficiency
Classification
Hydatidiform moles: considered premalignant because of their potential for malignancy

Complete mole
Partial mole

Invasive moles
Choriocarcinoma: incidence USA 1/40,000
Hydatidiform Mole
Hydatidiform moles are characterized by cystic swelling of the chorionic villi and proliferation of the chorionic epithelium. There are 2 types: complete mole and partial mole.
Complete mole
Partial mole
Karyotype
46,XX or 46,XY
Triploid (69,XXX, 69,XXY, or 69,XYY)
Formed from
Enucleated egg and a single sperm
2 sperm and 1 egg
Fetal parts
Absent
Present
Human chorionic gonadotropin (HCG) level
↑↑↑
↑
Ultrasound findings

Honeycomb uterus
"Clusters of grapes"
"Snowstorm" uterus

Reveals fetal parts
Malignancy risk
Higher risk for choriocarcinoma
Rare
Clinical presentation
Vaginal bleeding
Uterine enlargement (more than expected for given gestational age)
Pelvic pressure or pain
May be associated with

Early (before 20 weeks) preeclampsia
Theca-lutein cysts
Hyperemesis gravidarum
Hyperthyroidism
Diagnosis
HCG levels: ↑ serum beta-hCG
Ultrasound:

Reveals an irregular distribution of hypoechoic (cystic) and hyperechoic (solid) areas within the uterus
Characteristically referred to as a "snowstorm" pattern
Treatment
Dilation and curettage with methotrexate
HCG levels are monitored (expected to downtrend after treatment)
Hysterectomy (last resort)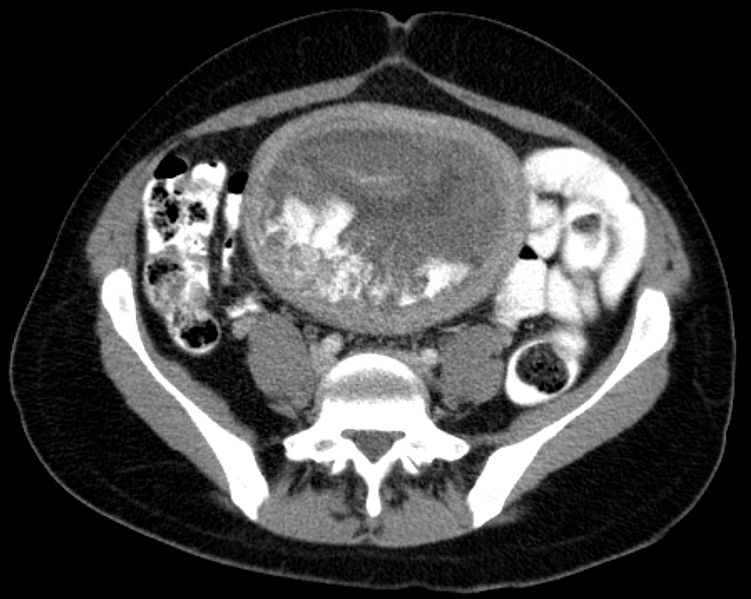 Choriocarcinoma
Choriocarcinoma is a highly aggressive malignant neoplasm of trophoblastic cells that can develop during or after pregnancy in the mother or baby.
Etiology
Can be preceded by:
Hydatidiform mole (50%)
Abortion of an ectopic pregnancy (20%)
Normal-term pregnancy (30%)
Clinical presentation
Abnormal uterine bleeding or amenorrhea
If hematogenous spread to the lungs: shortness of breath and/or hemoptysis
Diagnosis
HCG levels: ↑ serum beta-hCG
Pelvic ultrasound: hypervascularity
Chest X-ray: pulmonary metastases with "cannonball" shape
Treatment
Depends on stage and risk classification
Low risk: methotrexate monotherapy or combination with actinomycin D
High risk: multi-agent regimen

Etoposide
Methotrexate (MTX)
Actinomycin D
Leucovorin calcium
Cyclophosphamide
Vincristine
Clinical Relevance
Ectopic pregnancy: Eccyesis or ectopic pregnancy refers to the implantation of the blastocyst outside the uterine cavity. The most common site is the fallopian tube. Affected patients suffer from acute abdominal pain. Diagnosis is by ultrasound and laboratory analysis, which confirms pregnancy with implantation outside the uterus.