Epidemiology and Etiology
Epidemiology
Hypertensive disorders complicate 5%–10% of pregnancies.
Preeclampsia:

Occurs in 2%–8% of all pregnancies
Incidence is 1.5–2 times higher in 1st pregnancies.

20%–25% of women with chronic hypertension develop preeclampsia during pregnancy.
1% of pregnancies are complicated by chronic hypertension.
5%–6% of pregnancies are complicated by gestational hypertension.
70% of women having an eclamptic seizure will suffer from maternal complications, with morbidity reaching up to 14%.
Etiology
High-risk factors:

History of preeclampsia
History of chronic hypertension
Diabetes
Renal disease
Autoimmune disease
Multiple gestation

Moderate-risk factors:

Nulliparity
> 10 years between pregnancies
BMI > 30
Low socioeconomic status
African American race
Family history of preeclampsia in 1st-degree relative
Advanced maternal age (≥ 35 years at time of delivery)
Intrauterine growth restriction (IUGR)

Risk factors in progression to preeclampsia:

History of preeclampsia
History of HELLP (hemolysis, elevated liver enzymes, low platelets in pregnancy) syndrome
Twin and multiple gestations
BMI > 30
Women > 35 years of age
1st-time mothers
Family history
Pathophysiology
Hypertension in pregnancy
The complete pathophysiology of hypertensive disorders in pregnancy is not completely understood, but most theories involve a problem with cytotrophoblastic endothelial invasion.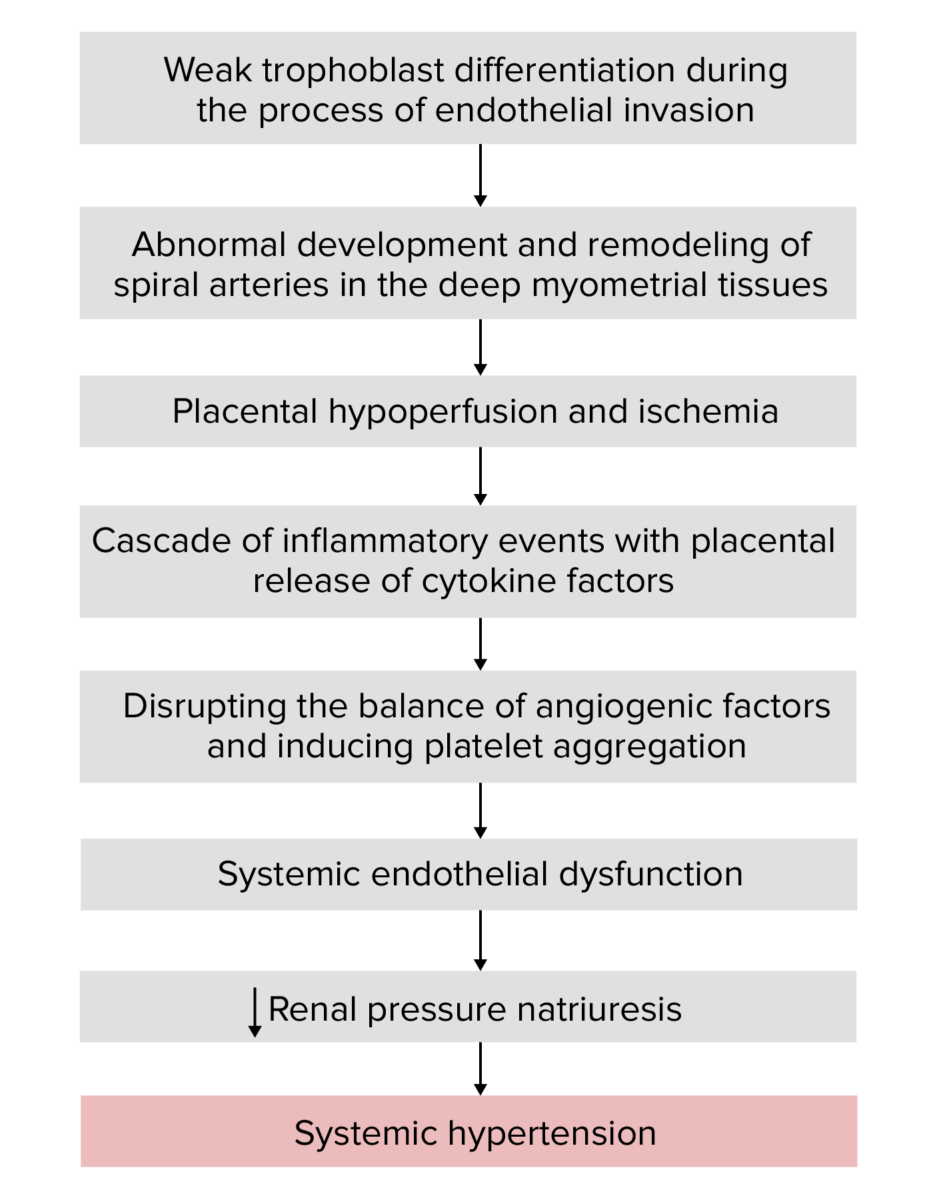 Preeclampsia and HELPP syndrome
Defective spiral artery remodeling → placental hypoperfusion → systemic vasoconstriction and endothelial dysfunction → hypertension → proteinuria and/or end-organ damage
HELLP is an extension of preeclampsia

May be closely related to atypical hemolytic uremic syndrome
Endothelial injury with fibrin deposits → thrombotic microangiopathy →  microangiopathic hemolytic anemia (MAHA) + liver damage + platelet-activation and consumption → thrombocytopenia + elevated liver enzymes
Eclampsia
Poorly understood, but commonly thought to be multifactorial
Seizures are thought to be caused by cerebral vasospasm and cerebral edema.
Hypertensive encephalopathy may also play a role.
Clinical Presentation
Chronic hypertension
Asymptomatic
Systolic BP > 140 mm Hg and/or diastolic BP > 90 mm Hg
Begins before the 20th week of gestation
Often preexisting
No proteinuria
No end-organ damage
Gestational hypertension
Asymptomatic
Systolic BP > 140 mm Hg and/or diastolic BP > 90 mm Hg
Begins after the 20th week of gestation
No history of preexisting hypertension
No proteinuria
No end-organ damage
Preeclampsia
Occurs between 20 weeks of gestation and up to 6 weeks postpartum.
Gestational hypertension with either proteinuria or end-organ damage
Very common among critically ill pregnant women
Cerebral symptoms

Severe headache
Altered mental status

Visual symptoms

Scotomata
Photophobia
Blurred vision
Temporary blindness

Pulmonary edema
Renal impairment with peripheral edema
Hepatic impairment with RUQ pain

Eclampsia
Preeclampsia with the presence of seizures
Other symptoms:

Persistent occipital or frontal headaches
Blurred vision
Photophobia
Epigastric or RUQ pain
Altered mental status
HELLP syndrome
Manifestation of preeclampsia (not a separate disorder).
Preeclampsia symptoms (proteinuria and/or end-organ damage) plus:

Hemolysis
Elevated Liver enzymes

RUQ pain
Nausea and vomiting

Low Platelets

May cause hepatic hematoma that ruptures → hemoperitoneum
Diagnosis
Hypertension is a BP measurement on 2 separate occasions, at least 4 hours apart of:

Systolic BP ≥ 140 mm Hg and/or
Diastolic BP ≥ 90 mm Hg

Chronic hypertension is hypertension diagnosed at < 20 weeks of gestation.
Gestational hypertension is hypertension diagnosed at ≥ 20 weeks of gestation when BP was previously normal.
Preeclampsia is gestational hypertension with proteinuria or end-organ damage.

Proteinuria criteria: 

24-hour urine collection ≥ 300 mg protein or
Single voided urine protein/creatinine ratio ≥ 0.3
Dipstick reading of 2+ (use only if other quantitative methods not available)

If presenting without proteinuria must meet 1 of the following criteria:

Thrombocytopenia (platelets < 100,000) 
Renal insufficiency (baseline creatinine is doubled or serum creatinine > 1.1 mg/dL) 
Pulmonary edema 
Impaired liver function (AST/ALT > 2 times the upper limit of normal)
New-onset headache that is unresponsive to medications and has no alternative cause.

Eclampsia consists of preeclampsia criteria plus seizures:

Generalized tonic–clonic seizures 
From intrapartum up to 72 hours postpartum
Secondary to untreated and/or undertreated preeclampsia

HELLP syndrome is a severe form of preeclampsia with:

Hemolysis, with:

LDH > 600 IU/L
↑ Bilirubin
Schistocytes on blood smear
Anemia

↑ Liver enzymes, with AST and/or AST > 2 times upper limit of normal
↓ Platelet count, with thrombocytopenia (< 100,000)
Management
Prevention
Used when 1 high-risk factor or ≥ 2 moderate-risk factors are present
Prophylaxis with 81 mg aspirin between 12 and 28 weeks and continued until delivery.
Management
Definitive treatment of gestational hypertension, preeclampsia, eclampsia, and HELLP is delivery.
1st-line therapies for BP control include:

Labetalol
Hydralazine
Nifedipine

Nitroglycerin can be used in pulmonary edema.
Teratogenic BP medications (contraindicated in pregnancy):

ACEis
ARBs
Mineralocorticoid receptor antagonists

Abnormal findings on any of the following evaluations may require early delivery:

Ultrasonography for fetal monitoring:

IUGR
Placental abruption
Poor placental/umbilical blood flow

Other testing:
Fetal nonstress test
Amniotic fluid index evaluation

In patients with preeclampsia:

Magnesium seizure prophylaxis is not indicated until after delivery.

Load with 6 g of IV magnesium sulfate and infuse at 1–2 g/hour.
Monitor carefully and hold the infusion for signs of magnesium toxicity or renal failure.
Signs of magnesium toxicity: loss of patellar reflexes, tachypnea due to respiratory muscle weakness

Between 24 and 33 weeks, steroid therapy is indicated to promote fetal lung maturity.
Complications
Intracranial hemorrhage
Pulmonary edema
Renal failure
Coagulopathy
Hemolysis
Liver injury
Thrombocytopenia
IUGR
Oligohydramnios
Placental abruption
Nonreassuring fetal status
Differential Diagnosis
Antiphospholipid syndrome: acquired hypercoagulable state created from an underlying autoimmune disorder that causes a patient's state to be procoagulant. A majority of patients have recurrent miscarriages. Diagnosis is made by laboratory findings of the respective antibodies, and mainstay of management is anticoagulation.
Aortic coarctation: defined as a narrowing of the aorta between the aortic arch and the iliac bifurcation. Children and adults present with symptoms of hypoperfusion and/or hypertension. The classic findings include a radiofemoral/brachiofemoral delay and lower BP in the lower limbs. Diagnosis is confirmed by echocardiography. Management is surgery as early as possible to avoid complications of hypertension.
Cushing syndrome: hypercortisolism resulting from chronic exposure to excess glucocorticoids. Typical clinical features of Cushing syndrome include central obesity, thin, bruisable skin, abdominal striae, secondary hypertension, hyperglycemia, and proximal muscle weakness. Diagnosis is by elevated cortisol levels. Management options depend on the cause and may include surgery or medical therapy.
Hydatidiform mole: due to cystic swelling of the chorionic villi and proliferation of the chorionic epithelium. Hydatidiform mole is a gestational trophoblastic disease resulting from abnormal placental trophoblastic growth. Diagnosis is confirmed by elevated serum beta-hCG and ultrasound findings, which are dependent on the disorder. Management is primarily through dilation and curettage and/or methotrexate.
Hyperthyroidism: caused by sustained overproduction and release of the thyroid hormone T3 and/or T4. Clinical features of thyrotoxicosis are mostly due to an increase in the metabolic rate and overactivity of the sympathetic nervous system. Hyperthyroidism is diagnosed by low levels of TSH and elevated levels of T4 and T3. Depending on the etiology and clinical presentation, it may be treated pharmacologically, surgically, or with radioiodine.
References
American College of Obstetricians and Gynecologists' Committee on Practice Bulletins—Obstetrics. (2019). ACOG Practice Bulletin no. 203: Chronic hypertension in Pregnancy. Obstet Gynecol 133:e26–e50.
Colussi G, Catena C, Driul L, et al. (2020). Secondary hyperparathyroidism is associated with postpartum blood pressure in preeclamptic women and normal pregnancies. J Hypertens.
Dymara-Konopka W, Laskowska M, Oleszczuk J. (2018). Preeclampsia—current management and future approach. Curr Pharm Biotechnol 19:786–796.
(2020). Gestational hypertension and oreeclampsia: ACOG Practice Bulletin Summary, Number 222. Obstet Gynecol 135:1492–1495.
Hauspurg A, Sutton EF, Catov JM, Caritis SN. (2018). Aspirin effect on adverse pregnancy outcomes associated with stage 1 hypertension in a high-risk cohort. Hypertension 72:202–207.
Luger RK, Kight BP. (2020). Hypertension in pregnancy. StatPearls. Retrieved July 1, 2021, from https://www.ncbi.nlm.nih.gov/books/NBK430839/
Timpka S, Markovitz A, Schyman T, Mogren I, Fraser A, Franks PW, Rich-Edwards JW. (2018). Midlife development of type 2 diabetes and hypertension in women by history of hypertensive disorders of pregnancy. Cardiovasc Diabetol. 17(1):124
Carson, M. (2018). Hypertension and Pregnancy. Emedicine. Retrieved July 1, 2021, from https://emedicine.medscape.com/article/261435-overview#a4