Overview
Definition
Antepartum hemorrhage is defined as vaginal bleeding that occurs after 20 weeks' gestation and is unrelated to labor.
Epidemiology and etiology
Incidence: occurs in approximately 5% of pregnancies
Most common etiologies:

Placental abruption: 30%
Placenta previa: 20%

The etiology is often not determined.
Table: Causes of antepartum bleeding by location
Anatomic location
Causes of antepartum bleeding
Placenta

Placental abruption*
Placenta previa*
Vasa previa*

Uterus
Uterine rupture*
Cervix

"Bloody show": a small amount of bloody mucus discharge that often precedes labor as the cervix ripens
Cervicitis

STIs: gonorrhea, chlamydia
Secondary to vaginitis: candidiasis, bacterial vaginosis

Cervical ectropion: exposed cervical columnar epithelium that is prone to light bleeding when touched
Polyps
Carcinoma

Vagina and vulva

Varicosities
Vaginitis
Lacerations
Carcinoma
*Clinically important obstetric cause.
Placental Abruption
Overview
Placental abruption is the complete or partial premature detachment of a normally implanted placenta before the birth of the infant.
Clinical relevance:
With a detached placenta:

The infant is no longer able to get oxygen.
Maternal and fetal hemorrhage occurs through the placenta.

An obstetric emergency that usually requires immediate delivery
Epidemiology
Incidence: approximately 2–10 per 1000 births
Age: more common in women < 20 and > 35 years of age
Gestational age at abruption:

Term: 60%
32–36 weeks: 25%
< 32 weeks: 15%
Risk factors
Previous abruption (strongest risk factor)
Hypertension

Preeclampsia
Poorly controlled chronic hypertension

Trauma to the abdomen
Cocaine or tobacco use
Quick decompression of the uterus

Rupture of membranes in a pregnancy with polyhydramnios
Delivery of the 1st infant in a multiple gestation

Fetal growth restriction (may suggest a small chronic partial abruption)
Uterine anomalies

Leiomyomas
Bicornuate uterus
Etiology
Unknown, but likely related to:

Chronic placental disease processes
Abnormalities in the development of placental vasculature

Direct abdominal trauma (less common)
Pathophysiology
Rupture of maternal vessels in the decidua basalis → accumulation of blood splits the decidua → a thin layer of decidua is separated off with its placental attachment
Thrombin is a potent uterotonic agent → clotting in the decidua triggers uterine contractions
Complete abruption:

Caused by high-pressure arterial hemorrhage in the center of the placenta
Life-threatening for fetus and mother

Partial abruption:

Caused by low-pressure venous hemorrhage, usually at the periphery of the placenta
Often self-limited, with only a small area of separation
Can lead to "chronic abruption" throughout the remainder of pregnancy
Clinical presentation
Bleeding may be:

External with visible vaginal bleeding (80%) OR
Concealed (blood pools behind the placenta) without vaginal bleeding (20%)

Painful bleeding:

Abdominal and/or back pain
Bleeding can range from mild to life-threatening.

Contractions (often hypertonic or high-frequency)
Uterine tenderness
Fetal distress/decreased fetal movement
Small, partial abruptions may be less dramatic and present with:

Smaller amounts of bleeding over time (chronic abruptions)
Oligohydramnios
Intrauterine fetal growth restriction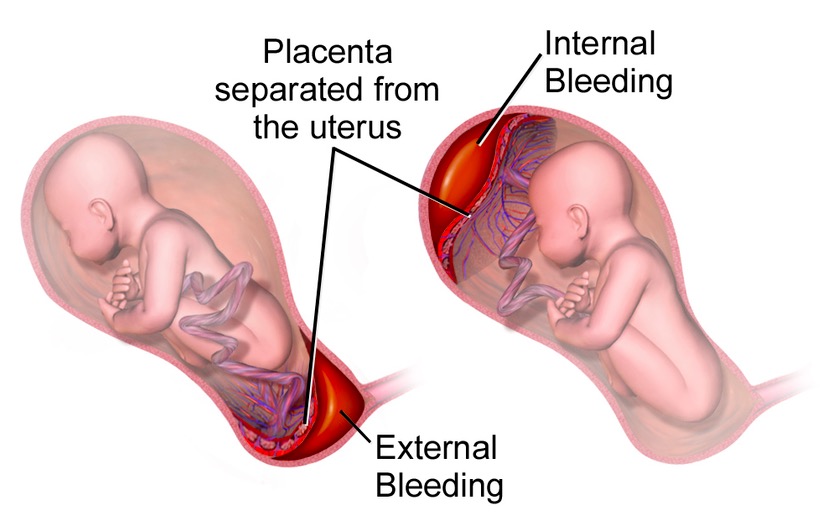 Diagnosis
The diagnosis of placental abruption is usually clinical, based on the history, exam, and fetal monitoring.
Fetal nonstress test:

Measures fetal heart rate and uterine contractions (tocometry)
Used to assess fetal status
Signs of fetal distress: bradycardia, ↓ heart rate variability, late decelerations
Tocometry: frequent and/or hypertonic contractions

Ultrasonography:

Exclude placenta previa
May show a retroplacental hematoma
Low sensitivity, but decent specificity

Laboratory: helpful in managing acute resuscitation, rather than diagnosis of abruption itself

Kleihauer-Betke test: can detect fetal RBCs in maternal circulation
Type and cross
CBC → evaluate degree of anemia
Coagulation panel: PT, PTT, fibrinogen → evaluate for DIC
Management
Severe abruption:

Needed in individuals with DIC, hypovolemic shock, or nonreassuring fetal status
Step 1: stabilization

Establish 2 large-bore IV lines.
Initiate IV fluids.
Transfuse blood products as needed.

Step 2: emergent cesarean delivery

Mild or chronic abruption:

Monitor and observe the mother to ensure the abruption remains stable.
Frequent assessments of fetal well-being
Corticosteroids (betamethasone) for fetal lung maturity in premature infants
Deliver if mother or infant decompensates.
Complications
Maternal complications:

DIC
Renal failure
ARDS
Peripartum hysterectomy
Complications associated with blood transfusions
Increased risk of cardiovascular disease later in life

Fetal complications:

Complications of hypoxemia (e.g., neurologic impairment)
Complications of prematurity (e.g., respiratory distress, intraventricular hemorrhage, retinopathy of prematurity)
Fetal growth restriction (chronic partial abruption)
Placenta Previa
Overview
Placenta previa is a condition in which the placenta implants in the lower uterine segment, near or covering the internal cervical os.
Definitions:
Low-lying placenta: the placental edge is < 2 cm from (but not covering) the internal os (managed in the the same way as placenta previa)
"Marginal" and "partial" placenta previa are older terms that should be avoided.
Clinical relevance:
As the cervix dilates beneath the placenta, it exposes the placenta → bleeding (both maternal and fetal blood loss)
Never perform a digital cervix exam on a woman with placenta previa; you will stick your finger into the placenta and cause severe hemorrhage.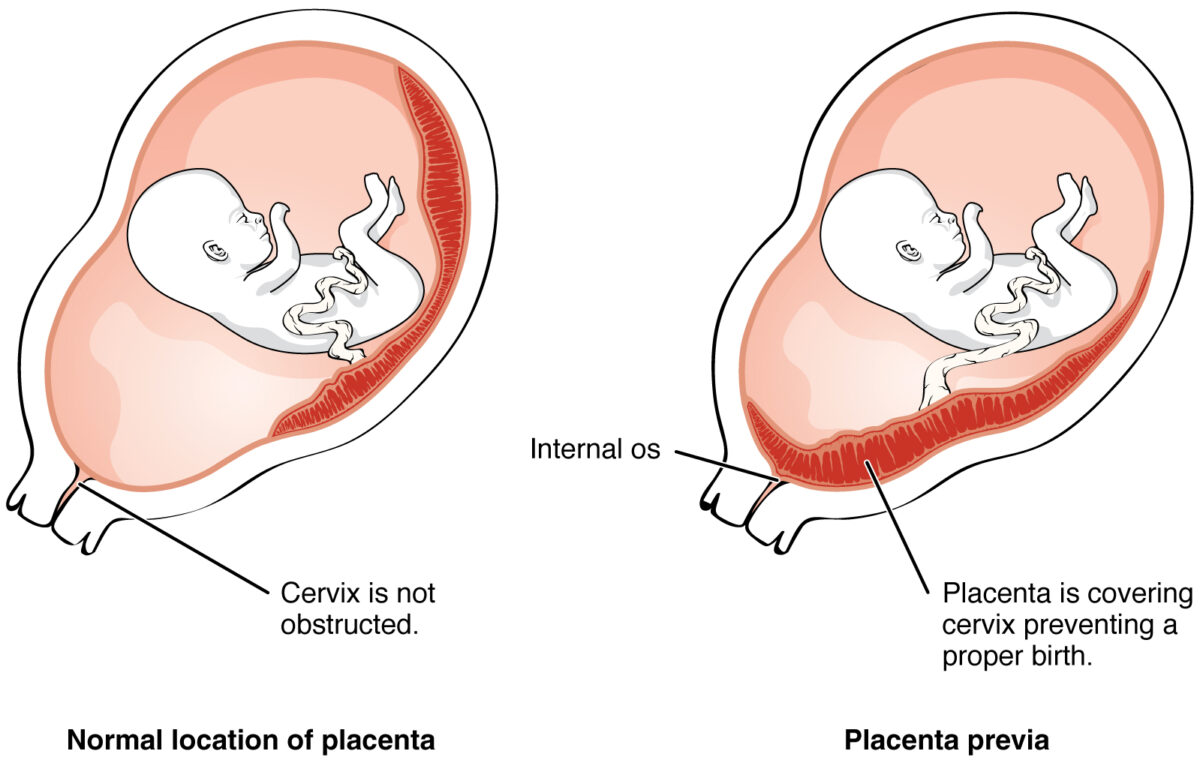 Epidemiology
Prevalence: 4 per 1000 births
In up to 6% of women, a midtrimester ultrasound will show placenta previa.
Approximately 90% of placenta previas identified at < 20 weeks resolve by delivery.

The lower uterine segment lengthens from 0.5 cm at 20 weeks to over 5 cm at term.
This lengthening "moves" the placenta away from the os.

Complete placenta previa is unlikely to resolve.
Risk factors
Most important risk factors:

Previous placenta previa
Previous C-section
Multiple gestation

Other risk factors:

Previous curettage
Previous or recurrent abortions
Infertility treatment
Advanced maternal age (> 35 years old)
Multiparity
Uterine structural anomaly
Smoking
Cocaine use
Clinical presentation
Painless vaginal bleeding
Fetal distress
Usually asymptomatic until cervical dilation begins after 30 weeks
Diagnosis
Transvaginal ultrasonography:

Shows placenta near or covering the cervical os
Usually diagnosed on routine midtrimester ultrasound
Assessing placental location is a recommended part of routine obstetric care.

Avoid digital exams on a woman with placenta previa.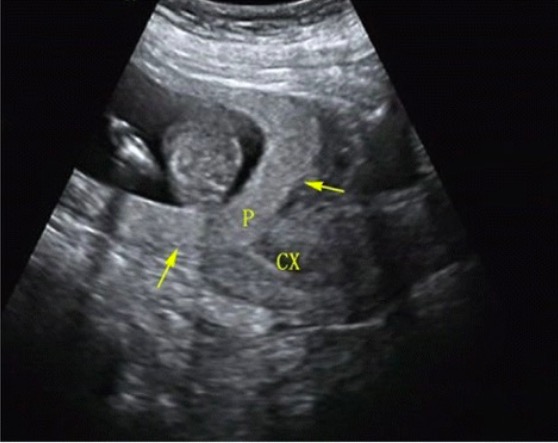 Management
Asymptomatic antenatal management:

Pelvic rest (no intercourse)
Plan to deliver at 36 weeks, prior to the onset of labor.
When exam is required, visual assessment with a speculum only

If bleeding: emergency C-section to prevent fetal death
Vasa Previa
Overview
Definitions:
Velamentous cord: portion of the umbilical cord lacks the protective Wharton's jelly near the placental insertion site, making the cord prone to rupture:

Known as "membranous vessels" because they are attached to the chorion
Length of unprotected cord may be several centimeters long

Vasa previa: condition in which fetal vessels run across the internal cervical os
Clinical significance:
A digital exam may rupture these vessels, causing fetal exsanguination within minutes.
Rupture of membranes may rupture the vessels.
These vessels may also become compressed by the fetal head.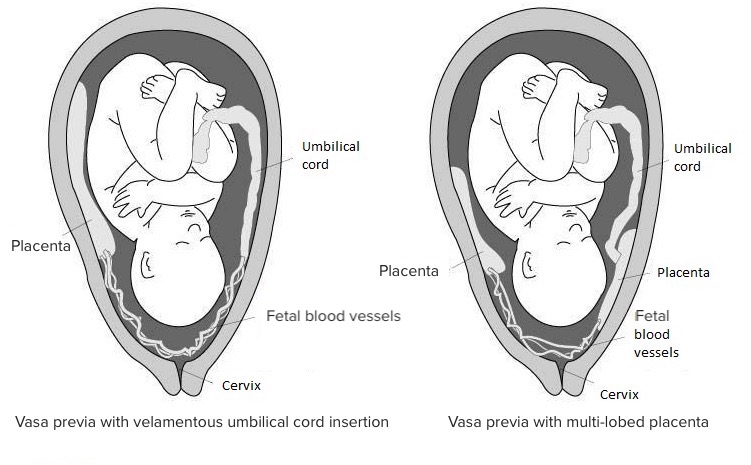 Epidemiology
Prevalence:

1% of singleton gestations
Up to 15% of monochorionic twin gestations

Risk factors:

Accessory (succenturiate) placental lobes
Multiple gestation
Placenta previa
Velamentous cord insertion
Clinical presentation
Painless vaginal bleeding (often after rupture of membranes)
Fetal distress
Women are often asymptomatic until cervical dilation or disruption due to mechanical trauma.
Diagnosis
Transvaginal ultrasound with Doppler:

Demonstrates fetal vessels traversing the internal cervical os
Assessing the umbilical cord vessels and insertion site at around 20 weeks is a recommended element of routine prenatal care.

Avoid digital exam on a woman with vasa previa.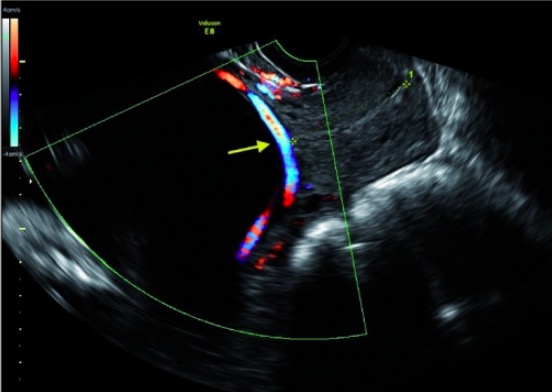 Management
Asymptomatic antenatal management:

Pelvic rest (no intercourse)
Plan to deliver at 36 weeks, prior to the onset of labor.
When exam is required, visual assessment with a speculum only

If bleeding: emergency C-section to prevent fetal death
Uterine Rupture
Definition
Uterine rupture is a clinically significant disruption in all layers of the uterus, usually through a previous uterine scar.
Epidemiology
Incidence in individuals with a prior cesarean delivery:

0.3%
More common in women undergoing a trial of labor after cesarean (TOLAC) compared to planned repeat cesarean deliveries

Incidence in individuals without a prior uterine scar:

Rare
Estimated at 1 per 20,000 pregnancies

Perinatal death rate associated with uterine rupture: 5%–25%
Risk factors
Prior uterine incision:

C-section (most common)
Classical (high vertical or fundal) uterine incision (highest risk)
Myomectomy

TOLAC
Induction and augmentation of labor (excessive oxytocin stimulation)
Clinical presentation
Abdominal pain (often severe and with sudden onset)
Vaginal bleeding (may be light if a majority of blood is lost intraabdominally)
Nonreassuring fetal heart rate patterns:

Bradycardia
Late decelerations
Minimal or absent fetal heart rate variability

Loss of uterine tone
Sudden loss of station of the presenting fetal part
Maternal hemodynamic instability
May be diagnosed postpartum after a TOLAC with a postpartum hemorrhage that does not respond to uterotonic agents
Diagnosis
The diagnosis is clinical, based on presentation and risk factors.
Usually, significant fetal distress necessitates immediate action.
Diagnosis is confirmed on laparotomy.
Management
Immediate emergency cesarean delivery
Concurrent maternal stabilization with IV fluids and blood products, as needed
Surgical repair of the uterine rupture, following delivery of the infant and maternal stabilization
Hysterectomy (last resort in cases of persistent hemorrhage and/or nonrepairable uterus)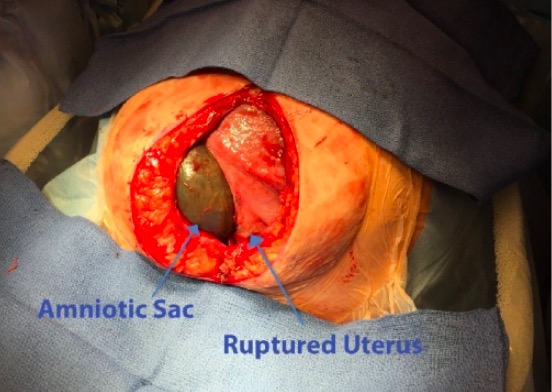 Comparison of Diagnoses
Table: Comparison of causes of antepartum bleeding
Condition
Typical presentation
Important risk factors
Management
Placental abruption

Painful bleeding
Contractions
Nonreassuring fetal status

Hypertension
Rapid uterine decompression
Trauma
Cocaine or tobacco use

Emergent delivery
Placenta previa
Painless bleeding OR asymptomatic

Prior placenta previa
Prior cesarean delivery
Multiple gestation

No digital exams
Pelvic rest
Deliver with bleeding, or at 36 weeks.

Vasa previa
Painless bleeding OR asymptomatic

Accessory placental lobe
Current placenta previa
Multiple gestation
Velamentous cord

No digital exams
Pelvic rest
Deliver with bleeding, or at 36 weeks.

Uterine rupture

Painful bleeding
Loss of fetal station
Nonreassuring fetal status

Prior uterine incision (especially vertical or fundal incisions)
TOLAC
Induction of labor

Emergent delivery
Surgical repair of rupture