Physiology of Circulation Through Skeletal Muscle
Normal blood flow to skeletal muscles
Blood flow to skeletal muscles can increase > 20 fold during strenuous exercise.
At rest:

20% of the cardiac output (CO) goes to skeletal muscles (all combined).
Flow is approximately 1‒4 mL/min for every 100 g of muscle tissue.

During strenuous exercise:

Up to 80% of the CO can go to skeletal muscles.
Flow can reach 50‒100 mL/min for every 100 g of muscle tissue.
Regulation of blood flow to skeletal muscles
Sympathetic activation via the sympathetic nervous system

Nervous system

The nervous system is a small and complex system that consists of an intricate network of neural cells (or neurons) and even more glial cells (for support and insulation). It is divided according to its anatomical components as well as its functional characteristics. The brain and spinal cord are referred to as the central nervous system, and the branches of nerves from these structures are referred to as the peripheral nervous system.

General Structure of the Nervous System (SNS):

Causes vasoconstriction of arterioles (and thus limits blood flow) in skeletal muscle
Responsible for maintaining arterial blood pressure under resting conditions (removal of stimulation can double to triple the flow)
Via α-adrenergic receptors that are stimulated by:

Sympathetic nerves
Circulating catecholamines (epinephrine and norepinephrine) released from the adrenal medulla

Production of local factors causes vasodilation of the precapillary sphincters:

Precapillary sphincters lack innervation → regulated primarily by the production of these local factors
Factors include:

Functional sympatholysis: local factors causing vasodilation to overcome any SNS stimulation, resulting in vasodilation during activity
Mechanical effects of muscle contraction affecting blood flow
Flow is restricted during active muscle contraction.
Due to compression of smaller vessels penetrating into the muscle
Isometric contractions cause fatigue more quickly than intermittent isotonic contractions:

Isometric contractions: sustained contractions with no change in muscle length
Isotonic contractions: actively changing muscle lengths, producing limb motion
Effects of Resistance Exercise
Effects of isometric muscle contraction
During isometric contraction, blood flow is decreased in working muscles.
Sustained contractions → ↓ blood flow in the working muscle via direct compression
Activation of the SNS:

Indirect ↓ in blood flow in working muscle via vasoconstriction
↓ Renal and splanchnic (i.e. GI) blood flow:

The 2 vascular beds receive approximately 50% of the CO at rest.
Vasoconstricting these vascular beds shunts blood away from them → blood becomes available for skeletal muscles

↑ Systemic blood pressure:

↑ Systemic vascular resistance (SVR)
↑ HR
After isometric contraction, blood flow is increased in the working muscle.
Local factors enter blood → vasodilation → ↑ blood flow in working muscle
The phenomenon is known as active hyperemia and is more formally defined as an increase in tissue blood flow associated with an increase in metabolic activity.
Effects of isotonic muscle contraction
Contractions are intermittent but repetitive.
During the brief contraction, effects are the same as those with isometric contractions:

↓ Blood flow during contraction
↑ SVR, HR, and systemic blood pressure

Between each contraction:

↑ Blood flow
Mean flow increases (to a point) with each successive contraction.
Peak flow increases (to a point) with each successive contraction.

Active hyperemia occurs after contractions end.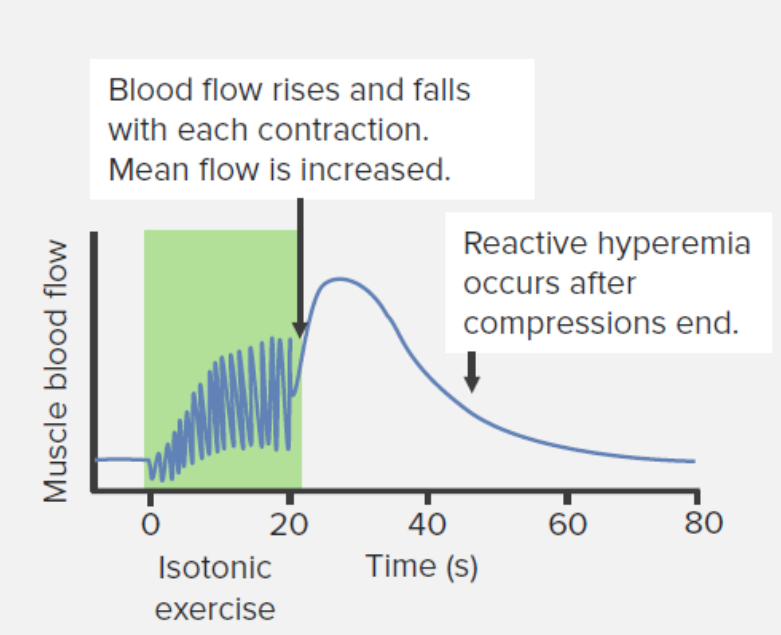 Effects of resistance exercise on arterial blood pressure
With increasing muscle activity, perfusion must increase to meet metabolic demands.
The body ↑ blood pressure to increase perfusion via:

↑ Systolic blood pressure
↑ Diastolic blood pressure (DBP)
↑ Mean arterial pressure (MAP)

Mechanisms of increase in blood pressure:

Central command: Higher centers in the CNS initiate changes in anticipation of exercise, providing the drive for movement.
Sensory feedback:

Baroreceptors: Note changes in blood pressure.
Chemoreceptors: Note changes in PCO2.
Muscle afferent nerves: Note changes in metabolites (e.g., H+ ions).

Cardiorespiratory control center in the brainstem integrates central and sensory signals to coordinate a sympathetic response.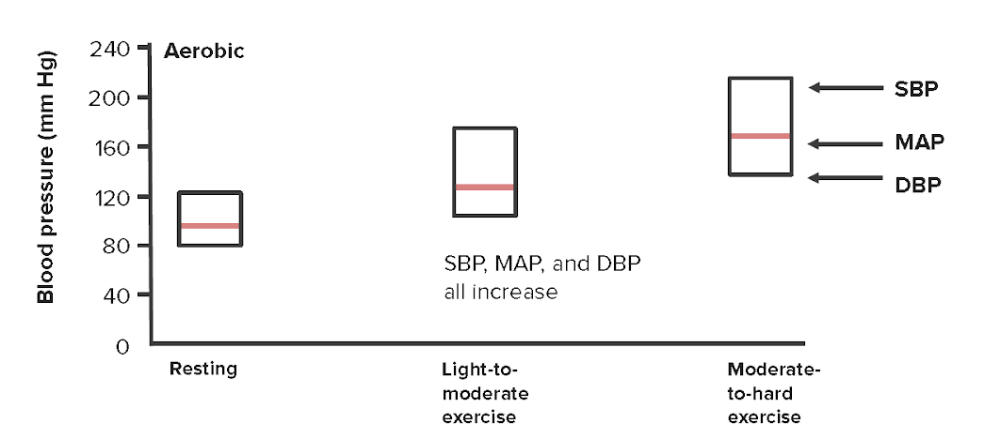 Effects of Valsalva maneuver
Valsalva: forced expiration against a closed glottis (occurs frequently during exercise). Valsalva causes 4 different changes in blood pressure over time:
Phase 1: ↑ in blood pressure and ↓ in HR:

Forced expiration without significant expulsion of air → significantly ↑ intrathoracic pressure
→ Compression of the thoracic aorta → ↑ arterial blood pressure
Baroreflex senses ↑ in blood pressure → ↓ HR in an attempt to maintain homeostasis of perfusion

Phase 2: ↓ blood pressure and ↑ HR:

↑ Intrathoracic pressure → impedes venous return to the thorax
→ ↓ Cardiac filling and ↓ preload → ↓ CO → ↓ blood pressure
Baroreflex senses ↓ in blood pressure → ↑ HR in an attempt to maintain perfusion homeostasis
SNS activated → ↑ SVR attempting to stabilize blood pressure/perfusion (plateau portion of phase 2)

Phase 3 (release of Valsalva):

External thoracic compression is removed → aortic pressure briefly drops again
Baroreflex ↑ HR

Phase 4:

External thoracic compression is removed → resumption of venous return to the thorax
Rapid ventricular filling → ↑ preload → ↑ CO → ↑ blood pressure
Baroreflex ↓ in HR
Cardiovascular Changes That Occur During Endurance (Aerobic) Exercises
Overview
Aerobic exercise ↑ total body O2 consumption
Body responds by ↑ perfusion to meet metabolic demands
Body achieves the response by:

↑ CO through:

↑ HR
↑ Stroke volume
Remember: CO = HR x stroke volume

↑ Systolic blood pressure
Redirecting blood flow to actively contracting muscles
Increases in HR
As workload ↑, the HR ↑
The relationship is linear.
Due to ↑ sympathetic stimulation at the sinoatrial node
Increases in stroke volume
As workload ↑, the stroke volume ↑
Relationship is linear to a point and then the curve flattens out.
Initial steep ↑ in stroke volume is due to:

↑ Sympathetic stimulation causing ↑ contractile strength of the heart (i.e., ↑ inotropy)
↑ Venous return to the heart → ↑ preload → ↑ stroke volume

Flattening of the curve: as HR ↑, there is less time for ventricular filling → difficult to achieve higher end-diastolic volumes → less preload → less ↑ in stroke volume
Effects of the skeletal muscle pump
Mechanics:

When skeletal muscles contract, they squeeze the veins

Veins

Veins are tubular collections of cells, which transport deoxygenated blood and waste from the capillary beds back to the heart. Veins are classified into 3 types: small veins/venules, medium veins, and large veins. Each type contains 3 primary layers: tunica intima, tunica media, and tunica adventitia.

Veins between them.
Blood is pushed forward in the circuit, toward the heart.

Effects of the skeletal muscle pump:

Coordinated, repetitive movements → ↑ venous return → ↑ preload → ↑ stroke volume
Blood moving forward increases the pressure gradient across the muscle vascular bed → ↑ blood flow (pressure gradient being the driving force of blood flow)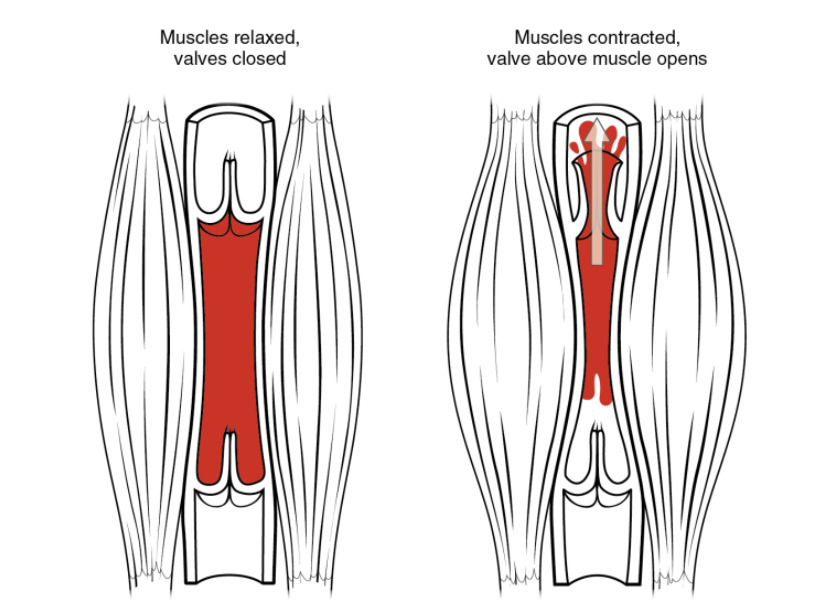 Changes in blood pressure
With aerobic exercise:
Systolic blood pressure increases:

Due to a sympathetic response
Via α-adrenergic receptors

DBP remains constant or decreases slightly:

Significant vasodilation in skeletal muscle vascular beds → slight ↓ in overall SVR
↓ SVR: DBP remains relatively constant or decreases slightly.

MAP increases slightly:

MAP = (CO x SVR) + central venous pressure (CVP) (note: CVP is close to 0 and often disregarded.)
MAP can be approximated using systolic blood pressure and DBP:

As the heart spends more time in diastole than systole, DBP contributes more to MAP than systolic blood pressure.
MAP ≅ [⅓ (systolic blood pressure ‒ DBP) ] + DBP

↑ In systolic blood pressure with minimal change in DBP = slight increase in MAP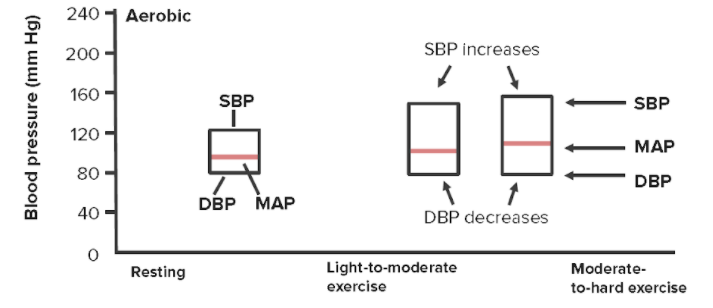 Redistribution of blood flow
Different vascular beds are able to vasoconstrict and/or vasodilate to redistribute blood flow to actively contracting skeletal muscles during aerobic exercise.
Effects may change in a given tissue depending on the intensity of exercise.
Effects on major vascular beds:

↑ Flow to the skeletal muscle
↑ Flow to the heart (though to a lesser extent than to the skeletal muscle)
Flow to the brain remains constant.
↓ Flow to the kidneys

Kidneys

The kidneys are a pair of bean-shaped organs located retroperitoneally against the posterior wall of the abdomen on either side of the spine. As part of the urinary tract, the kidneys are responsible for blood filtration and excretion of water-soluble waste in the urine.

Kidneys and GI tract
Flow to skin

Skin

The skin, also referred to as the integumentary system, is the largest organ of the body. The skin is primarily composed of the epidermis (outer layer) and dermis (deep layer). The epidermis is primarily composed of keratinocytes that undergo rapid turnover, while the dermis contains dense layers of connective tissue.

Structure and Function of the Skin:

↑ Initially to help dissipate heat generated during exercise (part of thermoregulation)
At maximal exercise, the body prioritizes perfusing the skeletal muscles and heart over thermoregulation → ↓ perfusion to the skin

Skin

The skin, also referred to as the integumentary system, is the largest organ of the body. The skin is primarily composed of the epidermis (outer layer) and dermis (deep layer). The epidermis is primarily composed of keratinocytes that undergo rapid turnover, while the dermis contains dense layers of connective tissue.

Structure and Function of the Skin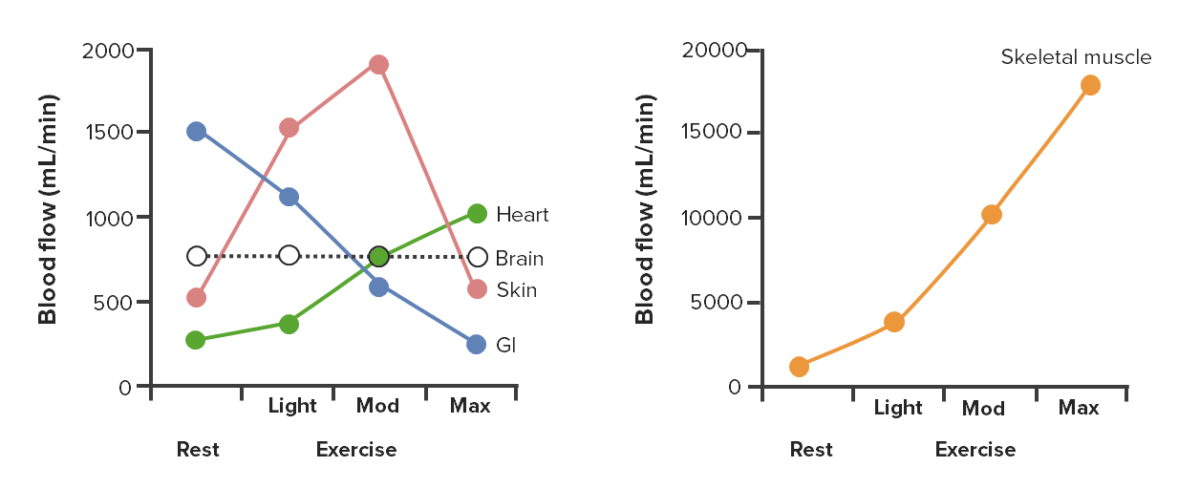 Effects of body posture on cardiovascular parameters
Table: Relative effects of body posture on cardiovascular parameters: supine versus upright

| Posture | Supine (e.g., swimming) | Upright |
| --- | --- | --- |
| Effect on preload and stroke volume | Higher | Lower |
| Effect on resting HR | Lower | Higher |
Effects of Chronic Endurance Training (Over Time)
Effects on HR, stroke volume, and CO at rest and during maximal workload
Regular aerobic exercise improves cardiovascular health by ↓ HR, ↑ stroke volume, and ↑ CO (during exercise)
Table: Effects of chronic endurance exercise on HR, stroke volume, and CO
At rest
During maximal workload
HR
Decreases
Minimal change or slightly reduced to allow for longer filling time
Stroke volume
Increases
Increases:

Growth of the ventricular wall → stronger contractions
↑ Filling → ↑ preload → ↑ stroke volume

Cardiac output
Minimal change
Increased due to ↑ stroke volume
Other vascular adaptations
Other vascular adaptations that occur with chronic endurance training:
↑ Myocardial vascularization via:

↑ Cross-sectional area of coronary vessels through remodeling
↑ Collateral circulation

↑ Capillary number and density in skeletal muscle
↓ Afterload (↓ SVR)

Systemic decrease in blood pressure
Better vasodilation of active muscles
Better shunting of blood away from nonactive regions