Overview
Definitions
Epididymitis: acute inflammation of the epididymis due to viral or bacterial infections
Orchitis: acute inflammation of the testis due to viral or bacterial infections
Disease spectrum: Epididymitis can often progress to epididymo-orchitis if untreated.
Epidemiology and etiology
Epididymitis and orchitis are the most common causes of scrotal pain in adults (> 600,000 cases per year in the United States).
Causes:
Acute epididymitis (often related to infectious causes):

< 35-years-old: Chlamydia trachomatis (C. trachomatis), Neisseria gonorrhea (N. gonorrhea)
> 35-years-old: Escherichia coli (E. coli) and Pseudomonas related to urinary tract infection (UTI) or prostatitis

Chronic epididymitis (noninfectious or chronic infectious origin):

Genitourinary trauma history
Greater than 3-month symptom duration
Autoimmune immunoglobulin A (IgA) vasculitis

Amiodarone:

Secondary to high drug concentrations at the head of the epididymis
Occurs in about 3%–11% of patients

Rarely, isolated orchitis occurs secondary to mumps or other viruses (in nonimmune individuals).
Clinical presentation
Gradual onset testicular pain, swelling, and tenderness
Fevers
Redness and warmth in the scrotum
Lower urinary tract symptoms:

Dysuria
Hematuria
Urinary frequency
Urinary urgency
Diagnosis and Management
Clinical findings
Positive Prehn's sign: decreased pain with elevation of testicle
Urinalysis/culture: usually with pyuria and/or bacteriuria
Sexually transmitted disease (STD) screening: 

Urine nucleic acid amplification test (NAAT) for N. gonorrhoeae and C. trachomatis
Consider treating partner when applicable
Scrotal color Doppler ultrasound
Increased blood flow and inflammation of epididymis or testis
Assists in distinguishing testicular torsion with decreased testicular blood flow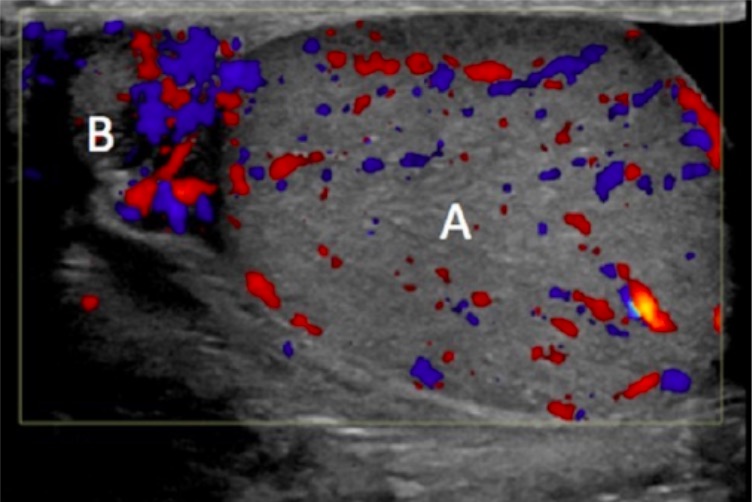 Treatment
Scrotal support and non-steroidal anti-inflammatory drugs
For patients under 35-years-old, consider STD coverage:

Regimen: ceftriaxone + doxycycline/azithromycin
Fluoroquinolones, not an option if gonorrhea suspected due to resistance

For patients over 35-years-old, consider coverage for uropathogens:

Levofloxacin
Trimethoprim/sulfamethoxazole if unable to tolerate fluoroquinolones
Differential Diagnosis
Urinary tract infection (UTI): very common bacterial infection of the lower genitourinary system, which is effectively treated with antibiotics. The patient presents with dysuria, hematuria, suprapubic tenderness, or sometimes flank pain. Diagnosis is clinical with urinalysis and urine culture.
Testicular torsion: acute-onset severe testicular pain in an adolescent boy, typically without an inciting event, is highly suspicious for torsion. Additional clinical findings include a hard testicle, swollen scrotum, and negative cremasteric reflex. Doppler ultrasound (showing no blood flow to the affected testicle) should not delay definitive management, which is acute surgical exploration and orchidopexy.
Prostatitis: bacterial infection of the prostate gland leading to lower urinary tract symptoms. Patients often present with dysuria, pelvic pain, urinary frequency, urgency, irritative voiding, and fevers. Diagnosis is clinical with a urinalysis, culture, and, if needed, a transrectal ultrasound. Treatment consists of long-term gram-negative coverage antibiotics.