Overview
Definition
Obstetric pain management refers to the pharmacological and non-pharmacological options available to help manage discomfort during labor and delivery. Such options include spontaneous vaginal deliveries and cesarean deliveries.
Maternal perceptions of labor pain
Labor pain is influenced by a woman's emotional, motivational, cognitive, social, and cultural circumstances.
Perception can vary significantly between women.
Pain may be affected by:

Fetal position
Shape and size of the maternal pelvis
Maternal parity (i.e., nulliparous vs. multiparous women)
Status of the fetal membranes (i.e., ruptured vs. intact)
Medical comorbidities (e.g., fibromyalgia)
Obstetric complications (e.g., intraamniotic infection)
Non-pharmacological pain management techniques
Ambulation
Position changes
Massage
Warm water (e.g., shower, bath)
Meditation/self-hypnosis
Indications for pharmacological pain management
According to the American College of Obstetrics and Gynecology (ACOG), "There is no other circumstance in which it is considered acceptable for an individual to experience untreated severe pain that is amenable to safe intervention while the individual is under a physician's care."
For patients in labor, maternal request alone is sufficient indication for pain control.
Appropriate pain management options should be offered to all patients.
Therapy should be administered based on patient preference:

A sense of personal control over decision-making is more important than absolute levels of pain.
Postpartum depression (PPD) and PTSD are associated with uncontrolled pain.

Absent medical contraindications, patients may choose:

When to start labor analgesia
What type of analgesia they prefer
Whether or not they want labor analgesia at all
Options for pharmacologic pain management
Systemic analgesics
Local and regional analgesics
General anesthesia
Physiology
Pain in the 1st stage of labor
The 1st stage of labor begins with the onset of regular uterine contractions causing cervical change and ends when the patient's cervix is fully dilated at 10 cm.
Pain in the 1st stage of labor is:
Visceral cramping pain
Originates from:

Ischemia of the uterus during contractions
Distension of the cervix
Referred pain to the abdominal wall, lumbosacral region, and upper legs

Perceived by nerves T10–L1
Pain in the 2nd stage of labor
The 2nd stage of labor begins when the cervix is fully dilated at 10 cm and ends with expulsion of the fetus.
Pain typically described as more severe
Often perceived as intense rectal pressure
Due to a combination of:

Visceral pain from the uterus and cervix
Somatic pain from distension of the vagina and perineum

Somatic pain is transmitted through the pudendal nerve (S2–S4).
Systemic Analgesics
Systemic analgesics can be used during labor but are not adequate for cesarean deliveries. They are commonly chosen by women for management of earlier labor, prior to getting an epidural.
Inhaled analgesia: nitrous oxide ("laughing gas")
Inhaled intermittently, during contractions only
Self-administered by patient
Pain relief: minimal and short lasting
Side effects: lightheadedness, dizziness, and nausea
Provides some pain relief early in labor
For patients who prefer to avoid other options
IV analgesia: opioids
May be given as:

Intermittent IV bolus of standard-dose opioids
Patient-controlled analgesia:

May or may not include a low-dose continuous infusion (basal rate)
Patients can self-administer small boluses.

Intermittent IV bolus options (usually administered every 2–4 hours):
Patient-controlled analgesia options:
Pain relief:

Minimal to moderate
Short lasting
Provides more relief than nitrous oxide but significantly less than an epidural

Side effects: nausea, vomiting, and drowsiness
Can affect the fetus because opioids cross placenta, leading to:

Decrease in fetal heart rate (FHR) variability
Fetal respiratory depression if drugs remain in the fetal system after delivery → avoid giving opioids within 4 hours of delivery
Local and Regional Analgesic Techniques
Pudendal nerve block
Injection of opioids into the pudendal nerve (S2–S4)
Pain relief:

Excellent along the nerve distribution
Effect covers the lower vagina, labia, and perineum only.

Used for:

Operative vaginal deliveries and laceration repairs in patients without epidurals
Additional pain control when epidural anesthesia fails to adequately anesthetize the sacral nerves

Does not provide analgesia for uterine pain and is not helpful for:

Contraction pain during labor
Cesarean deliveries

Complications: hemorrhage due to inadvertent laceration of the pudendal artery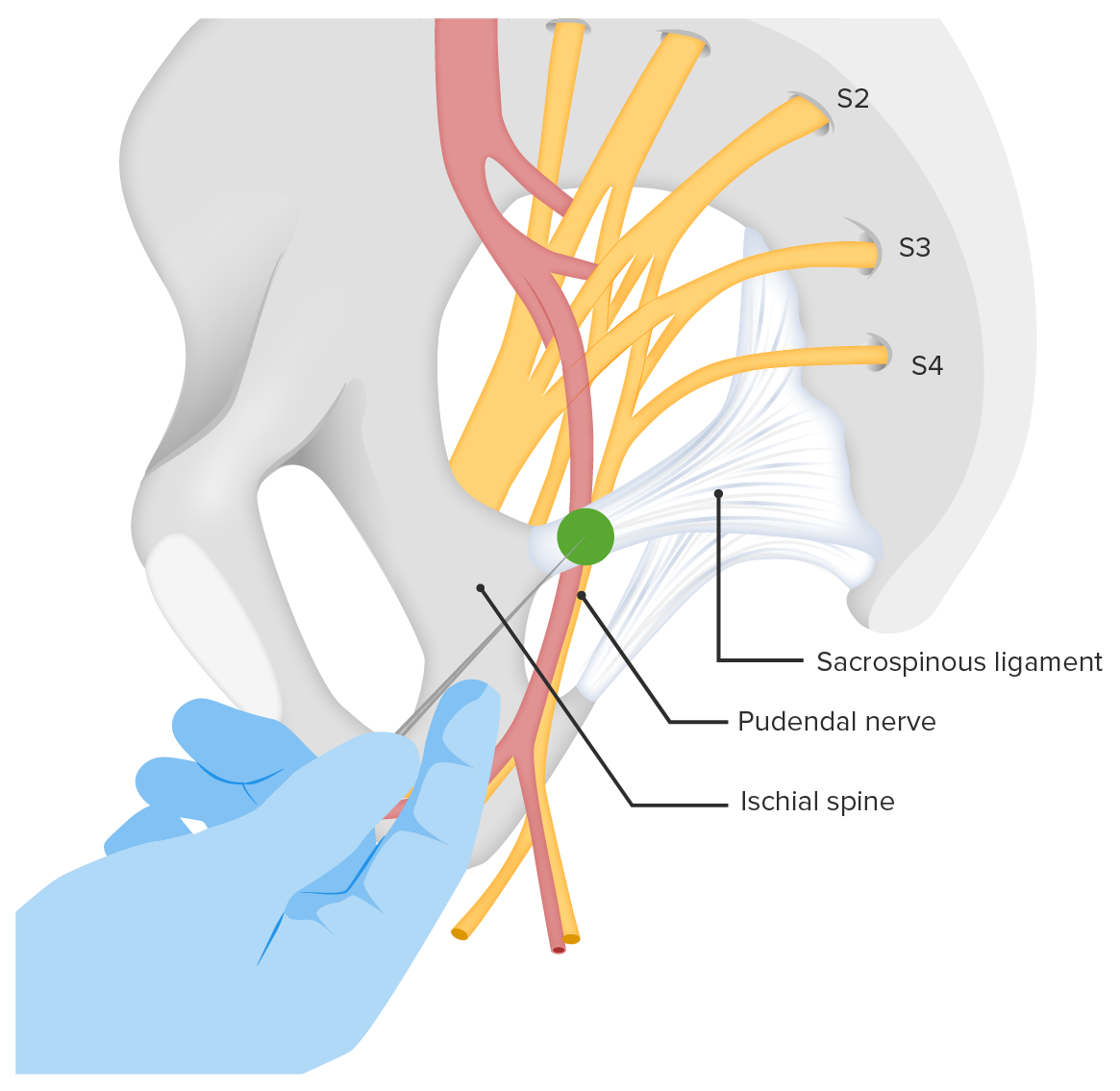 Epidural anesthesia
Slow-flow continuous administration of opioid into the epidural space via a catheter
Pain relief:

Continuous pain relief while running
Excellent pain relief at T8 and below
May have some "hot spots" (areas of poor pain relief)

Used for:

Labor pain management through vaginal delivery
Cesarean deliveries:

Typically used only after failed trials of labor when the epidural is already in place (e.g., arrested labor)
Spinal anesthesia is superior to epidurals for cesarean delivery due to a lack of "hot spots."

Maternal side effects: hypotension (may cause uteroplacental insufficiency until corrected)
Contraindications:

Certain coagulopathies
Increased intracranial pressure
Skin infections in the lower back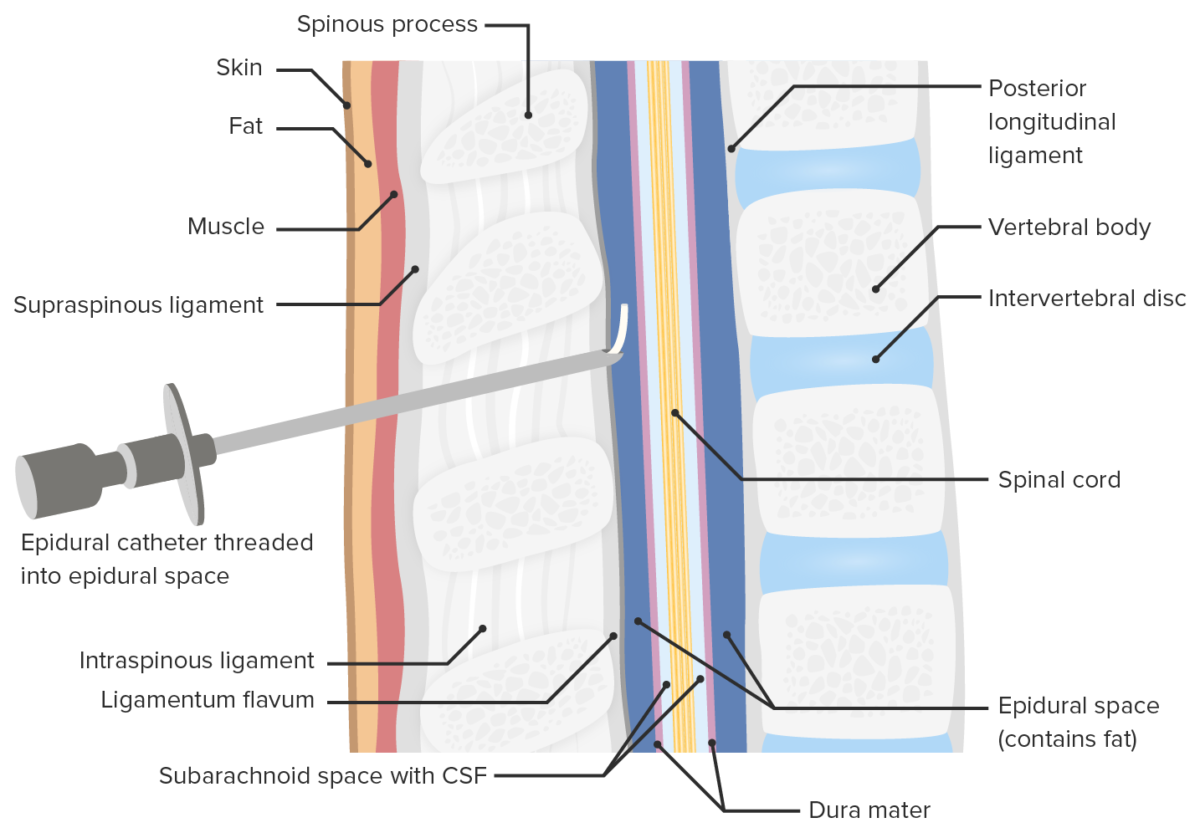 Spinal anesthesia
Single injection of opioid into the subarachnoid space
Pain relief:

Lasts 2–4 hours
Excellent pain relief at T10 and below

Used for: cesarean deliveries
Maternal side effects of spinal anesthesia:

Hypotension (may cause uteroplacental insufficiency until corrected)
Bradycardia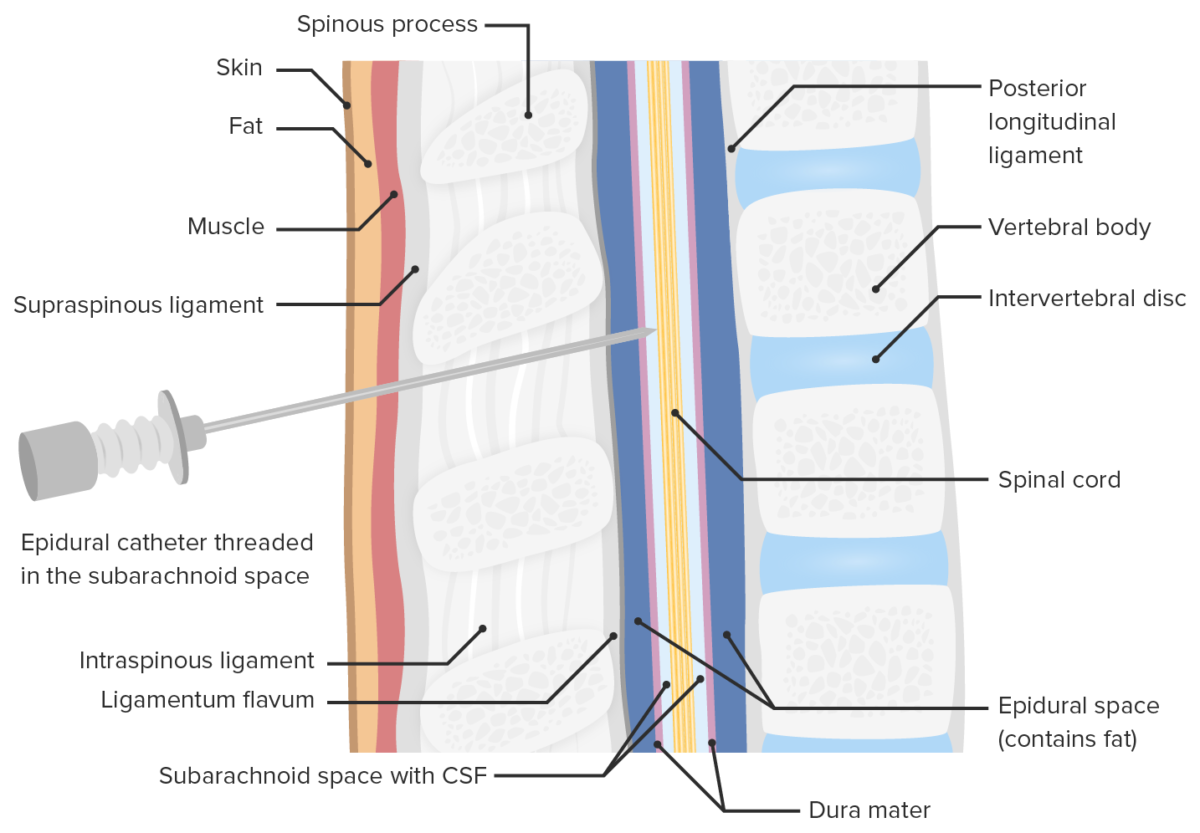 Regional anesthesia
Table: Regional anesthesia

| | Epidural anesthesia | Spinal anesthesia |
| --- | --- | --- |
| Site of injection | Epidural space | Subarachnoid space |
| Level of injection | T8 | T10 |
| Duration of pain relief | Continuous while catheter remains in place | 2–4 hours |
| Side effects | Hypotension | Hypotension and bradycardia |
General Anesthesia
Reserved for emergency C-sections: Spinal anesthesia should always be attempted first if time allows and unless there are specific contraindications.
Increases risk for:

Maternal aspiration → aspiration pneumonitis
Postpartum hemorrhage (general anesthesia causes uterine atony)
Fetal respiratory depression at birth

Fetal care:

Pediatric care providers should be present at delivery to provide respiratory support, as the infant will also be under the effects of general anesthesia.
Infants should be delivered as quickly as possible after induction of anesthesia to minimize fetal effects.