Classification

General Characteristics and Epidemiology
Basic features of orthopoxviruses
Largest and most complex viruses
Taxonomy:

Family: Poxviridae
Genus: Orthopoxvirus

DNA virus:
Structure:

Nucleosome (instead of a capsid)
Proteolipid envelope
Oval or brick-shaped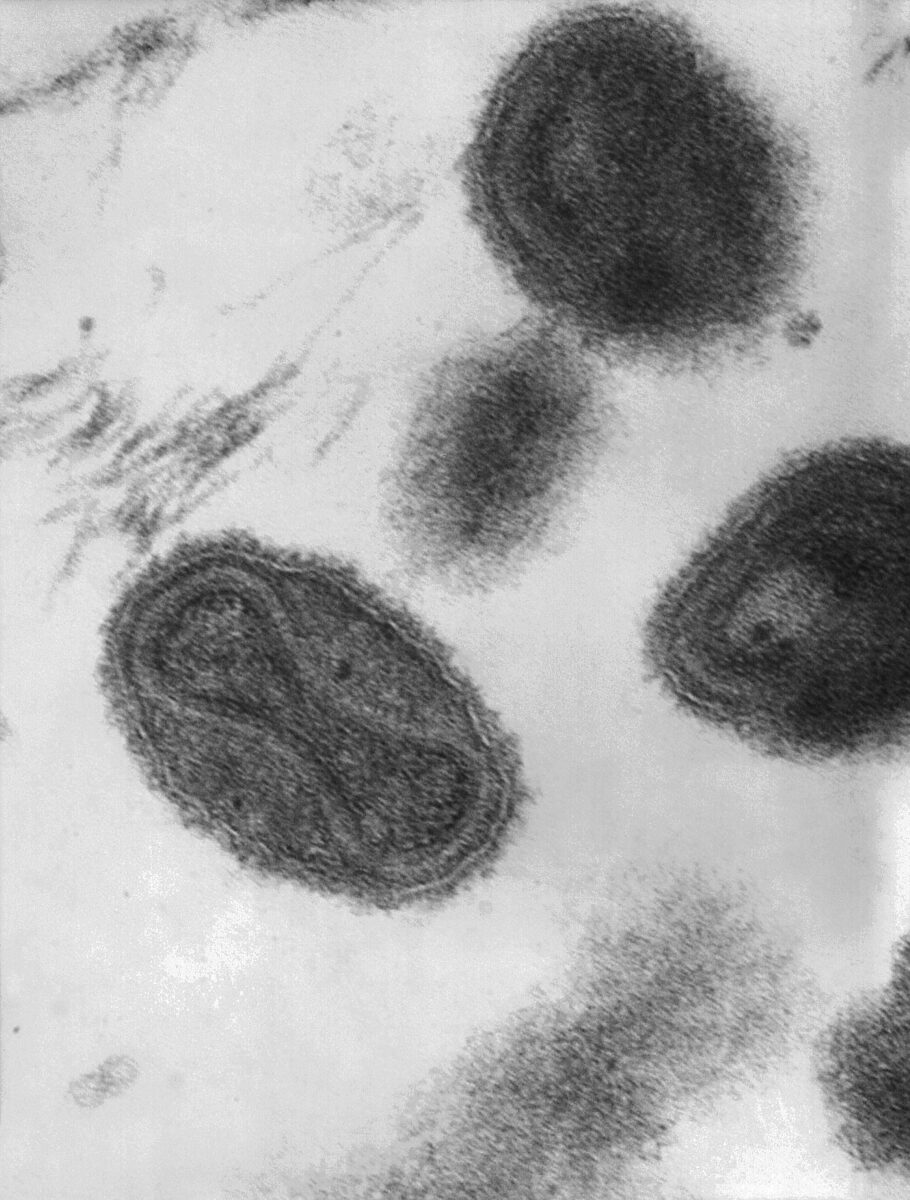 Clinically relevant species
Notable orthopoxviruses that infect humans include:
Variola virus (smallpox)
Monkeypox virus
Vaccinia virus (used in the smallpox vaccine)
Cowpox virus
Epidemiology
Orthopoxvirus infections are rare events.
Smallpox:

The last case of naturally occurring smallpox was in the 1970s.
Considered eradicated in 1980
Mortality had been as high as 25%–30%.

Monkeypox:

Sporadic epidemics have occurred in Africa
Mortality can be as high as 17%.

Cowpox:

< 150 cases reported
Most cases occur in individuals < 18 years of age
Pathogenesis
Transmission
Table: Transmission of Orthopoxviridae
Virus
Reservoir
Transmission
Smallpox
Humans

Respiratory aerosols
Contact with lesions
Fomites

Monkeypox
Unknown (maybe small rodents)

Respiratory aerosols
Contact with infected bodily fluids
Contact with lesions
Fomites

Vaccinia
Unknown
Skin-to-skin contact (often from those recently vaccinated)
Cowpox
Rodents
Direct contact with infected animals (often cows)
Host risk factors
More severe disease tends to occur in:
Immunosuppressed patients
Certain skin conditions (e.g., eczema)
Viral replication cycle
Unlike many other viruses:

Viral replication is cytoplasmic.
No cell receptor or specific protein is targeted by the virus to gain entry into the cell.

Entry into a host cell is mediated by endocytosis → viral core is released into the cytoplasm
Intermediate genes are expressed → DNA replication
Progeny virions are assembled → mature virions are released from the cell upon cellular lysis
Pathophysiology
Smallpox:

Inhaled secretions and virus → entry into the respiratory tract
Viral replication → spread to regional lymphatic tissue → replication → viremia
Dissemination to lymphoid organs → secondary viremia → symptoms
Virus localizes in dermal blood vessels → endothelial swelling
Infection of epidermal cells → cutaneous manifestations

Vaccinia: virus replicates at the site of inoculation → localized cutaneous manifestations
Clinical Presentation
The following table summarizes notable clinical diseases caused by orthopoxviruses:
Table: Clinical diseases caused by orthopoxviruses
Disease
Incubation
Constitutional symptoms
Rash
Smallpox
7–19 days

Fever
Malaise
Headache
Backache

Starts on mucous membranes → cutaneous lesions
Centrifugal spread
Can involve palms and soles
Papules → vesicles → pustules → crusts
Deep-seated
Firm
Round
Well-circumscribed
Results in scarring

Monkeypox
5–17 days

Fever
Malaise
Headache
Myalgias
Lymphadenopathy

Similar to smallpox
Lesions occur in crops

Vaccinia
2–4 days

Localized lesions
Can occur from vaccination
Can disseminate (severe)

Cowpox
2–4 days

Localized lesions
Similar to vaccinia
Diagnosis and Management
Diagnosis
The diagnosis can be supported with the following testing:
PCR for viral DNA from lesion specimens
Serology (not specific for individual viruses)
Viral culture
Electron microscopy of lesion specimens
Management
There is no known treatment for these diseases.
Management is supportive.
Potential antiviral treatments:

Tecovirimat

FDA-approved for the treatment of smallpox infection
Effectiveness is unknown

Cidofovir

Has in vitro activity against orthopoxviruses
No clinical data in humans
Prevention
The smallpox vaccine is not only responsible for the eradication of smallpox but also appears to:
Confer protection against some other orthopoxviruses, such as monkeypox
Blunt the clinical course of smallpox if given after exposure
Differential Diagnosis
Chickenpox: primary infection caused by the varicella–zoster virus. The typical clinical presentation includes prodromal symptoms, an oral enanthem, and a generalized, intensely pruritic vesicular rash. These lesions appear in crops and will be in varying stages of evolution. The diagnosis is primarily clinical. Management is supportive, though antiviral therapy can be used in certain patient populations.
Molluscum contagiosum (MC): viral infection limited to the epidermis. Molluscum contagiosum is mainly seen in children < 5 years of age. Lesions are grouped, flesh-colored, dome-shaped papules with central umbilication. The disease is mild in immunocompetent patients and self-resolves within months. Diagnosis is usually clinical. This infection is highly transmissible, and patient education is key in management. Cryotherapy with liquid nitrogen is the 1st-line therapy in patients who require it.
Hand, foot, and mouth disease: mild, self-limited disease caused by coxsackie group A virus. Patients may have fever, mouth pain, and pharyngitis. An oral enanthem may occur. Skin lesions can be macular, papular, or vesicular and often include the palms, soles, and buttocks. Diagnosis is usually clinical. Management is supportive.
Bacillary angiomatosis: condition seen in HIV/AIDs patients that results in angiomatous skin lesions due to Bartonella infection. The skin lesions are usually protuberant, red papules or nodules that are friable. Painful osteolytic bone lesions can also occur. Diagnosis can be made with biopsy, cultures, and PCR. Management includes antibiotics and antiretroviral therapy for HIV.