Overview
Diabetes mellitus, type 2
Caused by:

Peripheral insulin resistance: cell insulin receptors do not respond appropriately to insulin
Beta-cell dysfunction: long-term ↑ in insulin demand → defective insulin secretion

Results in hyperglycemia
Pharmacologic management can target:

Insulin release
Insulin resistance
Glucagon release
Gluconeogenesis
Glucose uptake
Classification
Hyperglycemic medications can be classified on the basis of their mechanism of action:
Insulinotropic drugs: ↑ insulin secretion
Sulfonylureas
Meglitinides
Glucagon-like peptide-1 (GLP-1) analogs
DPP-4 inhibitors
Non-insulinotropic drugs: do not affect insulin release
↓ Insulin resistance:

Biguanides
Thiazolidinediones (TZDs)

↓ Glucose absorption/reabsorption:

Alpha-glucosidase inhibitors
Sodium–glucose transport protein 2 (SGLT2) inhibitors

↓ Gastric emptying and glucagon secretion: amylin analogs
Biguanides
Metformin is the only available medication in the biguanide drug class.
Pharmacodynamics
The mechanism of action for metformin is not well understood, but it appears to help in the management of type 2 diabetes by:

↓ Gluconeogenesis in:
↓ GI glucose absorption
↓ Insulin resistance
↑ Uptake of glucose by:

Physiologic effect:

↓ Fasting and postprandial glucose
Weight stabilization or reduction
↓ LDL
↑ HDL

Pharmacokinetics
Absorption: oral
Distribution:

Concentrates in:
Negligible protein binding

Excretion: by the kidneys (unmetabolized)
Indications
Type 2 diabetes:

Drug of choice for most cases
Well tolerated
Low cost
No risk of hypoglycemia with monotherapy

Polycystic ovary syndrome (no longer 1st-line treatment)
Adverse effects
GI effects (improves with dose reduction or discontinuation):

Metallic taste
Diarrhea
Anorexia
Nausea and vomiting

Lactic acidosis:

Rare
Common in individuals with concurrent renal and hepatic disease
Due to impairment of lactic acid metabolism in hepatocytes → released in bloodstream

Vitamin B12 deficiency

Occurs during long-term therapy
Due to ↓ GI absorption of vitamin B12
Rarely results in megaloblastic anemia
Contraindications
Severe renal disease
History of lactic acidosis
Severe hepatic dysfunction
Diabetic ketoacidosis
Avoid use:

Surgery
Iodinated contrast agents
Hypoperfusion states
Drug interactions
Drugs associated with increased metformin toxicity:
Ethanol
Iodinated contrast agents
Topiramate
Thiazolidinediones
Medications in this class
Pioglitazone
Rosiglitazone
Pharmacodynamics
Work on:
Ligands of peroxisome proliferator–activated receptors (PPARs)
Activation of PPARs → ↑ transcription of genes involved in:

Lipid and glucose metabolism
Insulin signal transduction
Adipocyte and other tissue differentiation

↑ Insulin sensitivity → ↑ glucose uptake and utilization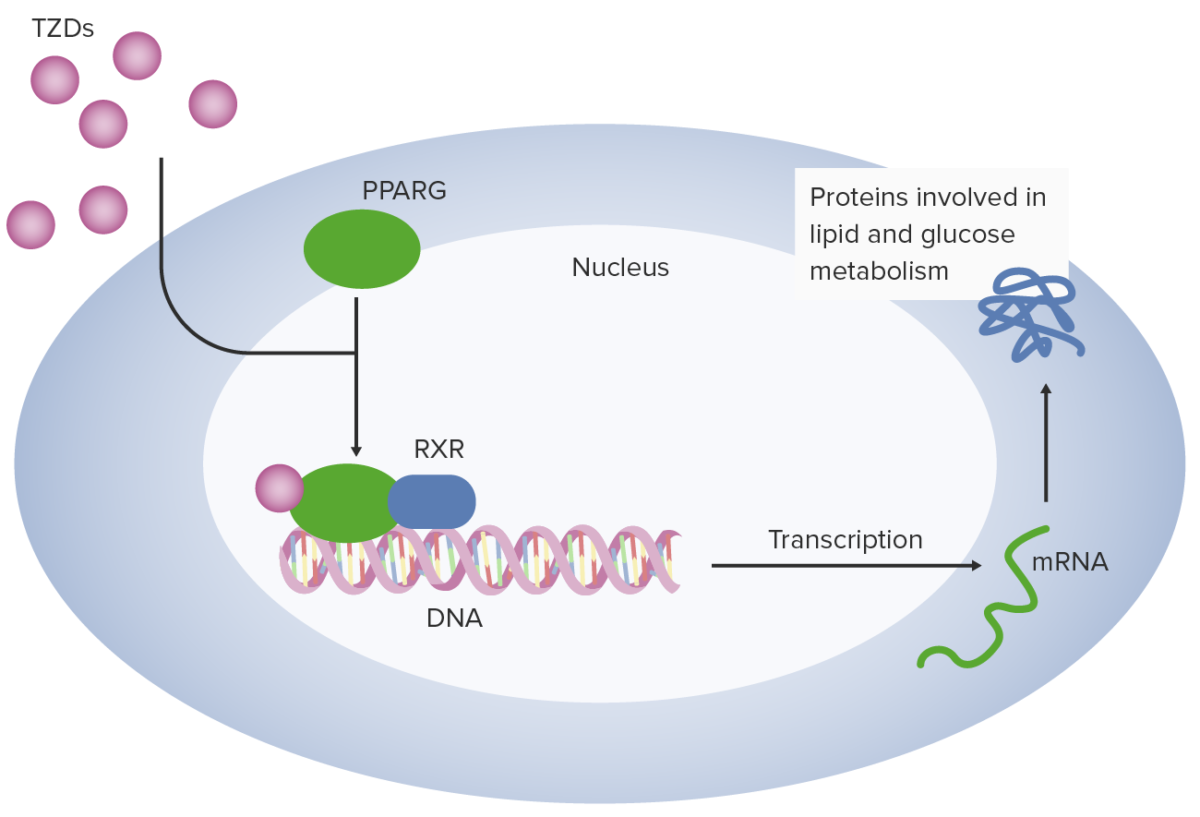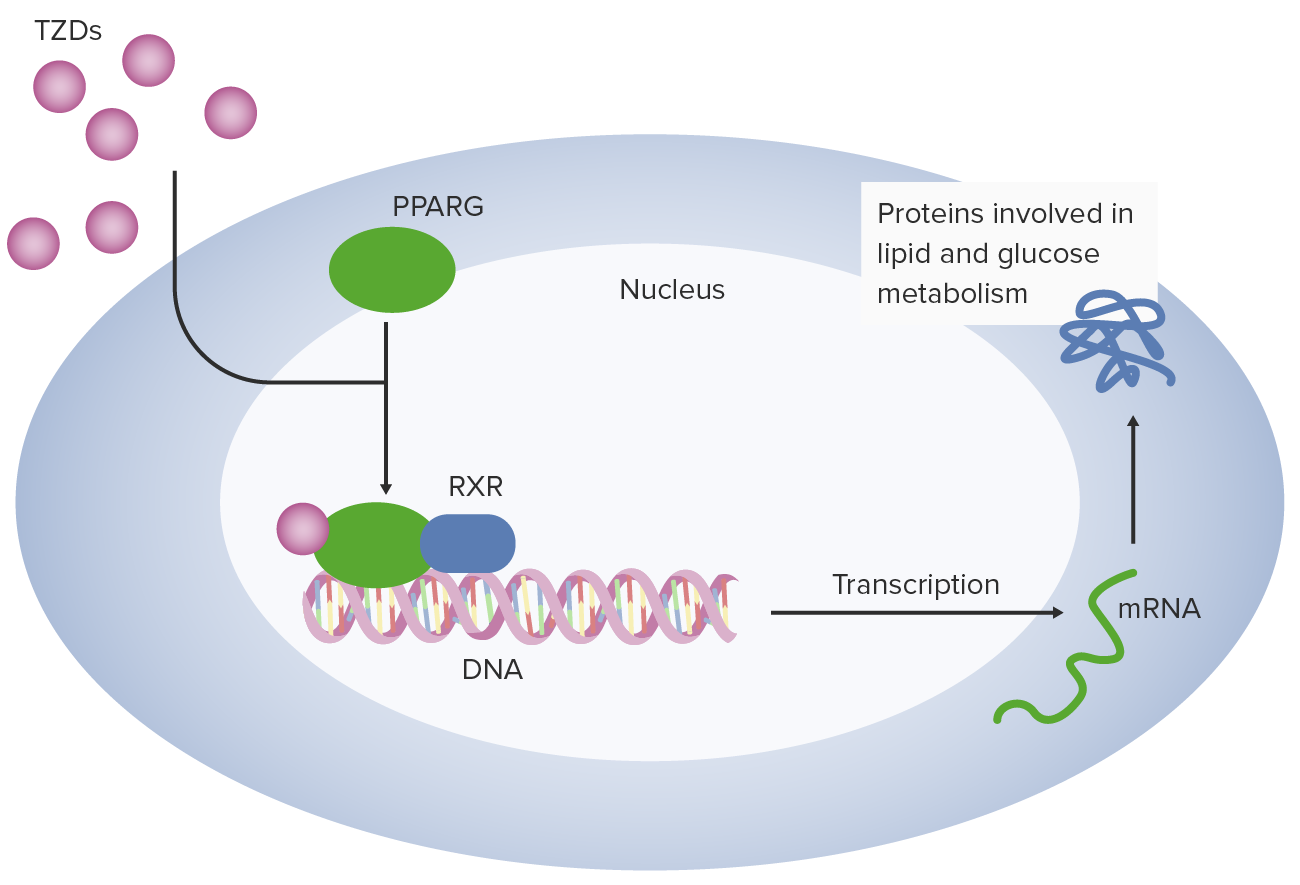 Pharmacokinetics
Absorption:

Well absorbed orally
Delayed onset of action

Distribution: highly protein-bound
Metabolism:

Extensive hepatic metabolism
Cytochrome P450 system
Pioglitazone has active metabolites.

Excretion:

Pioglitazone: mostly in feces
Rosiglitazone: mostly in urine
Indications
TZDs are used for the treatment of type 2 diabetes:
Not generally used in initial therapy
More often used as 2nd- or 3rd-line therapy
Can be combined with other agents
Pioglitazone is useful in individuals with concurrent nonalcoholic steatohepatitis (NASH).
Adverse effects
Weight gain:

Adipocyte proliferation
Fluid retention

↑ Risk of congestive heart failure and cardiovascular events (especially with rosiglitazone)
Bone demineralization and ↑ fragility
Hepatotoxicity
Possible ↑ bladder cancer risk (pioglitazone)
Contraindications
Class III or IV congestive heart failure
Liver failure
Drug interactions
↑ Hypoglycemic effect:

Other antidiabetic medications
Androgens
Direct-acting antiviral agents
Antidepressants

Fluid retention:
↑ Risk of ischemic events:
Alpha-Glucosidase Inhibitors
Medications in this class
Pharmacodynamics
Alpha glucosidases:

Intestinal brush border enzymes
Convert carbohydrates → monosaccharides
Only monosaccharides can be transported from the gut lumen → bloodstream

Competitive inhibition → ↓ carbohydrate digestion in the proximal small intestine → deferred to distal small intestine
Results in slowed glucose absorption → ↓ post-meal glycemic excursion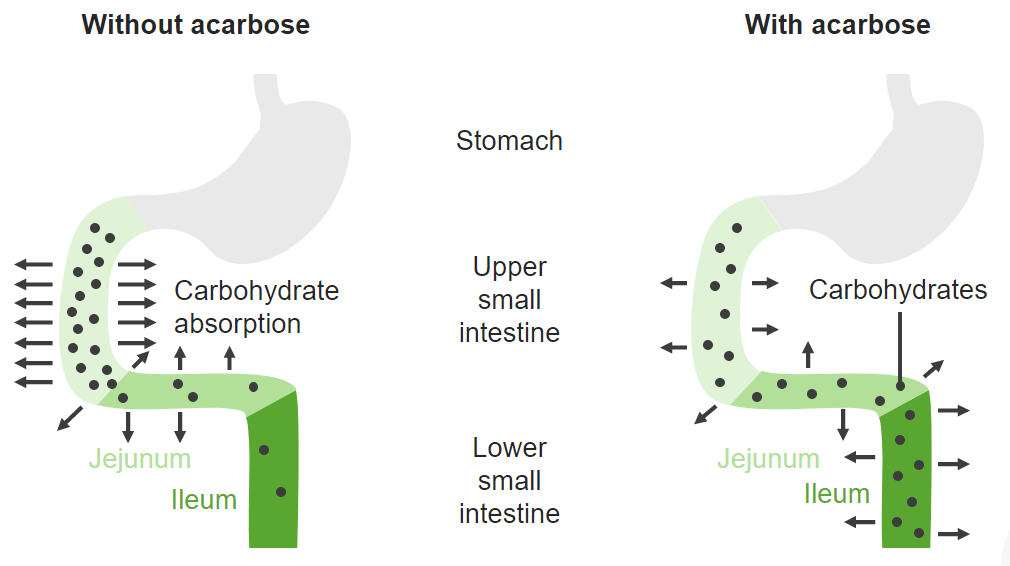 Pharmacokinetics
Absorption:

Acarbose: most is not absorbed
Miglitol: completely absorbed

Metabolism:

Acarbose: degraded in the intestine by bacteria and digestive enzymes
Miglitol: none

Excretion:

Acarbose: mostly in feces
Miglitol: mostly in urine
Indications
Alpha-glucosidase inhibitors are used to treat type 2 diabetes as either:
Monotherapy (generally not 1st-line)
Adjunctive therapy
Adverse effects
GI discomfort (due to fermentation of undigested carbohydrates in the colon):

Flatulence
Bloating
Diarrhea
Abdominal pain

↑ Liver enzymes
Contraindications
Renal impairment
Hepatic impairment
GI motility disease
Predisposition to bowel obstruction
Inflammatory bowel disease
Sodium–glucose transport protein 2 (SGLT2) Inhibitors
Medications in this class
Dapagliflozin
Empagliflozin
Canagliflozin
Ertugliflozin
Pharmacodynamics
SGLT2:

Located in the proximal tubule
Responsible for glucose reabsorption

Inhibition of SGLT2 → ↓ reabsorption of filtered glucose
Result: ↑ urinary glucose excretion and ↓ blood glucose level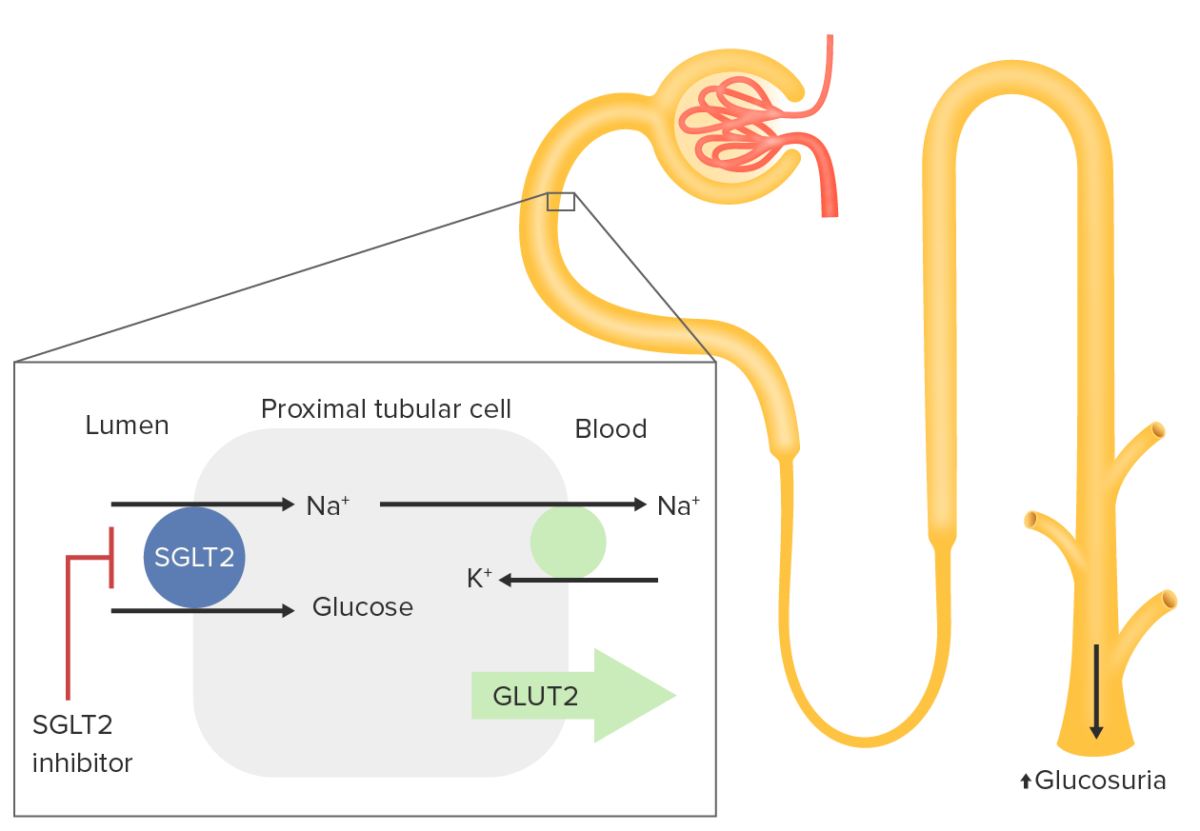 Pharmacokinetics
Absorption: rapid oral absorption
Distribution: protein-bound
Metabolism:

Hepatic
Glucuronidation
Minimal cytochrome P450–mediated metabolism

Excretion: in urine and feces
Indications
Sodium–glucose transport protein 2 inhibitors are used for the treatment of type 2 diabetes:
Adjunctive therapy
Not typically used as initial therapy
Help with weight loss
Potential morbidity and mortality benefit for individuals with cardiovascular and renal comorbidities
Adverse effects
Glucosuria → ↑ risk of genitourinary tract infections
Osmotic diuresis leads to:

Polyuria
Hypovolemia
Hypotension
AKI

↑ Risk of fractures
↑ Risk of diabetic ketoacidosis
Contraindications
Severe renal impairment (less effective)
Frequent urinary tract infections
Type 1 diabetes
Diabetic ketoacidosis
Amylin Analogs
Pramlintide is the only medication in the amylin analog class.
Pharmacodynamics
Amylin is usually cosecreted with insulin by beta cells in the pancreas.
This secretion is deficient in type 1 diabetes and relatively deficient in type 2 diabetes.
Analogs help with glucose control by:

Slowing gastric emptying and ↑ satiety → ↓ food intake
↓ Postprandial glucagon secretion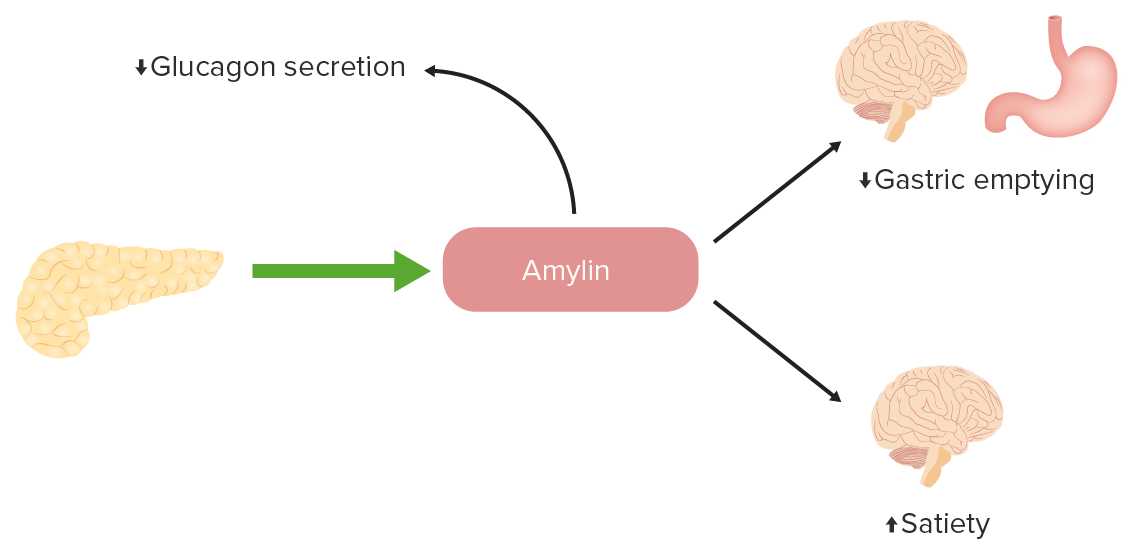 Pharmacokinetics
Absorption: given as a subcutaneous injection
Metabolism:
Excretion: in urine
Indications
Used in types 1 and 2 diabetes
Individuals should be on prandial insulin.
Administered immediately prior to meals
Adverse effects
Nausea and vomiting
Anorexia
Hypoglycemia (usually in type 1 diabetes)
Contraindications
Gastroparesis
Hypoglycemia unawareness
Drug interactions
↑ Hypoglycemic effect with other antidiabetic medications
May delay absorption of oral medications
Comparison of Antidiabetic Medications
The following table compares the different (noninsulin) type 2 diabetes mellitus medications:
Table: Comparison of different (noninsulin) type 2 diabetes mellitus medications
Drug
Mechanism
Indications
Adverse effects
Sulfonylureas

Act on K channels of beta cells
↑ Insulin release

Adjunctive therapy
Severe hyperglycemia (if contraindications to other agents)

Hypoglycemia
Weight gain
Disulfiram-like reaction
Hepatitis
Hemolytic anemia

Meglitinides

Adjunctive therapy
Can replace sulfonylureas in individuals with an allergy

Hypoglycemia
Weight gain
Respiratory tract infections

GLP-1 agonists

Incretin mimetic
Acts on beta and alpha cells
↑ Insulin release
↓ Glucagon release
↓ Gastric emptying and appetite

Adjunctive therapy
Weight management

Nausea and vomiting
Diarrhea
Pancreatitis
Kidney injury

DPP-4 inhibitors

Prevents breakdown of GLP-1
↑ Insulin release
↓ Glucagon release

Adjunctive therapy

Nasopharyngitis
Arthralgia
Hepatic dysfunction
Pancreatitis

Biguanides

↓ Insulin resistance
↓ Gluconeogenesis

Drug of choice
Can be used as monotherapy

GI symptoms
Lactic acidosis
Vitamin B12 deficiency

Thiazolidinediones

Activation of PPARs
↑ Transcription of genes for lipid and glucose utilization
↓ Insulin resistance

Adjunctive therapy
Pioglitazone: concurrent NASH

Weight gain/fluid retention
Cardiovascular events
Hepatotoxicity
Osteoporosis

Alpha-glucosidase inhibitors

Inhibit conversion of carbohydrates to monosaccharides
Slowed glucose absorption
↓ Postprandial glucose excursionxs

Can be used as monotherapy (not 1st-line)
Adjunctive therapy

GI symptoms
↑ Liver function tests

SGLT2 inhibitors

Inhibit reabsorption of glucose in the proximal renal tubule
↑ Urinary glucose excretion

Adjunctive therapy
Cardiovascular and renal benefit

Genitourinary infections
Diabetic ketoacidosis
Volume depletion

Amylin analogs

Slowing gastric emptying
↑ Satiety
↓ Postprandial glucagon secretion

Used in types 1 and 2 diabetes
Use in conjunction with prandial insulin
The effects of diabetes medications on weight may be a factor in choosing therapy:
Weight loss:

GLP-1 mimetics
SGLT2 inhibitors

Weight neutral:

α-glucosidase inhibitors
DPP-4 inhibitors

Weight gain:

Insulin
Sulfonylureas
Thiazolidinediones
Meglitinides