Overview
Definition
Lipoma is a benign neoplasm of fat cells (adipocytes).
Epidemiology
The most common benign soft tissue tumor
Age: mostly adults, age > 40 years; rare in children
Women > men
Associated with obesity
No gender or ethnic preference
Multiple lipomas account for 5% of cases:

Often familial
Often associated with genetic disorders
Etiology
Unknown for most lipomas
Genetics in some cases:

Solitary lipomas: HMGA2-LPP fusion gene defect in chromosome 12
Some are associated with genetic syndromes:

Familial multiple lipomatosis
Adiposis dolorosa
Neurofibromatosis
Multiple endocrine neoplasia
Gardner's syndrome
Madelung's disease
Bannayan-Riley-Ruvalcaba syndrome

Environmental factors:

Obesity (definite)
Possible factors:

Diabetes and other endocrine disorders
Trauma
Radiation
Corticosteroid therapy
Pathophysiology and Clinical Presentation
Pathophysiology
Anatomic sites:
Benign neoplasm composed of mature adipose cells
Can arise in any site where there is adipose tissue:

Most arise in subcutaneous tissue, on the trunk or upper extremities
Submucosal gastrointestinal sites, from the esophagus to the lower intestine
Less common sites:

Retroperitoneal
Intraglandular
Intramuscular
Parosteal lipoma
Morphology:
Size:

Usually 2–3 cm
Range from < 1 cm to > 10 cm, especially if in deeper tissues

Single most common, but may be multiple
Soft, rubbery
Mobile (not fixed to surrounding tissues)
Round, oval, or multi-lobulated
Bright yellow homogeneous fat with a fine fibrous capsule (superficial lesions) and trabeculae
Greasy cut surface
Histology:
Mature adipose tissue, with adipocytes showing no atypia, but 2–5x variation in cell size
Lobular architecture with thin septae
No mitotic figures
Scant vascularity
Thin fibrous capsule
Fat necrosis:

More likely in larger lipomas
Focal, with histiocytes +/- calcification

Some histologic variants:

Angiolipoma:

Small, well-circumscribed, subcutaneous tumor
Mature adipose cells, capillary vessels with fibrin thrombi
Angiolipoma is 1 of 5 of the most common painful skin tumors. (The other 4 are: neuroma (traumatic), glomus tumor, eccrine spiradenoma, and leiomyoma (vascular), creating the mnemonic "ANGEL.")

Fibrolipoma
Chondroid lipoma
Ossifying lipoma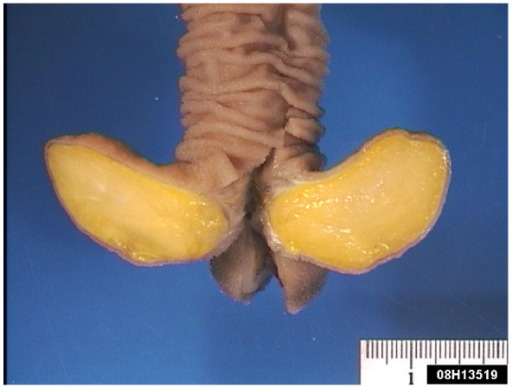 Clinical Presentation
Subcutaneous lipomas (most common):

2–3 cm (can be > 10 cm) soft, mobile mass, usually on the trunk or upper extremities
Usually solitary
Painless
No overlying skin changes
Can occur appear anywhere on the body

Gastrointestinal lipomas:

Intestinal obstruction or intussusception (nausea/vomiting, abdominal pain)
Gastrointestinal hemorrhage (from mucosal ulceration)

Other sites, e.g. retroperitoneum, body cavities: compression effects on adjacent organs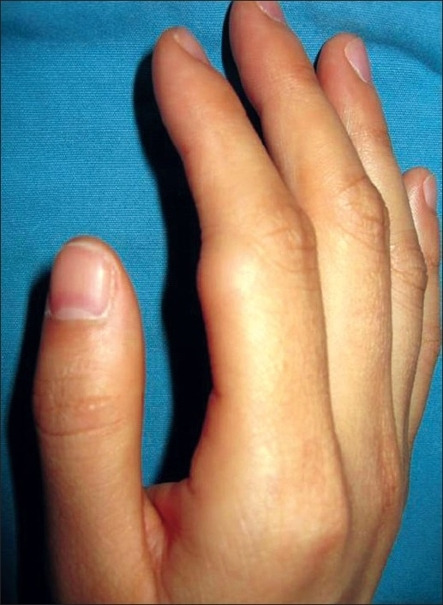 Diagnosis and Management
Diagnosis
History:
A slowly growing lump (usually painless) for subcutaneous lipomas
For other types of lipomas reported, symptoms depend on the site.
Family history/genetic disorders
Physical exam:
Soft, rubbery, mobile nodule
"Slippage sign": Tumor will slip out from under the fingers.
Deeper or intramuscular lipomas may present as swelling.
Imaging:
Not required for most subcutaneous lipomas
Ultrasound (US):

Can be used for subcutaneous lesions with atypical appearance
For deep soft tissue or retroperitoneal lesions

Computed tomography (CT):

Density < 50 Hounsfield units is indicative of a fatty tumor
However, cannot reliably distinguish lipoma from liposarcoma

Magnetic resonance imaging (MRI): also cannot reliably rule out malignancy
Endoscopy and endoscopic ultrasound (EUS):
From the esophagus to the colon
Appear as smooth, round submucosal nodules
Possible mucosal ulceration if large
EUS can help confirm the diagnosis of a lipoma.
Biopsy:
If diagnosis is uncertain and malignancy suspected
Core needle (for deep/retroperitoneal lesions)
Incisional biopsy is an option for large soft tissue lesions.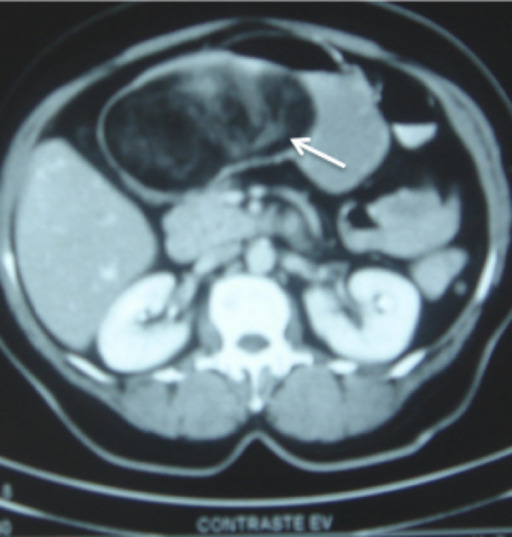 Management
Expectant management: appropriate for small (< 5 cm) subcutaneous asymptomatic lipomas
Surgical excision:
Subcutaneous lipomas:

Indications:

Pain
Cosmesis
Diagnosis in doubt
Increase in size

Excision needs to involve the fibrous capsule to reduce recurrence.

Gastrointestinal lipomas:

Surgical resection if symptomatic/obstructive
Endoscopic removal may be feasible if small.

Other sites (retroperitoneum, intraglandular):

Resection usually needed if malignancy is in question
Always needed if symptomatic
Biopsy prior to resection, if feasible.
Complications of surgery:
Scarring
Seroma formation
Hematoma formation
Infection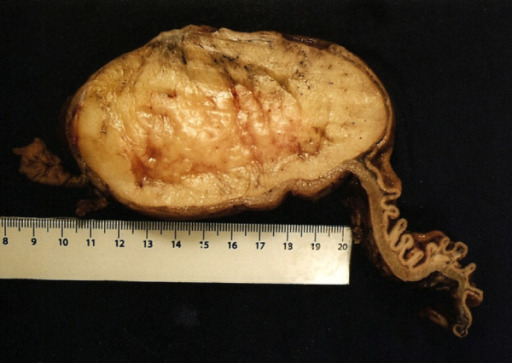 Differential Diagnosis
Subcutaneous lesions
Keratin-filled cysts: benign cysts lined by epidermal cells and filled with keratin. Also called by the misnomer "sebaceous cysts." Two types:

Epidermal inclusion cyst: formed by the invagination and cystic expansion of the epidermis. Commonly found on the head, face, or neck. Firm and has a central punctum; prone to rupture.
Trichilemmal cyst (pilar cyst): originates from the outer hair root sheath. Ninety percent occur on the scalp or scrotum. Often have an autosomal dominant pattern of inheritance. Usually firm with a thick cyst wall.

Abscess: pus-filled cyst with fibrotic wall; indurated, fixed, and erythematous; can be infectious (bacterial or fungal) or sterile (if an irritant drug or substance is injected into the skin, resulting in aseptic inflammation and abscess formation).
Well-differentiated liposarcoma ("atypical lipomatous tumor"): mostly in the deep thigh or retroperitoneum; multi-lobulated, with focal firm areas. Atypical spindle cells present; overexpresses MDM2 (which blocks p53 tumor suppressor function). Well-differentiated liposarcoma tend to recur if not completely resected. Do not metastasize if dedifferentiation into higher-grade elements does not occur.
Pseudolipoma: tension on subcutaneous fat tissue by adjacent fibrous bands, which may be post-traumatic or related to scirrhous breast cancer
Deep lesions
Liposarcoma: a malignant neoplasm of adipocytes; usually arises de novo (not from a lipoma). Often intramuscular or retroperitoneal. Appears heterogeneous on imaging. Biopsy is needed for confirmation.
Hibernoma: a benign tumor arising from brown fat; most commonly in inter-scapular area but also in the neck, axillae, thigh, or intrathoracic areas. Hibernomas have higher vascularity and density compared with lipomas.
Mammary hamartoma: a benign proliferation of fibrous, glandular, and fatty tissue surrounded by a thin, fibrous capsule.
Gastrointestinal submucosal tumors: include leiomyomas, granular cell tumors, gastrointestinal stromal tumors (GISTs), metastatic lesions, and others. Diagnosed by endoscopy, EUS, and biopsy.
Spermatic cord "lipoma": not a true lipoma (i.e., a benign neoplasm of adipose tissue), but is only preperitoneal, mature, benign, fatty tissue that has gained access to the spermatic cord.
References
Nickloes, T.A. (2020). Lipomas: Background, pathophysiology, etiology. https://emedicine.medscape.com/article/191233-overview#a4
Kim, K.S., & Yang, H.S. (2014). Unusual locations of lipoma: Differential diagnosis of head and neck mass. Australian Family Physician, 43(12), 867–870. https://www.racgp.org.au/afp/2014/december/unusual-locations-of-lipoma-differential-diagnosis-of-head-and-neck-mass/#5
Lipoma (2020). In Kumar, V., Abbas, A. K., Aster, J.C., (Eds.). Robbins & Cotran Pathologic Basis of Disease. (10th ed., p. 1209). Elsevier, Inc.
Rouse, R.V. (2017). Lipoma—Surgical pathology criteria—Stanford University School of Medicine. http://surgpathcriteria.stanford.edu/softfat/lipoma/
Fairweather, M., & Raut, C.P. (2019). To Biopsy, or Not to Biopsy [a suspected retroperitoneal sarcoma]: Is There Really a Question?. Ann Surg Oncol 26, 4182–4184. https://doi.org/10.1245/s10434-019-07723-y
Rotunda, A. M., Ablon, G., & Kolodney, M. S. (2005). Lipomas treated with subcutaneous deoxycholate injections. Journal of the American Academy of Dermatology, 53(6), 973–978. https://doi.org/10.1016/j.jaad.2005.07.068