Overview
Definition
Antiprogestins are competitive inhibitors of progestins at the progesterone receptors (PRs).
Classification
Antiprogestins:

Mifepristone
Lilopristone
Onapristone

Selective progesterone receptor modulators (SPRMs):

Ulipristal
Asoprisnil
Telapristone
General indications
Contraception
Pregnancy termination
Uterine fibroids
Common side effects
Nausea
Vomiting
Abdominal pain
Physiology
Progesterone is secreted from the corpus luteum, placenta, testes, and adrenal cortex.
Functions:

Development of the secretory endometrium
Repression of estrogen receptor expression
Thickening of the cervical mucus
Proliferation of acini in the mammary glands
Increase in body temperature
Maintenance of pregnancy
Suppression of uterine contractility
Decreases the frequency of gonadotropin-releasing hormone (GnRH) pulses
Elevation of basal insulin levels

Mechanism of action:

PRs are located in the cell nucleus.
PRs consist of 2 isoforms: PR-A and PR-B
Binding of progesterone → dimerization of the receptor → binding to progesterone response elements (PREs) on target genes → regulation of gene transcription
Progesterone binds to cell membrane receptors:

Oocyte maturation
Increased Ca2+ release from spermatozoa
Antiprogestins
Chemical structure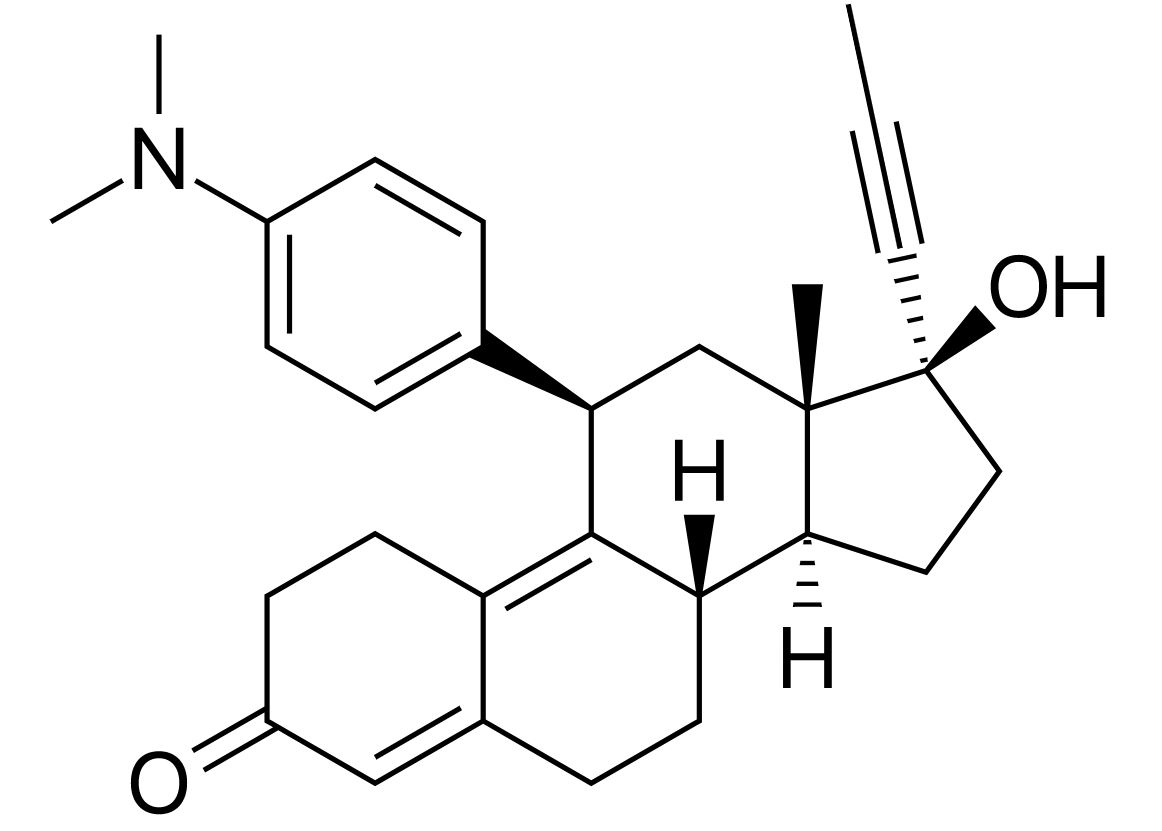 Classification
The 3 drugs in the antiprogestin class include:
Mifepristone
Lilopristone
Onapristone
Mechanism of action
Antagonist and partial agonist of PR-A and PR-B
In the absence of progesterone, antiprogestins act as partial agonists.
At high doses, mifepristone acts as a glucocorticoid receptor antagonist (therefore, it is useful in treating Cushing's syndrome).
Pharmacological effects
Antiprogestin actions:

Pharmacological effects depend on the timing of drug administration.
Mifepristone can delay ovulation when given during the follicular phase.
When administered during the luteal phase:

Induction of menstruation
Prevention of secretory changes in the endometrium

When given during pregnancy → inhibition of decidualization → detachment of the blastocyst → decrease in hCG secretion → decrease in the secretion of progesterone from the corpus luteum → increase in prostaglandin secretion → cervical softening and ↑ myometrial contractions

Antiglucocorticoid effect: blocks the negative feedback inhibition by cortisol
Pharmacokinetics
The following information is for the representative antiprogestin, mifepristone:
Orally active
Bioavailability: 25%
Half-life: 18 hours
Time to peak: 90 minutes
Metabolized in the liver by cytochrome P450 (CYP)3A4
Undergoes enterohepatic circulation
Excreted in feces
Indications
Termination of pregnancy: often used in combination with misoprostol
Cervical maturation
Emergency contraception
Induction of labor
Cushing's syndrome: for patients who have failed surgery or are not suitable candidates for surgery
Endometriosis
Uterine fibroids
Breast cancer
Meningioma
Side effects
GI:

Nausea and vomiting
Abdominal pain
Diarrhea or constipation
GERD

Nervous system:
Infectious:

Sinusitis
Pharyngitis
Stomatitis

Endocrine:

Hypoglycemia
Adrenal insufficiency

Gynecologic: vaginal bleeding
Cardiovascular: hypertension
Systemic: anaphylactic reactions
Dermatologic: toxic epidermal necrolysis
Contraindications
Hypersensitivity to drug or its components
Control of hyperglycemia during pregnancy
Patients taking simvastatin, lovastatin, and CYP3A4 substrates
Vaginal bleeding
Endometrial atypia or endometrial cancer
Cautions
Patients presenting with fever, generalized malaise, or diarrhea > 24 hours after taking mifepristone should be evaluated for infection.
Possibility of Clostridium sordellii infection
Patients should be counseled to seek medical attention in case of heavy vaginal bleeding.
Selective Progesterone Receptor Modulators
Chemical structure
Mechanism of action
PR antagonists and partial agonists
Function depends on the concentration of coactivators and corepressors:

In cells with excess coactivators: SPRMs act as agonists
In cells with excess corepressors: SPRMs act as antagonists
Pharmacological effects
Suppression of luteinizing hormone (LH) surge
Delay or inhibition of ovulation
Inhibition of follicular rupture
Reduction in endometrial thickness
May inhibit implantation
Pharmacokinetics
The following information is for the stereotypical SPRM, ulipristal:
Protein binding: > 94%
Time to peak: 1 hour
Half-life: 32–38 hours
Metabolized in the liver by CYP3A4 to monomethylated ulipristal acetate, the active metabolite
Indications
Emergency contraception
Uterine fibroids
Endometriosis (novel, undergoing clinical trials)
Side effects
Nervous System:
GI:

Nausea and vomiting
Abdominal pain

Gynecologic:

Dysmenorrhea
Menstrual delay

Systemic: fatigue
Contraindications and cautions
Contraindication: pregnancy
Cautions:

Use with caution in patients taking CYP3A4 inducers and inhibitors.
Bleeding irregularities are possible (delay in menstruation, intermenstrual bleeding).
Comparison of Antiprogestins and SPRMs
Table: Comparison of antiprogestins and selective progesterone receptor modulators
Category
Antiprogestins
SPRMs
Mechanism of action
Antagonists and partial agonists of progesterone receptors A and B

In cells with excess coactivators: SPRMs act as agonists
In cells with excess corepressors: SPRMs act as antagonists

Half-life
18 hours
32–38 hours
Time to peak
90 minutes
1 hour
Indications

Emergency contraception
Uterine fibroids
Endometriosis
Termination of pregnancy
Cervical maturation
Induction of labor
Cushing's syndrome
Breast cancer
Meningioma

Emergency contraception
Uterine fibroids
Endometriosis (novel, undergoing clinical trials)

Contraindications

Hypersensitivity to drug or components
Control of hyperglycemia during pregnancy
Patients taking simvastatin, lovastatin, and CYP3A4 substrates
Vaginal bleeding
Endometrial atypia or endometrial cancer

Pregnancy
SPRM: selective progesterone receptor modulator
CYP: cytochrome P450
References
Tripathi, K.D. (2018). Chapter 22: Estrogens, progestins and contraceptives. In Tripathi, M. (Ed.), Essentials of Medical Pharmacology. JP Medical Ltd. pp. 341–346.
Chrousos, G.P. (2017). The gonadal hormones & inhibitors. In Katzung, B. G., et al. (Eds.), Basic & Clinical Pharmacology. New York: McGraw-Hill Medical. p.738.
Levin, E.R., Vitek, W.S., Hammes, S.R. (2017). Estrogens, progestins, and the female reproductive tract. In Brunton, L.L., et al. (Eds.), Goodman and Gilman's The Pharmacological Basis of Therapeutics. New York:McGraw-Hill Medical, pp. 815–816.
Autry, B.M., Wadhwa, R. (2021). Mifepristone. StatPearls. Retrieved June 17, 2021, from https://www.ncbi.nlm.nih.gov/books/NBK557612/
Jadav, S.P., Parmar, D.M. (2012). Ulipristal acetate, a progesterone receptor modulator for emergency contraception. Journal of Pharmacology & Pharmacotherapeutics. 3(2), 109–111. https://pubmed.ncbi.nlm.nih.gov/22629083/