Overview
Definition
Puberty is the time period from the 1st appearance of secondary sexual characteristics until achieving complete sexual development. Puberty involves a complex series of physical, psychosocial, and cognitive changes.
Onset
Median age of the onset of puberty has decreased in recent years.
Range:

8–13 years in girls
8–12 years in boys
Hormonal control in the initiation of puberty
A critical event in puberty is an increase in the pulsatile secretion of gonadotropin-releasing hormone (GnRH) from the arcuate nucleus in the hypothalamus.

Kisseptin neurons in the arcuate nucleus release neurokinin B and dynorphin.
Neurokinin B and dynorphin cause the pulsatile secretion of GnRH.

GnRH causes the release of luteinizing hormone (LH) and follicle-stimulating hormone (FSH) from the anterior pituitary gland. Both LH and FSH affect the Leydig and Sertoli cells in the testes and the theca and granulosa cells of the ovary.
Zona reticularis of the adrenal glands secretes androgens such as DHEA, resulting in the characteristics of adrenarche. Zona reticularis functions separately from the hypothalamic-pituitary-gonadal axis.
Hormonal changes in girls:

LH acts on the theca cells of the ovary to convert cholesterol into androgens.
Granulosa cell converts the androgens to estradiol under the control of FSH signaling.
Estradiol acts on various organs until the completion of puberty.

Hormonal changes in boys:

LH acts on Leydig cells to convert cholesterol into testosterone.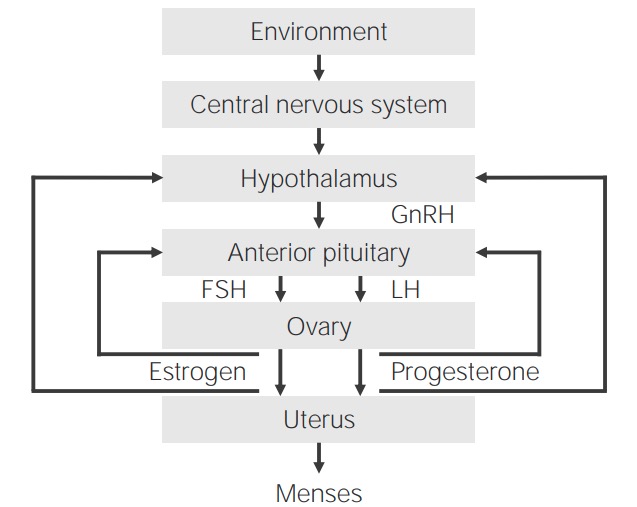 Physical Changes During Puberty
Puberty can be divided into 4 different consecutive stages, namely, thelarche, pubarche, growth spurt, and menarche.
Thelarche
Breast development with formation of the breast bud and proliferation of the duct and gland epithelium
1st sign of puberty in girls
Participating hormones: estrogen, estradiol, prolactin
Onset: 7–14 years of age
Pubarche
Growth of pubic and armpit hair
Participating hormones: testosterone, 5α-dihydrotestosterone
Onset: 8–15 years of age
Growth spurt
Onset:

On average, 2 years earlier in girls than boys
Approximately 1 year after the 1st indicators of puberty

3–10 cm of growth per year
Participating hormones:

Release of sex steroids leads to the production of growth hormones.
Leads to production of insulin-like growth factor-1 in the liver
Menarche
1st menstrual bleeding
Due to estrogen withdrawal without preceding ovulation
Onset:

Between 9 and 16 years of age
Approximately 1 year after a growth spurt

Normally occurs later than other signs of puberty.
Tanner Stages of Development
"Tanner staging" is a scale that measures the physical/sexual development in children and adolescents. This staging technique involves the evaluation of genitalia in males, breast in females, and pubic hair in both.


Table: Tanner stages in females

| | Tanner 1 | Tanner 2 | Tanner 3 | Tanner 4 | Tanner 5 |
| --- | --- | --- | --- | --- | --- |
| Age | Prepubertal | 8–11.5 years | 11.5–13 years | 12–15 years | > 15 years |
| Pubic hair | Villus hair only | Sparse hair along the labia | Coarse and curly hair covers the pubis. | Adult hair that does not spread to the thigh | Adult hair reaching the thigh |
| Breasts | Elevation of papilla only | Breast buds are palpable (1st sign of puberty in females) and areolae are enlarged. | Breast tissue grows with no contour or separation. | Breasts enlarge and areolae form secondary mound on the breast. | Adult breast contours are present. Only the papilla is raised. |
| Other observations | Adrenarche and ovarian growth | Clitoral enlargement, labial pigmentation, growth of uterus | Axillary hair, acne | Menarche and development of menses | Adult genitalia |
Table: Tanner stages in males
Tanner 1
Tanner 2
Tanner 3
Tanner 4
Tanner 5
Age
Prepubertal
8–11.5 years
11.5–13 years
12–15 years
> 15 years
Pubic hair
Villus hair only
Sparse hair at base of the penis
Coarse and curly hair appears over the pubis.
Adult-quality hair in the pubic area, sparing the thigh
Adult-quality hair in the pubic area, reaching the thigh
Genitalia

Testes < 2 cm
No growth of the penis

Testes: 2.5–3.2 cm
Thinning and reddening of the scrotum

Testes: 3.3–4 cm
Increase in length of the penis

Testes: 4.1–4.5 cm
Growth of the penis, darkening of the scrotum

Testes > 4.5 cm
Adult genital size

Other observations
Adrenarche
Decrease in body fat
Gynecomastia, breaking of voice, increased muscle mass
Axillary hair, voice change, acne
Facial hair, increase in muscle mass
Clinical Relevance
Iron deficiency anemia: a condition affecting adolescent girls due to menstrual bleeding and insufficient iron intake. Males are less prone to anemia because testosterone increases erythropoiesis.
Gynecomastia: enlargement or swelling of the breast tissue in men. Gynecomastia affects approximately 50% of teenage boys at an average age of 13 years. Gynecomastia is caused by the increased production or action of estrogens, enhanced breast-tissue sensitivity to estrogens, or the decreased production or action of androgens.
Acne vulgaris: a disorder of the pilosebaceous unit due to follicular hyperkeratinization, excess sebum production, follicular colonization by Cutibacterium acnes, and inflammation. Severity of acne is associated with high serum levels of dehydroepiandrosterone sulfate.
Dysfunctional uterine bleeding: excessive, prolonged, and/or irregular endometrial bleeding, often seen during the 1st year of menarche. Dysfunctional uterine bleeding occurs due to anovulatory cycles as a result of the immature hypothalamic-pituitary-ovarian (HPO) axis, which fails to produce gonadotropins (LH and FSH) in proper quantities and ratios to induce ovulation. 
Precocious puberty: the onset of puberty with the development of external sexual characteristics before 8 years of age. Precocious puberty may result from the early activation of the HPO axis or excess secretion of sex steroids from the ovaries or when obtained from exogenous sources.
Delayed puberty: the lack of testicular enlargement in boys by 14 years of age, and the lack of breast development in girls by 13 years of age. The etiology of delayed puberty varies and is generally classified as central or gonadal. Approximately 2.5% of healthy children experience delayed puberty.