Overview
Epidemiology
The incidence is 1 in 50,000 live births.
Etiology
Congenital but not inherited
Sporadic mutation with no known cause
Somatic mosaicism of the GNAQ gene → not passed onto offspring
Pathophysiology
GNAQ gene: encodes G-alpha-q, a guanine nucleotide-binding protein → regulates intracellular signaling pathways
Mutation results in irregular growth of the endothelial cells.
Presents as capillary-venous malformation, especially in the dermal and leptomeningeal regions
Clinical Presentation
Symptoms are usually due to the effect of capillary-venous malformation within the brain, skin, and eye. Not all symptoms have to be present in an individual for them to be diagnosed with SWS, and some symptoms may develop later in life.
Dermatological
Port-wine stain (PWS):
A nevus flammeus
Present from birth
Distribution:

Facial: ophthalmic and maxillary branches of the trigeminal nerve
Trunk
Arm

Light pink to deep red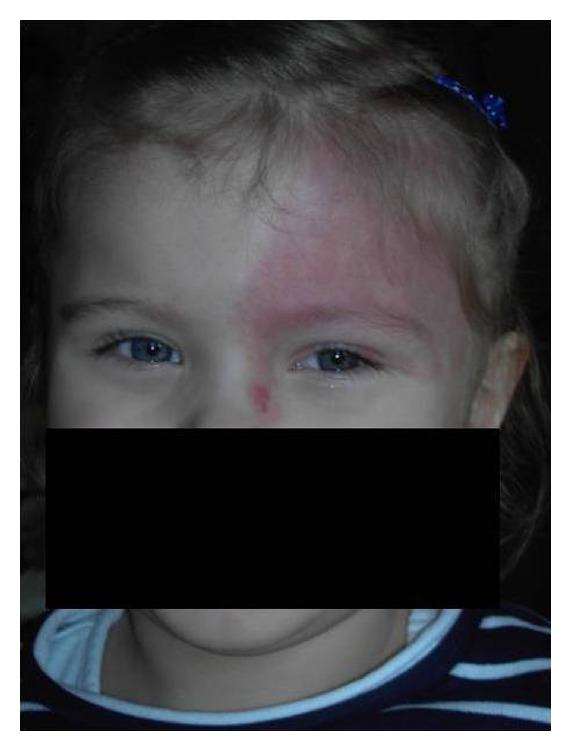 Neurological
Leptomeningeal vascular malformation, also called leptomeningeal angioma
Benign tumor of the arachnoid and pia mater
Ipsilateral to PWS
Mainly in parietal and occipital lobes
Leads to atrophy and calcifications in the cerebral cortex below the tumor, causing:

Seizures:

Early onset (by 6 months)
Usually the presenting complaint
Focal seizures

Hemiparesis/hemianopia:

Stroke-like symptoms
Transient

Intellectual disability, learning difficulties
Mood disorders
Ophthalmological
Episcleral angioma → glaucoma (early onset)
Homonymous hemianopia
Strabismus
Increased tearing
Choroidal hemangioma
Endocrine
Reduced growth hormone (GH) → short stature
Central hypothyroidism
Mnemonic
An easy way to remember is by using the mnemonic STURGE:
Seizures
Tram-track-like calcification
Unilateral PWS
Retardation
Glaucoma
Epilepsy
Diagnosis and Management
Diagnosis
Neuroimaging:

MRI with contrast: enhances leptomeningeal angiomas
CT: tram-track-like calcification
Done immediately if patient presents with neurological symptoms
Done after 1 year of age in patients with PWS

Eye exam, measurement of intraocular pressure (IOP)
EEG → to assess seizure activity
Confirmation: genetic testing for mutations in GNAQ

Management
Symptom treatment:

PWS: pulsed dye laser therapy
Seizures:

Anticonvulsants (carbamazepine)
Hemispherectomy in refractory cases

Glaucoma: topical or surgical management

Prevention:

Low-dose aspirin (likely reduces the risk of cerebral ischemic events and seizures)
Regular ophthalmological examination to monitor IOP
Prognosis
Determined by extent of lesion and age of onset for seizures
Neurological function likely deteriorates with age, impairing daily function.
Differential Diagnosis
Klippel-Trenaunay syndrome (KTS): a rare congenital and sporadic disease that results in vascular malformation similar to SWS. In contrast to SWS, neurological and ophthalmological symptoms are rare and PWSs are more commonly noted on the limbs. Bone and muscle involvement results in hypertrophy of limbs. Treatment consists of surgical debulking or sclerotherapy of the malformed vessels.